Beef; Steak au Poivre & More
Steak au Poivre, French Pepper Steak with Peppercorn Sauce
Braised "Beef Steak with Bone" and Orzo
Double Cheeseburgers with Pan Roasted Tomato Topping
Steak au Poivre

French Pepper Steak with Peppercorn Sauce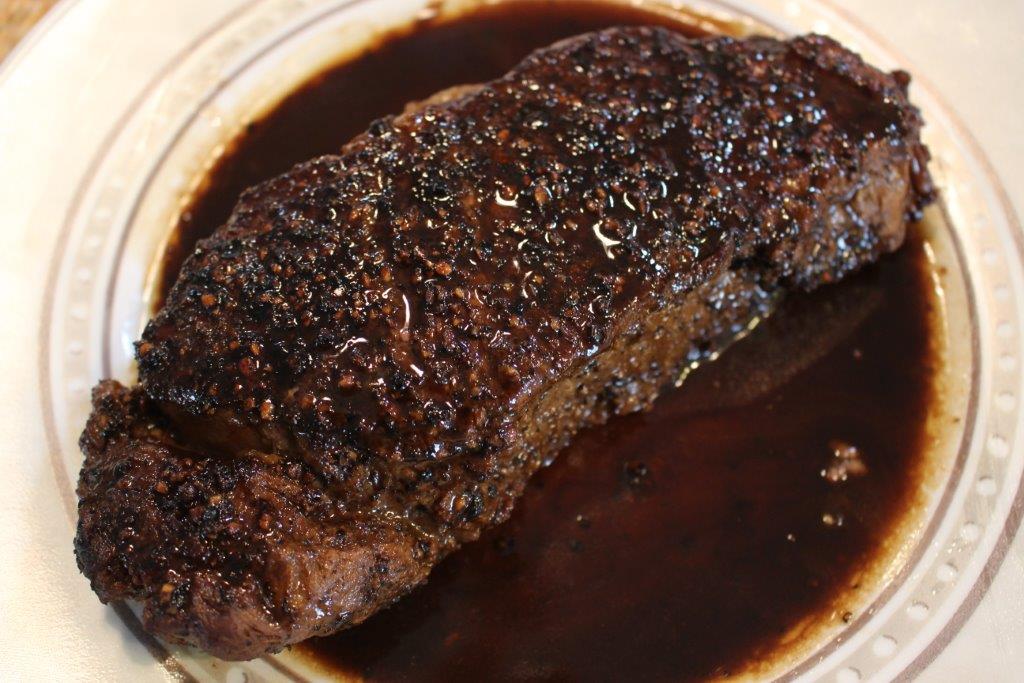 This classic French dish is made with steaks coated and embedded with cracked peppercorns. Steaks are usually crispy pan fried and an incredibly delicious yet simple sauce is made with its drippings.
The sauce often includes olive oil, butter, cognac, broth and wine; flavors can also be enhanced with any combination of minced shallots, Dijon mustard, lemon juice, herbs, vinegar, Worcestershire sauce, etc.
The sauce is often finished with heavy cream. Even the color and variety of peppercorns used are debated.
The good news, I've enjoyed many varieties of Steak au Poivre including those in restaurants in France and can't recall ever being disappointed.
I typically use New York strip steaks but filets, tenderloins, and boneless rib eye are all good alternatives. I also like my steaks thicker, 1 ¼ to 1 ½ inch. Common black or multi colored peppercorns work equally well. My recipe uses butter, cognac, red wine, chicken broth, Worcestershire sauce and lemon juice.

Zip lock bag and a meat pounder are a convenient way to coarsely crack the peppercorns. Traditional pepper mills set course still produce peppercorns too fine.
Although I prefer not to make the sauce cream based, you can finish the dish with heavy cream to taste if desired. I also like an abundant amount of sauce.
I think chicken stock's flavor is more intense than beef stock and is indistinguishable in the final sauce. Worcestershire spikes flavor and lemon complements well.
I enjoy my finished steaks medium rare. Pan fry and crust steaks rare initially. Once sauce is finished, quickly reheat steaks to final desired temperature. Remember steaks will continue cooking when initially removed from heat.
Ingredients:
2 NY sirloin steaks or your favorite cut, 1 ¼ to 1 ½ inches thick.

1 Tablespoon black peppercorns
Salt
2 tablespoons cognac
½ stick, 4-oz unsalted butter
½ cup red wine
1 cup chicken broth
1 tablespoon lemon juice
2 teaspoons Worcestershire sauce (or to taste)
Chopped fresh Italian flat leafed parsley
Place peppercorns in a zip lock bag. Coarsely crush them using a meat pounder/tenderizer.
Spread half of the peppercorns on the two top surfaces of both steaks. Press the peppercorns into steaks with the palm of your hand. Flip the steaks over and repeat. Refrigerate them covered for at least a couple of hours. About a half hour before cooking, remove steaks and to bring them to room temperature.
Spray the bottom of a cast iron pan with nonstick spray. Lightly sprinkle with salt. Place pan over high heat. Brown steaks on one side, about 3 minutes. Flip over and brown the other side. Caution, loosely cover and stand away from the pan while searing the steaks to avoid pepper fumes.

Pour cognac slowly over both steaks. Reduce cognac in half over medium-high heat. Protect yourself from potential splattering. Melt half of the butter in the pan; stir. Remove steaks and pour pan liquids directly over the steaks.
Deglaze the pan with the red wine. Add broth, lemon and Worcestershire sauce. Reduce liquid in half. Return steaks and juices back to the pan. Add remaining butter, adjust seasoning and finish cooking steaks to desired temperature.
Serve immediately with sauce and top with Italian parsley.
Braised "Beef Steak with Bone" and Orzo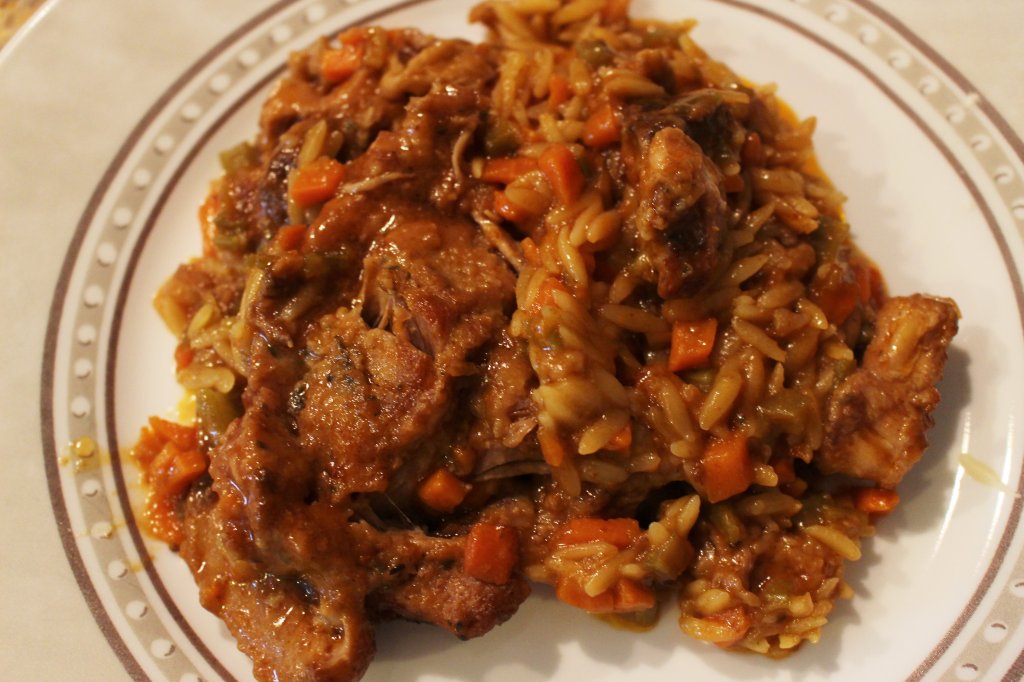 This extremely flavorful comfort dish is also very inexpensive to make. Most inexpensive cuts of beef (or most other meats) will also work in this dish.
Steak is lightly flowered and sautéed in a pot with olive oil. The meat is temporarily removed. An "odori", aromatic herbs are diced or minced with carrots, celery and onions. Italians frequently also add minced salt pork for fat and flavor. I optionally add finely chopped pancetta, Italian bacon instead.
Uncooked, the mixture is referred to as "battuto". Once cooked, Italians call the mixture "soffritto". It is a fabulous base for braising. I add rosemary, sage, garlic, tomato paste, broth and wine to this great base.

Orzo absorbs excess juices and adds bulk and texture while delivering flavor.

Ingredients:
3 pounds thin sliced steak with bone
Flour for dredging
Olive oil
1 cup diced carrots
1 cup diced celery
1/2 cup diced onion
1 garlic clove finely chopped
3 sage leaves, coarsely chopped
1 2-inch sprig rosemary

2 tablespoons tomato paste
2 cups chicken stock
1 cup dry white wine
1 cup orzo, rice shaped pasta
Use a high rimmed pot (I prefer cast iron) that can also be placed directly in the oven for final cooking. Dredge steak in flour and brown on all sides; remove.

Add diced carrots, celery and onion to the pan. Sauté until softened. Brown garlic. Stir in the tomato paste.

Add broth, wine, sage, and the sprig of rosemary. Reduce liquid by about half. Add steak and place in a 325° oven. Periodically rotate meat, adding additional broth as needed.

Steak should be very tender in about 2 hours. Remove steak. Stir in orzo. Add additional broth as needed. When orzo is cooked al dente, reheat steak in the sauce. Remove rosemary sprig and serve.

Double Cheeseburgers with Pan Roasted Tomato T
opping
Unique Preparation Creates an Incredible Mouth Watering, Super Moist, Flavorful Burger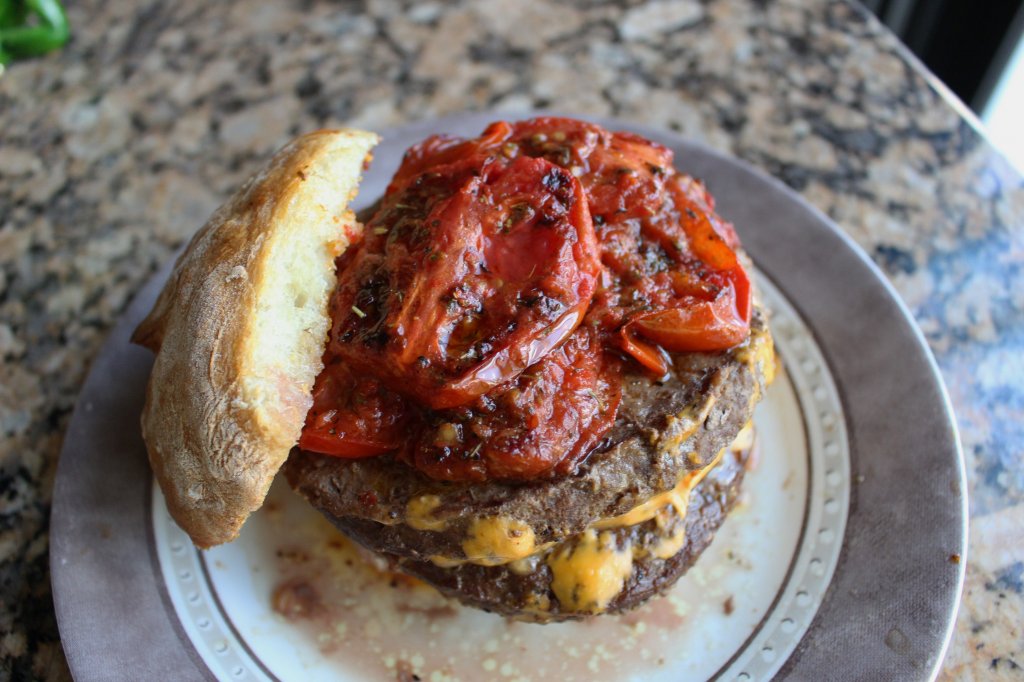 I love burgers but often dissatisfied with what I'm served. I came up with a simple full proof technique creating double cheeseburgers that are super moist, charred outside and done inside as I like them.
Although I've always liked forming my own patties from flavorful cuts of beef like ground chuck, for predictability I now use 1/3rd pound frozen sirloin patties with my unique process. Secrets is systematically searing frozen burgers in a small pot with hot seasoned olive oil.

As discussed in my "Bread" chapter, burger buns made with my potato dough recipe are perfect to maintain texture and retain all those captured juices.

I strongly dislike traditional burger toppings; mustard, relish, sliced onions, catsup, sliced tomato, lettuce, etc. They detract from cheeseburger's already unique great taste that I crave! However, I am including my simple recipe for my favorite quick pan roasted fresh tomato topping, a simple version of pizziola sauce (steak made with "pizza" style topping).

Ingredients:
Tomato Topping
3 medium fresh plum tomatoes
2 tablespoons butter
Dry Italian seasoning
Salt and pepper
Double Cheeseburger
2 frozen 1/3rd pound sirloin burgers
Olive oil
Montreal Steak Seasoning
Your favorite burger cheese
Quality bun
Utensil
Heavy small pot with a glass top; mine is 5 ½" deep x 2" high

Italian style tomato topping, core and half tomatoes lengthwise. Melt butter in a small sauté pan. Place tomatoes in a single layer and top with Italian seasoning, salt and pepper. Cook until tomatoes soften and begin to blacken on bottom like roasted tomatoes. Flip the tomatoes and pan roast their other side. Keep them worm.
Coat the bottom of the pot with olive oil. Sprinkle liberally with Montreal Steak Seasoning. Set the pot on a burner on high. When the oil is hot, carefully add the first frozen patty and cover. While sizzling on the bottom, the top surface will soon lose its frost and moisture will appear. Remove immediately to a plate, charred side up. Top with your favorite cheese.
Repeat with the second burger. When top is moist, flip the burger in the pan. Add the first burger back, sandwiching the cheese between charred sides of both patties. Briefly char the bottom of the double cheeseburger in the pot over high heat. Flip and sizzle the last side. Check if done as desired and remove. Adjust seasoning. Pile the cooked tomato on top and serve on a bun "worthy" of your creation.

Splatter free preparation: if cooking indoors, uncover the pot in a dry sink when opening the pan to add or remove patties.