Pete's Garlic Oil; Dips
Pete's Garlic Oil
Spicy Garlic Bread Dipping Olive Oil

Bagna Cauda
Pete's Garlic Oil

This is another Core Ingredient.
Garlic and olive oil are essential in Italian cooking. Pete's Garlic Oil starts with fresh garlic. Cloves and their skins are slowly simmered in olive oil flavored with fresh sage leaves, rosemary, salt and red pepper flakes. Tuscany seasoning can be substituted for the fresh herbs. Even the garlic skin renders flavor and are removed when they eventually fall off. This technique results in flavored garlic-infused olive oil. Garlic cloves are never bitter and become golden brown, soft and tender and take on the wonderful texture and pleasant taste of oven roasted garlic.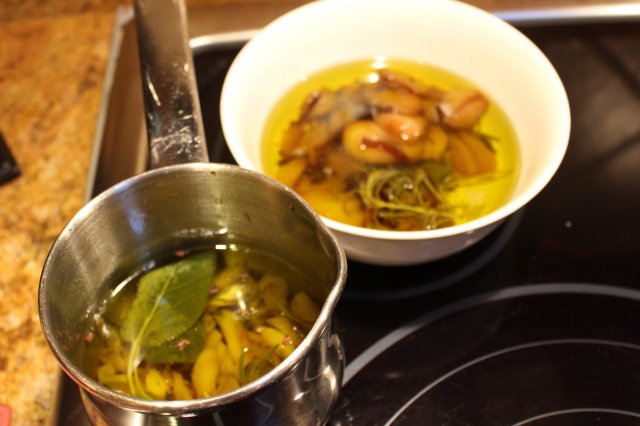 Use Pete's garlic oil in all your cooking that calls for olive oil.
Pete's garlic oil can also be the main ingredient in Linguine Aglio Et Olio, a great addition to pastas with pesto, and cooking roasted vegetables dishes like Brussel sprouts with bacon, broccoli rabe and sausages. Cloves can be coarsely mashed and sprinkled with additional Tuscany seasoning to make a tangy garlic dip for crusty bread served with dinner. It can also be used as the base for Bagna Cauda, the famous anchovy vegetable dip and sauce from the Piedmont region of Italy.

The morning of a day of entertaining always begins with Pete's Garlic Oil simmering. It's not only indispensable but nothing says Italian more than the smell of seasoned pan-roasted garlic when guests arrive.

Ingredients:
1 cup of olive oil
10 large garlic cloves with skin
1/2 teaspoon Tuscany seasoning (or several fresh sage leaves, a sprig of rosemary and a 1/2 teaspoon of kosher salt)

pinch of red pepper flakes
Remove rough end of garlic cloves and slice each in half lengthwise. Do not remove skin, it contributes favor. Place them in a narrow stainless steel butter melting pot (please see photo above). Add the rest of the ingredients. If the olive oil doesn't cover the garlic, add more.
Place on medium heat until the olive oil begins to lightly sizzle. Reduce heat to a low simmer. It will take several hours before garlic richly tans and becomes soft and sweet. You can hasten the process with slightly higher heat but be careful not to burn the garlic.
Remove the garlic skins from the pot when they are released from the cloves.

Spicy Garlic Bread Dipping Olive Oil, Pictured Above

At home, bread is served with an olive oil dipping sauce. My favorite is made with Pete's Garlic Oil.
Ingredients:

Pete's Garlic Oil
Extra Tuscany Seasoning
Options:
Anchovies, Chopped sun dried tomatoes, parmigiana cheese
Place 2 or 3 pot roasted garlic cloves from Pete's garlic oil in each dipping plate (see top of page). Mash each with a folk. Spoon Pete's Garlic Oil on over and add an additional pinch of Tuscany seasoning. Serve warm.
Options, add a pinch of sun dried tomatoes and/or parmigiana cheese
You can also top with a small pinch of anchovies seared and disintegrated in a pan with Pete's olive oil.

Bagna Cauda

This classic anchovy and garlic dip originated in the Piedmont region of northwestern Italy. It is served hot (English translation is "hot bath") like a fondue for raw vegetable and crusty bread and breadsticks. The basic recipe usually includes olive oil, garlic, butter and anchovy. Some substitute heavy cream for butter. Other recipes may include finely chopped parsley, thinly sliced truffles, lemon zest and juice. Many view Bagna cauda as a sauce that can be served over pasta, as a pizza topping, or a condiment for sandwiches, salads, cooked vegetables, meats and fish. Although serious foodies insist on using whole salt packed imported anchovies that need to be deboned, common brands of 2oz. cans are acceptable.
Bagna couda is best served in a pot with a heating element. Accompany it with a variety of raw vegetables and breadsticks along with other party appetizers and dips on festive occasions. It also is a very special bread dip with dinner parties.
The recipe uses a technique similar to Pete's garlic oil. The results, the garlic and garlic infused olive oil is more delicate. The garlic isn't bitter and tastes oven roasted.
Ingredients:
1/2 cup olive oil plus 1 tablespoon

8 large garlic cloves
1 pinch Tuscany seasoning
2oz. anchovy (one small can)
1 stick, 4oz. unsalted butter
salt if needed
Optional
1 tablespoon finely chopped flat Italian parsley
lemon zest and/or lemon juice to taste
Remove the rough tip from each garlic clove and cut them in half lengthwise. Place in a stainless butter melting pot with skin (please see above). Add 1/2 cup of olive oil and a pinch of Tuscany seasoning
Place on medium heat until the olive oil begins to sizzle. Reduce heat to low simmer. Remove garlic skins when released. When the garlic becomes very soft and is tanned, turn the heat off.
Remove anchovies from the can without the oil. Pat the anchovies with a paper towel to remove excess oil. Separate and place them in a small pan. Add the remaining tablespoon of olive oil.
Heat the pan to medium low. Mash the anchovies with a folk until they disintegrate. Empty the entire contents into the pot with the garlic oil.
Scramble all contents of the pot over low heat as you would eggs until garlic and anchovies are well blended. Add the butter in slices. Scramble again when melted. Test for salt.
Bagna Couda is ready. Serve hot.