More Pork Recipes
Bone-in Ribeye Pork Chops
Braised, Glazed and Flavorful

Favorite Pork for Pan Searing and Oven Roasting;

What to make with leftovers and intentional extras
Bone-in Ribeye Pork Chops

Braised, Glazed and Flavorful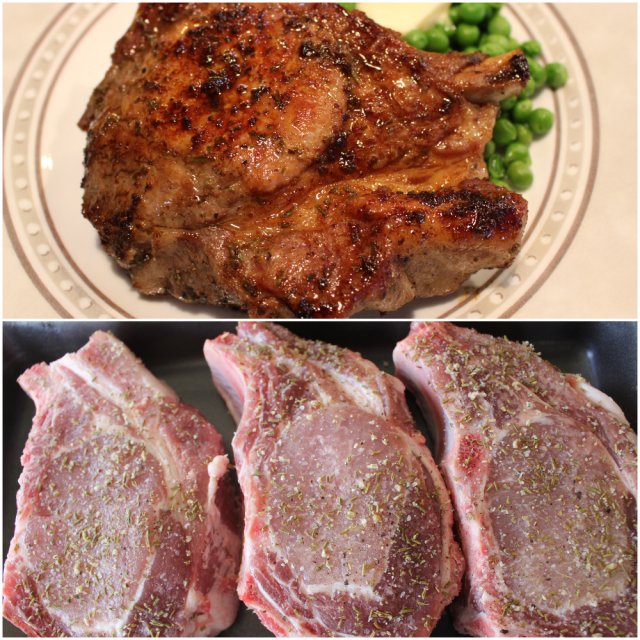 This technique produces chops that are incredible flavorful, glazed and slightly crisp on the outside, tender and moist on the inside. I've been making chops this way for years and haven't found another producing chop more mouthwatering than these.
They are
made with an easy four step process using few ingredients and minimal pampering. Pork chops are rubbed with Tuscany seasoning and refrigerated for several hours or more. When ready to cook, chops are placed in a pan with high sides. Chicken stock is added, the pan covered and burner set to high heat. Once broth is evaporated, chops are seared on both sides in their own fat. Lastly wine is added to deglaze and caramelized. Finished chops are absolutely delicious.
Ribeye chops are also economical. The three chops shown in the cover photo weighed 3.08 pounds. They were $3.28 a pound at my local warehouse club; packaged price, only $10.10 for 3 healthy servings.
Selecting chops well marbled in their large centers will be more most when finished.
Recipe below is made with 4 large chops and will generously serve four hardy eaters.
4 Bone-in Ribeye Pork Chops about 1 inch thick




2 teaspoons Tuscany Seasoning*

14.5 oz. can low sodium chicken broth




¾ cup red (or dry white) wine

Olive oil if needed
*Tuscany season can be replaced with rosemary, sage, minced garlic and Kosher salt.
Sprinkle chops with Tuscany season all around. Refrigerate covered for at least three hours.
Place chops in a high rimmed pan. Add the can of chicken broth, cover and place over high heat. When broth reduces by about half, flip chops over. Once broth evaporates, about 45 minutes, remove cover and brown chops on both sides. Add a small amount of olive oil to supplement fat if needed.
Add wine. When nearly evaporated, a minute or two, glace chops on both sides and remove. Swirl some additional wine to deglaze the pan. Pour over chops and serve.
Note: White wine is traditionally used with pork. I prefer the robust flavor of a hardier red wine. Chops are bold enough to handle red.

Baby Back Ribs

Here in the south, "Criticizing someone's barbeque is like telling them their kids are ugly"! Everyone's seems to have their own recipes, techniques and equipment. True "grill masters" even have their own secret recipes for rubs and barbecue sauces.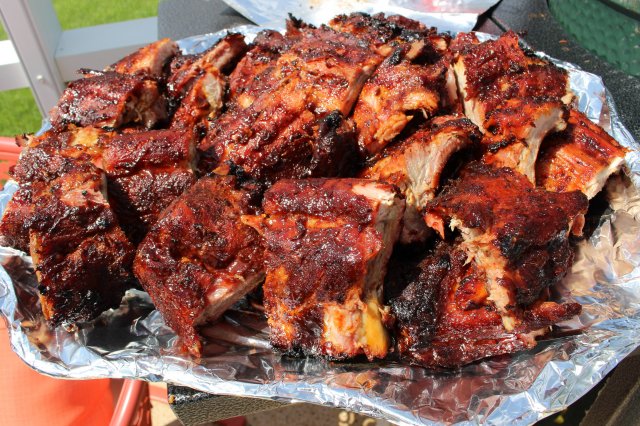 Even without a smoker, a Big Green Egg or a suitable slow cook grill, you can still make terrific ribs at home. "BME" before my "Egg", I frequently slow cooked ribs smothered with rub in my oven using low temperature direct heat. I finished them with barbeque sauce, caramelized in my then Webber grill. They might not have competed against the top rib mister but they always were really good.
Baby back ribs are affordable, often about $10 or less per slab. When served with a compliment of appetizers, sides and desert, each slab will serve on average between 2 and 3.
Although dry rubs can be homemade, they usually require relatively smaller amounts of several herbs and seasoning like paprika, brown sugar, salt, pepper, garlic, mustard, cayenne, and chili powders. Through the years I can't recall ever being seriously disappointed with store bought including barbecue sauces.
Ingredients:
Pork Baby back ribs
Dry Rub
Barbecue sauce

If still attacked, remove membrane from the concave side of the ribs. Rinse ribs in cold water and dry thoroughly. Liberally coat ribs all over with rub. Place ribs on a cookie sheet or large aluminum foil roasting pan. Seal with plastic wrap and refrigerate at least a few hours or overnight.
Oven method (about 4 hours slow cooking)
Use a cookie sheet on the lowest rack as a baffle. Place up to 3 slabs of ribs on a cookie sheet in the middle of the oven. If more slabs, redistribute them equally on an additional sheet. Set oven to about 250° direct heat.
In about 2 hours, flip slabs over and rotate sheet. In half hour increments, check for progress. Meat will begin to shrink. When able to pull the smallest end rib bones pull apart easily, brush ribs with barbeque sauce and cover with aluminum foil. When remaining ribs pull apart easier, ribs are ready. Cut and pull in 3-rib increments. Serve with additional sauce.
Big Green Egg Users
Set Egg with plate setter legs up. I've tested both ways, legs up for low and slow baby back. Use porcelain coated grid and rib racks. Set temperature at 225°-240°. Optional, soak hardwood chips for several hours and distribute oven lump hardwood.

Place ribs on rack. After about 2-2 ½ hours, tuck aluminum foil around ribs. After a total of about 3 ½ hours, caramelize by mopping ribs with barbecue sauce and cover again with foil. Ribs should be ready after about 4 hours total.
Notes:
A friend is both a barbecue judge and author of a successful barbecue book. He cautions that judges look for ribs that pull cleanly off the bone but require a slight tug. Falling off the bone maybe a favorite for many but may won't win contests.
Rest refrigerated ribs before placing in grill or smoker.
Favorite Pork for Pan Searing and Oven Roasting

Hormel "Pork roast", "always tender roast" (picture below) in sealed 24 oz. packages lives up to its claims. Their lightly seasoned is also marked "NO Artificial Ingredients". Their cooking instructions suggest fully thawing, baked in a preheated 350° oven for 60 to 75 minutes until it reaches 160°F. Even at that internal temperature, meat remains moist and tender.
I follow USDA cooking guidelines for most common solid pork:
Minimum Internal Temperature & Rest Time
"145 °F and allow to rest for at least 3 minutes…before carving or consuming" *
Note: Pork tenderloin is a very popular cut of pork. It's a lean cut with very little marbling. When cooking, heat travels through it rapidly. It's an easy cut to overcook resulting in drying and stringy texture. It's also one of pork's least flavorful.
Hormel's "always tender roast pork" is a terrific cut of pork. Here are some of my favorite ways to prepare. All are favorful, easy to prepare, and forgiving even if slightly overcooked. Yes, they are wonderfully moist.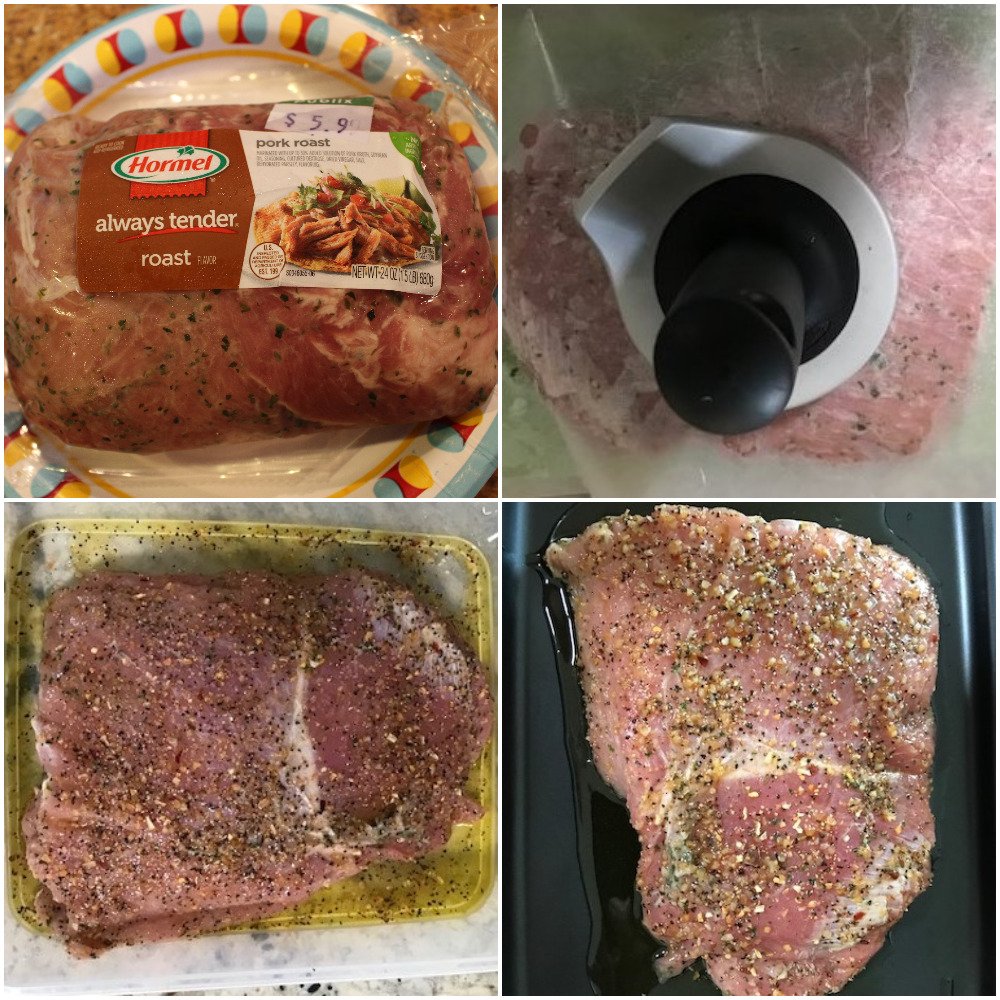 As mentioned above, Hormel's recommendations for cooking are fine and produce great cooked pork. Here are some simple variations I think enhances cooking of their pork:
Thin and even; place pork between sheets of wax paper. Pound with a meat mallet. That helps thin and even the thickness of the pork down to about 50%. Like cooking a fine steak, that helps me char pork's top and bottom while cooking quicker and evenly inside.
Marinate for several hours. Coat both sides with olive oil, coat with spice blends like Tuscany Season Salt, Greek Seasoning, Herbes de Provence, Montreal Steak Seasoning, fresh herbs like sage, thyme, tarragon, and rosemary; salt and fresh ground pepper.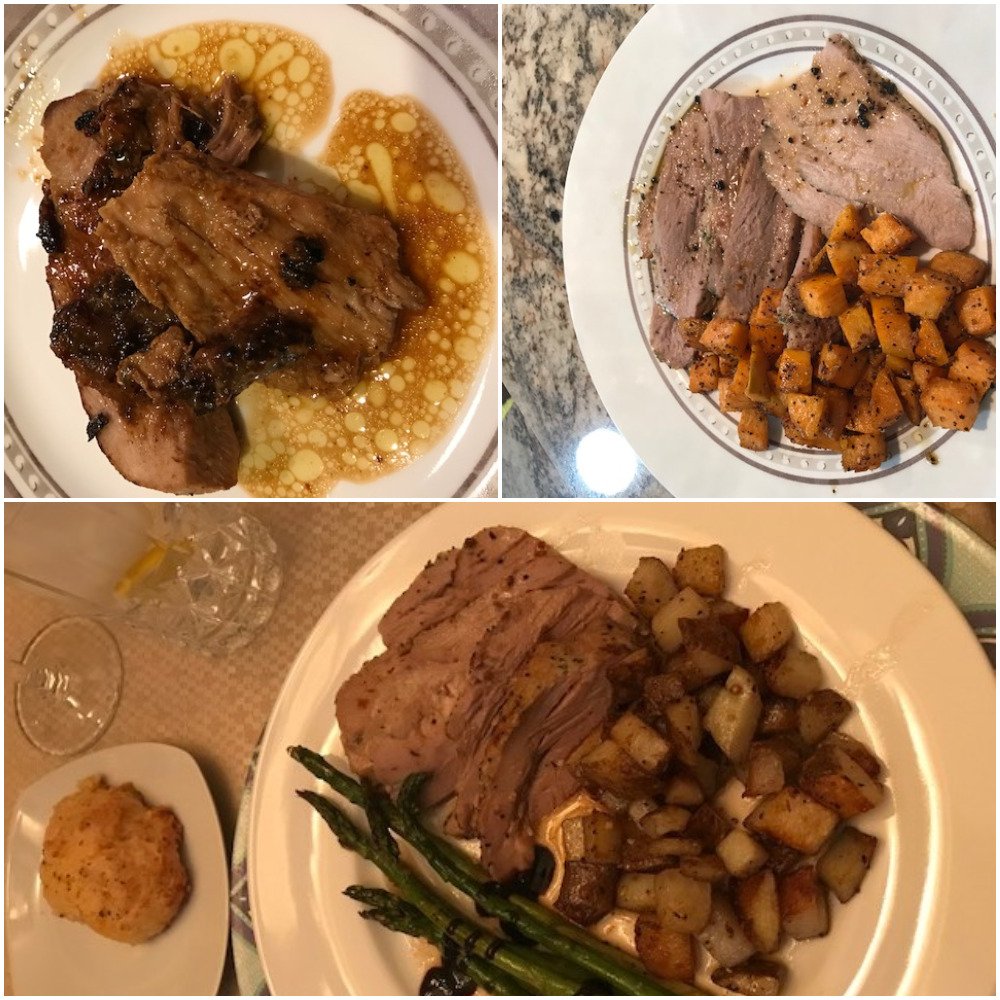 Prepare pork as discussed above

Sear first side of pork with cooking oil in a heavy pan cooking oil over medium-high heat with cover on.

When pork is well seared, 5-10 minutes flip pork over and lower heat to medium. Place a thermometer through its center and cook until pork approaches 145° remove pan from heat. Place pork in a serving dish and rest for 3 minutes.

Deglaze pan with white wine making sure to save all those tasty charred bits (upper left photo).

Any variety of vegetables go well but my favorites are roasted potatoes, carrots, and asparagus.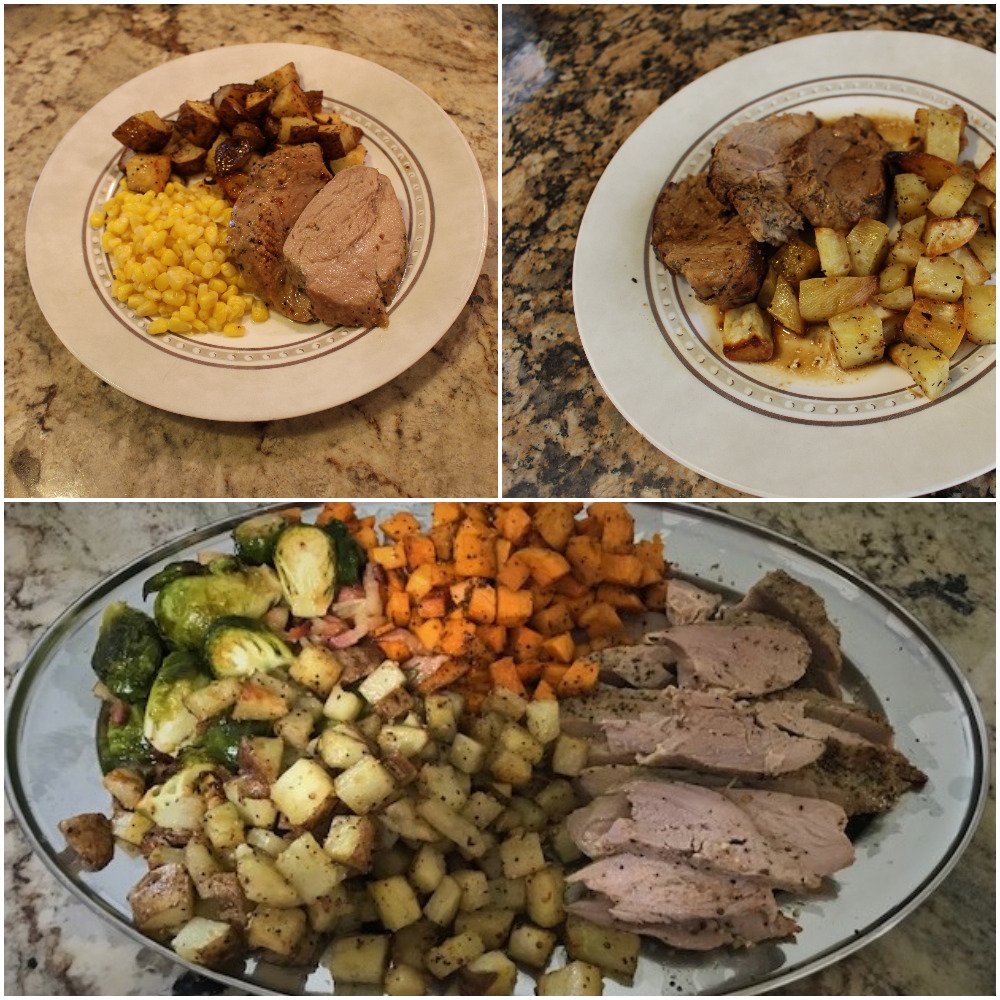 Prepare pork as discussed above
Place pork in a 400° direct heat oven. Flip pork after about 15 minutes. Pending thickness, prork will be ready after about 25 minutes when a thermometer reaches 145° in its center.
Remove and rest for 3 minutes before cutting and serving.
Try this option. Potatoes and other vegetables can be cooked together in the same oven. Toss cubed potatoes and /or carrots in separate bowls. Generously coat with olive oil and seasoning of choice.

Place in the over at 425° direct heat. Flip occasionally. After about 20 minutes add tray with pork. Both will be ready in about 20 or 25 minutes more when pork reaches an internal temperature of 145° and vegetables are nicely browned.

Pork times may vary based thickness and the actual cut.
Favorite Pork for Pan Searing and Oven Roasting
What to make with leftovers and intentional extras…
Now that you've enjoyed "Favorite Pork for Pan Searing and Oven Roasting" (above), if surprised with leftover, or leftovers were smartly planned, Pork Pot Pie is an incredible second life meal.
Pork Pot Pie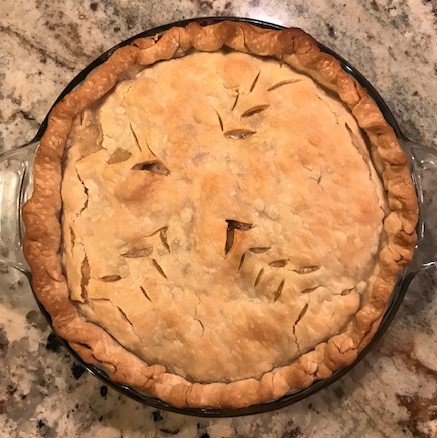 Ultra-moist, tender, and tasty pork is pie perfect. Pot Pies are relatively easy to make.
Refrigerated store bought crusts like Pillsbury™ are convenient, reliable, and easy to use. Filling is prepared step by step in a single pot, assembled in a pie plate, baked, and served. They can be made ahead and baked just before mealtime or baked and frozen for later use.
My very favorite, tried and proven pot pie recipe is "Classic Chicken Pot Pie" from Pillsbury™. Here is s a link to their terrific recipe:
When available I substitute leftover ultra-moist cooked pork for cooked poultry in their recipe. Thank you, Pillsbury,™.
Unintentionally, finished Pot Pie seems to have a "Spooky" face.

Pork Pot Pie with Biscuits Crust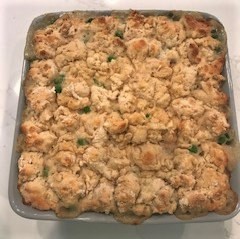 This version uses the same prized Pillsberry™ pot pie filling recipe linked above but replaces traditional pie crust with biscuit batter.
Their recipe calls for precooked chicken or turkey. I again substituted leftover "Always Moist" pork, a favorite in our home. Leftover chicken, turkey and ham also work wonderfully well.
Portions of this comfort recipe will serve a family.
Directions,
Prepare the prized pot pie recipe liked above substituting leftover "Always Tender" pork roast.
Assemble double your favorite biscuit recipe from scratch or mix. Mold a ¼ to ½ inch thick layer onto an ungreased 10" x 10" oven safe pan. Add filling.
Distribute spoon fills of biscuits over top. Dot with butter and cook in oven as directed above and top is lightly tanned; cut and serve.
​​​​​​​