Home Made Dry Seasonings; Tuscany Seasoning
Tuscany Seasoning
is also referred to as Tuscan Season or Tuscan Blend. This is one of three Core Ingredients I use extensively to perk up the flavors of many dishes. It is made with fresh rosemary and sage, sun dried with garlic and Kosher salt. Although other aromatic seasonings can be substituted or added, after many experiments, I find this combination to be the very best. It's incredibly versatile, sprinkled on or rubbed with olive oil on pork, chicken, seafood, roasted vegetables. stews, stuffing mix, seasoned garlic oil, and many more.
I discover this combination of ingredients almost by accident. My daughter-in-law has the largest selection of dried spices, herbs and blends, domestic and imported. After cooking with most, I became partial to her "Herbes de Provence French Herb Blend" and her "Tuscan Blend". Although different but similar flavors, both are intense. Rosemary and Sage were dominant in the her Tuscan.
Store bought Tuscan Blend often have a wide variety of other ingredients, sun dried tomato, onion and green peppers, fennel seed, oregano, marjoram, peppercorns and more. I decided to stick with the core four knowing I could simply add other flavors for specific recipes.
Seasoning is simply the process of adding salt, herbs, and/or spices to enhance the taste of food. Although nothing approaches the intensity and distinction of fresh herbs, drying is a great way to preserve herbs when harvest is abundant and flavor combinations are nearly endless. However, the scent from this Tuscan combination will amaze you every time you open the jar.
The recipe below calls for 1/2 cups of kosher salt creating the most intense flavors, making the blend somewhat of a season salt. Use the finished seasoning sparingly. If concerned about salt content, lessen the amount of kosher salt in this recipe to as low as 1/2 cup.

As shown in the picture to the right, I store my seasoning in 1/2 pint (8 liquid oz.) mason jars. These sealed jars help retain the strength of the seasoning and jar size is convenient.
It's also fun adding customized Labels to filled jars. Avery labels can be purchased in sheets. Avery also provides on line templates making it easy to create your own text and design for printing at home.
This is the most versatile seasoning. Enjoy.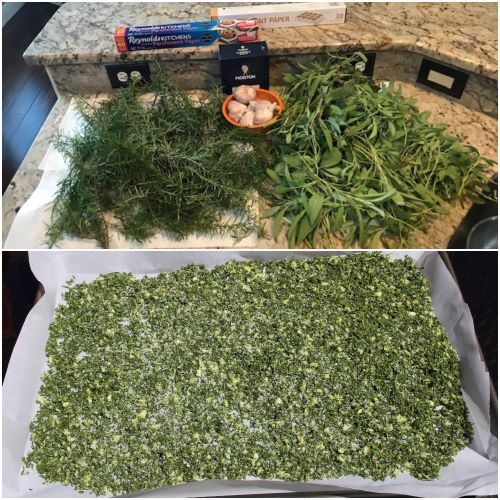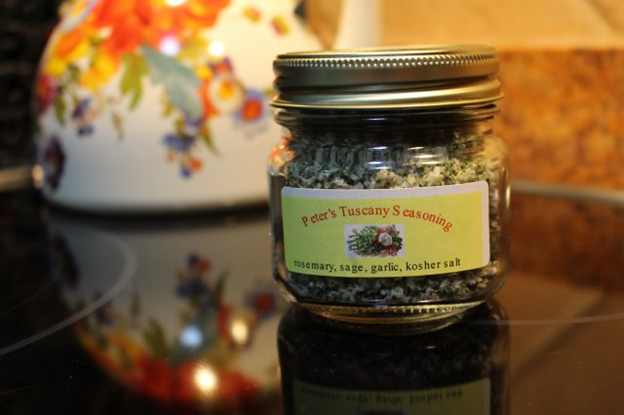 Ingredients:
Basic recipe for 3 8-oz preserve jars
2 generous cups fresh sage leaves
2 generous cups rosemary needles
8 or 9 large peeled garlic cloves, split and remove any sprouts
1/2* cups kosher salt*

Large cookie sheet lined with parchment paper
3 1/2 pint (8 liquid oz.) preserves/mason jars with seals
*Sea Salt Verses Kosher Salt. Sea salt has become very popular and trendy. Claims are that sea salt naturally has minerals to varying degrees and is better for you. I prefer kosher's pure salt flavors.
Note: Thoroughly wash and dry mason jars to remove any stale odors before using.
Using a food processor, add sage, rosemary and garlic along with about half of the kosher salt. Pulsate until the garlic and herbs have the texture of course salt. Be careful not to over process. In smaller quantities, this step can be done by hand.
Add the remaining salt. Pulsate just a few times until just combined
Spread mixture onto the parchment lined cookie sheet. DO NOT place mixture on an uncovered non-stick coated cookie sheet. The mixture will destroy the surface.
Place in the warm sun for 8 hours or more. After a few hours, break any clumps by hand.
If still moist, finish by lightly covering and setting the pan on a counter overnight.