Seafood
New England style stuffed baked shrimp
Tilapia Seasoned, Sautéed and Served on a Bed of Brocoli Rabe
Baked Flounder Fillets Topped with Seasoned Panko Breadcrumbs, Parmigiana, and Butter
Bay Scallops Quick Seared with Seasoned Flour
Sea Scallops Also Seared with Seasoned Flour
New England style Baked stuffed shrimp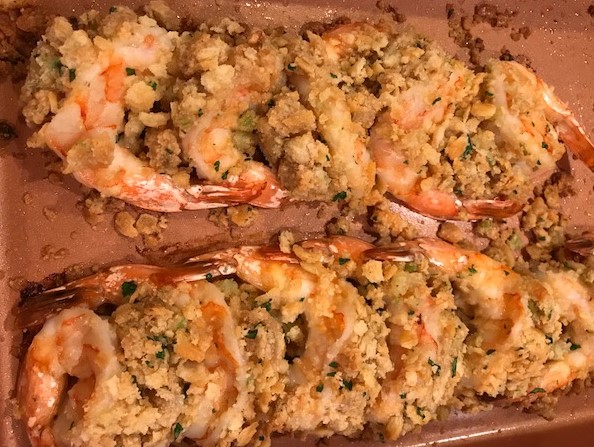 Living in New England mom often baked delicate fresh seafood fillets topped with a simple mixture of crushed Ritz crackers, butter, and herbs. Mom also baked smaller shrimps casserole style. She either layered shrimp with Ritz topping in a baking dish or she sprinkled the same Ritz cracker mix over a single layer of shrimp in a larger baking tray.
On special occasions we enjoyed Extra Jumbo shrimp Stuffed and Baked with a Traditional New England Style Ritz Cracker Stuffing. Fresh parsley was added to brighten stuffing's flavors. An Italian style Battuta, a flavor base was made with finely chopped celery, onion (or scallions), and garlic; sautéed and added to mix. Pinches of fresh Tarragon introduces a mild anise taste complementing our favorite spirit, sherry, and butter.
Shrimp shells are removed up to their small tail section. Shrimp deveined and butterflied to form a pocket. Extra butter added to stuffing for texture. A ball of stuffing could be squeezed with shrimp to attach. Less butter, softer and more delicate the stuffing.
This recipe recommends 1 ½ pounds of shrimp, 16 to 20 per lb., 24 to 30 totals. Culinary sources often recommend about 4 ounces per person but does not reflect the appetites of my family and friends! Then again, Italians always lean towards more than less.
If you prefer your stuffing can be made lighter and more delicate with less butter and courser crumbs.
Sprinkle tops with any leftover stuffing; dot or drizzle tops with extra butter.
Follow directions and do not overcook. Shrimp will become tough, hard, and tasteless.
1 ½ pounds shrimp, "Extra Jumbo" 16-20 per pound

7 13-count sleeves Ritz original crackers (about 91 crackers)

1 Tablespoon finely chopped parsley plus 1 ½ tablespoons for garnish

1 teaspoon chopped tarragon

½ cup finely chopped celery

½ cup finely chopped sweet onion or scallions

2 medium-large garlic cloves finely chopped

Pinch of Old Bay seasoning

1 plus ½ sticks unsalted butter or more as needed

2 tablespoons dry sherry

2 tablespoons lemon juice
Shrimp, remove shells, all but tail sections. Devein and butterfly the concave side without cutting through to make a pocket to hold stuffing.
Preheat oven to 375° convection. Spray a baking pan with nonstick.
Crush Ritz's crackers. Toss with parsley.
Melt stick (8 ounce) stick of butter over low heat. Reserve the remaining half-stick.
Finely chop celery, onion (or scallion), and garlic. Sauté them with 2 tablespoons of the melted butter until softened and garlic is translucent. Be careful not to burn garlic. Stir in the remaining melted butter from the first stick, sherry, Old Bay seasoning, and lemon juice.
Toss Ritz crackers with the melted butter mixture above. Incrementally pour and mix with additional butter until stuffing binds with shrimp
Hold convex (back) side of shrimp. Make a ball with stuffing. Hold in the palm of other mand. Press into shrimp pocket. Line shrimp on the bottom of the baking pan. Dot stuffed shrimp with remaining or additional butter and sprinkle with leftover stuffing.
Place in oven. Shrimp will be ready in only 10 to 12 minutes. Please do not overcook.
Serve with lemon wedges. Garnish with parsley.
Tilapia Seasoned, Sautéed and Served on a Bed of Brocoli Rabe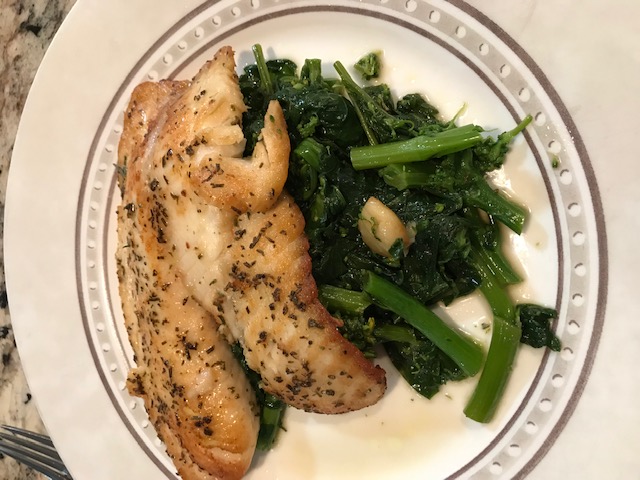 Mild tasting Tilapia is popular and economical. Preparations are versatile. Most are easy and quick. Sautéing fillets with coatings as simple as olive oil and fragrant herbs are my favorite. Tuscan style season blends are favorites. My homemade and sundried has sage, rosemary, garlic and Kosher salt. I also like HERBES de PROVENCE, Greek Seasonings, prepacked seafood and general blends.
Brocoli rabe is washed, trimmed, and par boiled in chicken broth. It is set aside while broth is mostly evaporated. Soon after fillets are coated, their flavor pot is ready to be created.
Garlic cloves are lightly tanned and softened over moderate heat in generous amounts of oil. Cloves are reserved. A side of each fillet is sautéed until lightly brown, about 4 minutes. When flipped, rabe and reserved garlic are added alongside in pan and tossed frequently. Tilapia is ready when flaky and just cooked through, about 3 minutes or so. Try not to overcook. Test for seasoning especially if herbs are salt free. Recipe serves two, perfect portions for Nancy and me.
2 tilapia Fillets, about a pound




1 bunch Broccoli Rabe (Rapini)

1 14.5 inch can chicken broth

5 large garlic cloves

Tuscany or other favorite seasoning

Olive oil

Salt and pepper as needed
Rinse and pat tilapia dry. Coat sides with olive oil and liberally sprinkle with seasoning.

Rinse rabe. Cut and discard an inch off their rough stalks. Remove any wilted outer leaves and cut stalks into 1 to 1 ½ inch lengths. Place in a pot with the chicken stock. Bring to a boil. When rabe softens to a gentile bite, remove rabe with a with slotted spoon. Continue boiling remaining broth until is almost evaporated. Remove from heat. When at room temperature place rabe back in pot.
Remove garlic tips and skin. Cut cloves in half lengthwise. Slowly sauté cloves in a large pan with a generous amount of olive oil. When soft and lightly tanned, put cloves with rabe.
Increase pan to medium-high. Cook tilapia covered until their bottoms are moderately browned, about 4 minutes. Flip fish and surround it in the pot with rabe. Toss rabe with garlic cloves.
Fish is ready when flaky, just cooked through about 3 minutes. Adjust seasoning.

Mound rabe in the center of both plates. Place a fillet on each bistro style. Drizzle with liquid from flavor pan. Optional, serve with a lemon wedge. Enjoy.

Baked Flounder Fillets Topped with Seasoned Panko Breadcrumbs, Parmigiana, and Butter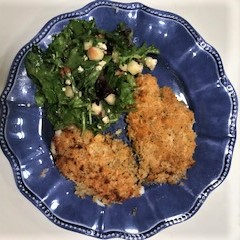 Flounder fillets are delicate and mild tasting. They remain wonderfully moist and flaky when just cooked through.
My favorite technique is to bake them topped with light and crispy Japanese style panko style breading. Panko is coarse ground crustless white bread. Flavor is less pronounced than traditional breadcrumb but is available pre-seasoned, with herbs, spices and some parmigiana. This recipe further enhances panko with lots more parmigiana. I also enjoy adding fresh chopped parsley and the richness of butter.
Parmigiana tends to aid browning making it especially perfect applying topping to thinner fillets.
Serving size for flounder is about ½ pound per person. Being Italian, for usually unfounded fear of not making enough, I increase volume up to ¾ pounds per person. Each fillet averages about ¼ pound raw.
Recipe can easily be scaled up or down using the same ratio of 3 parts panko to 2 parts parmigiana. Each fillet averages about ¼ pound raw; butter and parsley proportionally.

Ingredients:
10-12 flounder fillets about 1/4 lds. each.




1 stick (4-oz.) melted butter

3-cups seasoned Panko breadcrumbs

2 cup grated parmigiana cheese

¼ cup chopped parsley, more for garnish
Rinse and dry fillets.
In a bowl mix panko and parmigiana cheese.
Brush rimmed cookie sheet with butter. Also brush fillets with butter.
Toss topping with remaining butter. Sprinkle mixture evenly over fillets. Place in the center of a preheated 400° direct heat oven or 375° convection.
Remove from oven as soon as fish is flaky and breadcrumbs lightly browned, about 10-12 minutes. Don't overcook.

Garnish with additional parsley if you'd like

Bay Scallops Quick Seared with Seasoned Flour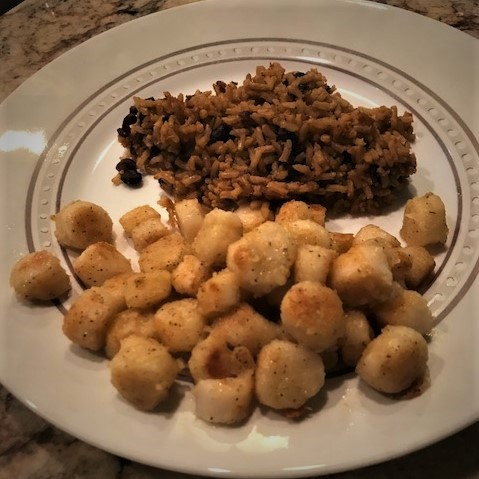 Bay Scallops flourish along Florida's west coast waters. Scallops are found close to shore in relatively shallow grassy flats. Scalloping has become a fun fall tradition for Floridians. Season usually begins early July.
When in season, fresh Bay scallops are sold in seafood departments of local grocery stores. They're also available frozen in seafood cases year-round. The best part, they can be reasonably priced. My local Walmart recently had one-pound packages, 80-120 per pound for only $6.99 each.
Quickly and gently cooked, Bay scallops are sweet and tender.

This is perhaps the easiest recipe. Scallops are drained, dredged in seasoned and very quickly seared in cooking oil. An easy, economical, and rewarding treat.
Ingredients:
1-pound Bay Scallops, 80-120 per pound
KENTUCKY KERNEL Seasoned Flour™" by Hodson Mills
Cooking oil

Defrost scallops if frozen. Drain excess liquid.
Dredge in seasoned flour and shake off excess.
Quick sear in oil while tossing until just cooked through, just a few minutes.
Shown served with Cajun style "dirty rice"

Sea Scallops Seared with Seasoned Flour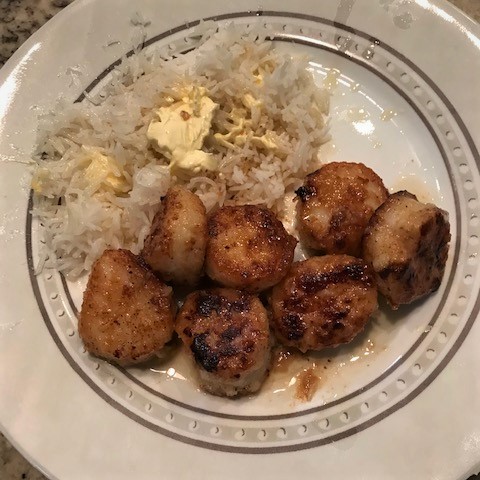 As discussed above, wild caught Bay Scallops from Florida's Gulf coast are not only abundant but available frozen year-round. In addition, prices are very reasonable.
As delicious as they are, larger sea scallops bring eating experiences up another notch. Their larger size allows slightly longer searing without overcooking and are juicier, more moisture.
Prepare the same as bay scallops shown above. However, reserve all juices when scallops are removed from their package.
Dust with seasoned flour and quick sear brown. Flip once. Scallops should be cooked until still slightly translucent or just barely cooked through. Scallops wil continue cooking slightly while resting.

Ingredients:

Large Bay or Sea Scallops

KENTUCKY KERNEL Seasoned Flour™" by Hodson Mills

Cooking oil

Defrost scallops if frozen. Retain all-natural juices.
Dredge in seasoned flour and shake off excess. Quick sear in oil on each side until just cooked through, only a few minutes. Quick toss with juices to create a slight glaze, see photo, and serve.
Shown served with white rice made with chicken broth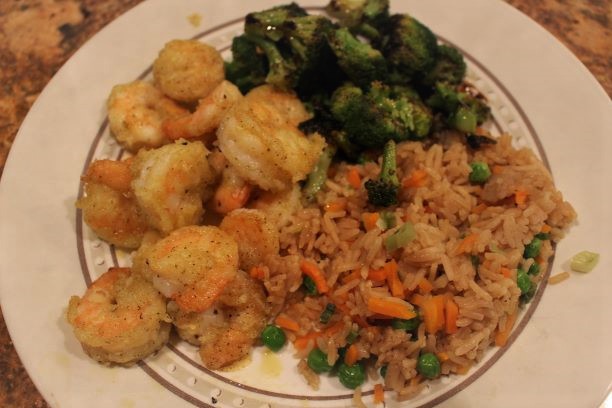 Shrimp is simply dry coated with "KENTUCKY KERNEL Seasoned Flour™" by Hodson Mills.

Dredging applies just the right amount of seasoned flour while quick searing crisps the shrimp and locks in flavors. Most important, unlike complicate recipes, shrimp's delicate flavors are wonderfully enhanced and not overpowered.

Makes an incredibly simple meal served with your favorite vegetable and Rice.

Ingredients:

Large uncooked shrimp, 31/35 per pound

KENTUCKY KERNEL Seasoned Flour™" by Hodson Mills

Cooking oil

Shell and de-vein shrimp; rinse and dry.

Dredge in seasoned flour. Quick sear first side in medium hot oil to crisp, locking in the coating. Flip once to finish. Important, sauté until just cooked through. Overcooked shrimp shrinks, dries and becomes tough.

Place on a paper towel. Serve immediately.