Soups, Stews, Chili and Chowders
Broth and Stock
Basic Chicken Soup
Hardy Chicken Soup with Roasted Chicken and Vegetables
Hardy Beef Stew with Roasted Vegetables
Nancy's White Chicken Chili
Chicken Corn Chowder with Roasted Vegetable Puree; Squash, Sweet Potato and Carrot
Bold Roasted Vegetable Soup with Pureed Acorn Squash, Sweet Potato and Carrot
Shrimp Bisque with Pureed Roasted Vegetables
Cream of Mushroom Soup
Lentil Soup with Italian Sausage
Rich Roasted Pepper and Roasted Tomato Soup with Goat Cheese
Carol's Italian Sausage and Vegetable Soup
Zuppa Di Cozze, Mussel Soup
Stracciatella, Italian Egg Drop Soup, Simple but Elegant
Pasta E Fagiole, Beans and Pasta soup
Chicken Cacciatore, Hunter's Style Stew
Beef and Sausage Stew with Cannellini Beans and Escarole
Broth and Stock

Many soup recipes begin with a base of flavored broth or stock. Although both are now almost thought to be synonymous, purists still differentiate them. In addition, the way beef and veal stocks are prepared, whether or not their bones and vegetables are pre-roasted, will produce very different results. Hopefully the following discussion will offer some clarity. For convenience, I focused on chicken, beef, and veal.
At their cores, broth and the ingredients for stock are similar. They all start with chicken, beef, or veal. They incorporate vegetables, herbs, seasonings, and water. There seems to be a consensus among chiefs that broth's main ingredient is mostly meat. Stocks are predominantly made with bones and some meat; chicken wings, necks, backbones and legs are common as are beef and veal shins, shanks and marrow bones. There is little disagreement that the use of bones in stocks results in a deeper palate. Both maybe classically finished in a "bain marie", slow simmering water for 4 or 5 hours along with all other ingredients. However, the basic quick stock recipe below can be rapid boiled in a little over an hour.
For bolder versions of stock, bones and vegetables are caramelized in a roasting pan and the pan is deglazed before everything is placed in the simmering water. This technique makes the richest and deepest stock. It is also used to make flavorful sauces that are especially complimentary with brasher meat dishes. If not hardy enough, some cooks also add tomato paste for even more intensity and richness. There is something magic about concentrated tomato in stews and stocks.
Vegetables, the French commonly use a mirepoix, a mixture of diced or sliced carrots, celery and onions. Italians use a Battuta with the same trio. However, Italians apply them more like a spice, finely chopping or mincing. Conceptually mincing improves taste absorption. For additional flavors, Italians might also incorporate pancetta, slices of an unprocessed bacon roll along with the three vegetables. Leeks and garlic are also common.
Herbs and spices, parsley, thyme, ground pepper, peppercorns, bay leaf and Tuscany seasoning are frequently incorporated.
Store bought broth may not have the depth of flavors homemade have but there are easy ways to give them credibility, pumping up their flavors. Soups incorporate additional cooked flavors like chicken, beef, mini meatballs, carrots, celery, onion, garlic, herbs, eggs, peas, tortellini pasta, or parmigiana cheese. Soups with hardy ingredients like lentil soup (recipe below) uses broth in a supportive role adding flavor not designed to be dominant.
When using store bought broth as a base for soup, I prefer reduced salt. I also avoid added salt. Instead of adjusting seasoning with salt at the end, I use Organic "Better Than Bouillon™". Jars are available in chicken, beef, vegetable, fish, etc. flavors. I use it sparingly as I would salt. It salts the soup while contributing additional intensity of broth flavors. If you decide to try it, I'd love to hear your feedback.
Basic Chicken Soup

Although this simple recipe has chicken, carrots, celery, and "soup" pasta, there are many add-ins and substitute ingredient options. Growing up, loaded soups deservedly earned their spot in Lucia's meal rotation.
Ingredients:
Basic Stock
2 chicken breasts with skin, breast meat and bones (legs can be used although I prefer white meat). You can also add any saved wings, neck or back bones)
3 unpeeled but washed medium carrots each broken into 3 or 4 pieces
3 large outer celery stalks with leaves also broken into pieces
1 Spanish onion halved
1 tablespoon dried Italian seasoning
1 teaspoon Tuscany seasoning Several parsley
stocks
1 bay leaf
4 to quarts of water Soup About
5 peeled medium carrots
About 4 outer celery stalks
2 32 oz. boxes (or more) store bought quality low salt chicken broth
1/2 cup coarsely chopped flat leafed parsley "Better Than Bouillon, Roasted Chicken Base" as desired

Otional, 1/2 pound of your favorite pasta (Datalini, elbow, Farveli, Cavatelli, small shells, pastina; fine, hardy, or extrawide egg noodles, Acini Di Pepi, cheese tortellini, etc.)
Simplest technique*, place all stock ingredients in large pot. Boil until the chicken is cooked through, about an hour and fifteen minutes removing all surface foam. Liquid will reduce to about half its original volume.
Drain through a strainer reserving all stock. Place cooked chicken on a plate and discard all other solids. When cool enough to touch, salvage all of the cooked chicken meat and cube.
Cut celery and carrots into bite size pieces and place them into the pot with the chicken and cooked stock.
Add the two boxes of store bought stock.
Optional, add about 1/2 pound of your favorite noodles (usually 1/2 box) Simmer until pasta is cooked and vegetables softened.
Adjust seasoning by adding "Better Than Bouillon, Roasted Chicken Base" stirring in a little at a time until desired saltiness is achieved.
* For a hardier broth, you can sauté the chicken and vegetables in the pot with olive oil prior to adding remaining stock ingredients.
Hardy Chicken Soup with Roasted Chicken and Vegetables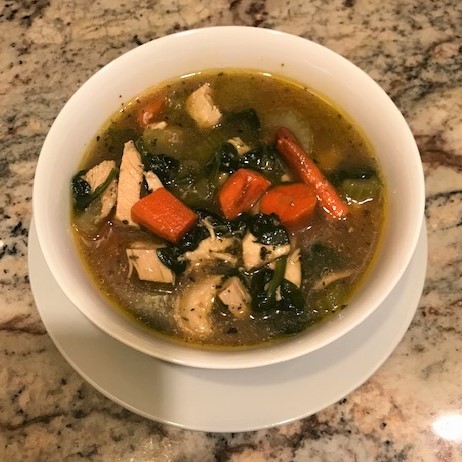 The secret to this great chicken soups and stews is by seasoning and roasting chicken with their skin and bones retained. I prefer breasts.
Chicken simmered in water or in combination with broth for hours can drain flavor and produce chicken with stringy over-processed texture.
Roasted chicken, delicious if simply served as an entrée, makes the perfect chicken for soups and stews. As a bonus, root vegetables like carrots can also be seasoned and roasted with chicken. Lightly caramalized, they add additional richness.
After roasting, boxed broth is enhanced to prepare the soup's delicious base. Onion is sliced and sautéed with olive oil in a stalk pot. Skin and bones from the roasted chicken are removed and added to render additional flavors along with celery stalk and parsley. Once flavors are extracted, mixture is passed through a strainer, flavored broth is captured while discarding rendered solids. Only after broth and fresh sliced celery are cooked through, sautéed spinach incorporated, chicken and roasted carrots are diced and added along with and all retained roasting juices, seasoning is adjusted; delicious soup is ready.
Escarole or mustard greens can be substituted for Spinach. You can add a variety of add ins to this versatile soup; cooked white beans with additional broth, small Italian meatballs, frozen peas, thin egg and vegetable omelet cut into delicate squares, and many more.

Ingredients:
1 Whole, 2 split chicken breasts with skin and bones
Olive oil
Tuscany Seasoning (Rosemary, sage, garlic, and kosher salt), or favorite poultry seasoning

1-pound carrots
8 Large celery stocks
Fresh flat Italian parsley
1 medium yellow onion
3 32 oz. boxes chicken broth
10-oz package of fresh spinach
"Better than Bouillon" Chicken, Roasted Chicken Base, or Premium Base°
Rinse and dry split breasts. Generously coat them with olive oil and Tuscany (or other favorite) seasoning. Peel carrots and cut lengths into three of four pieces. Also toss with seasoning and oil.
Place chicken skin sides up in a roasting pan. Layer pan with seasoned carrots. Convection roast at 380° in the middle of the oven. If carrots char before chicken is cooked through, temporarily remove and set aside. Occasionally turn breasts over. Remove roasting pan when chicken is just cooked through, about an hour or less. Remove bones and skin (reserve). Toss chicken and carrots in roasting juices. Set aside until ready to add.
In a stock pot, slice and sauté onion in olive oil until translucent. Add chicken bones and skins, 4 celery stalks each hand split in half, a generous handful of parsley stocks, and two 32 oz. boxes chicken or bone broth. Simmer until flavors are rendered about 1 ½ hours. Strain over a pot or large bowl to capture all broth. Return broth to stock pot along with remaining box of broth. Discard solids from strainer.
Slice remaining fresh celery; add to pot.
Coarsely cut fresh spinach with cooking shears. Sauté in a separate pan until all liquid is evaporated.
Cube chicken and slice roasted carrot pieces.
When vegetables are ready, add spinach, chicken, carrots and all the delicious roasting juices. Gradually add "Better Than Broth" to taste and saltiness.
Italians often serve with freshly grated parmigiana and crusty artisan bread.
Hardy Beef Stew with Roasted Vegetables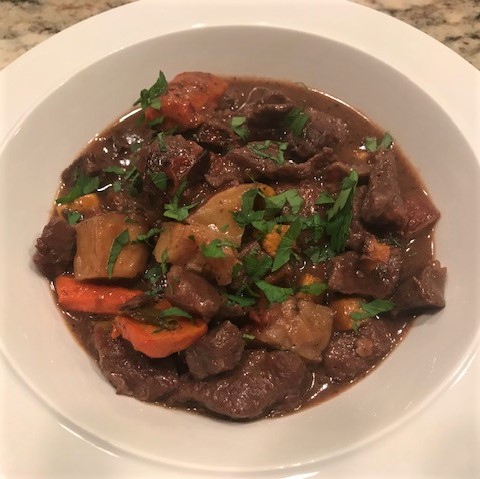 Who doesn't love the comfort of bold, delicious, and piping hot Beef Stew on a cold winter's night? Growing up in Boston's Italian North End, plenty days there qualified!
This version applies tested techniques for tenderizing otherwise tough beef while creating incredibly bold flavors. Simmering broth is flavored with sautéed onion and garlic, red wine, chicken broth, seasoning, and tomato product; cubed plum, tomato paste, ground tomato with puree, etc. Hints of tomato is especially complementary with beef stew.
Main ingredient, beef, I prefer using traditional chuck steak. Seasoned meat needs to be seared crisp on each side to help meat break down during slow cooking. This cut is easy to uniformly cut into strips and lengths that are convenient to flip once during searing. I find cubed beef a little more difficult searing all around. Beef needs to be seared not just browned. If interested, search "The Maillard Reaction" for the science behind it.
Traditionally, root vegetables are simmered with beef and broth until cooked through. To further enhance stew's bold taste, texture, and character, I oven toast vegetables first with oil and seasoning. Thy are added to stew halfway through cooking. It's all about rich flavors.
Onions, this stew also benefits from sweating onions. Personally, I'm not a fan of actual onions in my stews. Add if you'd like. Although I use a large slow cooker for this recipe. Check manual for cooking times with either low and slow or quick setting. Beef stew can also be slow cooked in a Dutch oven.
Ingredients:
Prepare beef
2½ to 3 pounds chuck beef
Salt and fresh ground pepper
Flavor oil
Cooking oil (vegetable or another favorite)
1 medium yellow onion sliced
2 garlic cloves sliced
2-3 medium plum tomatoes, 2 T tomato paste, etc.
Beef and base
¼ cup flour
1 ½ cup red wine
1 32 oz box low salt chicken broth.
2 bay leaves
2 teaspoon favorite European style seasoning/spice blends (1)

Roast vegetables (2)

4-5 medium red potatoes
1-pound large carrots
1 cup frozen peas (optional)
Garnish
3 Tablespoons minced parsley
(1) HERBES de PROVENCE Spice Blend, Greek style rub, Tuscany style (see my homemade blend recipe)
(2) Other root vegetables might include parsnips, turnips, and/or substitute red potatoes with multicolored for additional flair.
Prepare Beef: Thoroughly dry beef with paper towels. Cut into ¾ inch thick slices and in approximately 1 ¼ - 1 ½ inch lengths. Toss pieces in a bowl with salt and pepper. Rest while preparing flavored oil

Flavor Oil: Remove onion tips, skin, and slice. Sauté onion in 2 tablespoons oil over medium heat. Discard when translucent. Lower heat. Lightly tan garlic also discard.
Place beef slices, single layer. Increase heat to high. Cook first side crisp; flip pieces. When second side is also crisp, stir fry pieces for another minute. Remove to a bowl with a slotted spoon. Repeat with additional layer(s) of beef, replenishing oil as needed.
Sautee tomato product (cubed, hand mashed) for a couple of minutes and place in the same bowl as the cooked beef. If paste, ready two tablespoons of paste.
Beef Base: Lower heat to medium. Whisk flour with oil and smooth, adding more oil as needed. When slightly tanned, blend with wine. As the mixture thickens, gradually whisk with chicken broth and make sure all favors bits stuck to the pot are loosened.
Stir in bay leaves and seasoning mix. Combine with beef, tomato and all drippings from the bowl. Give ingredients a final stir, cover. Follow slow cooker directions.
vegetables: Trim, and peel carrots. Wash and dry potatoes. Cut both into bite size pieces. Toss pieces in a bowl with a generous amount of oil. Season with salt, pepper, and seasoning. Bake on sided cookie tray(s) in a 425° direct heat. Flip occasionally. Remove when browned, half hour or so.
Finish: Add roasted vegetable midway through simmering to soften and absorb broth. If desired, thin broth with additional chicken stock. Optional, add a cup or so of frozen peas.

Garnish, serving bowls with chopped parsley.
Nancy's White Chicken Chili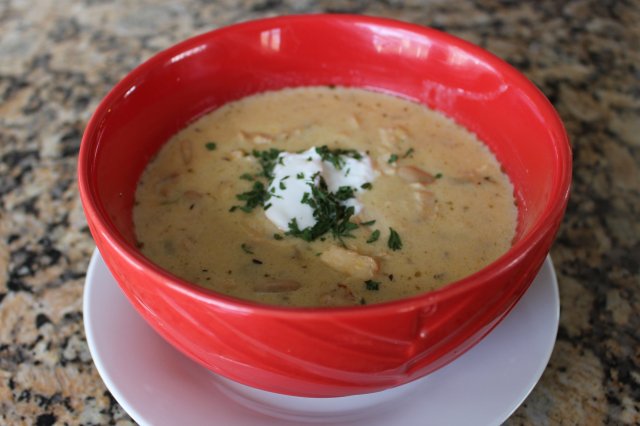 Is there anything more heartwarming than a big bowl of spicy red hot chili on one of those bone chilling winter nights. No matter how much you love spicy red chili, ever wish you had an equally good or even better alternative just to mix things up? This recipe is for you!
Not only will you be amazed how great it tastes and how satisfying Nancy's White Chili is but you won't believe how easy it is to assemble and make. It's incredibly quick. In fact, Ingredients are mostly pre-cooked or canned, assembled and quick simmered in one pot. Not only can it be made well ahead, it actually gets better overnight.

Except for proportions, core ingredients commonly used to make white chili are relatively standard; cubed cooked chicken, white beans, chicken broth, canned chilies, cheese, sour cream, cumin, cayenne, etc. Nancy eliminates heavy cream and uses shredded cheddar for creaminess and thickening with added flavors as a bonus. Bring smiles to your table.
Note: Nancy's dad was a chef in a variety of Italian restaurants in Boston. She learned to cook from one of the best.

Ingredients:
Step1
1 tablespoon vegetable/canola oil
½ cup chopped scallions or medium onion
Step 2
2 14.5-oz cans chicken broth
2 9-oz packages of cooked chicken breasts (i.e. Perdue "Short Cut Carved Chicken Breast" or similar) cut into smaller pieces
2 15½ oz. cans white beans (cannellini, great northers, etc.)
1 ½ teaspoons garlic powder
1 4-oz. can green chili
1 teaspoon ground cumin
1 teaspoon dried oregano
1 teaspoon salt
½ teaspoon white pepper
¼ teaspoon cayenne pepper
Step 3
1 cup sour cream
1 8-oz package (2 cups) shredded cheddar or pepper jack cheeses
Step 1
In a large pot, sauté scallions or medium onion until translucent.
Step 2
Stir in chicken broth and all other step 2 ingredients. Bring to a light boil and lightly simmer uncovered for about 20 minutes. Stir frequently.
Step 3
Add sour cream and shredded cheeses. Stir until melted and all ingredients are well combined. Turn off heat…white chili is ready!
Serve with optional tortilla strips and top with a dollop of sour cream or plain Geek yogurt.
Chicken Corn Chowder with Roasted Vegetable Puree;

Squash, Sweet Potato and Carrot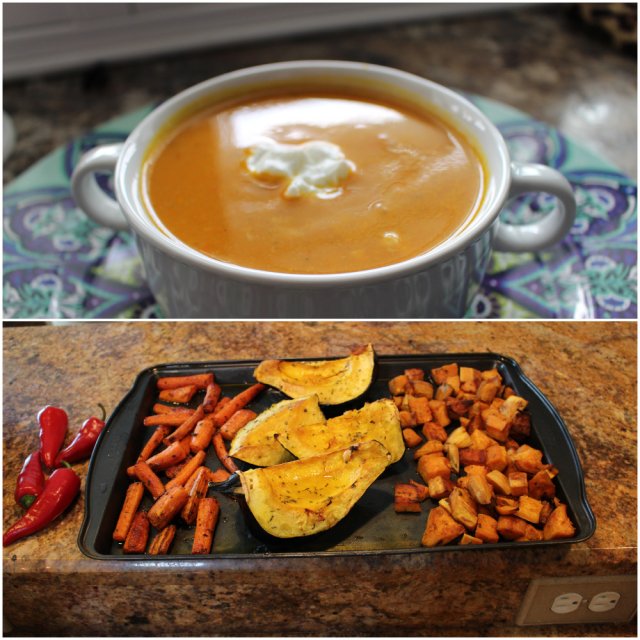 This version is thickened with a delicious puree of roasted sweet potatoes, squash and carrots.
Additional flavors added include charred Corn kernels, skinless chicken thighs, pancetta, chicken broth, spices and Better than Bouillon™ Roasted Chicken Base. Chowder is served with a dollop of fat free sour cream.
Better than Bouillon™ Roasted Chicken Base, I use it as a terrific flavor enhancer. Available in jars in many grocery stores, it also come in a variety of other bases, beef, vegetable, ham, seafood, etc.

Roasted Chicken Base comes in "Premium" and "Organic Reduced Sodium". Reduced has about half the salt content. Add in increments, tasting to make sure you don't over salt.
This recipe produces a large pot often shared with friends and neighbors. Freeze leftovers in convenient serving portions.
Ingredients:
2-large sweet potatoes
1 medium acorn squash (1)
1 pound carrots
4-6 ears sweet corn
6-8 Boneless and skinless chicken thighs (about 2 lbs.)
¼ pound cubed pancetta
2 32oz containers chicken broth (or more as needed.
¼ teaspoon cumin
¼ teaspoon fresh nutmeg
1 teaspoon Herbes de Provence spice blend
Better Than Bouillon™ Roasted Chicken Base

Salt and white pepper
Fat Free sour cream
Optional:
Dry sherry, optional
Cayenne pepper, optional

(1) Acorn squash can be replaced with butternut squash prepared like sweet potatoes and carrots.
Oven roasting vegetables
Peel sweet potatoes and coarsely cube. Toss in a bowl with salt, pepper and roasting oil. Spread on a cookie sheet and place in a 400° direct heat oven. Occasionally flip and rotate with a spatula.
Prepare carrots the same way. Also spread them on a tray and roast.
Quarter acorn squash. Brush insides with oil; sprinkle with salt and pepper. Place with skin side down on aluminum foil and on another tray in the oven.
Remove vegetables as they brown and soften through. Scoop pulp from acorn squash. Puree roasted vegetables (mixer/blender, food process, stick mixer, etc.) using chicken broth as needed. Reserve.
Remove kernels from corn. Roast them on a cookie sheet. Also put aside.
Cut chicken into bite size pieces. Saute' chicken and pancetta in a large pot with oil. When chicken is cooked through add dry ingredients and remaining chicken broth. Simmer about 30 minutes. Stir in pureed vegetables and roasted corn and heat through.

Add 2 tablespoons of reduced salt Better Than Bullion™ 1 tablespoon if using "Premium" base. Adjust for additional salt if needed.
Serve with a dollop of sour cream.
Optional, add dry sherry and/or cayenne pepper.
Bold Roasted Vegetable Soup with Pureed Acorn Squash, Sweet Potato and Carrot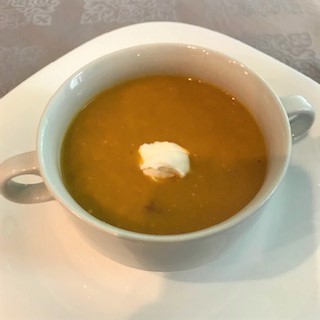 This rich and creamy soup also starts with charred roasted vegetable seasoned with blend. Soup is also flavored with sautéed pancetta, fresh ground nutmeg, salt, white pepper and is sweetened with brown sugar.

Cream cheese adds rich texture. The soup is thinned with chicken broth and served with a dollop of sour cream.
Ingredients:
Charring vegetables
2-large sweet potatoes

1-pound carrots

Olive oil

1 teaspoon Herbes de Provence spice

1 medium acorn squash

2 tablespoons softened butter

1 tablespoon brown sugar
Other ingredients
¼ pound cubed pancetta




2 32-oz chicken broth plus more if needed.




8-oz creamcheese*

¼ teaspoon fresh nutmeg

Salt and white pepper

Additional brown sugar

Fat Free sour cream
* option, try substituting with creamy goat cheese
Peel and cube sweet potatoes. Peel carrots and thick slice. Toss each with olive oil while sprinkling with Herbes de Provence spice. Oven roast single layer with 400°direct heat. Flip them over occasionally. Remove when soft and slightly caramalized.
Cut squash into four wedges; remove seeds. liberally brush with butter and sprinkle with brown sugar. Squash is also placed in oven, roasted with skin sides down. When ready skin easily peels off by hand.

While vegetables are roasting, create a wonderful flavor base by browning a quarter pound of finely cubed pancetta in a large finishing pot. Cover with chicken broth and simmer until vegetables are ready.
When vegetables are charred and squash's pulp is very soft throughout eliminating bitterness, puree potato, carrots, and squash pulp with cream cheese, nutmeg, and remaining chicken broth. Mix into pot with pancetta. Reheat and finish by adding more broth if needed for desired thickness. Add salt, white pepper and brown sugar to taste.
Serve in individual cups or bowls with dollops of sour cream.
Shrimp Bisque with Pureed Roasted Vegetables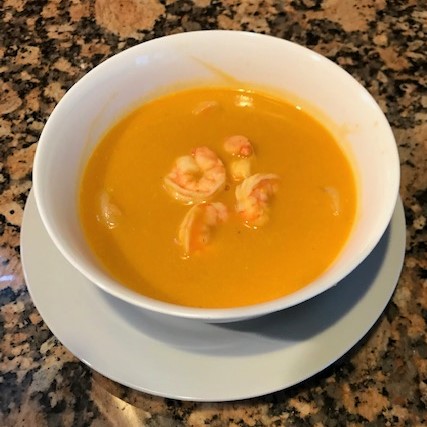 Shrimp bisque has always been a favorite.
I enjoy experimenting with "creamy" soup and bisque recipes without heavy creams. This recipe includes a base of roasted and pureed vegetables (acorn squash, sweet potato, and carrots), box of seafood broth, bottled clam broth, fat free sour cream, sherry, and seasoning. It does include a moderate amount of butter, 4 tablespoons for richness.

I prefer using large shrimp. Although medium shrimp maybe a little more delicate, they are easier to overcook and dry, something I avoid at all costs.
Great results yet relatively easy. Can be made ahead, even the prior day. See my *surprise below.
Ingredients:

1 medium acorn squash

1 medium/large sweet potatoes
5 medium carrots
Tuscany Seasoning (rosemary, sage, kosher salt and Garlic)
Vegetable oil
24-oz medium or large shrimp
32-oz box seafood broth
2 8-oz bottles clam juice
8-oz fat free sour cream
¾ cup sherry
¼ teaspoon Old Bay Seasoning
4 tablespoons butter room temperature
Kosher salt
Preheat oven to 425° direct heat.
Quarter acorn squash; remove seeds but retain skins. Peel sweet potatoes and cut into quarter inch slices. Peel carrots; remove tips. Cut half inch slices. Place vegetable in a bowl. Toss with oil and Tuscany seasoning (or similar favorite). Spread onto a large cookie sheet and roast in the middle of the oven. Vegetables are ready when lightly charred and a folk easily pierces through, approximately a half hour. Use a spoon to remove pulp from acorn squash skins. Place roasted vegetables in a blender or food processor.
Shrimp, if not cleaned, remove shells and place them in the stock pot. Devein shrimp and rinse.
Add seafood broth to the stock pot with shells. Boil for a few minutes to extract flavors from shells. Remove and discard shells with a slotted spoon. Add stock to the roasted vegetables and puree.
Quick sauté shrimp in the empty stockpot in batches with oil (helps cook quantities evenly without overcooking). Remove when almost cooked through. Reserve.
Empty puree from blender into the stock pot along with clam juice, sour cream, sherry, and Old Bay Seasoning. Simmer while stirring about 10 minutes. Incorporate butter. Turn heat off.
When almost ready to serve, reheat bisque to a simmer. Test for seasonings and thickness adding water if needed. Stir in shrimp and serve immediately optionally garnished with dill.
*Bisque keeps well refrigerated overnight. If not overcooked initially, shrimp remained tender the next day when heated next day, perhaps shrimp was even more tender from saturation. Bisque can conveniently be made the day before.
Shrimp Chowder

Recipe from Evelyn Bowman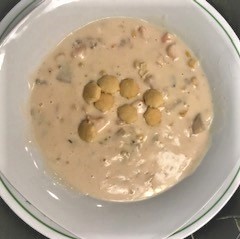 Our friends Evelyn and Larry Boman invited us for comfort food on a chilly Florida night (yes chilly Florida night!). As always, our hosts were gracious, menu well selected and food delicious.
Most special was Evelyn's Shrimp Chowder. As New Englanders, Nancy and I know chowders and hers was terrific. Knowing I'd be blown away with its simplicity, she grinned as she handed me her detailed recipe card.
Preparations are minimal, ingredients mostly prepackaged, economical brands used, and assembly quite easy.
Evelyn said don't be afraid to customize proportions to your taste. Adjust proportions of milk and cream for preferred consistency. Add more shrimp or alter spices and/or heat with pepper flakes. ¼ teaspoon of red pepper flakes proved perfect.
Her chowder was made earlier. Shrimp added and cooked just before we arrived.
Recipe makes about 9-cups.
Ingredients:
1 bunch green onions

2 T Butter

¼ - ½ teaspoon Red pepper flakes

¼ teaspoon garlic powder

Pinch black pepper

8 oz. cream cheese, room temperature

3 10.5 oz. cans of condensed cream of potato soup*

1 10-14 oz. can whole corn drained

1 soup can of whole milk

1 soup can of heavy cream

10 oz. shelled frozen shrimp

Oyster crackers
* Great Value brand or similar
Remove tips from green onions; coarsely chop
Sauté onion in butter until translucent. Add red, black pepper, and garlic powder. Lower heat.
Add cream cheese to the pot. Melt while mashing with a folk. Add a little milk if needed to help. Be careful not to burn.
Add condensed soup, corn, milk, and cream. Simmer while stirring until well combined.
Before company arrives, simmer with shrimp.
Chowder is ready when hot but not boiling and shrimp is just cooked through. Serve with oyster crackers. ENJOY!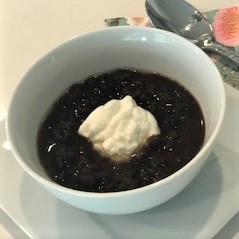 Black beans cook pleasantly creamy. Although their natural flavor is mild, they absorb the flavorings they are simmered with. They are also high in protein.
Italians commonly use Battuta, a perfect flavor base for soups and braised meats. Mom used a trio of chopped carrot, celery and onions. She also included minced garlic and rendered salt pork. This recipe replaces salt pork either with pancetta (Italian salt cured bacon) or traditional bacon.
No need to dilute beans by soaking them in water but are simmered in chicken broth until beans reach your desired texture.
Options, instead of pancetta or bacon, try simmering soup with smoked pig's knuckles, leftover ham bones, sausages, or a variety of other meats.
Ingredients:
Olive oil

1-cup diced pancetta or bacon
Battuta
1 cup diced carrots

1 cup diced celery

1/2 cup diced onion
Other ingredients
4 large garlic cloves finely chopped

2 32 oz. boxes chicken broth (more if needed)

2 tablespoons tomato paste

2-teaspoon Italian seasoning

1 Bay leaf

1-pound dried black beans

salt and pepper

Sour cream

​​​​​​​
Lightly brown pancetta or crisp bacon in olive oil in a pot large enough to hold all ingredients. Set aside.
Sauté Battuta ingredients with additional oil while tossing. When softened, add garlic and cook for an additional minute. Stir in broth, tomato paste, Italian seasoning, and bay leaf.

While bringing to a boil, check beans for any debris. Place beans in a strainer and rinse.
When broth reaches a boil, stir in beans. Partially cover and adjust heat to a simmer. Add water or more broth as needed.
When beans are nearly ready, tender, about 2 hours, add pancetta or bacon. Adjust for seasoning, salt, and pepper
Serve with a dollop of sour cream.
​​​​​​​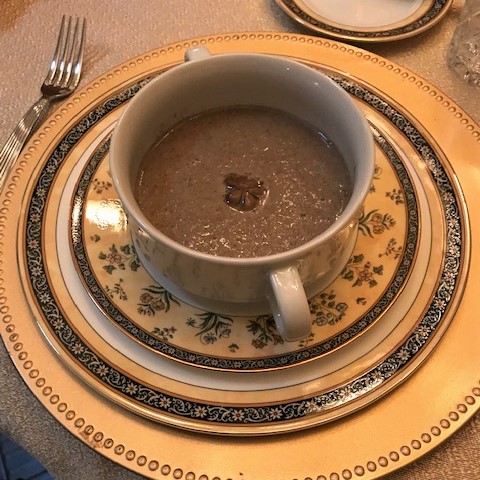 Whether featured on or in specialty flatbread, tarts, brochettes, stuffing, or served as a side, my love of mushrooms is evident throughout my website.

I'm especially fond of combining mushrooms with butter, chicken broth, sherry, and tarragon. My mushrooms are usually cooked until their liquid is released and evaporated. It's probably the only vegetable I thoroughly cook transforming bland mushrooms to slightly exotic.
One of my very favorite recipes is "Sautéed Mushrooms with Sherry, Butter and Tarragon", a bold and delicious side dish (please see recipe under my "Vegetables" Tab). Pureed with additional chicken broth, it makes a great base for mushroom soup; creamy version, add additional butter and cream.
For earthier taste, add rehydrated dry porcini mushrooms.
Soup can be simply garnished with fresh cut tarragon or with carved or exotic mushroom like oyster sautéed in butter.
Ingredients:
½ ounce dried porcine mushrooms
Sautéed Mushrooms
2 pounds white or baby Bella mushrooms

¼ cup of oil oil and 1 large garlic clove)

1-14.4 oz. can chicken broth, regular or gluten free

3/4 cup sherry equally divided
¼ teaspoon dry Tarragon or ½ teaspoon fresh.
Creaming and thinning ingredients
6 tablespoon butter
1 32-ounce, quart container of chicken broth, regular or gluten free
1 cup heavy cream, salt, and pepper*

Rinse package of porcini mushrooms. Soak covered in water. Set aside.

Simmer garlic in olive oil. Discard when tender.

Dust mushrooms. Remove their rough tips; thick slice. Sauté them in the garlic infused olive oil until their liquid is released and mostly evaporated.

Add the 14.4 oz. can of chicken broth, half of the sherry, and tarragon. Add porcini mushrooms and soaking liquid. Continue cooking until remaining liquid is also mostly evaporated.

Melt butter with mushrooms. Add the quart of chicken broth. Once lightly boiling, puree mushroom mixture in a blender until smooth. Add cream and remaining sherry. Test for salt and pepper. Heat and serve. If preferred, add additional broth to make soup thinner.

*Salt can be replaced with "Better than Bouillon™ Roasted Chicken Base" is used to make stock. It enhances flavor while subtlety adds saltiness. Available in jars in many grocery stores. The also come in a variety of other bases, beef, vegetable, ham, seafood, etc.
Lentil Soup with Italian Sausage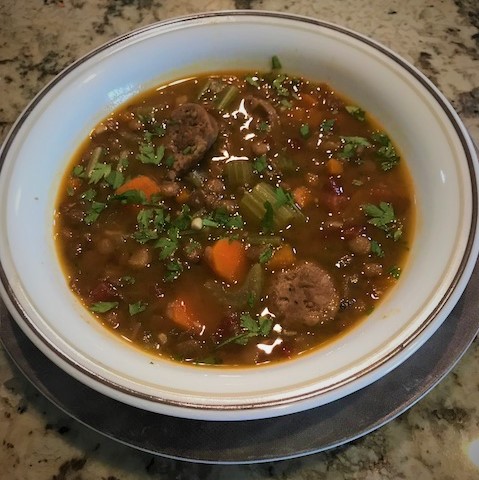 Lentils are a great source of minerals, protein, and fiber. Best of all, they help create a delicious and hardy meal.
This soup is all about flavors. It uses chicken broth instead of a water base. Adding Italian sausages and thick slices of carrots and celery also makes this a comprehensive one pot meal. The soup incorporates Italian "Battuta" (see note below), tomato, garlic and bay leaf, all adding to the soup's complex flavors.
Total time from preparation to serving is only about two hours. This recipe makes plenty. Freeze individual serving portions for quick meals. Simply defrost, add water, and microwave.
Note: Battuta is an Italian flavor base. It can vary but basically is a mixture of fragrant seasonings, equal portions of celery, carrots, and onion. Mom usually added salt pork or pancetta.
The French have something similar, mirepoix. Theirs also consists of equal portions of celery and carrots but double the volume of onion. Mirepoix is an essential ingredient when making beef or chicken stock.
Variations, if you prefer, instead of Italian sausages, you can use leftover ham and bone, chicken, smoked pig's feet, kielbasa, pancetta, shrimp, etc.
Ingredients:

2 cups dried lentils (14 oz. package)
5 Italian sausages (1 pound)

Battuta, 1/2 cup each finely diced carrots, celery, and onion
2 large garlic cloves minced
3 32 oz. boxes low sodium chicken broth
3 plum tomatoes chopped*
1 bay leaf

2 large carrots
2 large celery stalks
Parsley
* can substitute equivalent volume of canned and drained cubed tomato, ground peeled, or 2 tablespoons of tomato paste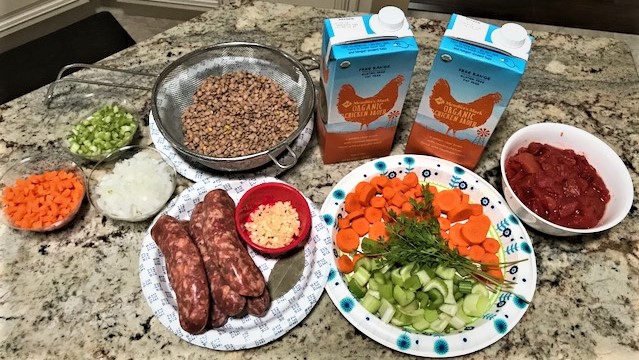 Pick through the two cups of lentils and place them in a strainer. Run cold water through them until clean water flows through.
Place sausages in an 8-quart pot. Pour chicken broth up to the top of the sausages. Place on high heat with the cover partially open. Bring to a rapid boil. As the broth boils down to about half the initial volume, flip sausages over and lower heat to medium low. When the broth has evaporated, lightly brown the sausages all around (add a little olive oil if needed). Remove sausages.
Sauté the Battuta until softened, a minute or two while using a spatula to toss. Add garlic. Cook the mixture for another minute being careful not to burn.
Add the remainder of the open broth and another full 32 oz. box. Bring to a boil. Add lentils, tomato, and bay leaf. When the mixture reaches another boil, adjust the heat to maintain a simmer and cover the pot slightly ajar.
Slice the sausages to about 3/8 inches. Add them to the pot.
Remove the rough tips of the carrots and celery. Peel the carrots. Thick slice the carrots and celery. When the lentils begin to soften, after about 45 minutes, add the vegetables. Add more chicken stock a little at a time as needed or desired. Remove from heat when the lentils are cooked soft and the vegetables are just cooked through.
If a little more liquid is needed, you can supplement with water or additional chicken broth. Adjust for seasoning. Garnish with parsley and serve with grated parmigiana cheese.
Rich Roasted Pepper and Tomato Soup with Creamy Goat Cheese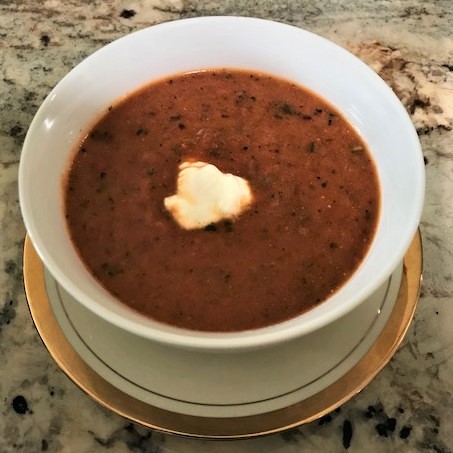 This is a surprisingly simple but incredibly flavorful thick soup is assembled with only a handful of ingredients mostly store bought.
Sweet bell peppers are charred and peeled, blended with chicken broth and fresh basil.
Pepper mixture is cooked with canned Dei Fratelli® Fire Roasted Crushed Tomato*, is seasoned, and creamed by simmering with goat cheese. It's that easy and delicious.
These are perfect proportions. However, soup can be made even richer and thicker to taste by adding more goat cheese. A small amount of red pepper flakes can also be added for a little heat.
Serve with a dollop of sour cream.
* Dei Fratelli® Fire Roasted Crushed Tomato are very flavorful right out of the can. To preserve their intense flavors try not to overcook.
Ingredients:
3 colorful bell peppers (red, yellow, and/or orange)
1 14 ½ oz. can chicken broth
½ cup fresh basil leaves torn
4 oz. (or more) creamy goat cheese
1-28 oz can Dei Fratelli® Fire Roasted Crushed Tomato
½ teaspoon kosher salt
Black pepper
Optional, sour cream

Char peppers (roast, broil, or grill). Remove skin, core, and seeds over a bowl reserving juices.
Puree pepper, their juices, chicken broth and basil. Place in a pot large enough to hold all remaining ingredients. Bring to a boil.
Add tomato, ½ teaspoon Kosher salt and a couple twists of black pepper. Simmer for about 20 minutes. Add 4 ounces of goat cheese. Continue to simmer until cheese is dissolved. Add additional cheese and salt to taste.
Add a dollop of sour cream in each serving.
Carol's Italian Sausage and Vegetable Soup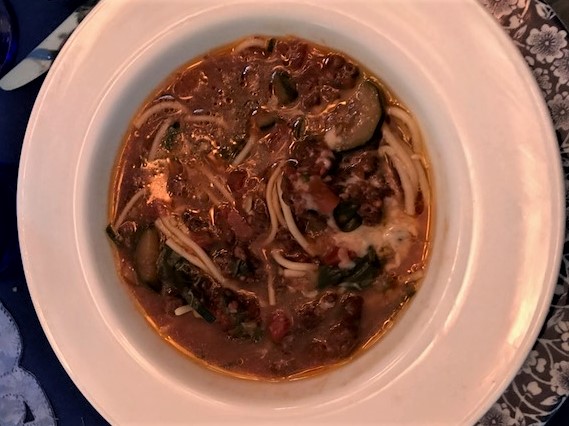 Our dear friend and gracious dinner host Carol Horlock recently served this simple and flavorful soup. Upon request, she cordially offered permission to post her recipe on my website.
Ingredients are uncomplicated and easy to assemble. Mild and hot Italian sausages are cooked and combined with fresh vegetables, herbs, wine, tomato, beef broth, and simmered.
When ready to serve, she spoons cooked pasta, a drizzle of olive oil, and grated parmigiana cheese in the bottom of individual serving bowls. Finished soup is carefully ladled over.
This technique helps keep pasta from overcooking by sitting in the hot soup, and the parmigiana from clouding the richness of soup's clear broth.
Served with chunks of warm crusty bread. "Make sure to tell guests dipping is encouraged".

Ingredients:
2 20-oz. packages of mild Italian sausage; one hot, one mild
2 Tablespoon finely chopped garlic
2 tablespoon finely chopped onion
3 slender zucchinis, sliced
1/2 9-oz package baby spinach sliced (any left-over veggies may also be added)
1 28-oz. can of petite diced tomatoes

32-oz. box beef broth
1 1/2 c. Chianti of other favorite red wine.
3 T. dried parsley
1/3 of a 4 oz. tube of "Gourmet Garden Basil" (usually found in supermarket veggie dept)
Favorite soup pasta, orecchiette (little ears), conchigliette (baby shells), triplini (little bows), short cut angel hair, etc.

Grated parmigiana cheese
Olive oil
Remove casings; cut or pinch sausages into small pieces. Brown in the soup pot with olive oil.
Add garlic, onion, sliced zucchinis, spinach, tomato, red wine, parsley, and basil. Simmer (not boil) for 45 minutes or longer.

Meanwhile, place your favorite soup pasta in rapidly boiling water until cooked al dente.

When ready to serve, place some pasta in the bottom of each bowl. Add grated Parmigiana cheese and a light drizzle of olive oil. Carefully ladle hot soup over and serve with hot crusty bread.

Zuppa Di Cozze
Mussel Soup

This recipe starts with a traditional tomato and white wine sauce. I love the delicate taste secreted from steamed mussels. As with other recipes, I prefer simple ingredients that don't distract from the main titled ingredient. My recipe also includes cubed tomatoes and parsley for a fresher taste instead of ground peeled tomato often in tomato juice, and basil. Although I don't think it's needed, you can add a little battuta of finely chopped celery and onion, sautéed in olive oil after cooked garlic is removed.
Pepper flakes can be adjusted to taste. Smaller amounts are for debt of flavor, more to crank up the heat.
Olive oil carries flavor. Sauces like Aglio Et Olio are oil and garlic based. I like my sautéed tomatoes glistening with olive oil especially in seafood sauces (i.e. red shrimp sauce). I recommend using 3/4 cups in this dish.
This recipe calls for 4 pounds of mussels and will serve 6 or more as a hardy first course. There is about 20 to 25 mussels per pound. I suggest you take into consideration the popularity of this selection when planning your main course. Every morsel of sauce, mussels and dipped bread will be consumed leaving little room for the main meal!
You can scrub vigorously scrub mussel's shells clean ahead but remove any beards closer to steaming. Also, don't submerge mussels in water for any length of time. Steam your mussels just prior to serving. Mussels should open after 5 or so minutes. After the vast majority have opened, discard any that don't.
As mussels open they release their wonderful tasty liquid into the souse. Serve immediately when very moist. If not, they are prone to drying. Dive into the sauce with plenty of crusty artisan bread. You can also ladle mussel soup onto large crostini served on the bottom of each plate.
I vividly remember hand picking mussels and periwinkles off the rocks, low tide at the shore lines of Massachusetts and Maine. I remember our families piling into uncle Jimmy's Packard station wagon with the youngest sitting on laps. Children watching us taking pails would inevitably ask, "you going to eat that stuff?". One more reason to love growing up Italian!
p.s. please see safety handling and cleaning instructions for mussels on any number of online websites.
Ingredients:
4 pounds live mussels
3/4 cup olive oil
2 garlic cloves sliced
2 cans 14.5 oz. cans diced tomatoes drained

1/8 teaspoon red pepper flakes (or more for heat)
1/4 teaspoon salt
1/2 cup dry white wine
1/2 cup coarsely chopped parsley
Optional Crostini:
6 or more slices crusty artisan bread. Lightly coat both sides with olive oil and rub with fresh garlic. Broil both sides to light brown on edges.
Thoroughly scrub muscles under cold running water. Just prior to cooking, remove any beards with a sharp knife.
Use a large diameter pan or pot that can hold all of the mussels when covered (preferably glass to witness the mussels opening). Sauté garlic in the olive oil. Discard garlic when lightly browned.
Add drained tomatoes, red pepper flakes, and salt. Cook about 8 minutes under medium-low heat, stirring often until the tomatoes soften and glisten with olive oil.
Add wine and stir well. Increase heat too medium-high and cook uncovered another 4 minutes while stirring. Add mussels, tightly cover and increase heat too high. Shake pan frequently to help prevent the bottom from burning.
After about 5 minutes, mussels should open. Remove from heat. If any didn't open, discard them.
Immediately ladle mussels and broth in bowls with a crostino on the bottom of each.
Stracciatella
Italian Egg Drop Soup, Simple but Elegant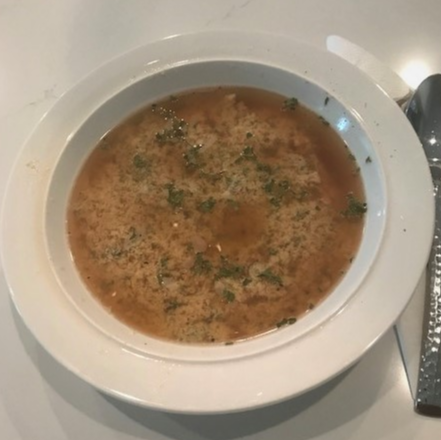 Soups were especially popular in homes throughout Boston's Italian North End. Chicken stock was made from saved trimmings and remnants of carved whole chickens; back and breast bones, wing tips and necks. Of course, we always had imported parmigiana cheese for grating, eggs, parsley, and nutmeg.
Straciatella was also mom's first line remedy to soothe a cold. One sniffle was enough for Mom to take the saved chicken and bones out of the freezer.
Today, chicken broth is always stocked in our cupboards. For an additional flavor kick, I substitute "Better Than Broth" chicken base to adjust for salt.
I often long for those peasant foods we frowned upon when we were kids! Italians sure have a way of making easy tasty.
Ingredients:
1 Quart chicken broth
2 large eggs
2 Tablespoons grated Parmigiana cheese
2 teaspoons finely chopped flat Italian parsley
Pinch nutmeg
Pinch of Kosher salt
Place broth in a large pot. While heating to a boil, beat eggs with parmigiana, chopped parsley, salt, and nutmeg.
Slowly drizzle a thin ribbon of the egg mixture into the boiling broth while whisking with a folk. Continue whisking for a few additional minutes to break any larger egg pieces. Egg mixture will flake (like curds). Serve with optional grated Parmigiana.
Optional, place a small crostini or croutons on the bottom of the soup bowl before ladling
soup.
Pasta E Fagiole

Beans and Pasta soup
There were at least three reasons why Pasta E. Fagiole was the second most popular dinner at home growing up. (Traditional pasta always topped the list.)
Foremost, it was economical. Enough so that the dish also took the brunt of a common neighborhood cliché, "We may not afford steak, but we can always eat Pasta E. Fagiole!". Even back then that always made us smile. Those that could afford more elaborate meals, they were the ones missing out!
Catholics dominated the neighborhood and Friday was the day we fasted from eating red meat. Children and teenagers mostly didn't appreciate the fluid availability of fresh fish. Beans and pasta soup made meatless was a great alternative.
The other obvious reason, it's simply delicious.
Like almost all other Italian dishes, each family's recipe varied. Ours started with a traditional Battuta, a flavor base of finely chopped or minced celery, carrots, onion and salt pork. Additional ingredients included olive oil, garlic, herbs, tomatoes, beans, pasta, water and/or broth. Leftover ham bones if available were especially prized for added flavors.
Mom would mix it up with different pasta shapes and varieties of different beans. Most common where navy, cannellini, garbanzo, lima, or red kidney.
A small neighborhood grocer on the corner of Margrett and Prince streets offered a large selection of bulk pasta in different sizes and shapes. They were conveniently stored inside bays of oak draws. At mom's direction, the slight elderly store owner would grab small handfuls of different long pastas, spaghetti, angel hair, fusilli, linguini, etc., until the combination reached a pound. When mom was finally ready to add to them soup, she would break them by hand in 2 or 3 inch lengths.
Pasta E Fagiole wasn't without controversy! As noted, it was a popular Friday dish often served to abide with meatless Friday. The dispute was centered around the true definition of "meatless! Specifically, if the dish used rendered salt pork and the solids discarded, was it really meatless? Not to say that Mom would ever do that!
One other variable relates to pasta. Some families added uncooked pasta directly into the soup. Others added traditional precooked. Cooking in the soup, the pasta absorbs much of the liquid resulting in a thicker soup. Some argue a more flavorful soup.
Ingredients:
½ pounds dried beans (navy, cannellini, garbanzo, lima, red kidney or another favorite)
¼ cup olive oil
3 medium garlic cloves halved lengthwise
¼ pound pancetta diced
Battuta:
1 cup finely diced onion
1 cup finely diced carrot
1 cup finely diced celery
Remaining Ingredients:
32 oz. chicken broth
14.5 oz. can Italian imported tomatoes, whole or crushed
3" sprig rosemary
¼ teaspoon red pepper flakes
1 pound pasta (Farfalle, Radiatore, Campanelle, Cavatappi, Gemrlli, etc.)
¼ cup grated cheese
Salt and Pepper to taste

The night pick through the beans and rinse clean. Place them in a bowl. Add cold water a couple of inches above the beans.
Pace olive oil in a large pot. Over medium heat stir garlic until lightly browned; discard them.
Sauté the pancetta for about 4 minutes over medium heat stirring frequently. Add the Battuta and cook until vegetables are softened.
Drain beans and add to the pot along with the chicken broth. Once it reaches a simmer, add tomatoes (if whole, squish by hand while adding), rosemary and red pepper flakes. Slow simmer for about an hour and a half or until beans are cooked.
Meanwhile, boil pasta in salted water until slightly harder than al dente; drain.
Just before serving, reheat pasta in the soup, add grated parmigiana and test for salt and pepper. Remove rosemary sprig and serve.
Can substitute pancetta with cubed ham, leftover ham bone, uncured American bacon, etc.

Chicken Cacciatore, Hunter's Style Stew

Pollo alla Cacciatore
"Caccia", the first six letters in cacciatore literally means "hunt" in Italian. This well-known Italian stew was often made with wild rabbit or any variety of hunted birds or other game. The American version is almost exclusively made with chicken.
In Boston's North End our local slaughter house offered live chickens, rabbits and pigeon. Mom often made cacciatore with a fresh rabbit. Although given the option of selecting which live one, she left that to their workers. Although too queasy to watch the process, it never seemed to interfere with my appetite for Rabbit Stew!
It's interesting to note that rabbits' telltale feet were never removed. Mom said that assured some of the older Italian residents that the animal piece wrapped in brown paper was in fact from a rabbit.
Cacciatore is well known in America. Core ingredients used are similar, every family seemed to have their own versions. As examples, most start with whole chickens cut in pieces, skin left on. Chicken with skin renders a tremendous amount of fat. However, finished dish made with skinless chicken lacks in flavor.
Combining all parts of the chicken together is somewhat problematic. Breasts cook quicker and dry faster and they have a variety of bones to work through.
Thighs are more forgiving, relatively uniform, their bones firm and add additional flavors.
Although I have a passion for thick and hardy tomato sauces, I prefer reserving them for ragu and other meat sauces not for cacciatore. Hardier recipes may call for the addition of tomato paste. I think cacciatore sauce should me substantial but not so intense as to overwhelm the dish's chicken and herbs. My recipe uses imported Italian peeled tomatoes with tomato puree from the San Marzano region.
Although my recipe also includes onions, green peppers and mushrooms. Personal preference, I use bright colored peppers and remove onions after they are translucent; not a fan of onions pieces in in red sauces.
As for wine, Northern Italy favors white wine, red in the south. I tend to use red but often used whatever is open.
How to serve cacciatore. Some in our neighborhood talked about Hunters' stew served with polenta on their wooden "pasta" board; the one they used to craft homemade pastas. Polenta was place on its center with a crater in the center. It was filled with cacciatore. Family sat around the board and slid over eating portions.
Cacciatore can be served with everything from mashed potatoes to pasta. I like mine served in a bowl simply with crusty bread or over polenta.
Ingredients for 6 (2 each) with extras:
About 14 chicken thighs with skin and bones, approximately 5+ pounds
Flour for dredging
¼ cup olive oil
1 pound sliced white or baby Bella mushrooms
1 medium yellow onion sliced
4 large garlic clove coarsely chopped
2 or 3 medium red, yellow or orange bell pepper
1 cup red (or white) wine
2 cans imported Italian peeled tomatoes with tomato puree from the San Marzano region of Italy
¼ teaspoon red pepper flakes
1 tablespoon dried Italian seasoning
Salt and pepper to taste
Chicken broth if needed.
Grated Romano or parmigiana cheese
Preparation:
Rinse thighs under cold running water and dry on paper towels.
Wipe, trim and thick slice mushrooms
Peel and cut onion in ¼ inch slices
Cut peppers in half lengthwise. Remove stems and seeds and cut lengthwise into ½ inch slices.

Season thighs with salt and pepper. Place olive oil in large wide bottom pot capable of accommodating all ingredients. Dredge chicken in flower, shaking off any extra. Lightly brown each on both sides in batches single layered. Placing each in a holding tray when done.
Cook mushrooms until all of their water is released. Continue cooking until liquid evaporates and mushrooms brown on all sides. Add to a separated bowl.
Sautee onions until translucent. Either place in the bowl with the mushrooms (or remove). Cook peppers until they begin to brown and soften, about 7 minutes. Place strips in the bowl with the mushrooms and onions. Very lightly brown garlic.
Deglaze the pan with wine. Simmer until the wine is reduced to half then add the tomatoes, squishing each by hand using surgical gloves. Add Italian seasoning and the red pepper flakes. Simmer for at least a half hour.
Add chicken thighs and simmer until they are lender, about ½ hour more. Add vegetables until they are reheated. Check for seasoning and serve topped with Romano or parmigiana cheese.
Note, while simmering, add chicken broth if more liquid is needed.

Beef and Sausage Stew with Cannellini Beans and Escarole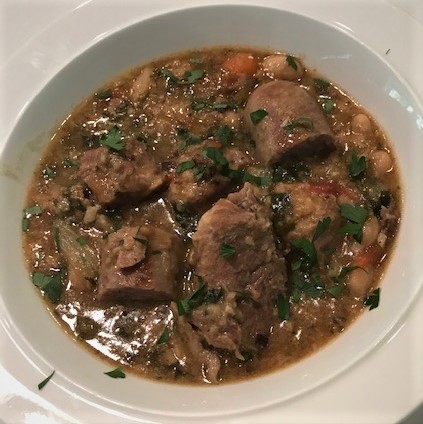 Although this stew is made with beef chunks and Italian sausage, you can use almost any combination of uncooked meats like pork, sausages, lamb, or poultry.
Pancetta, bacon, ham hooks, and kielbasa can also be included for even more flavors.

Traditional Italian Battuta, cubed onion, celery and carrot, is added along with garlic, herbs, chicken broth and tomato. Stew is finished with fresh escarole, cannelloni beans and parsley.
This delicious stew is prepared in a Dutch oven capturing all flavors. Slow cooking renders meats very tender; uncovering when near finished helps it's texture.
Ingredients:
1 ½ to 2 pounds of beef chunks.

3 Italian sausages

Olive oil

Flour for dredging

Battuta, 1 cup each finely chopped onion, carrots, and celery

4 large garlic cloves minced

3 cubed plum tomato or 1 small can of diced tomato

32-ounce box chicken broth

plus

1- 15 oz can




1-teaspoon Italian seasoning or HERBES de PROVENCE

1 medium head of escarole

15 oz can cannelloni beans

Salt and pepper

Water as needed

Coarsely chopped Parsley
Pat beef dry. Dredge chunks in flour and brown all sides in olive oil. Remove finished beef and place in a bowl. Brown whole sausage all around. Place in the same bowl.
Sauté Battuta in the same pan while stirring. When vegetables are softened, add garlic and cook for an additional thirty seconds. Add tomato, broth, and seasoning.
Slice sausages into hunks. Place sausages and beef back into the pot. When pot reaches a simmer, cover and place in 325° oven. Periodically stir. Add water if needed.
Prepare escarole. Remove rough ends and slice in one-inch lengths.
Thoroughly rinse beans in a strainer.
Meat will be very tender in about an hour. Remove cover, add escarole and beans. When escarole is soft and beans are heated through, adjust for seasoning.
Garnish with parsley and serve.