Vegetables & Other Side Dishes
Crisp and Flavorful Oven Roasted Potatoes
Oven Roasted Potatoes, an Interesting Variation for a Crowd
Seasoned and Roasted Potatoes with Sausage, and Olive Muffuletta
Brussels Sprouts with Bacon, Roasted Garlic and Balsamic Glaze
Cajun Red Beans and Rice

​​​​​​​
Farro...Ancient Grains Simmered in Broth with Butter
Cauliflower Baked in Olive Oil, Garlic and Tuscany Seasoning
ORZO Cooked in Chicken Broth
Acorn Squash
Sautéed Mushrooms with Sherry, Butter and Tarragon
Baby Bella Mushrooms with Lemon Sauce
Asparagus Broiled, Roasted or Grilled
Eggplant Parmigiana
Discussion
Unequivocally, eggplant parmigiana is the most popular Italian vegetable dish. It's simply layers of cooked eggplant, marinara sauce and cheese. Although marinara sauce recipes may vary slightly and cooks have preferences about which cheese they prefer, there isn't a consensus on how to prepare and cook eggplant.
Many North End Italians believe eggplant's skin is rich in vitamins and should never be removed. That may work with some delicate varieties, not with larger American globe eggplant.
Some cooks peel, slice, and cook eggplant without fuss. Others insist on disgorging eggplant, salting to release the eggplant's bitter liquid. Claims are it also helps reduce the amount of oil the eggplant absorbs when cooking. Even those that agree in "sweating" the eggplant, they differ in their procedures. One popular method is to salt fresh slices and place them in a pasta colander over the sink or a pot. A bowl of water or another weight is placed on top to help release the liquid. After a half hour or so the eggplant will "sweat" it's dark, bitter liquid. After disgorging, salt is wiped off or slices are rinsed and dried on paper towels.
Mom used a simpler approach. She lightly salted eggplant slices and rested them on paper or cloth towels. The salt naturally draws the liquid out.
There also is a view by some that the best procedure is to wet brine the eggplant. They place slices in salted water for about 20 minutes, rinse and dry them on paper towels.
Once you decide on whether or not to "sweat" eggplant and you settle on a technique, the Next decision is whether to sauté the eggplant plain, dusted with flour, or breaded. Possibly because it may be easier or healthier, some like to oven cook their eggplant verses pan sauté.
Preparation, My Preferences:
I like the benefits of disgorging. I've tried all the techniques discussed above and like moms quick and effective technique best, lightly salting eggplant slices on both sides, resting them on paper towels for about a half hour. Weighting in colander can result in flat slices. If you still want to eliminate disgorging, you can use other eggplant varieties that are less bitter. Chinese, Japanese, or some smaller eggplants with smaller seeds are good choices. Japanese seems to be more readily available but is slightly bitterer than Chinese.
All three methods of cooking eggplant, plain, flour or breading are very acceptable. However, for parmigiana I strongly favor dredging eggplant in flour and sauté in olive or vegetable oil for traditional parmigiana. I like the crispy texture flour helps provide over plain fried. As I indicated earlier, parmigiana is simply three ingredients, eggplant, marinara sauce and cheese. For me, breading is a distraction from the expected taste of eggplant.
About cheese, although the dish is called eggplant parmigiana, my family traditionally used mozzarella, preferably fresh. However, all layers of sauce were sprinkled with grated parmigiana. I tend to take the easy way out and use shredded Italian cheese mix. If for company, I often cheat and use slices of fresh mozzarella just the top layer.
Eggplant Parmigiana...
can be assembled earlier and baked just before company arrives. Already baked eggplant parmigiana can easily be reheated.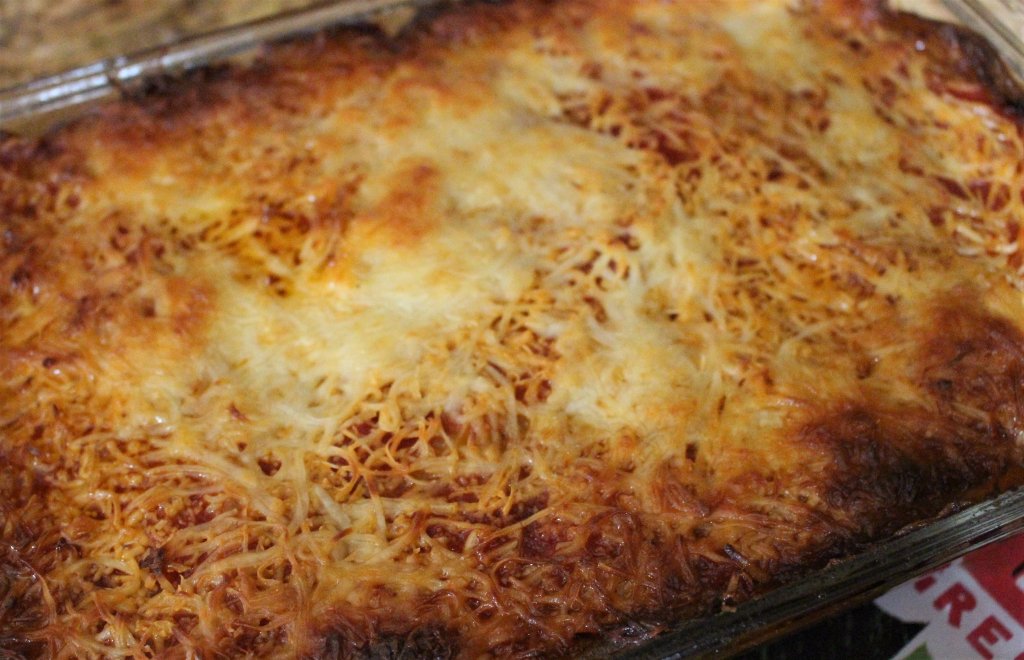 This recipe will easily fill an 11"x 17" baking pan.
Ingredients:
3 medium firm eggplants
Kosher salt for disgorging
flour for dredging
olive oil or vegetable oil
1 recipe marinara sauce per recipe under "tomato sauces" tab
1 pound shredded Italian cheese blend or mozzarella cheese
Grated parmigiana cheese

Remove eggplant tips and peel. Cut them into 1/4 inch slices lengthwise (preferably with a mandolin). Lightly salt both sides of all slices and place them single layer on paper towels.
In about a half hour wipe both sides with paper towel.

Pour olive oil in a large sauté pan over medium heat. Dredge both sides of eggplant in flour; shake off excess. Place it in the hot oil single in a single layer. When the top side of eggplant moistens, check the bottom side. If light brown, flip slices over. When both sides are cooked through, place them on paper towels. Flour and replenish pan with more eggplant. Add more oil as needed.
Adjust heat level if needed and continue replenishing olive oil.
Assembly...coat the bottom of the baking dish with marinara sauce. Cover with slightly overlapped slices of eggplant. Top with marinara sauce, grated parmigiana and shredded cheeses. Continue layering until full or when you run out of eggplant.
Bake the eggplant parmigiana in a preheated 325º oven until cheese has melted and the dish is bubbling. If the top begins to brown prior to cooking through, protect from burning, loosly cover with aluminum foil. It will be ready in about a half hour; monitor earlier.
Let the parmigiana rest at least 10 minutes before cutting. Serve with extra sauce and grated parmigiana cheese.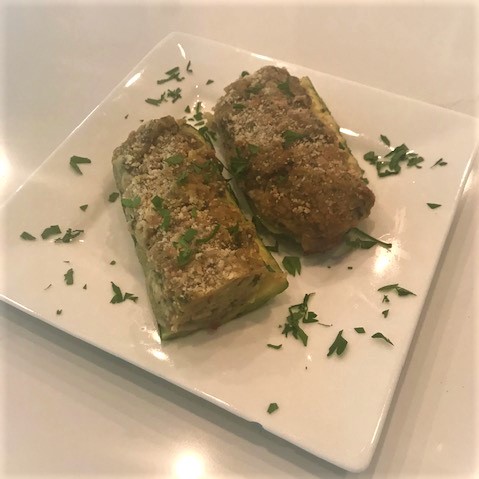 Zucchinis are perfect to stuff. Halved lengthwise and pulp removed, their raw shells are firm, securely holds generous amounts of stuffing. When filled and baked, they become pleasantly tender.
Traditional Italian breadcrumb and sausage stuffing is flavored with onion, garlic, grated parmigiana cheese, fresh parsley, and basil. Sautéed pulp is incorporated into stuffing along with egg for binding. Chicken broth is added for ideal texture and moisture.
Scraping with a spoon is a convenient and easy way to cleanly remove pulp.
Zucchini halves are stuffed, sprinkled with additional parmigiana and cooked in an oiled baking pan. They can be prepared well ahead, timed to coincide with other dishes being served or bake earlier and reheated.
Ingredients:
5 medium zucchinis

Olive oil as needed

½ cup diced onion

4 large garlic cloves finely chopped

1-pound ground Italian sausage meat

2 cups breadcrumbs

½ cup ground parmigiana cheese

¼ cup chopped basil

¼ cup chopped parsley

1 beaten egg

15.4 oz. can chicken broth

Salt and pepper to taste.
Preheat oven to 375°direct heat.
Discard their rough tips and half each zucchini lengthwise. Remove pulp with a spoon and reserve.
Sauté onions and garlic with olive oil over medium heat until translucent. Place in a bowl large enough to mix all ingredients.
Place sausage meat in the same pot. Using the edge of a spatula, shred meat while cooking. When lightly browned, add to bowl.
Sauté pulp until softened throughout. Also add to bowl.
Add remaining ingredients, breadcrumbs, parmigiana, basil, parsley, about half of chicken broth, and an egg to bowl. Using surgical gloves, thoroughly combine all ingredients. Add additional broth as needed. Mixture should be moist and retains its shape when formed. Adjust seasoning (salt and pepper) if needed.
Fill shells, place in baking pan; lightly brush with oil.
When ready to bake, sprinkle tops with additional parmigiana cheese and place in a 350° oven direct heat oven. Zucchinis are ready when shells are softened when pricked with a folk and stuffing is heated through in about a half hour.
Half zucchini. Garnish tops with additional chopped parsley just before serving.

​​​​​​​
Crisp and Flavorful Oven Roasted Potatoes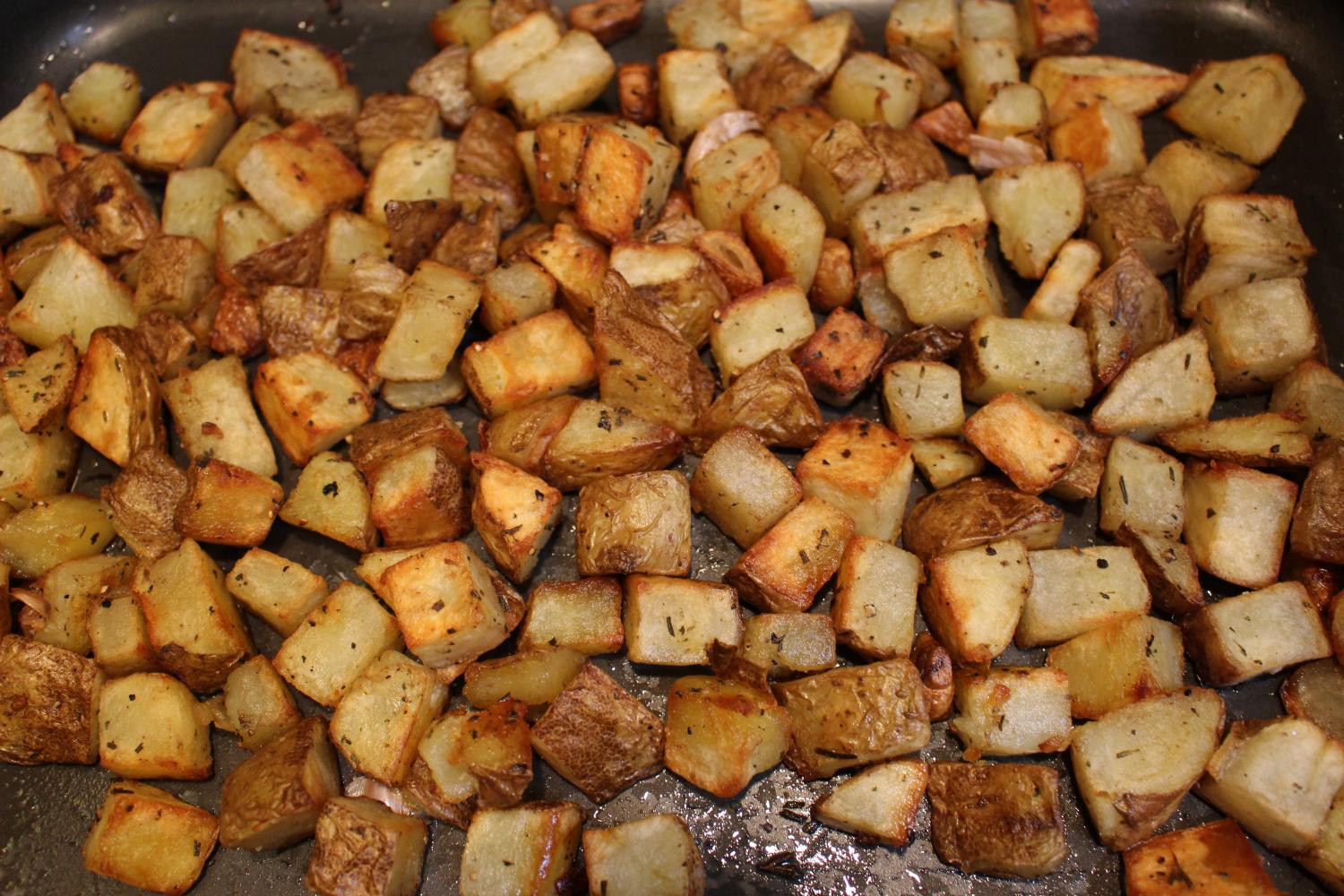 When ordering a side or French Fries at your favorite cheeseburger joint, do you ask to have them served crispy? If so this is the potato recipe for you.
Idaho russet potatoes are simply washed, cubed with skins left on, tossed with garlic cloves, Tuscany seasoning (or other options), salt, pepper and an abundant amount of olive oil. They are then baked with direct heat until crisp outside.
The two secrets are to never soak potatoes in water and use direct heat, not convection.
There are many elaborate and complicated ways to make great potatoes all designed to impress and enhance elegant meals but if you're like me, a crispy fried potato lover, these will be your favorite homemade potatoes.
Roasting pan, I prefer one with a hard surface that tolerates using a metal spatula to scrape and toss potatoes off the bottom. If more comfortable, you can use a non-stick pan and a safe spatula. It will take longer to crisp them.
One other note, although the garlic will crisp, it isn't offensive and takes on an almost "nutty" crunchy flavor.
Although I recommend using a
350º
non convection oven,
I will often use a higher temperature to hasten cooking but be cautious. You will need to flip potatoes more frequently to prevent burning and drying.
Ingredients:
3 large russet potatoes
Olive oil
4 or 5 garlic cloves
Tuscany seasoning (or fresh minced sage and rosemary, or dried)
salt and pepper
Variations
Try Montreal seasoning instead of Tuscany seasoning, salt and pepper especially if serving with beef or pork.
For additional heat, you can add your favorite chipotle seasoning.

Preheat oven to 350º not convection.
Wash and dry potatoes. Cube them in roughly 3/4 inch pieces. Do not soak them in water.
Remove garlic clove tips, retain their skins and cut them in halves.
Place potatoes in a bowl. Toss with an abundant amount of olive oil and Tuscany seasoning, salt and pepper. Dump contents into the roasting pan in a single layer. Place in the middle of the oven.
Initially toss potatoes with a spatula every 5 to 10 minutes, scraping any potatoes that stick to the bottom (common problem if potatoes were soaked). Once the potato surfaces begin to cook, they will be easier to toss. Continue to flip potatoes occasionally to make sure they crisp on all sides. They will be ready in about 40 minutes. Remove from oven when mostly browned all around. Check for seasoning and serve.

Oven Roasted Potatoes, an Interesting Variation for a Crowd

This recipe uses larger chunks of russet potatoes with their skin scrubbed but not removed. I know other varieties like red skin or finger potatoes are more elegant but russet's hardy flavor trumps. Potatoes are finished with the roasted garlic from Pete's Garlic Oil, and can be finished with Kalamata Olives for an additional spark of flavor.
This version is convenient for a larger crowd. The recipe below uses 5 pounds of potatoes and will easily serve a dozen guests (10 of my Italian relatives). Obviously it can be scaled down.
Potatoes initially are only tossed with garlic flavored oil only and Tuscany style spices (rosemary and sage based) or your favorite. Roasted garlic cloves and optional olives are added close to the end of cooking.

Because potatoes are thicker, they adapt to convection better and will require less maintenance if cooking for a crowd.
Ingredients
5 pounds' russet, scrubbed not peeled

Pete's Garlic Oil (please see basic recipe under Pete's Garlic Oil tab
1 Tablespoon Tuscany seasoning or liberal amounts of fresh chopped rosemary needles and sage leaves.
Kosher salt
1/2 cup (or more to taste) pitted and halved Kalamata olives
Preheat oven to 350º convection.
Cut potatoes in about 1 1/2 inch pieces. Do not submerge them in water. Place them in a large bowl. Add about half of the garlic infused olive oil from Pete's Garlic oil, more if needed to thoroughly coat all the potatoes. While mixing them, sprinkle with herbs and salt.
Place contents in a large baking pan and into the pre-heated oven. Turn potatoes over frequently as they brown and cook through. Add more infused garlic oil as needed. When potatoes are browned and cooked through, distribute the roasted garlic from Pete's Garlic Oil and Kalamata olives until warm and serve.

Seasoned and Roasted Potatoes with Sausage, and Olive Muffuletta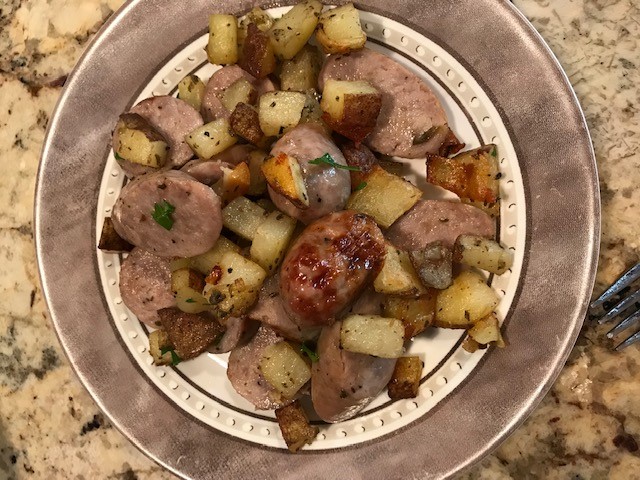 Good eats don't need to be elaborate. This is an easy lunch, snack, or dinner I sometimes prepare just for myself.
Leftovers keep well and reheated for additional meals.

Cubed potatoes are seasoned, coated with olive oil, and are oven roasted with sausage, and olive muffuletta or Tapenade. Potatoes are cooked until deliciously crisp.
I've always enjoyed combining favorite ingredients like these that are complementary both in flavor and preparation.
Ingredients:
2 large russet potatoes
Olive oil
Tuscany or favorite seasoning; salt and pepper

4 mild Italian sausages
2 Tablespoons Olive Tapenade or Olive Muffuletta
Chopped parsley
Wash, dry and cube potatoes. Toss with olive oil. Continue tossing with seasoning, again with olive mixture.
Spread on a cookie sheet. Add whole sausages, touching sheet. Place in upper third of oven.
Turn sausages after about 5 minutes. Remove them after 8 minutes total (they will be oven finished later). Toss potatoes occasionally. After about 40 minutes when potatoes are nearly finished (crisp), thick slice sausages and mix with potatoes to reheat.
Serve and garnish with parsley.

Brussels Sprouts with Bacon, Roasted Garlic and Balsamic Glaze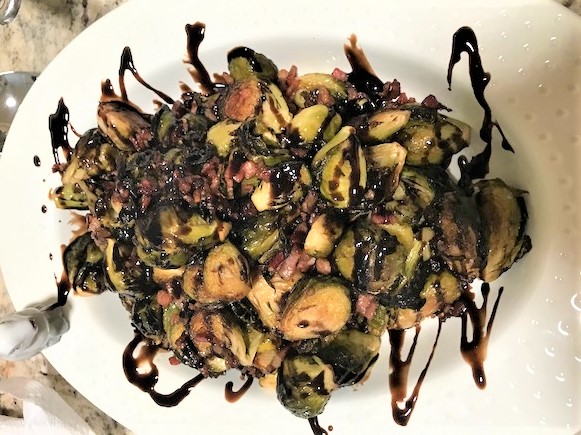 Who would have guessed pan roasted Brussel sprouts would be the vegetable most requested by our family on holidays? Then again, everyone knows everything is better with bacon!
Besides bacon, my recipe includes other wonderful and complementary flavors, mild and delicate pot roasted garlic, finished with sweet and tangy balsamic glaze.
Balsamic glaze is also tabled as a condiment.
Brussels sprouts are available at warehouse clubs. They come packaged, washed and trimmed in sealed 2 pound bags eliminating some of the prep work.
Ingredients:
2 pounds Brussels sprouts washed, outer leaves removed, and cut in half lengthwise

Pete's Garlic Oil, made with 1/2 cup olive oil, 4 or 5 garlic cloves, 1/2 teaspoon Tuscany seasoning and a pinch of red pepper flakes

1/2 to 3/4 pounds' thick cut bacon (I use 3/4 lb.)
Balsamic glaze, homemade (see my recipe) or store bought.
Prepare Pete's Garlic Oil. Remove the rough tip of each garlic clove. Cut them in half lengthwise. Place them in a butter melting or other small pot with their skin still attached. Add Tuscany seasoning, red pepper flakes and 1/2 cup of olive oil. Heat on medium until it reaches a simmer. Lower heat just enough to maintain a low simmer.
Remove skins when they are released. Eventually garlic will tan, become very soft and lose all bitterness. You can hasten the process with slightly higher heat but make sure the garlic doesn't burn. This can also be done well ahead of time until needed.
Stack bacon and cut strips in half lengthwise. Slice them vertically about 1/4 inch wide.
Stir garlic oil and seasoning. Gently mix the Brussel sprouts in a bowl with enough flavored oil to coat them well. Try not to detach leaves. Empty the bowl onto a cookie sheet with sides. Arrange sprouts in a single layer and discard loose leaves (they are vulnerable to burning). Distribute cubed bacon on top and place the sheet in a preheated 400º oven.
Mash garlic cloves with remaining seasoned oil. After the sprouts are cooked for about 20 minutes, combine the mashed garlic mixture into the Brussel sprouts and continue cooking. The Brussel sprouts are done when their edges begin to blacken. Check them often and flip as necessary. Once they start to brown, they cook rapidly. Adjust for salt using Tuscany seasoning.
Remove Brussel sprouts to a heated serving platter and drizzle with balsamic glaze.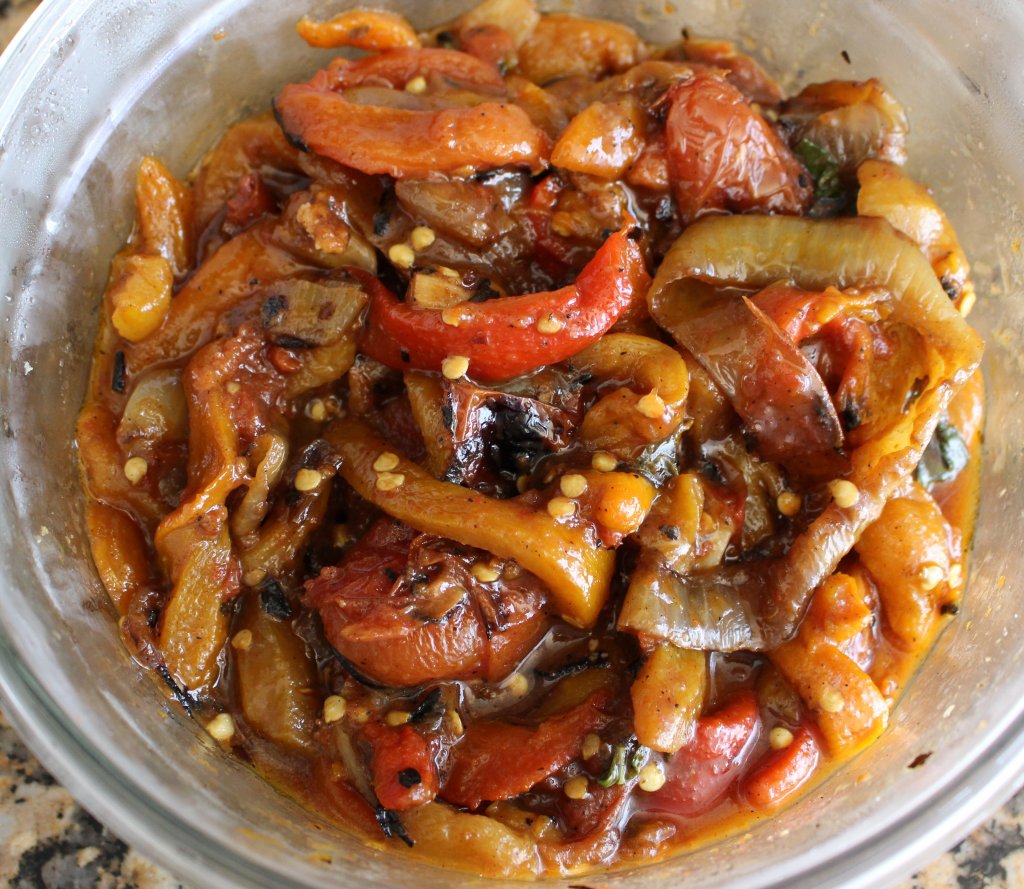 Peperonata is mostly viewed as a simple but flavorful accent dish, frequently served alongside hardy meats and poultry. It is far more versatile. Some use it as a topping for bruschetta, flatbread, as a pasta sauce, added to an antipasto platter, an appetizer on crackers and crostini, a condiment, even a topping for eggs. I like it as a simple afternoon snack with a loaf of crusty bread but my favorite is grilling it with fontina or Asiago cheeses between slices of artisan bread, oozing with melted cheese. Imagine cutting sandwiches into smaller squares, serving them at a lady's luncheon? Then again, no one expects to be served tuna and egg salad finger sandwiches at our house!

As the name implies, its dominant ingredient is sweet and colorful bell peppers. Flavors become wonderfully complex after simmering with onions, tomatoes, garlic, olive oil, fresh herbs, seasoning, and a hint of heat from a pinch of red pepper flakes. It's finished either with red wine, northern Italy, or wine vinegar in the south.
Peperonata is easy to prepare and can be made well ahead. It can also be served hot or at room temperature. Leftovers refrigerated; some say it actually improves taste. It is popular throughout all provinces of Italy. Recipes only vary with minor exceptions, proportions, different herbs and wine verses vinegar. Almost guilty (like trying to teach a minister a better way of praying), I have modified preparations slightly and think my changes enhance this staple dish.
Grilling peppers, plum tomatoes and onion first creates a flavorful char. Keeping peppers whole and intact preserves all of their delicious juices. You can substitute canned "fire roasted" plum tomatoes for fresh.
Second, the dish incorporates olive oil, garlic, red pepper flakes, aromatic herbs, salt and red pepper flakes; a perfect combination to take advantage of my slow simmering process (Peter's Garlic Oil). Please review that tab. The technique results in sweet and tender garlic with the consistency of oven roasted, delicious, never bitter. The olive oil becomes richly flavored with garlic and herbs, also used to baste vegetables before grilling.
Take care not to overpower the dishes signature flavors, peppers. Adding the sliced pepper towards the end helps the peppers from becoming mushy.
Ingredients:
Peter's Garlic Oil
½ cup olive oil
5 cloves garlic
3" sprig fresh Rosemary or 1 teaspoon Tuscany seasoning
Pinch red pepper flakes
Core ingredients
6 orange, red and/or yellow bell peppers.
1 to 1 ½ pounds fresh Italian plumb tomatoes or 14.5 oz. can "fire roasted" plum tomatoes.
1 medium onion
Salt and pepper
Additional pinch of red pepper flakes
2 tablespoons red wine vinegar
Coarsely chopped basil
Optional
Add chopped olives like Kalamata
Anchovies
Drizzle serving dish with a light drizzle of balsamic glaze
Peter's Garlic Oil, remove rough end of garlic cloves and slice each in half lengthwise. Do not remove skin, it contributes favor. Place them in a narrow stainless steel butter melting pot. Add the rest of the ingredients.
Place on medium heat until the olive oil begins to lightly sizzle. Reduce heat to a low simmer. It will take several hours before garlic richly tans and becomes soft and sweet. You can hasten the process with slightly higher heat but be careful not to burn the garlic. Discard garlic skins when released.
Fully char peppers on all sides. Start by placing peppers on grill grate top side down followed by bottoms then grill all sides. Be careful not to pierce peppers so all of their wonderful juices are retained. Place in a tray with sides for additional protection while cooling.
If using fresh plum tomatoes, core and half lengthwise. Brush cut sides of tomatoes and grates with garlic oil. When char marks appear, flip over and sear round side. Peel off any dislodged skin. Place in a bowl and toss with basil. Slice and peel onion. Cut in ¼ inch slices, brush with garlic oil and char on both sides. Don't be worried if vegetables aren't cooked through. They will be pan sautéed next.
When peppers have cooled, peel off and discard charred skin while over a large bowl to capture all juices. Break peppers in half by hand. Remove core and seeds. Don't be concerned when some fall into the liquid. Cut peppers in ½ inch strips or less lengthwise.
On medium heat with garlic oil, sauté onions until translucent. Add tomatoes, a few grinds of black pepper, a pinch of red pepper, vinegar and juices from the pepper. When mixture begins to boil, lower heat and cover, maintaining a simmer. In about 15 minutes remove cover and stir in peppers and the pot roasted garlic cloves. Stir occasionally until much of the liquid is condensed. Salt to taste. Cool to room temperature. You can refrigerate, even overnight until ready to eat. Serve at room temperature, warm or hot.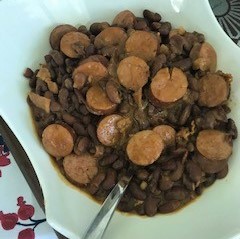 Bursting with flavor, this Cajun side dish can be served like baked beans at a southern barbeque cookout with pulled pork, ribs, chicken, or burgers. It can also be served over rice.
This version starts with smoked sausage, bacon, traditional Cajun Holy Trinity (diced bell pepper, onion, and celery), garlic, Creole and other seasonings and herbs.
Cubed pancetta, ham, smoked pig's feet, knuckles, salt pork, leftover ham, and/or other favorites can be added or substituted.
Red kidney beans are simmered in the flavor pot with chicken broth. No need to pre-soak nor par-boil beans.
The holy trinity is a common flavor base often used in Cajun and Louisiana cooking. I was first introduced to it watching Emeril Similar to Italian Battuta, it is made with onions, bell peppers and celery.
Ingredients:
1-pound dried red kidney beans
Olive oil
12 to 14 oz Andouille or other smoked sausage
4 slices thick bacon cubed
Cajun "Holy Trinity"
1 cup diced bell peppers
1 cup diced onion
1 cup diced celery
Other ingredients
4 large garlic cloves
2 32 oz. boxes chicken broth
2 tablespoons tomato paste
1 teaspoon dried basil or 1 tablespoons fresh finely chopped
2 teaspoons Creole seasoning
1 Bay leaf
salt and pepper
Rice
2 cups brown rice
2 tablespoons butter
About 5 cups lol sodium chicken broth
Rinse beans in a strainer. Remove any debris while placing them in a bowl.
Slice sausage into quarter in lengths. Sauté in olive oil until lightly browned,remove. Render bacon fat. Add bacon to sausage.
Sweat pepper, onion, and celery by stirring in same pot over medium-low heat. When they begin to caramelize, add garlic. Cover pot and reduce heat to low to slowly extract their flavors, about a half hour.
Add both boxes of broth, tomato paste, basil, Creole seasoning, and bay leaf. Bring to a light boil while stirring. Add beans and simmer. After about an hour, add sausage, bacon and additional broth if needed.
Adjust seasoning when beans are tender.
Simmer your favorite rice with broth and butter. ​​​​​​​
Farro...Ancient Grains Simmered in Broth with Butter

Below in a serving bowl and served with Wild Salmon and Broccoli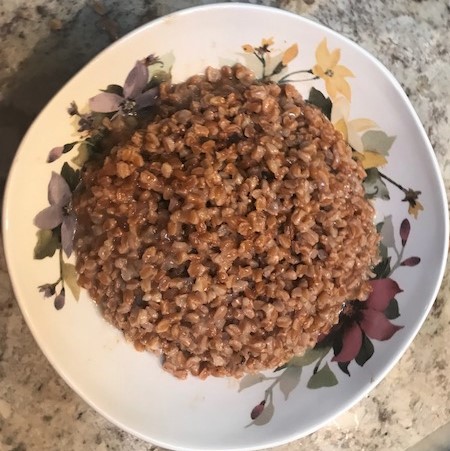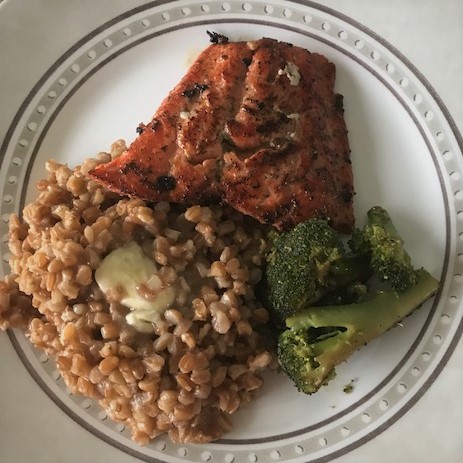 Vegetables often accompany main courses along with common starches. Popular are rice varieties, roasted sweet and white potatoes, other root vegetables, and orzo.

Ready for something new? Farro, a lesser known ancient grain in America is a flavorful hulled wheat, slightly nutty and creamy with a chewy texture. Best of all, it tastes great and is a wonderful alternative side dish. It also is very nutritious; high in anti-oxidants, fiber, and among the highest protein grain.

Like simple rice preparation, farro is simmered with a three to one volume ratio of broth to grains; butter added for additional flavor and creaminess. Many common ingredients added to risotto can also be incorporated. Farro is also the main ingredient in Tuscan Ferro Soup with White Beans.

Note: According to Wikipedia, the name Farro is derived from Italian Latin and refers to a group of three wheat species, spelt, emmer, and eingorn. Emmer is the popular Italian version traditionally grown on the hillsides surrounding northern Tuscany and Abruzzo. Wikipedia also indicates some believe "farro" refers to steamed or boiled grain rather than the grain itself.

Ingredients:
1¼ cup Organic Farro grains*
1 32 oz. box chicken broth
2 tablespoons butter
*i.e. Organic FARRO, Bolt's Red Mill®, available is specialty markets.

Rinse Farro in a strainer.
Bring broth to a boil. Stir in farro and 2 tablespoons butter. Cover and reduce to a simmer.
Farro is ready when grains are soft but still chewy; in about 40 minutes. Remove cover and evaporate any residual broth over higher heat while stirring. Taste and adjust for seasoning.

Place in a serving bowl with additional butter. Optional, garnish with chopped parsley.

Cauliflower Baked in Olive Oil, Garlic and Tuscany Seasoning

Easy Eats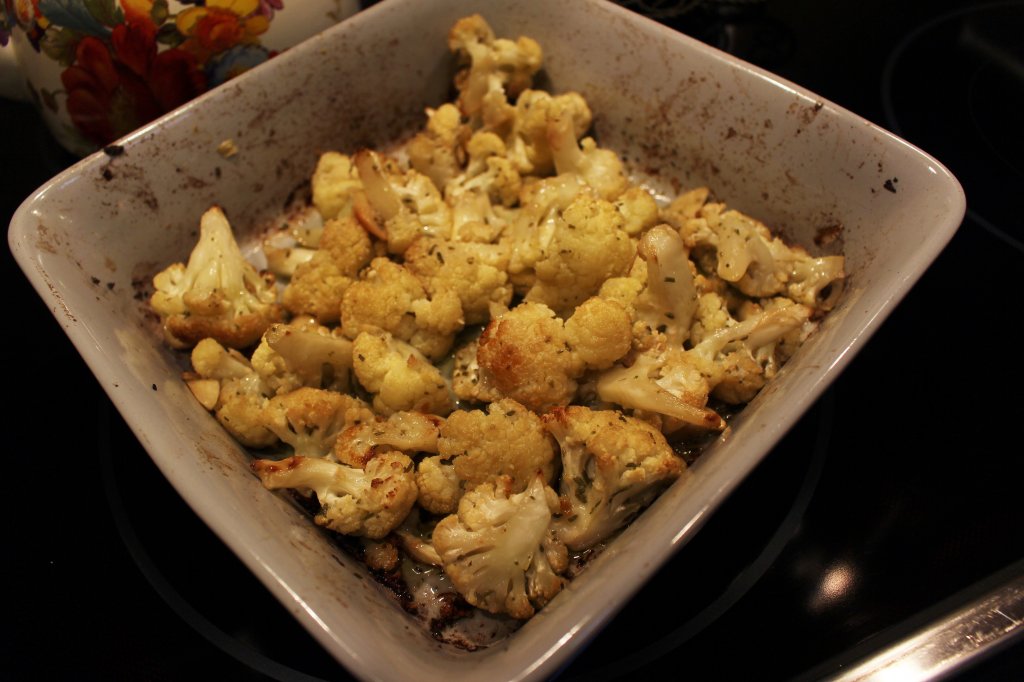 I've never been a fan of cooked cauliflower until one of our friend served it to us at a cozy dinner. She tossed and baked cauliflower in olive oil, Tuscany seasoning, and maybe other ingredients. Her roasted cauliflower was lightly scorched and tender; cooked perfect.

I never knew cauliflower could taste so good!

Ingredients:
1 head of cauliflower
1/2 cup of olive oil
5 medium garlic cloves

1 1/2 tablespoons Tuscany seasoning
Trim the bottom of the cauliflower and separate the florets. Cut the larger ones in half vertically.
Trim the ends of the garlic cloves and cut them in thirds (I usually leave skins on for additional flavor). In a bowl large enough to conveniently mix all ingredients, add garlic, olive oil and Tuscany seasoning. Add cauliflower.
Thoroughly toss the cauliflower with the olive oil, garlic and Tuscany seasoning mixture. Place in a Pyrex or ceramic baking dish in a 375º, direct heat oven. Stir occasionally until cauliflower is tender and florets begin to char, about 1/2 hour.
Optional, drizzle with balsamic glaze.

ORZO Cooked in Chicken Broth
Easy Eats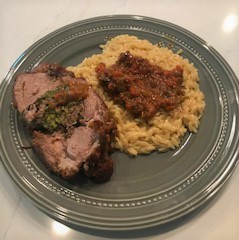 ....A Popular Side Dish Frequently Served at Home
Orzo is rice shaped pasta served as a perfect substitution for rice or potatoes .
Not only delicious it is incredibly easy to make. Orzo is simply simmered with chicken broth. Once broth is absorbed it is finished with remaining butter.
Picture shows it served alongside of slow braised lamb stuffed with Rabi and topped with braising sauce.
It also pairs exceptionally well with chicken, veal Marsala, shrimp scampi, beef and lamb. This recipe will serve a large gathering of eight but can easily be sized down.
Optional, peas can be just cooked through and tossed with orzo before serving.
Ingredients:
1 16oz, package of Orzo, rice shaped pasta
32oz. box of chicken broth
2 tablespoons butter

Optional

Place 1 tablespoon of butter in a pot with most of the chicken broth. When it reaches a boil, mix in the Orzo. Once it reaches a simmer, lower the heat and place the cover on slightly ajar. Stir frequently.
If adding peas, while orzo is cooking, microwave the frozen peas until just defrosted and still bright green.
The orzo cooks like rice, absorbing the chicken broth and is ready when cooked al dente, about 10 minutes. Keep it moist until ready by adding seme remaining broth followed by some water if needed.
When ready, stir in the remaining tablespoon of butter until melted followed by the peas. Immediately remove to a serving platter.
Caution, orzo cannot be made ahead. If overcooked and/or left sitting in the pot it will stick together.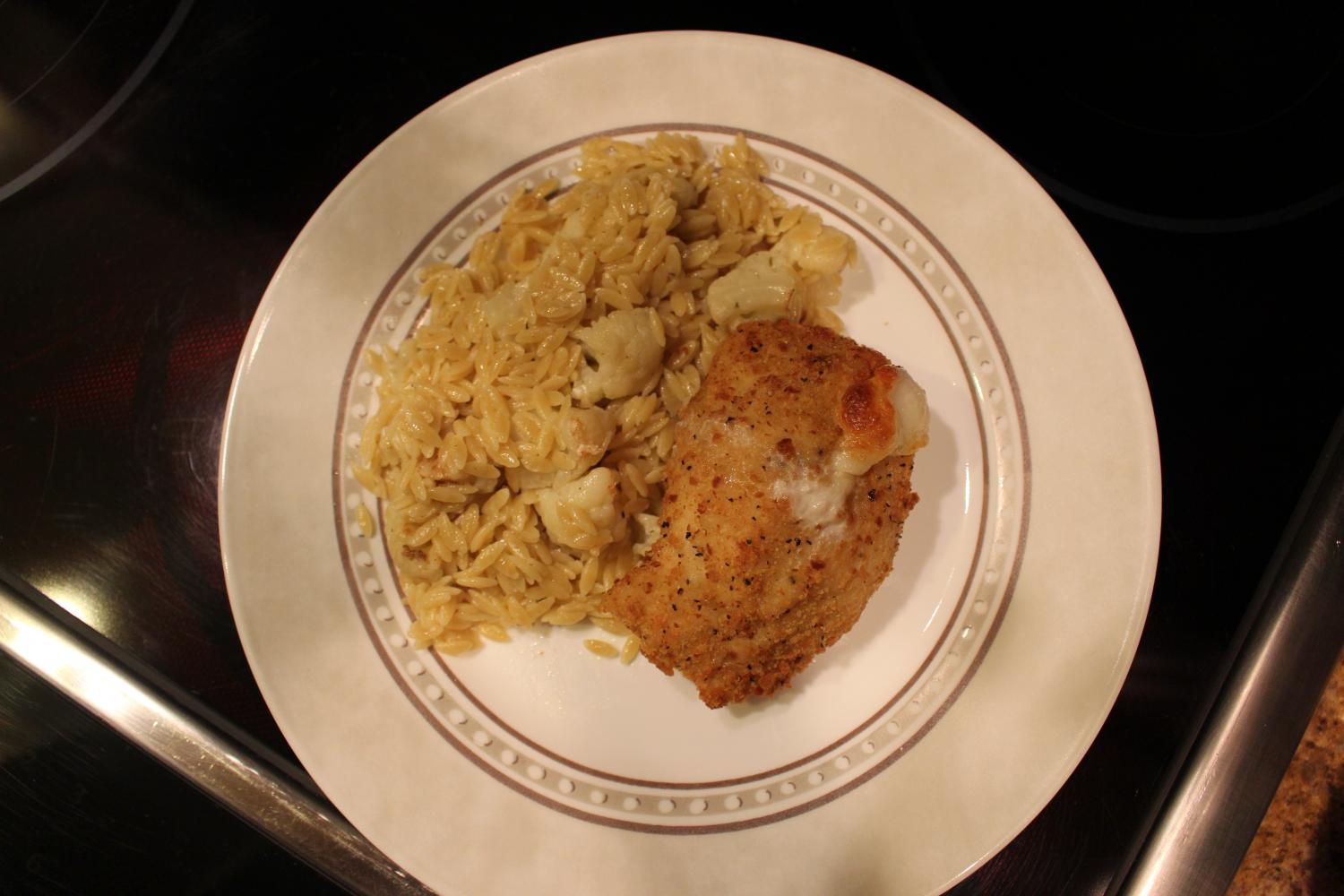 This is another great side dish made with orzo (rice shaped pasta), chicken broth and cauliflower. Flavor is enhanced with grated parmigiana cheese. The addition of cream cheese also gives this dish an unusually smooth consistency.

The picture to the left shows it served with baked chicken, stuffed with ham and provolone cheese.

Ingredients:
1 pound frozen cauliflower flowerets
Peter's garlic oil or plain olive oil
32oz. box of chicken broth
1 pound orzo
1 tablespoon butter
1 teaspoon Tuscany seasoning
4oz. cream cheese
1/4 cup grated or 3/4 cup shredded parmigiana cheese

Brown the cauliflower in olive oil and Tuscany seasoning in a larger pot. Remove to a holding bowl.
Add most of the chicken broth to the same pot. Once it boils, mix in the orzo. When it reaches a simmer, lower the heat to maintain. Cover the pan slightly ajar.
Stir frequently. Add any remaining chicken broth and water if more liquid is needed. Cook until orzo is al dente, about 10 minutes.
Stir in the butter and cream cheese until well incorporated. Mix in cauliflower and parmigiana cheese.
Test for seasoning and more grated cheese if desired.

Acorn Squash

Easy Eats
Two incredibly easy recipes, both delicious.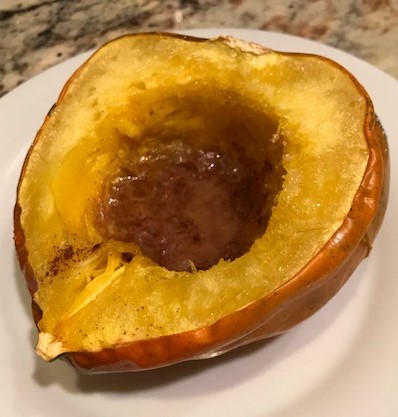 We cook acorn squash a couple of times a month. They are easy to make and pair especially well pork and beef. Squash is cut in half lengthwise, seeds removed, flavorings added and cooked right in their shells. Below are the two recipes we use.
The first is the one Nancy and I usually make for ourselves. It's simply made with butter, flavored with cinnamon, and sweetened with trivia our preferred sugar substitute. They are microwave cooked in about eight minutes.
The second recipe is for company. The pulp is laced with butter, light or dark brown sugar and is oven roasted over high heat for about 45 minutes. The sugar caramelizes. You wouldn't think something this easy can be this outrageously good!
Unless the pulp is removed and served in separate dishes, the natural serving size is half of an acorn squash per person. Cutting in thirds or quarters isn't feasible because the liquid butter mixture can't be preserved.
Smaller, early harvest acorn squash (pictured) are sometimes available. They make perfect serving sizes.
For either recipes, acorn squash in cut in half lengthwise, seeds removed.
Larger mature squash maybe difficult to cut through. Place the whole squash in the microwave for about three minutes. The surface will softens making them a lot easier to cut through. It also helps reduce cooking time.
First recipe
Ingredients:
1 acorn squash
1/8 teaspoon cinnamon
2 packages trivia
1 1/2 tablespoon butter
Second recipe
Ingredients:
1 acorn squash
1 1/2 tablespoon butter, room temperature
1 1/2 tablespoon brown sugar
Salt

With surgical gloves, rub butter over all exposed pulp. Place remaining butter in the middle of each half. Mix trivia and cinnamon. Sprinkle over the pulp of both halves. Place any remaining mixture equally in the center of each.
Place them in a microwave safe dish lightly covered with paper towel for about 8 minutes. They are done when the pulp on thickest portions are soft. Microwave longer if needed.
Make a paste with butter, brown sugar, and a pinch of salt.
Using surgical gloves, rub the mixture over all exposed pulp. Place any remaining mixture on the bottom of each half.
Cook on a baking sheet in the middle of a 400 degree oven. Check for doneness after about 40 minutes.

Sautéed Mushrooms with Sherry, Butter and Tarragon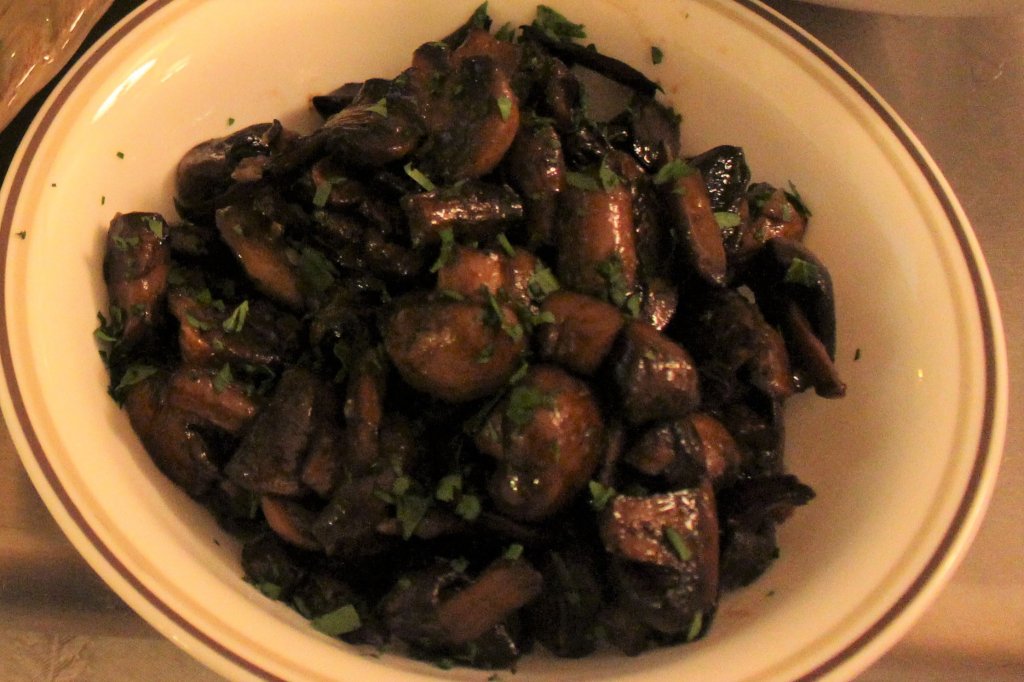 White mushrooms probably are the only vegetable I often like to overcook. It gives bland mushrooms a slightly more exotic texture.
The cooking sequence below releases all of their liquid, replacing it with other flavors. I especially love pairing mushrooms with butter, sherry and tarragon. As everyone that follow my recipes know, I start my days cooking simmering a pot of Peter's Garlic Oil. Although I recommend using it to initially sauté the mushrooms, you can start with fresh garlic and olive oil, discarding the garlic when browned.
I also like my mushrooms halved, quartered or cut in thick slices. Pre-sliced mushrooms are cut thin and are subject to drying.
Ingredients:

2 pounds white or baby bella mushrooms

Peter's Garlic oil (or fresh garlic and olive oil)

1-14.4 oz. can chicken broth regular or gluten free

3/4 cup sherry
Tarragon, preferably fresh.

2 tablespoon butter

Dust mushrooms and remove their rough tips. Cut them in your preferred sizes (I like thicker pieces, mushrooms halved, quartered or thick sliced).
Place them in a large pot with oil from Peter's garlic oil and sauté until all of their liquid is released and evaporated. Brown them all around adding olive oil as needed.
Add chicken broth and about half of the sherry. Reduce liquid by about 3/4's. Add remaining sherry and tarragon. Reduce most of the liquid. Check for seasoning. Finish with the butter and pot roasted garlic from Peter's Garlic Oil (optional) when ready to serve.

Baby Bella Mushrooms with Lemon Sauce

This is another wonderful side dish that adds substance and character to any meat, poultry or seafood dish. They can also be served as an appetizer on crostini or as a topping on one of a trio of Bruschetta appetizer (I like serving 3 Bruschetta on a plate each with different toppings).

Although expensive, you can also scale the recipe down and make it with a small number of exotic mushrooms like my favorite, oyster, to accent delicate gourmet courses.

I enjoy the bold earthy taste of Baby Bella mushrooms. For a milder version, you can use common white mushrooms.

Ingredients:
2-pounds Baby Bella mushrooms
4 tablespoons, ½ stick unsalted butter
Juice from 1 lemon, about 3 tablespoons
1 tablespoon flour
1 egg yolk
¼ cup coarsely chopped flat leafed Italian parsley

Wipe mushrooms (never wash) and trim their rough ends.
Slice and place them in a pot with 2 tablespoons of the butter. Sauté over medium-high heat until they soften and their juices are extracted. Simmer while stirring until the liquid evaporates and the mushrooms begins to crust slightly. Add up to an additional tablespoon of butter if needed to coat mushrooms keeping them moist. Remove from heat. Add salt and pepper to taste.
In a separate pot, melt 2 tablespoons of butter over low heat. Whisk in lemon juice, flour and egg yolk for a few minutes until thickened. Pour and stir into mushrooms.
Reheat mixture while stirring being careful not to reach a boil. Fold in the chopped parsley and serve.

Asparagus Baked, Roasted, or Grilled

Easy Eats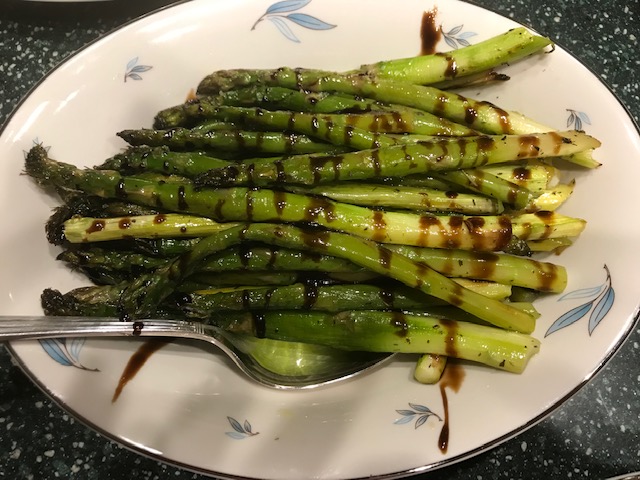 Asparagus are elegant yet so easy to prepare. They can be cooked the French way, tied and plunged into boiling water, cooked until just tender. They can simply be served with butter and lemon juice or elaborately topped with classic hollandaise sauce or sprinkled with herbed breading.
However, as a stand-alone vegetable, I enjoy them baked, roasted or grilled with olive oil and simple seasoning and any number of optional toppings. Cooking method is usually decided by convenience, how the main course is prepared and cooked. If asparagus accompanies Cape Cod Style Baked Shrimp with Ritz Cracker topping, I'll bake asparagus concurrently in the same 375° oven. If the oven isn't being used, I prefer roasting with high direct heat. If dinner is being grilled, so will the asparagus.
I prefer medium to larger asparagus. They are easier to handle, more convenient to trim and peel and fewer per pound to prepare. They are also somewhat more forgiving when cooking to doneness. Selecting those that are roughly the same thickness helps cook asparagus equally. Look for asparagus spears that are firm, never wrinkled, bright green with tight peddles. Purchase no earlier than the night before cooking and keep refrigerated and ends submerged in water until ready to cook.
Preparation is also easy. Hand snap off their tough base. Peeling the bottom third of their stocks will help them cook evenly and remove rough skins. There are small signals showing which cooks have at least a moderate passion for cooking. Asparagus skins on or off are telltale.
Regardless which cooking technique, bake, roast or grill, asparagus are coated in olive oil and sprinkled with Tuscany season or your favorite aromatic herb blend. In addition to rosemary and sage my Tuscany seasoning also has sun dried garlic with kosher salt, a perfect blend.

Baked asparagus retain their fresh green colors and maintain their clean asparagus taste. Grilled will have characteristic grill marks and develops bolder flavors. Roasting is somewhere in between. Although nor required, recipes below have several optional toppings.

Serving for 6-8

Ingredients:
2 pounds of asparagus spears

3 tablespoons olive oil
2 teaspoon Tuscany Seasoning
Ground black pepper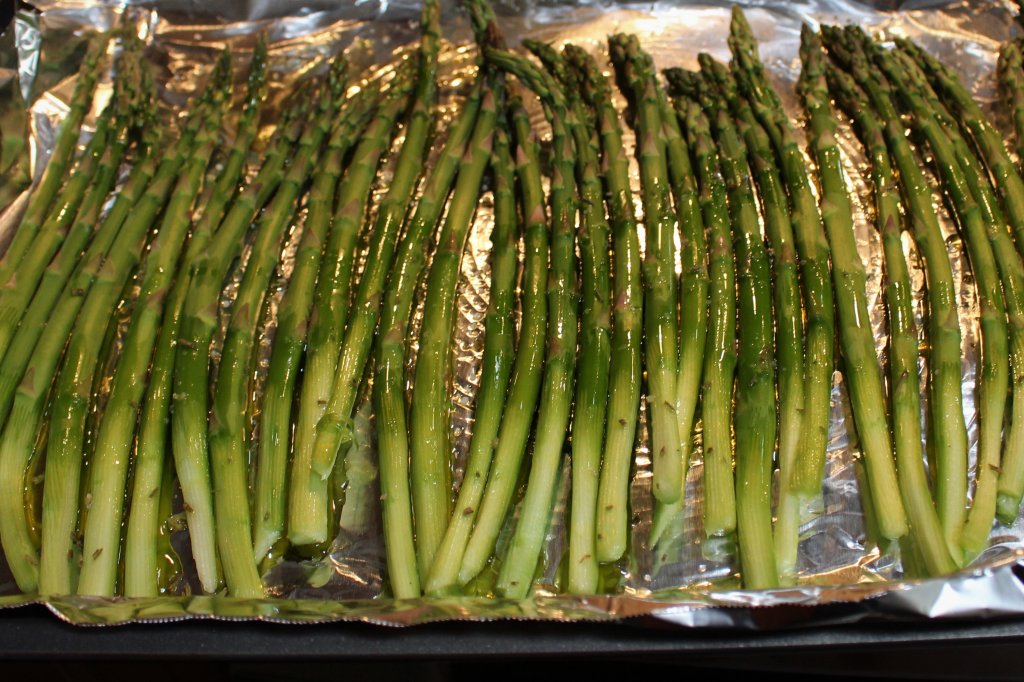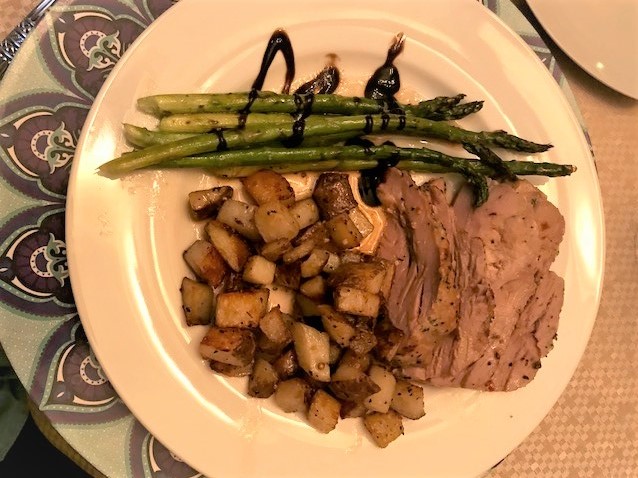 Prepare asparagus spears as discussed above. Place them on a rimmed cookie sheet parallel to one another in a single layer. Liberally brush with olive oil and sprinkle with Tuscany Seasoning and a couple grinds of black pepper. Roll them around to evenly distribute seasoning and olive oil.
Place asparagus in 375° oven. Asparagus should be just cooked through, tender but not limp in about 10 to 12 minutes. Halfway through, rotate them. Oven temperature may vary. Test earlier to make sure they don't overcook.
Preheat oven to 450° direct heat. Place tray 4 to 6 inches below upper heating element. Rotate asparagus every couple of minutes, more frequently as the begin to char. Asparagus should be ready after 6 or 8 minutes. Test for doneness prior.
Grilling
Set grill to moderate heat. Place asparagus perpendicular to grates and rotate each frequently as they char. Remove when cooked through.
Place asparagus neatly and parallel to one another all in the same direction in the serving platter. Optics seem to do wonders for taste. Asparagus are terrific prepared and served these simple ways. You can top with one of the options below. Balsamic Glaze is my favorite.
Drizzle with Balsamic Glaze in a zigzag pattern across the asparagus. If your container doesn't have a spout, sweep across them with a filled kitchen spoon.




Parmigiana Cheese Topping, reduce Tuscany seasoning to 1/2 teaspoon. When asparagus is almost ready, drizzle with 2 tablespoons of melted butter and sprinkle with a few tablespoons of grated parmigiana cheese. Return to oven for an additional minute. Stage in a serving bowl or platter. Drizzle with butter and juices; serve.



Seasoned Breadcrumbs and Butter. Reduce Tuscany seasoning to 1 teaspoon. Top baked or roasted asparagus with 1/4 cup seasoned breadcrumbs. Drizzle with 2 tablespoons of butter. Lightly brown under the broiler and serve immediately.