Balsamic Glaze, Dressings and Salads
Balsamic Glaze
Caprese Salad
Arugula Salad with Prosciutto and Shaved Parmigiana
Tomato and Bread Salad
Beet Salad Topped with Feta, Glazed Pecans, and Balsamic Glaze
Balsamic Vinaigrette Dressing

This is the third Core Ingredient, is simple to make, versatile, inexpensive and an incredible condiment. Bursting with exotic flavors; this glaze makes almost everything better. I frequently use it to flavor to roasted vegetables, meats and poultry, added to vinaigrette dressing and drizzled on Caprese Salad.
Balsamic Vinegar of Modena (Italy) is the common balsamic vinegar sold in stores today. Although it's a substitute for the original and very expensive "Aceto Balsamico Tradizionale di Modena", both names and their origins are protected. The most popular size sold are 16.9 oz., 500 ml bottles.
Like fine spirits, aged balsamic can be pricey. My local store retails 8.4 oz. bottles (250ml) aged 20-years for $26.99.
For glaze, I usually buy balsamic vinegar in bulk when on ad or on close-out. Bottles that regularly retail under $10 are bought as low as $4.99 on sale. Although some require deeper reductions than others, all produce good results.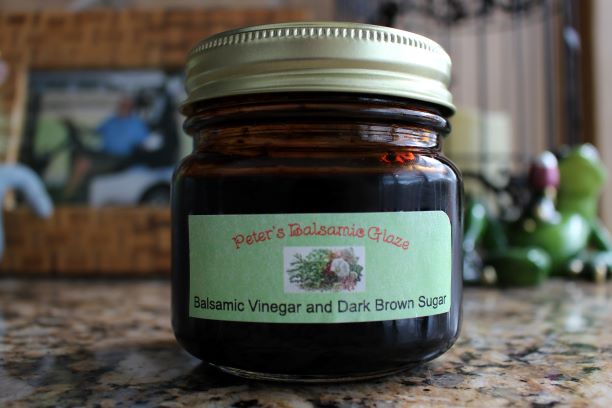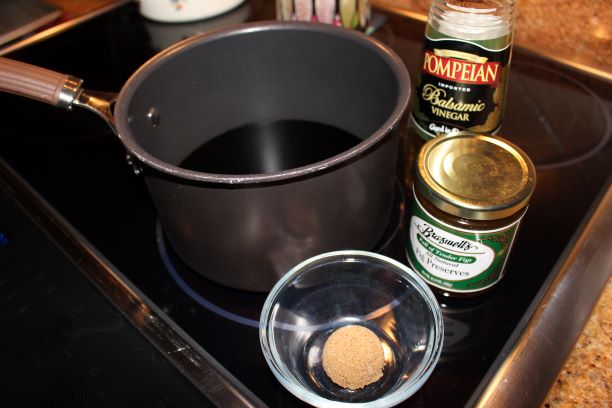 Base Ingredients:
1-16.9 oz. balsamic vinegar (500 ml, common import size)
Generous 1/4 cup packed dark brown sugar
Options, although this basic glaze recipe is delicious on its own, you can add other flavors such as:

1 tablespoon honey (can be added when removed from heat)
Fig extract or fig preserves, heaping tablespoon
Pomegranate reduction
Pure cherry syrup
Your favorite fruit liquor
Continually whisk balsamic vinegar and brown sugar in a stainless-steel pot over medium heat.
When mixture begins to simmer, reduce heat enough to maintain a low simmer. Reduce to about half to thicken to a light syrup. Inexpensive brands may require additional reduction to thicken. When removed from heat, mixture is very hot. Please be careful and prevent touching or splashing. Cool some of the mixture and test for sweetness, adding a little more brown sugar and /or up to a tablespoon of honey.

Remove from heat. Be careful not to over thicken. It will thicken even further as it cools.
After testing many batches with different brands and quality of balsamic vinegar and with different additions, this procedure includes an extra step but was the most foolproof. It also has my favorite combination of ingredients. Add a generous tablespoon of fig preserves when glaze is reduced by about half (see picture above right). Continue to simmer until slightly thickened. Test for sweetness. If needed, drizzle with honey or more brown sugar. Cool to room temperature (can use an ice bath to hasten), and refrigerate. Test for thickness. Simmer a little longer if needed. This also prevents over thickening.

Balsamic Glaze, Low Cost Experiment

As discussed above, moderate to low priced Balsamic Vinegar of Modena can be made into a great glaze.
However, could I make reasonable
good glaze with 500 ml bottles of imported Balsamic Vinegar of Modena that retailed for under $2.00 each? I randomly selected 4 bottles and used the same proportions of vinegar to dark brown sugar as above and followed my standard procedures. Could I still produce an enjoyable Balsamic Glaze?
Test Results: The mixture did require longer reduction time to form an adequate syrup consistency. The glaze needed more sweetening and was adjusted with the equivalent of a tablespoon of honey per bottle just before final reduction. To my surprise, taste was more than acceptable (especially the batch that incorporated fig preserves) and was reasonably thick. Because of the extra reduction, the original 4 bottles filled about 4 1/2 half pint (8 fluid oz. ea.) mason/preserve jars. I haven't had any negative feedback from any of our 4 friends that were gifted jars.
Caprese Salad

"Salad of Capri" is a wonderful yet simple salad made by layering seasonal tomatoes, fresh mozzarella and basil leaves. It is traditionally flavored with fine olive oil and a little salt to preserve the pure flavors of its fresh ingredients (my personal favorite). You can also use a lite balsamic vinaigrette instead. Either way, finish with a drizzle of balsamic glaze. You will be amazed with the magic balsamic glaze brings to this dish.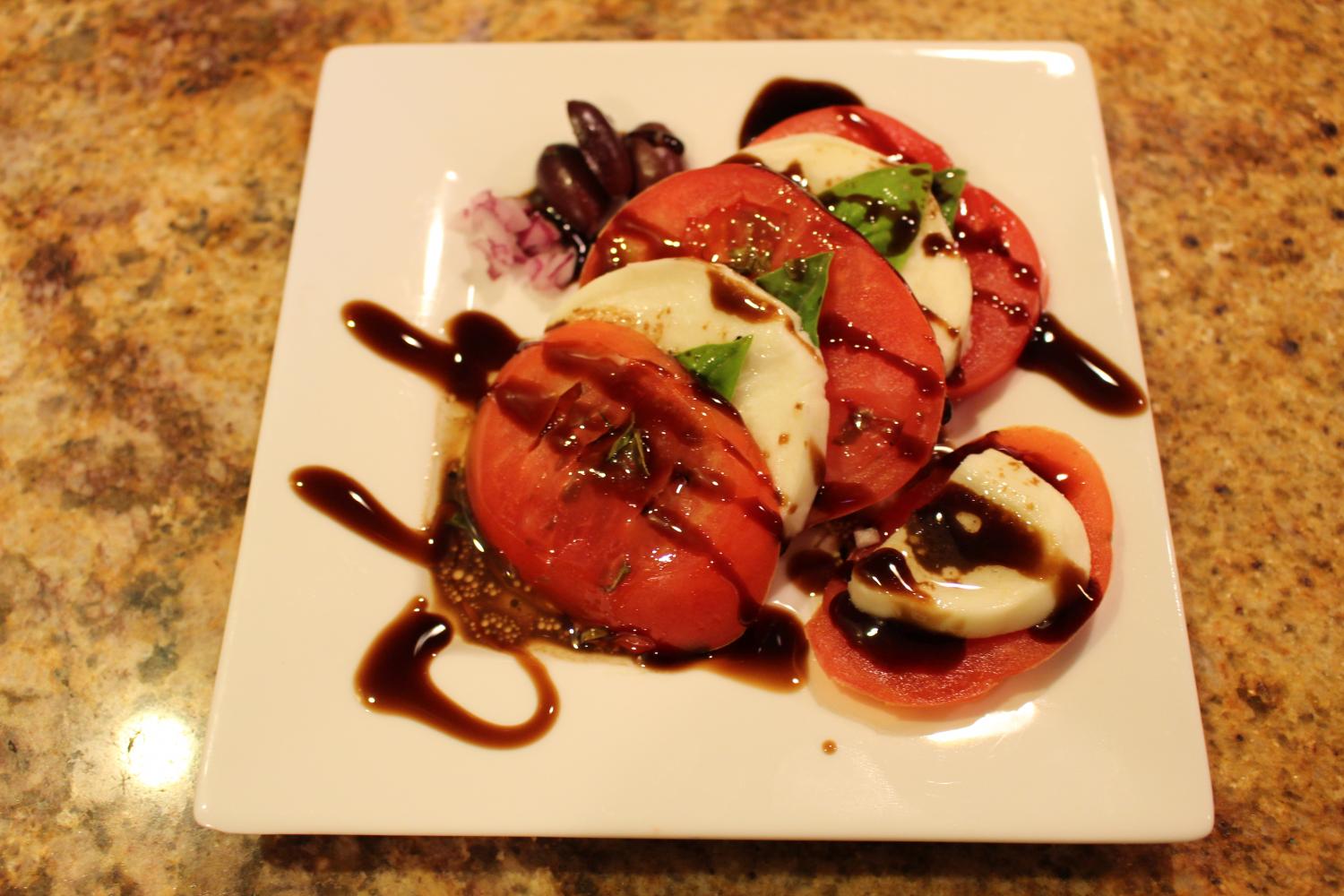 Basic recipe for 6
Ingredients:
4 or 5 flavor intense seasonal tomatoes
1-pound fresh mozzarella, pre-sliced or solid
About 30 fresh basil leaves
Balsamic vinaigrette or fine olive oil with a small sprinkle of salt
Balsamic vinagrette
Combine 1/2 cup of quality olive oil with 1/4 cup of balsamic vinegar. Add 1/8 teaspoon prepared mustard, 1 teaspoon finely chopped basil, salt and pepper

Balsamic glaze

homemade, recipe above or store bought)

Optional additions:
finely chopped red onion and olives (as shown)
Marinated mushrooms, anchovies, roasted and diced peppers, delicate crostini
Core and cut tomatoes vertically into 1/4 inches' thick slices. If not pre-sliced, cut fresh mozzarella into 18 equal slices.
Assemble (using the largest diameter slices first), place one slice of tomatoes on each plate followed by a slice of mozzarella and a basil leaf. Repeat, by adding another slice of tomatoes, a basil leaf and another slice of cheese, basil and tomatoes. Use the smaller slices of cheese, tomato and basil leaf on one side. If using optional ingredients, decoratively place them on the plate.
Stir vinaigrette and spoon over the salad or spoon a light coating of olive oil and salt very lightly. Finish with healthy drizzle of balsamic glaze.
Important, use fresh mozzarella in brine sold either at the deli counter or in vacuum sealed packages. Fresh mozzarella is not the same as "Buffalo Mozzarella". True Italian Buffalo Mozzarella is traditionally made from buffalo milk. It is sold as "Mozzarella di Bufala Campana" and is certified and protected. It is also welcomed in this salad.
Simple option that's just as good: In a rush or simply cooking for family, you can make a version of this recipe using varieties of excellent small gourmet tomatoes and small balls of fresh mozzarella. Simply core each tomato and half them lengthwise. Also half small balls of fresh mozzarella. Place them in a in a bowl. Add coarsely sliced basil leaves, balsamic dressing or fine olive oil lightly salted. Serve with balsamic glaze.

Arugula Salad with Prosciutto and Shaved Parmigiana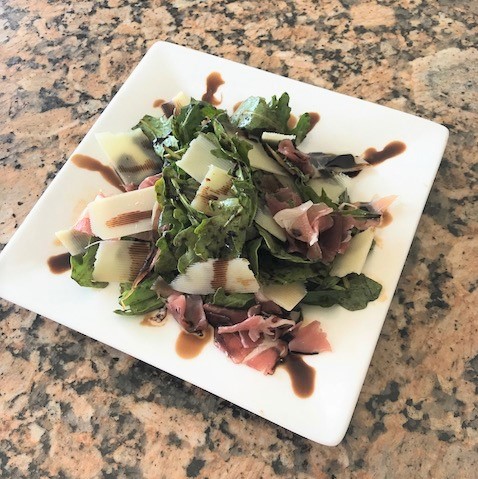 This incredible salad is so delicious yet so easy to prepare. Arugula peppery flavors are complimented with balsamic vinaigrette, the bold taste of shaved parmigiana and prosciutto, balanced with a slightly sweet drizzle of balsamic glaze.
Be especially careful selecting freshest arugula with leaves. Overgrown leaves tend to be more bitter and leaves past their prime turn yellowish.
10 oz. package of Arugula will easily serve 6 as a side salad. About 4 oz. of parmigiana and the equivalent of one slice of thin prosciutto per plate are ample.

Ingredients:

10 oz. arugula

¼ pound shaved parmigiana cheese (from a larger wedge)
6 slices (less than ¼ pound) thinly sliced prosciutto

3 tablespoons olive oil
1 ½ tablespoon quality balsamic vinegar
½ teaspoon kosher salt

¼ teaspoon fresh ground pepper
Balsamic glaze
Rinse and dry arugula.
Using a potato peeler, shave off about ¼ pound of parmigiana.
Cut one slice of prosciutto at a time in half lengthwise, then about ¾ inch perpendicular. Spread pieces on wax paper or holding plate(s). Repeat with all six slices.
Wisk olive oil and balsamic vinegar in a small bowl. When ready to serve, toss arugula with dressing. Continue tossing with salt to taste.
Alternatively add arugula, pinches of prosciutto, and pieces of parmigiana onto serving plate. Reserve some for show on top. Lightly drizzle balsamic glaze over and lightly top with black pepper grinds.

Tomato and Bread Salad

This is perhaps the simplest of all salads served frequently at our house especially during peak tomato season. Fortunately, great imported tomatoes are readily available most of the year. Like Caprese salad, a dressing of lightly salted olive oil, topped with balsamic glaze guarantees mouthwatering salads.
However, there is one surprising secret ingredient that makes this simple treat even brighter; Pete's "Basic Everyday Bread Loaf, French Style" featured in the bread section. After a few days in our bread box, when many think our homemade bread is ready for the bird feeder, wrong! Cut leftover bread into 3 or 4 inch hunks and slice lengthwise. Crisp both sides in a toaster oven. When nicely browned, cube. Make sure to rescue all crumbs.
Toast extra bread. Some will never make it to the salad.
Core tomatoes. Cut then in halve lengthwise. Cut sides down, quarter them.
Place them in a bowl and mix with sliced or torn basil leaves, olive oil, salt and pepper to taste.
Drizzle with balsamic glaze.
Toss with cubed bread
Serve with extra glaze on the side.
No need to add any additional ingredients that would unnecessarily distract from this already perfect salad. Enjoy!
Beet Salad Topped with Feta, Glazed pecans and Balsamic Glaze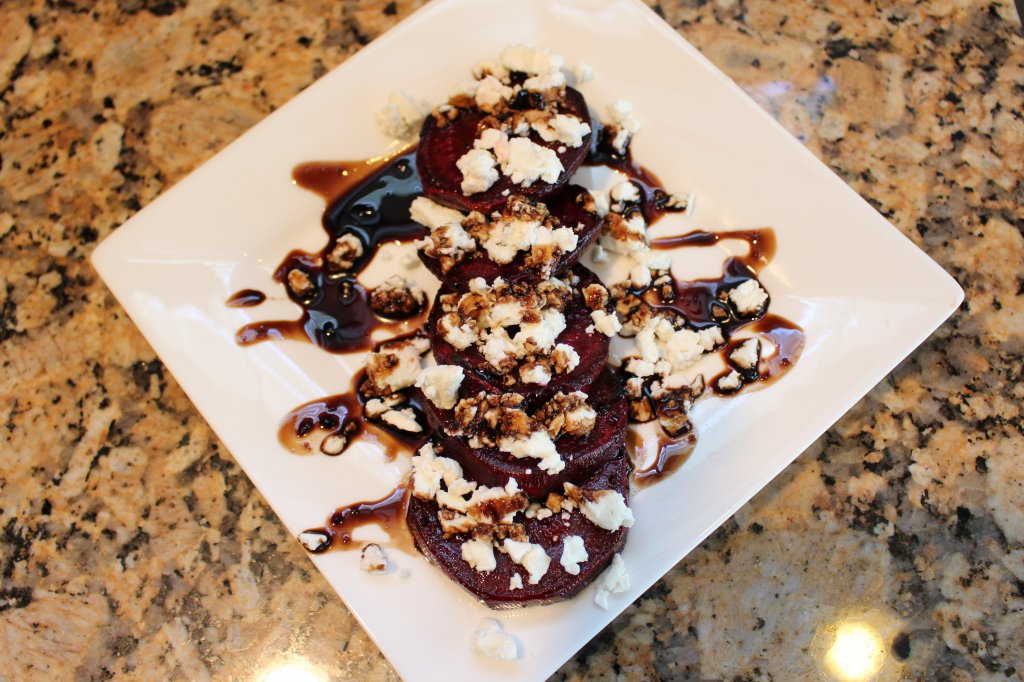 Looking for something different and delicious to serve guests? Try this simple beet salad recipe.
Fresh beets are peeled and sliced; coated with olive oil and seasoned with salt. They are baked on foil until tender. Once cooled to room temperature, simply place on a plate, top with crumbled feta cheese and sugar-coated walnuts or pecans; drizzle with balsamic glaze. The salad can be finished with fresh tarragon.

For additional substance, beets can be placed on top of light salad mix or a bed of butter (Boston, bib) lettuce leaves (not shown).
Note, use imported feta cheese packaged in small blocks with brine. You will notice a significant difference in texture, creaminess, taste, and moisture verses dry domestic feta cheese already crumbled.
Larger Greek neighborhoods have grocery stores that offer a variety of imported feta in barrels with brine. It is like tasting feta for the very first time.
Recipe will serve 6.
Ingredients:
6 fresh beets, 2 1/2" in diameter, 1 per person
2 tablespoons Olive oil
1/2 teaspoons Kosher salt

1 1/2 cup feta cheese preferably imported, crumbled
1 1/2 cup coarsely chopped glazed pecans, store bought or homemade*
Balsamic glaze
Fresh tarragon Coarsely chopped (optional)
*Homemade glazed pecan recipes are easily found online, the simpler the better. I prefer lighter glaze made with powdered sugar verses brown, spiced with a hint of cayenne pepper, thinned with drops of water.
Peel and slice beets to 3/8" thick rounds. Place them on a cookie sheet lined with aluminum foil. Brush both side with olive oil and sprinkle with kosher salt. Place them in a preheated 400º oven. They will soften in about 25 minutes. Remove from oven and cool.
When at room temperature, place them on a salad plate alone or on a bed of your favorite light lettuce or salad mix. Overlap beets in straight line or in a circle. Top with freshly crumbled feta cheese and sugar glazed pecans. Drizzle with balsamic glaze. Optionally sprinkle with tarragon and serve.
Note: don't discard those beet greens. Simply rinse, trim rough stems and boil in a large, uncovered pot of salted water for about 2 minutes, just until tender. Sauté them in olive oil with garlic, salt, and red pepper flakes.

Balsamic Vinaigrette Dressing

This recipe is so easy to make. You can proportion quantities as needed for single use or larger amount that can be refrigerated.
Traditional balsamic vinegar, "Aceto Balsamico Tradizionale" is made and rigidly controlled in Italy through a complex process of reduction and aging of grapes 12 to 25 years or more. They are treasured for their soft but intense flavors
and are used very sparingly.
Fortunately, there are commercial grades, Balsamic Vinegar of Modena, which tries to simulate the original. They can be mass produced, making them less expensive. They are still subject to local standards including supervision and minimum aging. Most are fine when used to make balsamic vinaigrette dressing or balsamic glaze (recipe above).
The recipe calls for either basil or tarragon. Basil goes especially well in tomato based salads. I tend to favor tarragon for all other salads.
You can also add balsamic glaze to enhance the taste of simple balsamic vinaigrette.
Ingredients:
1/2 cup olive oil
1/4 cup balsamic vinegar
1/4 teaspoon prepared mustard
1 tablespoon balsamic glaze (or more to taste)
1 teaspoon finely sliced basil or fresh tarragon (1/2 teaspoon tarragon can be substituted)

Salt and fresh ground pepper
Whisk the first 4 ingredients together in a bowl. Combine herbs with folk.

Salt and pepper to taste

Note: I prefer simple or rustic mustard verses gourmet mustard that may have added flavors.