Pasta with Red Tomato Sauces
Marinara Sauce,
Rigatoni with Bolognese Sauce
Pork Spareribs in a Bold Red Sauce,
Meatless Bolognese Sauce
Pasta alla Norma, Pasta Tossed with Fresh Tomato Sauce,
Flavorful Eggplant and Italian Salty Cheese
Oxtail Ragu
Pasta with Oven Dried Tomato and Optional Ingredients
Tomato Concassé with Basil, Pasta, and Fresh Mozzarella Cheese
Tomato Sauce with lots of Basil, Garlic and Olive Oil
Variation of Tomato Concassé and Pasta for Brunch
Perfect Fresh Tomato Sauce

Sunday's Meat Sauce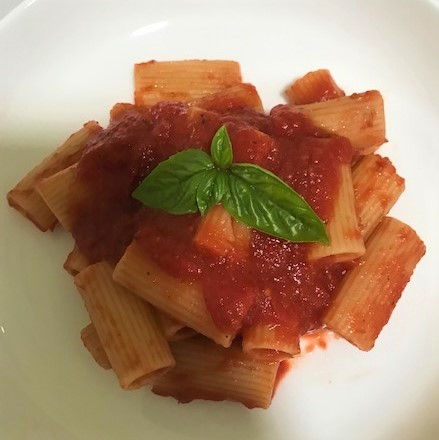 Marinara sauce is among the simplest and quickest of all red sauces. The basic recipe does not overpower. It makes a delicate sauce perfect with all dried and fresh pastas, potato gnocchi, stuffed ravioli, and tortellini. It also makes a great dip for breaded poultry, fried calamari, and vegetables nuggets. Also use it to top Chicken or Veal Milanese, or Eggplant Parmigiana.

Traditional…Italians take advantage of the first harvest of newly ripened seasonal tomatoes to make their freshest tasting Marinara sauce.

Premium canned tomato imported from the San Marzano region of Italy produces a fresh like alternative. Family buys imported canned tomato crushed or whole packed with tomato juice not with processed tomato puree or paste.
Mom preferred hand crushing whole creating a meatier texture.

Ingredients:
4 large garlic cloves sliced.




1 small onion sliced optional.

3/4 cup olive oil

2-32oz. cans tomato Imported from San Marzano, Italy. See details above.

1/4 teaspoon red pepper flakes

3 8-inch fresh basil stocks with leaves

Salt and pepper to taste.



Use a large frying pan with high sides.
Sauté garlic in 2 tablespoons of the olive oil. Discard garlic when lightly brown.
Optional, sauté onion until translucent; also discard.
Add remaining olive oil, tomatoes (hand crush if using whole tomatoes), basil stocks, red pepper flakes and a few grinds of salt and pepper.
Simmer sauce until thicken enough to stick to pasta, about 30 to 45 minutes. Discard basil.
Test for added salt.

To Serve with Pasta… When pasta is al dente (chewy), reserve about a cup of pasta water. Strain pasta and place in a serving bowl. Mix with a cup of Marinara to keep from sticking. Add some water to adjust consistency if desired.
Scoop pasta in individual serving dishes, top with ample sauce. Offer grated with Parmigiana Reggiano.

Rigatoni with Bolognese Sauce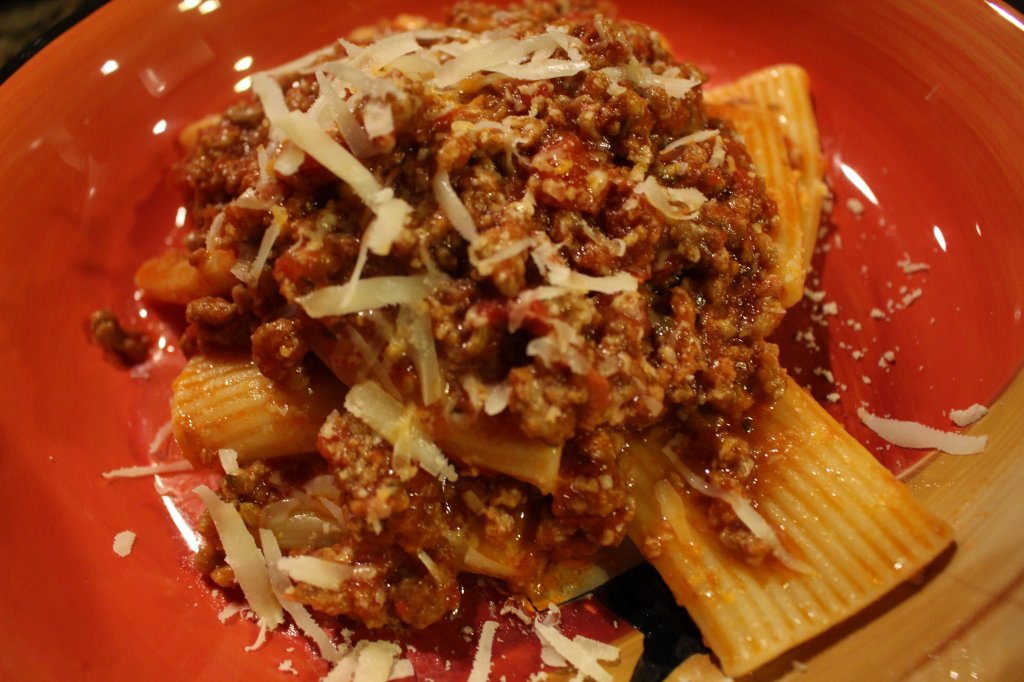 This hardy meat sauce is often referred to as Ragù, short for Ragù alla Bolognese. A version of it made with meatballs, sausages, and any leftover meat was a staple in our household, served at least one night every week.


In parts of Italy, the sauce starts with a battuto, a flavor pack made with minced carrots, celery, onion and salt pork. Once cooked together, it is called soffritto.
Mom usually started her "gravy" with slices of salt pork, discarded once rendered. Next she sautéed onion and garlic until transparent and also discarded them. Meats were browned and mostly cooked through, followed by tomato paste, crushed tomatoes and lots of basil.

Here's a very simple version we frequently make at home. It's the ultimate comfort food, is really easy to make, and it is simply delicious. We always double the recipe and freeze dinner portions. Italians believe leftover sauce tastes even better than the original.
"Italian" just doesn't get any better than this! Remember, PLEASE DO NOT overcook the pasta.
Ingredients:
3 large sliced garlic cloves
1/4 cup olive oil
1-pound ground mild Italian sausage without casing
1 1/4-pounds ground beef
2-28oz. cans crushed Italian plum tomatoes with puree
1/4 teaspoon red pepper flakes
1 heaping tablespoon dried Italian herb seasoning
2 or 3 sprigs fresh basil tied with butcher's twine

water as needed
salt and black pepper
1 pound Rigatoni or your favorite pasta
Parmigiana cheese grated or shredded
Sauté garlic in the olive oil. Discard when lightly brown.
Add ground sausage and beef. Using the edge of a spatula, chop to break meats apart while browning. When cooked through, add both cans of tomatoes, red pepper flakes, Italian seasoning, sprigs of basil and a few grinds of black pepper.

Simmer for at least 2 1/2 to 3 hours with cover jarred, adding water as needed. Stir occasionally to prevent bottom from burning.

When ready to eat, briskly boil 4 to 6 quarts of water in a large pot with a tablespoon of Kosher salt. Add pasta, stirring initially to prevent sticking. When water reaches a second boil, reduce heat but still maintaining a boil. Cook pasta al dente, firm and chewy, about 12 minutes. Sample pasta earlier ensuring pasta doesn't overcook. When ready, drain in a strainer.

Discard basil. Test for salt. Scoop a ladle or two of the sauce on the bottom of the pot used to cook the pasta. Mix strained pasta in the pot with a large spoon. When coated, place in a serving platter or individual bowls and top with lots of sauce. Pass grated or shredded parmigiana cheese.

Pork Spareribs in a Bold Red Sauce

One of our neighbors growing up frequently made this terrific specialty sauce. Knowing it was a favorite of mine, she would bring some whenever she did. This was kind of the North End way, either from a sense of culinary pride or simply neighborhood sharing; most likely both.
Even though
our families would sometimes add country style spareribs to their Sunday sauce for additional flavor and volume, she was adamant this sauce had to be made with regular spareribs. Perhaps the higher bone to meat content added more flavor to the sauce or she simply liked the flavor of the cut, all I know is it still remains one of my favorite.
It also is a relatively easy and quick meat sauce. Most of the time is in the 2 hour simmering. If you like bold sauces, you will love this one.
Ingredients:
2 1/2 to 3-pounds pork ribs, baby back or the taller ones, not country style

1/2 cup of olive oil
3 garlic cloves sliced
1 medium onion
2 28 oz. cans of crushed plum tomatoes with puree
1/4 teaspoon red pepper flakes
1 cup red wine
3 or 4 stocks of fresh basil (can be tied with butchers' twine)

salt and pepper
Your favorite pasta cooked al dente (I prefer penne o rigatoni).
Grated parmigiana

Remove the thin membrane on the concave side of the ribs. Separate ribs to convent size to work with, up to three bones with baby back, one or two with taller ribs. Ribs will eventually be deboned and the bones discarded. Season all around with salt and pepper.
Place olive oil in a pot large enough to hold all the ribs, tomatoes and wine comfortably. Sauté the garlic until lightly browned; discard. Slice the onion and cook until translucent, also discard. Brown ribs on all sides and place them in a bowl.
Add the cup of wine. Deglaze the pan and reduce wine to about half. Add the 2 cans of tomato and red pepper flakes. Bring to a slow boil while stirring frequently. Add the ribs and basil. When the pot reaches a second light boil, stir contents and lower heat to a simmer. Cover the pot. Periodically stir contents to prevent burning and add water as needed. The sauce will be ready when the meat falls off the bone, in about 2 hours.
Remove the ribs a few at a time. Shred all their meat and return to the sauce. Discard the cleaned bones. Serve over pasta with Grated parmigiana.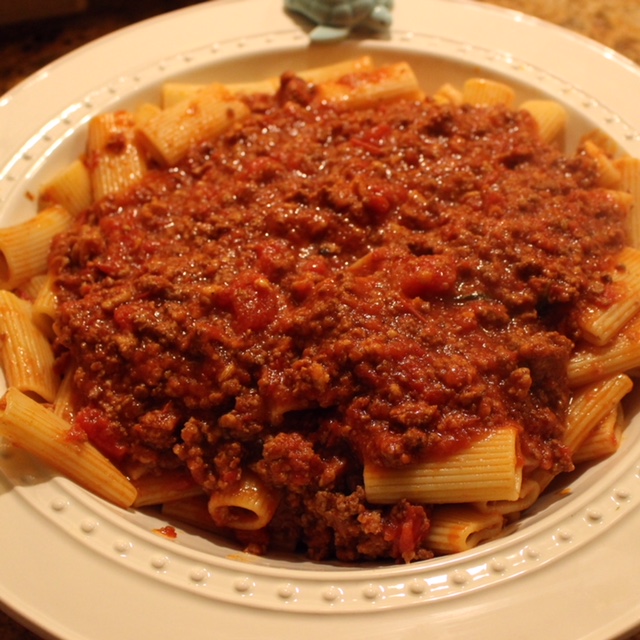 My meatless Bolognese sauce made with ground soy crumbles will really surprise you. Whether or not a vegetation, or simply trying to lower intake of red meats, you will love the bold taste of this vegan version.
I've served it over pasta countless times to guests that included unannounced vegans and others unsuspecting.
Sauce can be served over your favorite pasta or
spaghetti squash. It can also be used as an ingredient along with rice or breadcrumbs when stuffing peppers or other vegetables. It can also be used to make Risotto with
Bolognese.
It's also very simple to make!
Ingredients:
2 or 3 sliced garlic cloves
1 small sliced onion
1/4 cup olive oil

1-12 oz. package Veggie Crumbles (like

Morning Star Farms®

)

1-28oz. can crushed Italian plum tomatoes with puree

pinch red pepper flakes
2 sprigs basil tied
1 tablespoon dry Italian herb seasoning
salt and pepper to taste
water as needed
Sauté the garlic in olive oil. Discard when lightly brown. Cook onion until they are soft. Also discard.
Add tomatoes, crumbles, red pepper flakes, tied basil sprigs, and a few grinds of black pepper.
Simmer for about 2 hours adding water if needed. Remove tied basil and check for seasoning (salt).
Serve over your favorite pasta or spaghetti squash.

Pasta alla Norma

Pasta Tossed with Fresh tomato sauce, Flavorful Eggplant and Italian Salty Cheese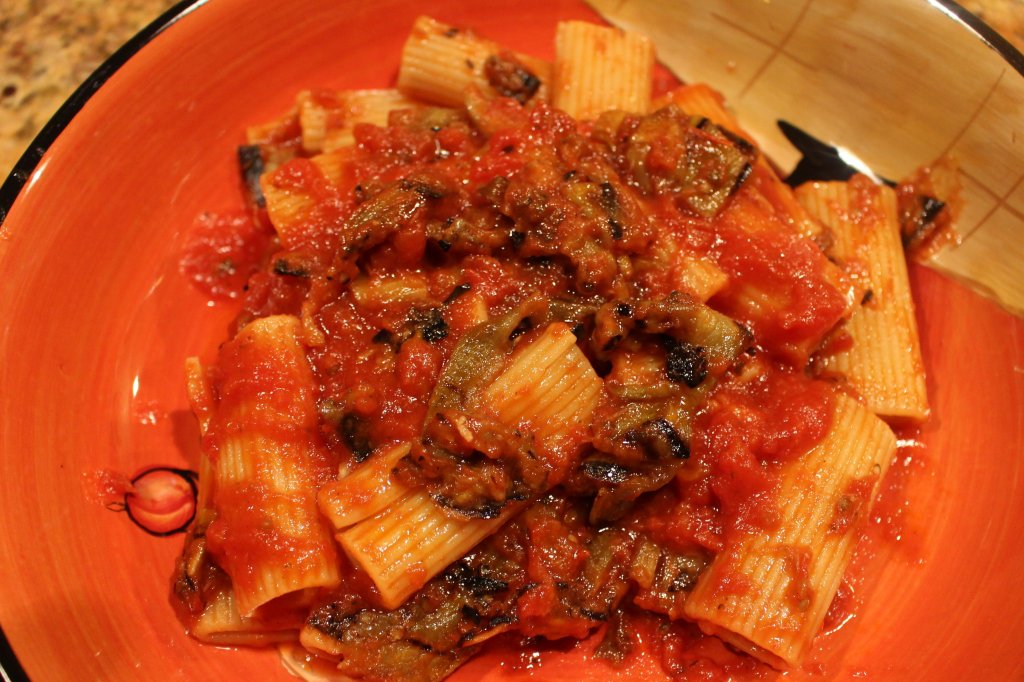 This dish originated in the city of Catania in Sicily, the home of the famous Italian composer Vincenzo Bellini. Although there are conflicting stories exactly how the dish was named and by who, most believe it was in honor of Bellini and his famous opera "Le Norma" composed in 1831.

The dish is actually quite simple yet surprisingly deliciously. Pasta is tossed with fresh tomato sauce, seared eggplant and shredded ricotta salata cheese just before serving. Individual flavors are retained and complimented when combined.
The fresh sauce is usually traditional, made with olive oil, garlic, onion, fresh peeled or good quality canned tomatoes from Italy, and plenty of fresh basil. My recipe replaces garlic and olive oil with Peter's Garlic Oil; olive oil infused with pot roasted garlic, Tuscany seasoning and a hint of red pepper flakes. It adds terrific complex flavors to the sauce while seasoning the eggplant.
Preparation of the eggplant is important. It is peeled and thick sliced lengthwise. The eggplant is then "sweated" with salt to release its dark bitter liquid.
If electing to cook the eggplant by sautéing, lightly coat the pan with oil from Peter's Garlic Oil.
If oven baking, liberally brush slices with the seasoned olive oil and place on cookie sheets. Brush with enough additional flavored oil to keep the eggplant from drying out. Either way, be careful to remove the eggplant as soon as the slices are cooked through. Please don't overcook.
However, my very favorite way is to liberally brush the eggplant with the seasoned oil and grill both sides. Once lightly browned and grill marks appear, brush again with more garlic oil. Lower heat and place eggplant on a sheet of aluminum foil on the grates for final cooking. Grilling really intensifies the flavor of the eggplant.
Ricotta Salata is salted cheese made from the whey of sheep's milk. It is the cheese most associated with this dish. Our family was partial to Pecorino Romano, another salty cheese.
Ingredients:
Peter's Garlic
¾ cup olive oil
5 garlic cloves with skins
1 teaspoon Tuscany seasoning
Pinch red pepper flakes
Sauce
¼ cup oil from Peter's Garlic Oil
½ medium onion sliced
1 28 oz. can good quality Italian imported crushed tomatoes
3-inch sprig fresh basil leaves
Eggplant
1 large eggplant
Oil from Peter's Garlic Oil
Pasta
1 pound rigatoni or your favorite pasta
Ricotta Salata or Pecorino Romano cheese

Place olive oil in a butter melting pot. Remove the rough tips of garlic and cut cloves in half lengthwise. Add to pot along with Tuscany seasoning and red pepper flakes. Turn heat to medium. When the oil just begins to simmer lower heat enough to maintain.

Remove garlic skins when released. Continue simmering until cloves tan and soften; monitor their progress. Heat can be increased slightly to hasten the process being careful not to burn garlic.
Sauté onion in ¼ cup of oil from Peter's Garlic Oil in a pot. When translucent, remove onion. Simmer tomatoes and the sprig of basil in the same pot for about 45 minutes, adding water, salt and pepper as needed.
Peel and slice eggplant lengthwise about ¼ inch thick. Lightly salt the eggplant on both sides and place in a pasta colander over the sink or a pot. After a half hour or so the eggplant will "sweat" its dark, bitter liquid. Wipe the salt off, rinse and dry on paper towels.
When mostly dry, brush both sides with the oil from Peter's Garlic Oil. Grill on medium heat until lightly browned on both sides. Brush with additional oil and finish cooking by placing slices on a sheet of aluminum foil on grill over low heat or in a cookie tray in the oven. When cooked through, cut eggplant into 1 inch squares. You can also use one of the other methods, sautéing or oven cooked, both discussed above.
To assemble, cook pasta al dente and strain. Place pasta in a bowl. Remove sprig of basil from the tomato sauce. Mix pasta with desired amount of sauce. Add and mix eggplant into the pasta with tomato sauce reserving enough to place some on top as a garnish. Grate Ricotta Salata or Pecorino Romano over each plate to taste (not shown so you can see texture) and serve.
Option, add a second can of tomatoes when cooking the sauce. Use as additional sauce over the pasta if you prefer a slightly wetter sauce. If not, simply reserve the excess. This delicious sauce will never be wasted!
Oxtail Ragu

An Incredibly Hardy and Delicious Meat Sauce Served Over Pasta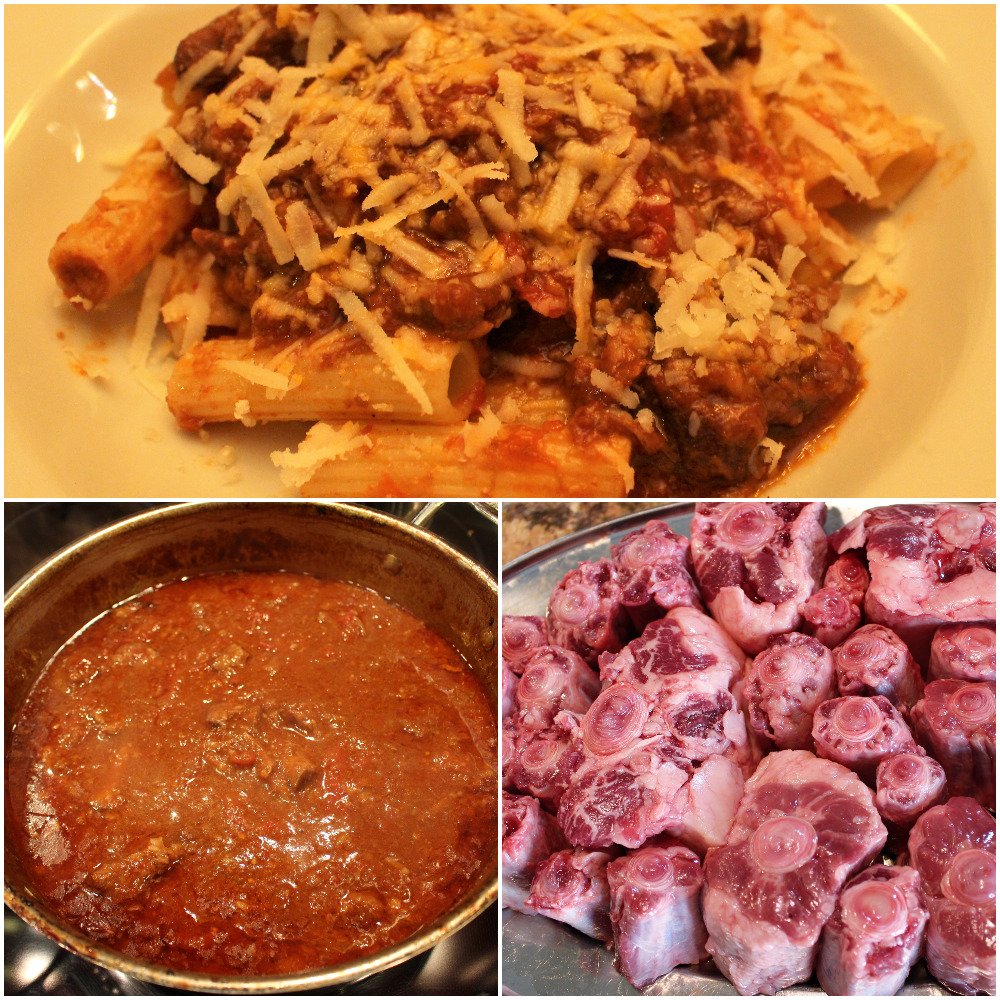 Oxtail's center bone surrounded by meat and fat makes it prized for its intense flavors especially delivered when slow cooked. Gourmet chefs combine oxtail with a classic vegetable mirepoix, red wine, herbs and seasoning to extract incredibly rich au Jus for prime rib.
Rome has several notable restaurants located around its stockyards that are famous for their signature braised oxtail dish, their incredible "Coda alla Vaccinara". The dish is noted for its complexities of flavors and the resulting tenderness of the oxtail.
Oxtail also makes a wonderful base for soups and stews.
However, a thick Oxtail Ragu served with substantial meaty pasta cooked al dente and sprinkled with abundant Pecorino Romano cheese is my favorite.
As the name certainly implies, oxtail was originally from oxen. Mostly from cows now, cow tails have inherited the oxtail name. Cows and oxen are both in the bovine family. Oxen are mostly raised for their strength to work on farms (they also can be moderately trained); cows for their meat and dairy.
To create the ragu, Oxtail pieces are trimmed, seasoned, dusted in flour and sautéed in olive oil from Peter's Garlic Oil. A traditional battuta is sweated in the same pot. Oxtail is oven braised with the soffritto (name for cooked battuta), red wine, chicken stock, imported Italian tomatoes, herbs and seasoning. Once oxtails are oven braised until very tender they are removed, deboned and placed back in the broth. The pot is degreased and is simmered stove top until thickened into a rich Ragu sauce. It's served over pasta cooked al dente and topped with Pecorino Romano cheese. This is an amazing treat
This recipe starts with about 6 ½ to 7 pounds of oxtail. It may seem like a lot but each piece has part of a tail bone through their centers. Pieces, especially larger ones are surrounded with fat. Although there is a fair amount of waste, cost per pound is reasonable.
My recipe recommends using Peter's Garlic Oil. Although you can substitute plain olive oil with sautéed minced garlic and Tuscany Seasoning. The dish will simply not be as good as it can. Use any leftover Peter's garlic Oil as a dip for bread.
Dried rosemary, sage and kosher salt can be substituted for Tuscany seasoning.
Recipe will easily serve 8 to 0 hardy eaters. Leftover sauce freezes well.

Ingredients:
About 6 ½ to 7 pounds untrimmed beef oxtail
Tuscany seasoning (or rosemary, sage and kosher salt)
Peter's Garlic oil (or plain olive oil and 2 minced garlic cloves)
¾ cups of olive oil
5 garlic cloves
Rosemary, Sage, salt, pinch red pepper flakes.
Salt and Pepper
Flour for dredging
Battuta
¾ cup finely chopped carrots
¾ cup finely chopped celery
¾ cup finely chopped onion
3 cups chicken stock
3 cup dry red wine
2 cans imported Italian tomatoes
¼ teaspoon red pepper flakes
Basil (Lucia always said "you can never add too much basil")
Rigatoni or your favorite pasta
Pecorino Romano cheese

Earlier in the day prepare Peter's Garlic Oil. Place olive oil in a butter melting pot. Cut rough tips from each garlic clove. Do not remove skins. Slice each in half lengthwise and place in a butter melting pot. Add rosemary, sage and salt or Tuscany seasoning. Add a pinch of red pepper flakes. Pour in the olive oil.
Heat pot over medium heat until oil reaches a simmer. Lower heat to maintain a low simmer. Garlic oil is ready when garlic is lightly browned and becomes very soft like oven roasted garlic. Remove released skins.
Place about ½ cup of the flavored olive oil from Peter's Garlic Oil in a large high rimmed frying pan that can also be placed directly in the oven for final cooking.
Trim larger pieces of fat and season oxtail with Tuscany seasoning or salt, dried rosemary and dried sage. Let them sit refrigerated for an hour or so. Dredge shanks in the flour. Brown them on all sides. Remove the shanks. Add the battuta, carrots, celery and onion to the pan. Sautee until softened, adding more garlic oil if needed. Add oxtail, pan roasted garlic from Peter's garlic Oil, wine, chicken broth, red pepper flakes, contents of both cans of tomatoes and basil. If using whole canned tomatoes, squish them by hands first.
Cover the pot. When contents reach a boil, place in a 350° oven still covered. Periodically turn shanks over. Braise until oxtail meat begins to fall off the bone, in about 1½ to 2 hours. Remove pot from the oven. Mixture will be extremely hot. Very carefully use proper long handle utensils to remove oxtail to a platter. Skim pot to extract as much fat as possible.
When cooled to touch, shred oxtail meat and place back into the pot. Discard bones. Place the pot on the stove top and simmer uncovered while stirring frequently until the sauce reduces and thickens to a ragu. Check for seasoning.
Serve over rigatoni or your favorite hardy pasta cooked al dente. Top with Pecorino Romano cheese.

Pasta with Homemade Oven Dried Tomato,

Halved and Tossed with Olive Oil, Garlic, Basil, and Slow Roasted.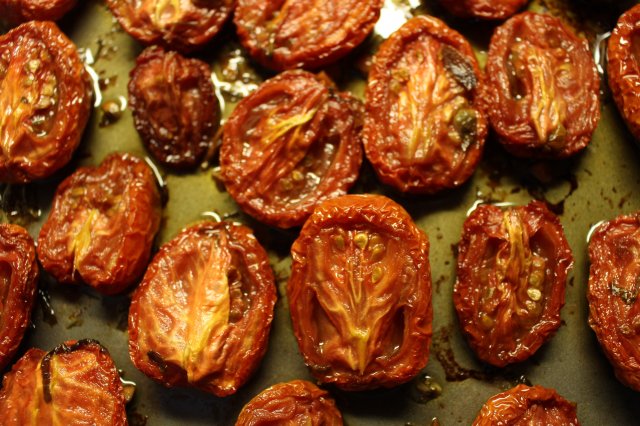 I developed this simple recipe years ago when living in Illinois. Our local grocery store periodically offered fresh plum tomatoes for 10 cents each. 40 oven roasted tomatoes, four dollars' worth, seasoned and with garlic and basil were enough to mostly mix with pasta, with extra to top bruschetta, in antipasto, or simply snack with Italian cheeses and salami.
Meatier Italian style plum tomatoes are simply halved and tossed with olive oil, garlic, seasoned with salt and slow oven roasted. While roasting, olive oil is infused with garlic, basil and dripping from tomatoes. Concentrating also enhances tomato's flavors.
Shriveled but still moist tomatoes and all pan juices are gently tossed with my favorite pasta. Mix with parmigiana and some of the reserved pasta water to help create a light sauce.
Optional, for a hardier meal, add shrimp, chicken, or sausages sautéed with additional olive oil or fold in roasted vegetables like eggplant, squash, or peppers all for added textures and flavors.
Originally, I prepared tomatoes in the evening and gently slow dry them overnight in 175° direct heat (not convection). In the morning I would flip them over and continue drying for a total of about 12 hours. Slower roasting is more gently to garlic and herbs and offers best results.
8 Hour Method.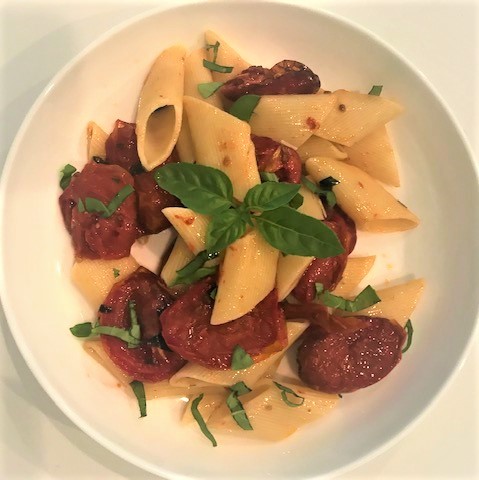 Ingredients:
3-pounds fresh plum tomatoes

1 cup olive oil

6 large garlic cloves cut in quarters

1-cup fresh basil, cut in strips

2 teaspoon kosher salt

1-pound pasta

Grated Parmigiana cheese
Core and half tomatoes lengthwise.Remove tips and skin from garlic cloves and quarter each.
In a large bowl toss tomatoes with olive oil, garlic, and half of the basil.
Continue tossing while sprinkling with salt. Marinate for at least a half hour stirring occasionally.
Preheat oven to 200°direct direct heat.
Place tomatoes round side down onto a rimed cookie sheet. Pour olive oil, garlic, and basil mixture over tomatoes. Place in the oven.
After about 5 hours, remove garlic and basil. Flip tomatoes over. Continue oven drying until tomatoes are shriveled but still moist, about 8 hours total. See pictures.
Remove any loose tomato skins. If tomatoes are large, cut in half with cooking scissors.
Cook pasta in salted water until al dente. When pasta is ready, reserve a cup of cooking water and drain pasta.
Toss pasta with roasted tomatoes, contents of the roasting pan, remaining fresh basil, and Parmigiana cheese. Stir in enough pasta water to moisten and cream.
Pass with additional grated or shredded Parmigiana cheese.
Note: Oven dried tomatoes can also be used for many other applications, antipasto, topping for flatbread and puff pastry tarts, condiment for hamburgers, or an oven roasted tomato salad accented with delicate pasta, and many more.

​​​​​​​


Tomato Concassé
Basil, Pasta, and Fresh Mozzarella Cheese
This is a simple light dish ideal for summer lunch or brunch with friends. Peeled tomatoes are seeded and cubed. Pulp is quickly sautéed in seasoned garlic and olive oil. Pasta, freshly shredded basil, and fresh mozzarella are combined, heated and served.
Although I usually use plum tomatoes which are meatier than others, heirloom tomatoes are rich in flavor are a wonderful substitution when in peak season.
The addition of sliced fresh mozzarella can assimilate the flavors found in margherita pizza; too good to be this easy!
Below, please see suggested variations of this recipe.
Ingredients:
1/2 cup olive oil
2 garlic cloves halved
Kosher salt
A large pot of boiling water and a bowl of cold water with ice
1 1/2 to 2-pounds ripe plum tomato (about 5 large per pound)

1 cup fresh torn basil
1 pound of your favorite pasta cooked al dente
8 oz. small fresh mozzarella balls
Optional, shaved parmigiana cheese
Cook garlic in olive oil in a small pot with a pinch of kosher salt. Remove garlic when lightly brown and set pot aside.
In batches, core tomatoes and carefully place several at a time in the pot of hot water with a slotted spoon In about 15 seconds remove and shock them in iced water. Skin should be cracked and can readily be peeled. Place skinned tomatoes in a clean bowl. When completed, slice each tomato in half and remove their seeds and liquid to another bowl. Cube the tomatoes.
Cook a pound of your favorite pasta. Before straining, reserve a cup of pasta water. After straining, mix with pasta with a small amount of olive oil to help prevent pasta from sticking to one another.
Place the garlic flavored olive oil in a large sauté pan. Force the retained seeds and liquid through a fine mesh strainer over the pan capturing all it's liquid. Briefly concentrate over medium heat.
Add the cubed tomato pulp and stir for a few minutes to remove most of their liquid. Toss with the pasta and basil. When heated through, stir in some of the pasta water a little at a time to help enhance the consistency of the sauce. Check for seasoning, salt and pepper. Add the fresh mozzarella until softened but not totally melted. Serve sprinkled with shaved parmigiana if desired.

Variation of Tomato Concassé and Pasta for Brunch

Use a delicate pasta shape like rotini of farfalloni (bow tie) pasta. Increase pasta to 2 pounds and reduce tomato to 1 pound.
Add any variety of additional ingredients like prosciutto, sliced Genoa salami cut in strips, Abruzzi sausage, olives, roasted and sliced red peppers, peas, shaved parmigiana cheese, imported feta cheese (sold in brine), baby arugula, etc. This variation can be served warm or at room temperature. Remember to retain some pasta water for the sauce.
Tomato Sauce with lots of Basil, Garlic and Olive Oil

Many Italian dishes are characterized by the simplicity of their ingredients and perhaps few ingredients exemplify Italian better than tomato, basil, garlic, olive oil and Parmigiano-Reggiano.

Mom made a surprisingly good, quick, and simple tomato sauce with lots of olive oil, garlic, and fresh basil. My recipe uses her same ingredients but replaces raw garlic with my sweet pot roasted. Garlic is slowly simmered in olive oil removing garlic's sharp and potentially bitter taste to sweet and pleasant while olive oil becomes garlic infused (please see following tab).

Contrary to the belief tomatoes need to simmered for hours in red sauces, some rely on minimally processed tomatoes to retain tomatoes fresher taste.

Ingredients:
Simple Pete's Garlic Oil
½ cup olive oil
6-8 garlic cloves
½ teaspoon Kosher salt
1/8 teaspoon red pepper flakes
More
1-28 oz. can Italian tomatoes*
1-Cup torn basil leaves
1-pound spaghetti or linguini pasta
*Imported crushed or whole tomatoes; plain or with light puree.

Garlic Oil...Remove rough garlic ends and slice garlic cloves half lengthwise. Do not remove skins. Place in a narrow stainless-steel butter melting pot with olive oil, Kosher salt, and a pinch of red pepper flakes. Place pot over medium heat until oil begins to simmer; lower heat to retain a gentle simmer. Garlic will be ready when skins fall off, garlic tans, and softens inside (up to 2 hours). Discard skins.

Fill a large pasta pot with water and Kosher salt. Place over high heat.
Meanwhile place tomatoes in a pot over medium heat with the flavored oil from Pete's Garlic Oil. Reduce heat and simmer up to a half hour.
When water reaches a fast boil, stir pasta in the pot with a generous amount of rapidly boiling water Cook pasta al dente and drain.
Dump the roasted garlic and remaining contents of pot with tomatoes and reheat. Add a scoop of the sauce to the empty pasta pot and toss with drained pasta. Serve with grated parmigiano and crushed red pepper flakes. Enjoy.
Perfect Fresh Tomato Sauce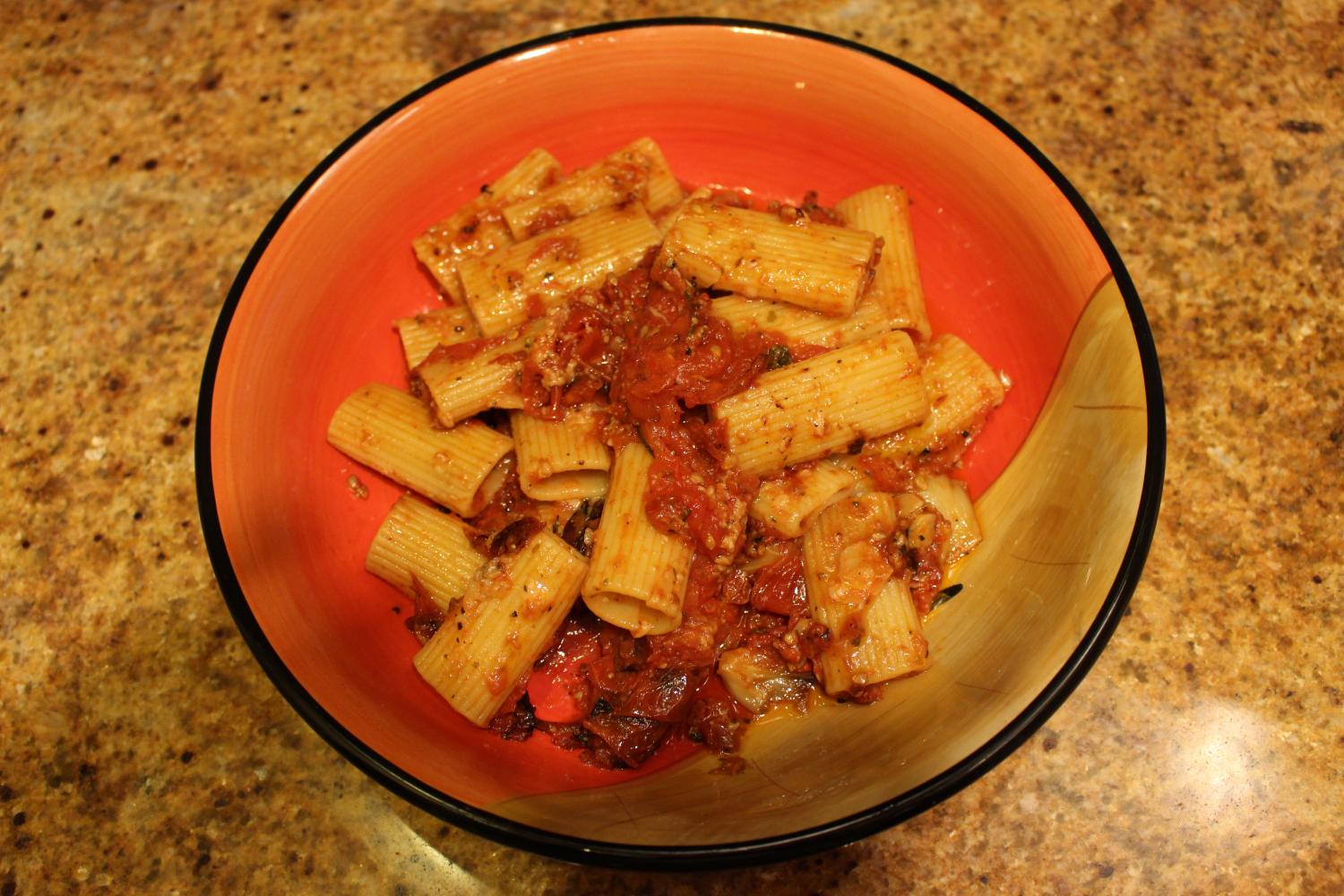 This sauce shows how great tomato can taste with the right combinations of cooking methods and ingredients.

Tomato halves are quickly oven dehydrated in a cookie sheet with high heat. In a separate pan, a variation of Peter's Garlic oil provides all the additional flavors needed to create a fresh tomato sauce that is nothing short of amazing.
Ingredients:
Variation Peter's Garlic Oil (below)
2 tablespoons tomato paste
5 basil leaves sliced
12 large Italian plum tomato (about 2 pounds)
Olive oil for coating
Tuscany Seasoning
1-pound ziti, penne, or your favorite pasta.

Parmigiana cheese
Variation of Peter's Garlic Oil
1 cup of olive oil
about 6 garlic cloves halved, skin removed
1 1/2-inch-long sprigs of rosemary

4 fresh sage leaves
Make the Variation of Peter's Garlic Oil. Add the olive oil and all other ingredients. Heat until it begins to simmer. Lower heat enough to maintain a slower simmer. Stir occasionally and make sure the garlic doesn't burn. Mixture is ready when garlic is soft and nicely tanned. Stir in the tomato paste for about a minute and add basil leaves. Remove from heat. This can be cooked well ahead. Reheat when needed.
Preheat a hot 450º oven, regular heat (not convection)
Core and slice tomato in half lengthwise. Coat the tomatoes in a bowl with a a liberal amount of olive oil and Tuscany seasoning. Dump the tomatoes into a rimmed cookie sheet with all of the olive oil and seasoning. Flip the tomatoes flat side down. Place the sheet near the bottom of the oven.
The oil on the bottom of the cookie sheet will begin to bubble and the water from the tomatoes will be released. Eventually most of the liquid will evaporate and the top of the tomatoes will begin to brown, 20 minutes to a half hour total. Flip the tomatoes over, place in the middle of the oven and turn heat to low, 300 degrees to dry most of any remaining water. Tomatoes are ready when the liquid on the bottom is only oil and before the edges of the tomatoes just start to burn. Remove from oven.
Cook the pasta al dente. Reserve a cup of the pasta water and drain. Add the pasta back into the empty pan. Add the cooked tomatoes, the hot garlic oil mixture and about 1/3rd. cup of the pasta water. Gently incorporate everything over medium heat adding a little more water if needed.
Remove from heat and toss with parmigiana cheese and serve.

Sunday's Meat Sauce

(Sunday Gravy If Italian)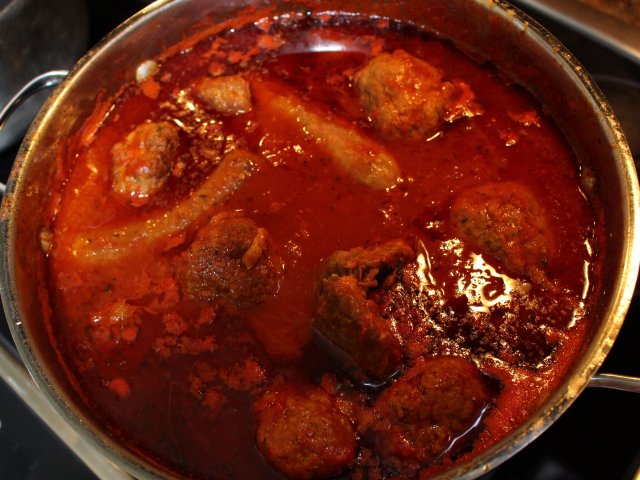 Sunday was all about family getting together, laughing, talking, and feasting for hours. Mom usually made fresh homemade ravioli the day before. I loved helping her. It was my job to crimp the edges once they were filled and formed. She would air dry them overnight on her "pasta" board.
It always was the day's favorite course, mom's ravioli and a bowl of traditional pasta, both served with her hardy "gravy" (Italian's name for red meat sauce). It was an array of meats simmering in tomato sauce for hours; mild and hot Italian sausages, meatballs, and a variety of beef, pork, veal and pig skin braciola. She often added veal shank, the most tender of all the cooked meats.
Multiple platters filled with these elaborate meats accompanied the pasta along with bowls of additional gravy and freshly grated well aged imported parmigiana and Romano cheeses. Everything served prior and after was spectacular, but this always was best. Mom would say, "don't each too much, you won't have room for the main course"; the best of problems to have!
My family made meatballs exclusively with ground beef. Although fashionable to add other types of meats, mom claimed that beef offered the best favor. Other meats were already in her sauce.
Proportions of beef, eggs and breadcrumbs will determine the texture of meatballs. I find a ratio of 1 pound of ground with 3 eggs and enough breadcrumbs (about a cup) gives them the right texture. Meatballs made with fewer eggs and corresponding breadcrumbs cook too hard.
Braciola is simply flat meat, pounded to roughly a 1/4 inch, stuffed, rolled and tied with butcher's twine. Like everything else Italian, exact ingredients vary among families, but most include lots of chopped parsley, grated parmigiana and/or Romano cheeses and often include slices of prosciutto, or small hunks of Abruzzi sausage, imported pepperoni, or salami. Some also added sliced hard-boiled egg (we didn't).

For beginners, I would recommend a sauce made with meatballs, sausages and pork braciola. You could make it even easier by substituting the pork braciola with several country style pork ribs, but you would miss a real treat.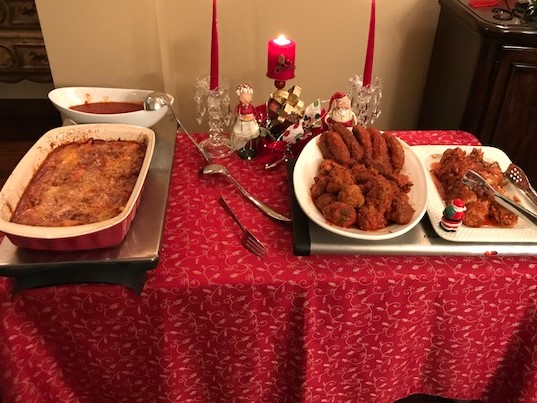 Ingredients:

Sauce
Olive oil
1 sliced medium onion
4 or 5 large garlic cloves sliced
1 small 6-oz. can tomato paste
4 large 28-oz. cans plain Italian ground peeled tomatoes
1 cup loosely packed fresh basil chopped *
2 tablespoons dried oregano or Italian seasoning
1 cup of dry red wine (optional)
Italian Sausages
8 or more mild Italian sausages
Meatballs
1 - 1 1/4-pound ground beef
3 large eggs slightly whisked
1 cup or more Italian style bread crumbs
1/4 cup chopped fresh flat Italian parsley
1/4 cup grated parmigiana cheese
Pork Braciole
equivalent of 3-1/4" thick flat pieces of pork about 8" x 6"
chopped fresh flat Italian parsley
dried Italian sausage or salami (Abruzzi sausage, imported whole pepperoni, Genoa salami) cubed about 1/4 inch
finely chopped garlic
grated parmigiana cheese
butcher's twine
*Instead of basil leaves, you can use a "bouquet garni". Tie several stems of basil leaves with butchers twine. Remove after the sauce is finished. Cooking will extract the flavor without leaves in the finished sauce.
Lucia always said you can never have too much basil in her "gravy".
Start with a heavy sauce pan large enough to hold all ingredients. We always called it the flavor pot because everything following will be made in that pot and nothing escapes.

Sauté sliced onions in a generous amount of olive oil. Discard them from pot when translucent. Add garlic slices. Cook them until slightly tanned being careful not to burn them. Also discard. Remove the pot from the heat.
Pork braciole, if needed, pound the pork between wax paper until it is about 1/4 inch thick. Brush inside surface with olive oil. Generously spread cubed Abruzzi sausage, pepperoni or salami over the surface within a half inch of external edges. Spread the remaining ingredients, parseley, garlic and cheese. Starting with the longer and most irregular edge, tightly roll each as best you can. Tie the pork about every 2 1/2 inches.

Meatballs, add all the ingredients except for the Italian style bread crumbs. Wearing surgical gloves, mix ingredients by hand until combined. Mix in the bread crumbs a little at a time. It is ready when you can form a solid meatball. Form meatballs into 2 to 2 1/4 inches in diameter balls.
Return the pan to the stove over medium heat. Starting with the meatballs, cook each in the oil, rotating them as they brown until cooked through. Place meatballs in a dish and refrigerate. They will be the last item submerged in the sauce for the last hour of simmering.
Fry each of the braciole, turning as they brown. When cooked through, remove them to a holding bowl. Cook the sausages the same way and remove to the bowl.
Stir the tomato paste and the dried oregano/Italian seasoning to the flavor pot. (Tip: Using a can opener, cut both the top and bottom of the paste can. Discard one end and push the paste through with the other top.). Stir the paste until it glistens with the oil, about 2 minutes.
Stir in four cans of the ground tomato, wine, and fresh basil making sure everything is mixed well. Stir frequently over medium heat until it reaches a simmer. Gently stir in the braciole and the sausages and simmer with the top ajar.
It is very important to set the heat just high enough to maintain a simmer yet not burn the sauce on the bottom of the pot. Stirring frequently helps. If the bottom of the sauce does burn, do not scrape the pan, releasing the burnt sauce into the gravy. It will ruin the sauce. Either transfer the contents to another pot or continue cooking and gently stir without disturbing the burnt bottom.
In about 3 hours, add the meatballs and continue simmering for at least another hour. Add water as needed. Scoop up and taste a meatball to make sure it's soft and ready. If so, it's done. Enjoy the meatball. You deserve it!