Chicken Preparations and Recipes
Cutting Chicken Breasts into Scaloppini and Cutlets
Chicken Cutlets
Brining Chicken
Dredging and Breading Poultry
Chicken Saltimbocca, "Jump in the Mouth"
Chicken Scaloppini Marsala
Chicken Milanese
Chicken Parmigiana
Piccata de Pollo

Please see next Tab for Additional Chicken Recipes

How many breasts does a chicken have? One of course! If you ask your someone to pick up four chicken breasts at the supermarket, how many chicken breast halves will they buy?
Cutting Chicken Breasts into Scaloppini and Cutlets
Many chicken dishes start with chicken scaloppini or cutlets. Scaloppini is white chicken sliced thin. Cutlets usually are thicker and flattened to uniform thickness. Cutlets usually are breaded or battered prior to cooking. Italians often use the words cutlets and scaloppini interchangeably.
Chicken scaloppini is used when making delicate scaloppini Marsala, or chicken with sauces that are wine, butter, broth or cream based. Breaded cutlets are pan or oven fried to make chicken Milanese. These cutlets are often assembled to make popular chicken parmigiana.
Scaloppini and cutlets are sold precut or can economically be cut from breasts. Below are easy techniques for trimming your own.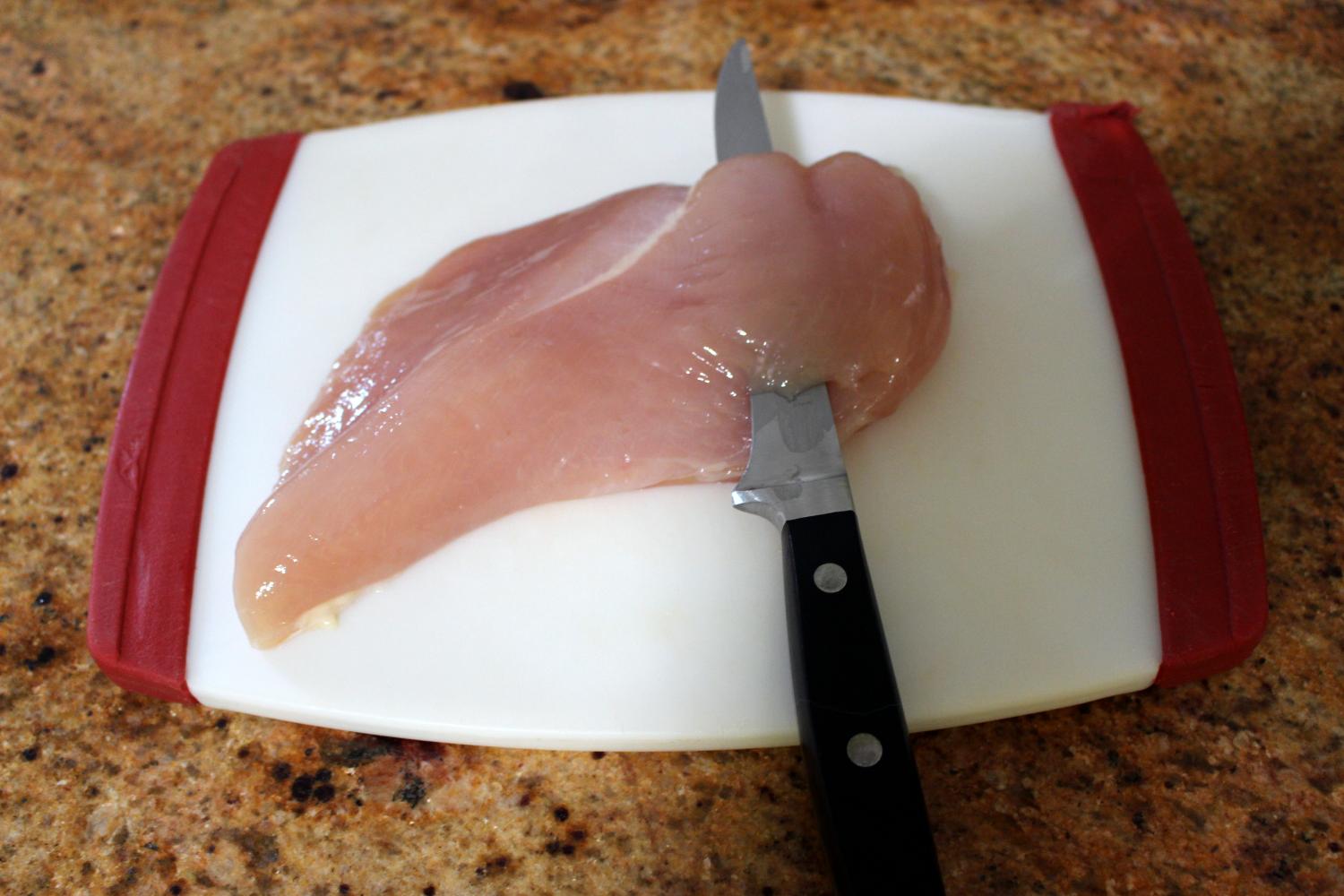 Rinse and dry boneless, skinless chicken breasts without rib meat. Place breast on cutting board, smooth round side up.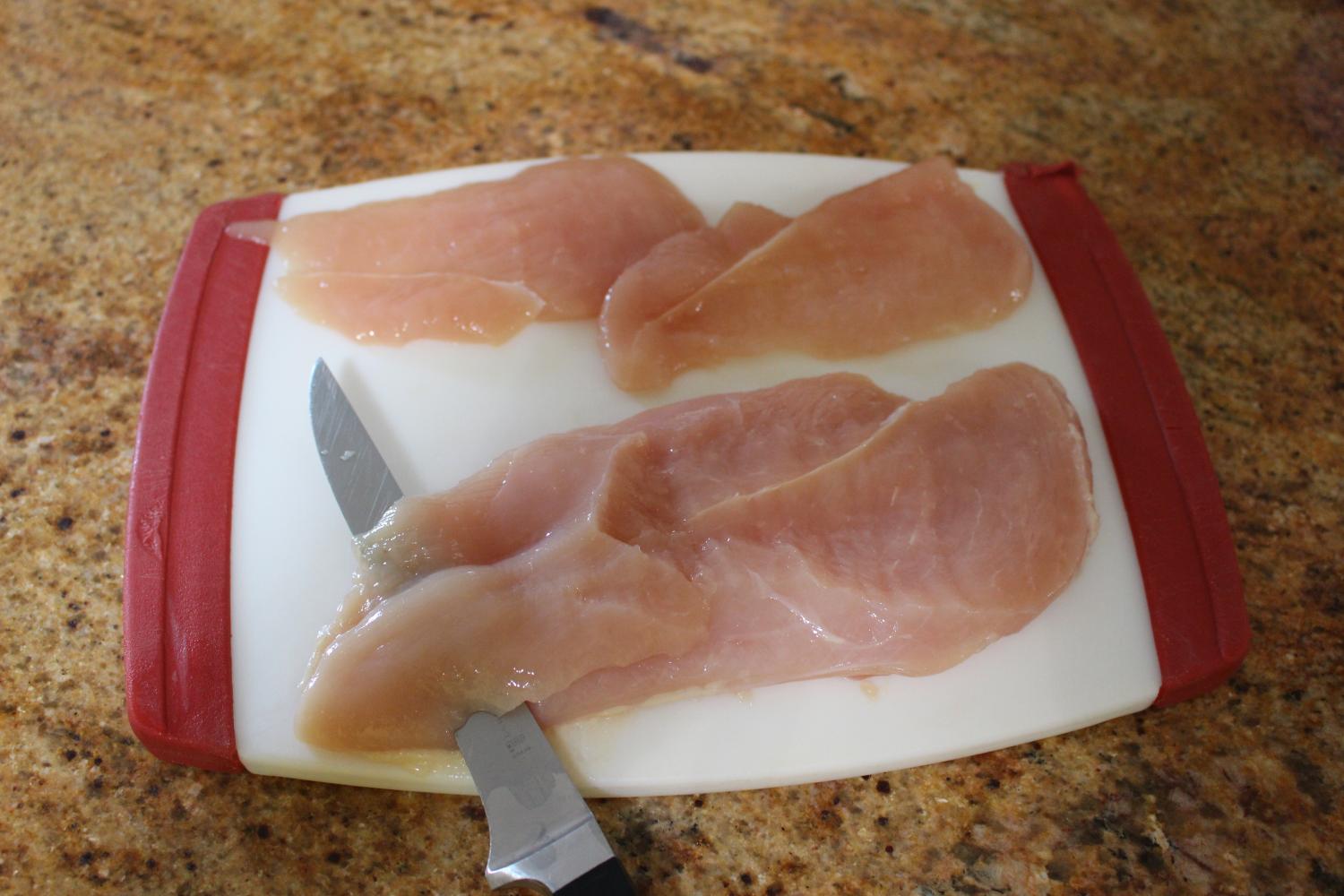 Carefully slice cutlets as shown to desired thickness until the remaining breast is thin.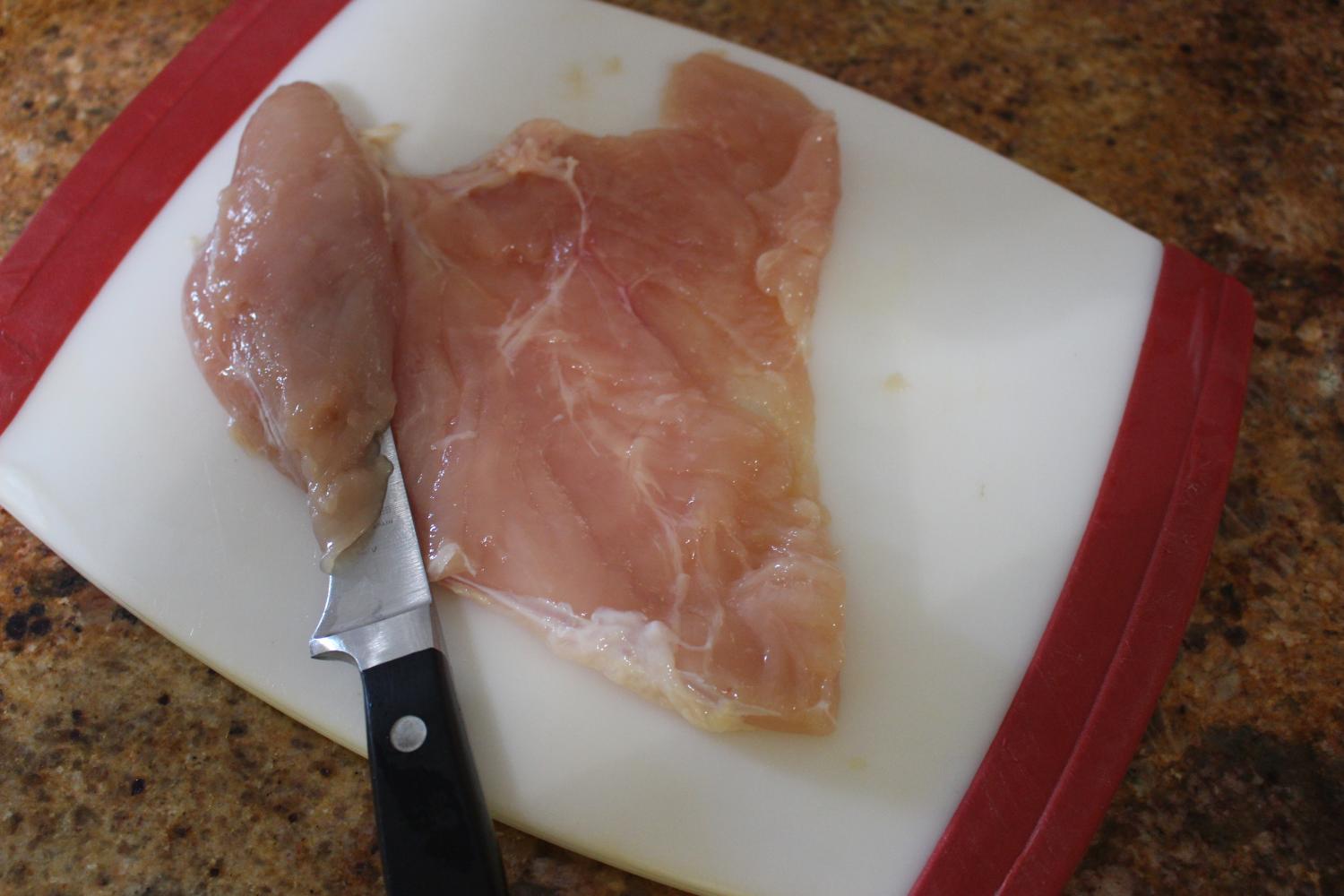 Flip breast over. Butterfly the thick ends. Cut them as shown but not all the way through. Flip the top pieces over and pound entire breast between wax paper to desired thickness. Cut to size.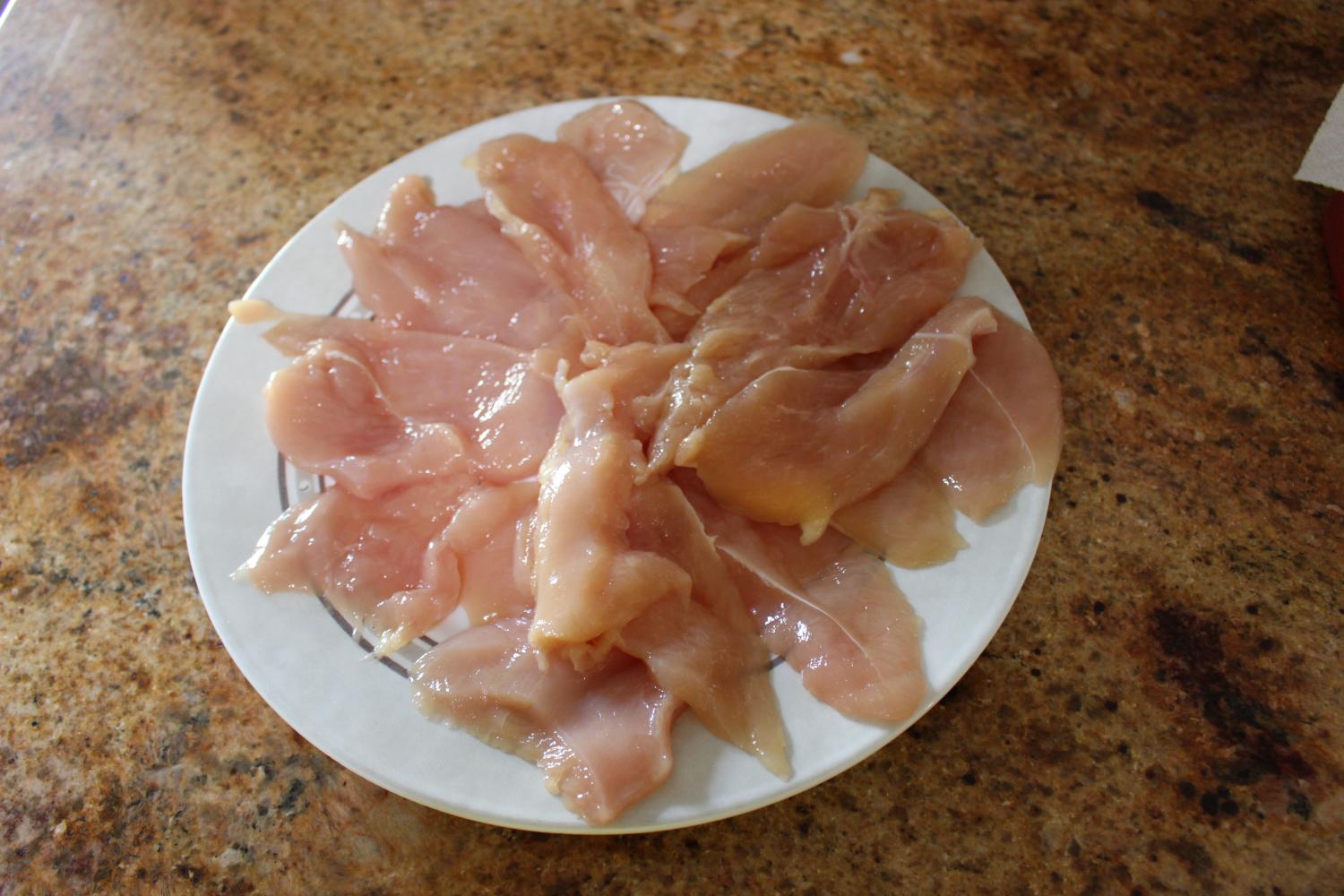 Above is the yield from 2 breasts. For reference, this is an 11 inch dish.

Chicken Cutlets, cutting breasts for chicken Milanese or chicken parmigiana. Skip the instructions in the first two frames. Place uncut chicken round side down. Butterfly ends as shown in the third frame. Pound the breast between 2 sheets of wax paper or plastic wrap until they are reduced to 1/2 inch thick or less.

Chicken can be stuffed and rolled (chicken rollatini), or folded like a turnover. Stuffing can be as simple as prosciutto and asiago cheese, spinach and ricotta or countless others.
Brining Chicken

There is almost nothing I dislike more than dry, overcooked foods. Brining is simply submerging poultry or pork in a brine solution to retain moisture. A mixture of water and kosher salt are most common but foodies and chefs everywhere have experimented with multitudes of other additions. As an example, adding sugar to the brine encourages caramelization when cooking chicken.
There are a few concerns.
Water brining can dilute the taste of chicken or pork and other ingredients can introduce flavors that can distract from subtle flavors.
Also check labels. Some turkeys and chickens purchased are already brined.
I like to brine lean cuts of pork, turkey and chicken that are dry heat, oven baked. Dishes like Chicken Parmigiana cooked with moist tomato sauces or chicken that are finished by simmering in sauce in a sauté pan like marsala generally do not need to be brined. Breaded chicken cutlets cannot be finished in sauce or their breading will separate and fall apart. They also will benefit from brining.
Water brining; simply use a ratio of 1/4 cup of kosher salt and 1/4 cup of sugar in a quart of cold water mixed well. Submerge chicken or pork and refrigerate in the brine for about an hour. If a whole chicken, use an equal ratio of 3/4 cup of kosher salt and sugar to a gallon of water and brine overnight.
Brining with chicken broth
, for up to 3 pounds of chicken cutlets, whisk a 14.5 oz. can of chicken broth with 2 teaspoons of Kosher salt. Submerge chicken pieces for only a half hour. Longer can result in spony cutlets. Rinse and dry well especially thorough if coating with breading.
Dredging and Breading Poultry
Pros, Cons and Techniques
Dredging with flour helps prevent chicken from sticking and becoming tough, improves moisture retention, creates crunchy surfaces, and traps seasoning. However, flour burns easier than naked chicken and can result in a bitter taste.
Traditional breadcrumbs and Panko are best for chicken. They provide flavor, pleasing crispy texture, and add elegance to chicken. Flavors like herbs, parmigiana, seasoned salts can be added to the flour, egg wash or breading. Some alter chemistry by adding buttermilk or yogurt.
Panko has mild delicate flavor often ideal for fish and vegetables. Panko also works well breading chicken for lighter applications where Italian style breadcrumbs are too heavy. Panko crumbs also have more surface area resulting in a crispier coating.
Breading is a simple three step process. Chicken is dried and seasoned with salt and pepper. Three stations are created. First is a flat bottom bowl with white flour. Second, another bowl with a mixture of eggs beaten with chopped Italian parsley and a drizzle of olive oil. The third, wax paper with seasoned Italian style breadcrumbs tossed with grated parmigiana cheese.
When ready to apply breading, using tongs, lightly dredged cutlets in flour and shake. Chicken are then dipped into the egg mixture and excess dripped back into the bowl. Coat chicken all around with breadcrumb. Repeat while pressing down with the palm of your hand, thoroughly imbedding the crumbs. Lastly, rest coated chicken in a single layer for at least a half hour prior to cooking.
Once browned, breaded chicken's coating will dislodge if simmered in hot sauces. Even if they survive, they lose their crispiness. When oven baking, i.e. "Chicken Milanese", once coating is crispy and the chicken is just cooked through I sometimes top with a variety of pre-cooked toppings sprinkled with pizza cheeses and bake just until cheese is melted. As an example, please see my recipe for "Thin Panko Breaded Cutlets with Pizza Toppings" below. You can add warm flavored sauces by placing a puddle on or next to the breaded chicken in each plate.
Corn starch is commonly used as a coating in Asian cooking and for thickening. It is also used for "velveting", a technique used for sealing seafood and chicken. Corn starch is relatively tasteless. It also can be used to coat chicken and seafood. Because it browns quicker than flour, it is better used on smaller pieces. I use corn starch on bite size chicken pieces and shrimp and accompany them with a variety of dips like mustard sauce or sweet and hot Asian mayo sauce.
Chicken Saltimbocca

"Jump in the Mouth"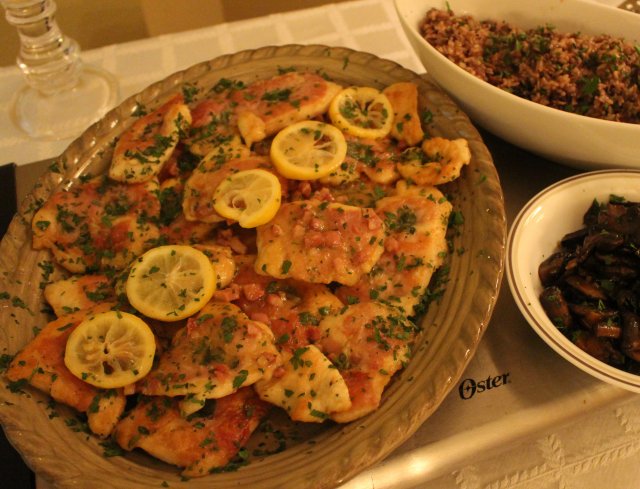 Rome is credited with this dish. Translates to "Jump in the Mouth".
Although it's classically made with pounded veal, chicken or pork can be substituted. Its ingredients are simple and its taste explosive, hence its name.
Individual cutlets can be assembled ahead but quickly seared and finished before serving.
Cutlets are pounded between sheets of wax paper to about ¼ inch thick (as thin as possible for veal). They are seasoned and topped with a thin slice of prosciutto placed within the edges of the cutlets. Add a fresh sage leaf onto the center of the prosciutto and press down to seal both. Use a wooden toothpick to secure. Hold the cutlet plain side down. Pierce the toothpick up through the bottom side, up and over the sage, back through the bottom side.
Caution. Prosciutto (and optional pancetta) is salty. Minimize or eliminate added salt.

Above, served with wild rice and
a side dish of "Sautéed Mushrooms with Sherry, Butter and Tarragon". Recipe is under "vegetables" tab.
Ingredients:
12 chicken cutlets about ¼ inch thick
Tuscany Seasoning
Prosciutto thin sliced
12 fresh sage leaves
Flour for dredging, (optional, see note below)
¼ cup olive oil (or more if needed)
Optional, 4 oz. cubed pancetta
1 tablespoon coarsely chopped garlic
1 cup white wine
1 cup chicken broth
¼ cup butter, 4 tablespoons
Lemon juice and/or lemon slices
1 tablespoon chopped flat leafed parsley
As discussed above, pound cutlets to ¼ inch thick. Sprinkle lightly with Tuscany Seasoning.

Top with prosciutto and a sage leave in its center. Press down with the palm of your hand and secure with a toothpick and discussed above. Set aside.
Add olive oil to the pan and sauté garlic until lightly brown; discard garlic. Optional, sauté pancetta until slightly crisp; remove and set aside.

Lightly dredge each in flour, shaking excess off. In a single layer and in batches, sauté the prosciutto and sage side until singed, a minute or two. Flip the cutlets. Brown until just cooked through. Remove to a plate and cover with aluminum foil. When cool enough to handle, carefully remove toothpicks.

Deglaze the pan by adding the white wine and half of the chicken broth. Increase heat to high, scraping the bottom of the pan to loosen all crusty bits. When wine is reduced to about half, lower heat and add butter. Once melted and sauce is shallow, place cutlets back in the pan and simmer mostly covered until cutlets are tender. Add more broth if needed to thin.

Place cutlets in a serving dish. Briefly heat the lemon slices and remove. Pour sauce over the

Saltimbocca. Garnish with the lemon slices and parsley. If using pancetta, you can sprinkle with some of the cooked pancetta but first test to make sure sauce isn't too salty.
Another technique, saltimbocca and sauce are prepared a little ahead. When ready to finish the dish, saltimbocca is simmered in the sauce until tender, about 10 or 15 minutes. Butter is added then served. This also is a great way to rescue overcooked cutlets.

Chicken Scaloppini Marsala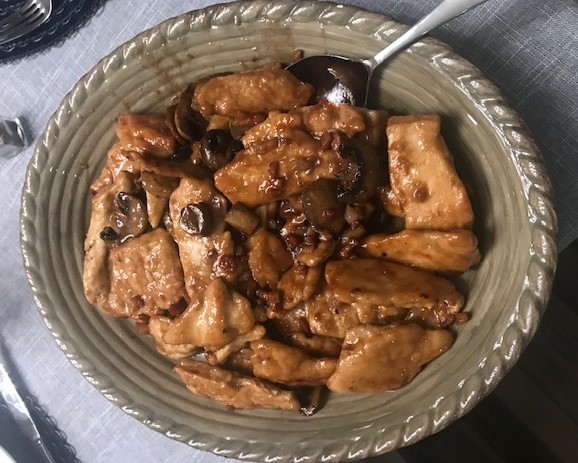 This classical Italian dish is very easy to make. It can be cooked ahead and reheated in its sauce when company arrives. Recipe serves 6.
Serve with Orzo, see recipe under "Vegetables and other Side Dishes"

Ingredients:
3-4 boneless chicken breasts cut into scaloppini.




flour seasoned with salt and pepper for dredging.

3 Tablespoons olive oil, more as needed.

1-pound white mushrooms wiped and sliced thick.

optional, 4 slices of pancetta 3/16 inch thick and diced.

3 cups chicken broth

2 cups marsala wine

2 tablespoons butter



Dredge chicken in seasoned flour. Vigorously shake off excess. Sauté both sides in olive oil until lightly browned. Remove to a warm plate.
Cook mushrooms until their liquid is released and evaporated. Brown mushrooms. Also reserve in a warm tray.
Sauté pancetta in additional olive oil until lightly crisp. Add the 3 cups of chicken broth. Simmer until liquid is reduced approximately in half. Lower heat.
Add butter, one cup of the Marsala and chicken. Simmer partly covered until chicken is just tender, 10 or 15 minutes. Add remaining Marsala.
Simmer uncovered until sauce thickens and chicken is richly glazed, adding more Marsala if needed. Stir in mushrooms and serve.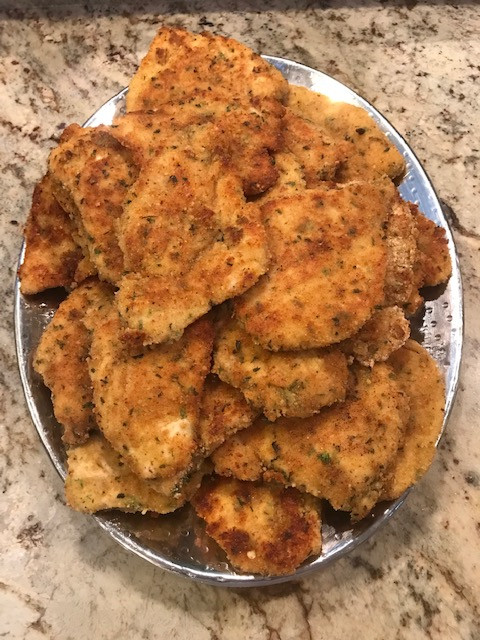 Whenever anyone visited our apartment or any of my aunt's, there always seemed to be chicken (or veal) Milanese ready. No one ever left hungry even when they didn't come to eat.
This dish is easy to make. It's simply chicken pounded into cutlets (see above), coated with bread crumbs using the Italian three step process described above then sautéed in olive oil. We ate them as a snack or for lunch, sandwiched between two slices of old world-bread. Chicken Milanese is also used in chicken parmigiana.
Our bakeries made bread with simple natural ingredients without preservatives. Leftover bread would dry within a day and never wasted. Mom made homemade bread crumbs. She lightly oven toasted day old bread before cubing slices. Today with modern food processors, that process is much easier. For seasoned crumbs, she would lightly coat them with olive oil and toss them with salt, pepper, Italian seasoning and graded parmigiana cheese just prior to using.
Quality breadcrumbs were also readily available from our local bakeries along with "day old breads" at deep discounts. Grocery store breadcrumbs are a reasonable convenience but nothing beats homemade.
The only change to mom's original recipe below is optional brining of the chicken. It helps keep chicken moist.
Ingredients:
2 boneless chicken breast halves cut into cutlets (but make extra)
Brining (optional)
1-14.5 oz. can chicken broth

2 teaspoons Kosher salt
Coating
Flour
3 eggs
1 tablespoon chopped parsley
Olive oil
1-cup seasoned breadcrumbs
2-tablespoon grated parmigiana cheese
Follow instructions above for making chicken breasts into cutlets; each half breast makes 1 large cutlet.
Mix broth and Koshr salt. Submerge chicken, cover and refrigerate for at 1/2 hour. Rince

Remove chicken and rinse and thoroughly dry chicken with paper towels.

Prepare 3 flat bottom dishes in a row. Add flour in the first. Scrambled eggs, parsley, and a drizzle of olive oil in the second. Fill the last with seasoned bread mixed with additional grated cheese (or on wax paper).

Lightly dust the first breast with flour on both sides. Shake off excess. Dip both sides in the egg mixture letting excess egg mixture drain off. Roll and press the breasts in the seasoned breadcrumbs. Place coated chicken in a plate, single layer. Refrigerate them at least a half hour before cooking.
Place olive oil in a large frying pan over low-medium heat. Sauté chicken until breadcrumbs lightly browned. Flip them over and continue sautéing until the chicken is just cooked through. Place cooked chicken on a paper towel briefly and served with lemon wedges.
Note: if cooking larger amounts of chicken in batches. Replace oil and wipe pan clean when used oil becomes stale.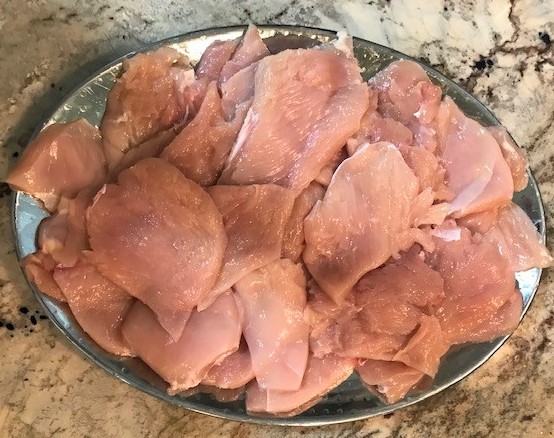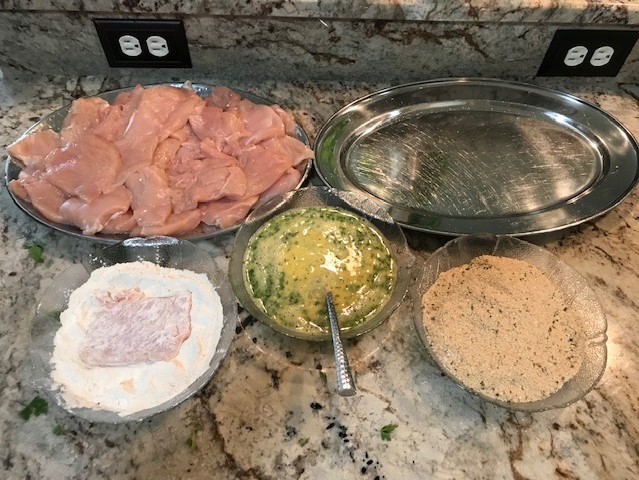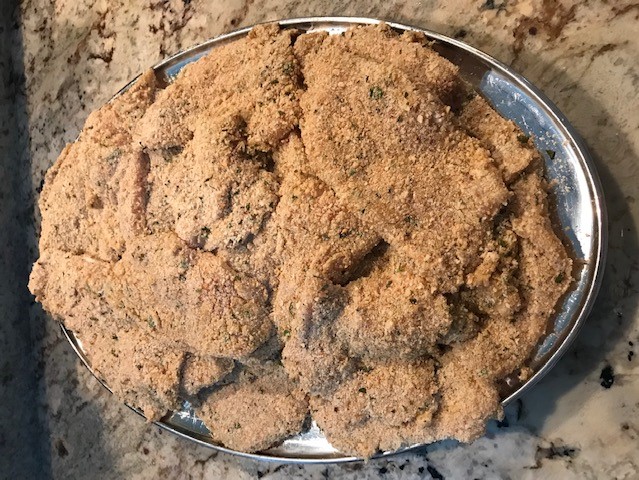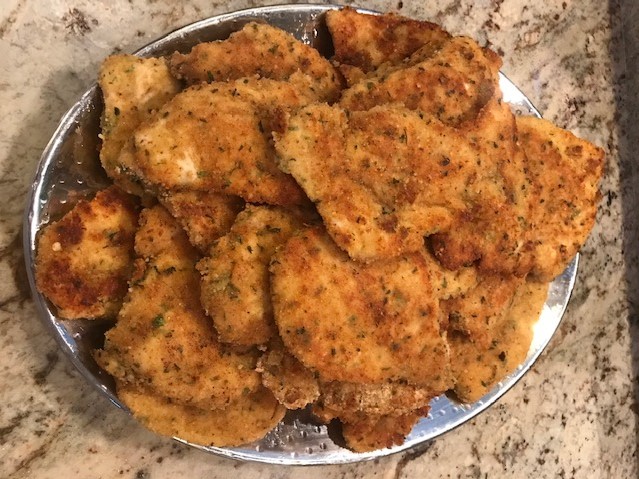 Chicken Milanese, Gluten Free Version

Make the following changes to the coating recipe above:
Replace wheat flour with Gluten free flour
Replace seasoned breadcrumbs with Plain Gluten Free Breadcrumbs
Mix Gluten Free Breadcrumbs with 1/4 cup of Parmigiana Cheese (verses 2 tablespoons original recipe).
Lightly dust the first breast with Gluten Free Flour Shake off excess. Dip both sides of cutlets in the egg mixture. Let excess egg mixture drain off.
Roll and press breasts in the Gluten Free Breadcrumbs and 1/4 cup Parmigiana Cheese mixture.
Verify all ingredients by brands purchased are Glutin Free.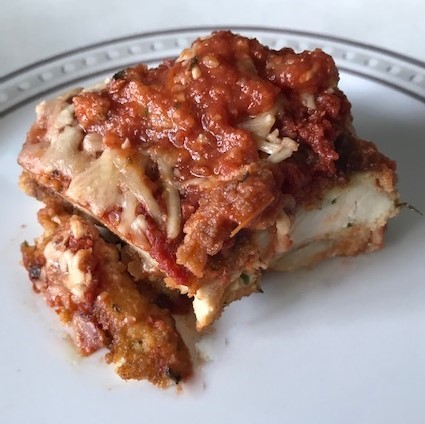 This popular and well-known Italian specialty is simply Chicken Milanese (recipe above), breaded cutlets layered in a baking pan with Marinara Sauce and Italian Cheeses.

Chicken Parmigiana was on short meal rotation in virtually every Italian home growing up. The ultimate in comfort food, it is inexpensive and uncomplicated. Breading using the traditional three step breading process is quick and easy and pots of red sauces simmering were commonplace.
I especially love dishes that can be prepared and assembled well ahead. Mom always made enough for several meals, portioning, refrigerated and/or freezing.
We plan on a half chicken breast formed into cutlets per person but usually have leftovers. Add a side of rigatoni and top both with marinara sauce and artisan dread for dipping, lots more.
Cheese traditionally slices of fresh mozzarella cheese submerged in brine was used. Unless for special occasions, families accepted less expensive balls of dry mozzarella cheese. Packaged and shredded cheeses are now popular and covers easier. I recommend using shredded mozzarella topped with grated parmigiana or simply 5 Italian shredded cheeses in bags with additional grated parmigiana.
Marinara sauce is one of the simplest of all sauces yet very flavorful. The full recipe appears under "Pasta with Tomato Sauces" tab. For convenience, I've added a condensed and slightly easier version below.
Ingredients:
Chicken Milanese, recipe above
Made with the equivalent of 8 large cutlets made with about 4 large half chicken breast

Brined according to directions above
Marinara Sauce using tomato with puree
4 large sliced garlic cloves
1 small onion sliced
3/4 cup olive oil
2-28 oz. cans Imported Italian tomatoes with puree
1/4 teaspoon red pepper flakes
1/2 cup or more coarsely sliced fresh basil leaves
Salt and pepper to taste.
Assembly
Chicken Milanese
Marinara Sauce
1 pound shredded 5 Italian Cheese
Grated or shredded Parmigiana
Marinara sauce, Sauté garlic till browned in 2 tablespoons of the olive oil, discard. Sauté onion until translucent; discard.
Add remaining olive oil over moderate heat. Add tomatoes (hand crush if using whole tomatoes) basil, red pepper flakes and a few grinds of pepper. Simmer for about an hour. Add salt as needed.
Coat the bottom of a baking pan with marinara sauce. Cover with a single layer of chicken Milanese topped with additional marinara sauce, shredded cheese and parmigiana.
Repeat with additional layer as needed. Bake in 325º heat until sauce is bubbly and cheeses are melted. Cover with aluminum foil if top begins to brown before heated through.
Serve by cutting through layers of chicken like a sheet cake into serving portions. Scold those anyone that tries to skim off the toasty browned cheeses on top. It's like removing pizza toppings!
Chicken parmigiana is frequently served with a side of pasta, additional marinara sauce, and grated parmigiana cheese.

Piccata de Pollo

Chicken with Lemon Caper Sauce

This is one of the simplest sauces for chicken. I typically make this dish with lightly floured chicken cutlets sautéed in olive oil and simmed tender in the sauce once deglazed.

The sauce is made with dry white wine or dry vermouth, chicken broth, butter, lemon slices, and capers. Recipe will serve 6.
Ingredients:
Cutlets
8-10 Chicken cutlets lightly pounded.

Flower seasoned with salt and pepper.

Olive oil
Sauce
1 1/2 cup dry vermouth or dry white wine

1 1/2 cup chicken broth

4 tablespoons butter

2 tablespoons drained capers

5 thin lemon slices

Parsley for garnish

Optional, lemon juice to taste.



Dredge chicken in seasoned flour. Shake off excess.

Sauté cutlets in olive oil over moderate heat until light brown. Remove to a platter.
Deglaze the pan with vermouth or wine. Simmer until mixture is reduced in half. Add chicken until softened (add more broth and wine to keep moisture generous)

Just before ready to serve incorporate and soften butter, capers, and lemon slices.

Place chicken in a serving platter. Top with sauce, garnish with parsley.