Appetizers
Mini Stuffed Peppers
Roasted Pepper Salad
Mushrooms Stuffed with Italian Sausage and Cream Cheese
Sweet Brie Appetizer Pizza

​​​​​​​
Mushroom Crostini
Parmigiana & Prosciutto Crostini
Snacking Cheese Flats with Bacon
Gorgonzola & Prosciutto Crostini with Fig, Honey, or Balsamic Glaze
Prosciutto Breadstick Stackers with Mustard Dip
Nancy's Parmigiana Crusted Chicken wings
Grilled Shrimp Coated with Garlic and Herbs
Patty's Cheesy Turkey Sausage Phyllo Dough Cups
Toasted (Fried) Ravioli
Fried Eggplant Appetizer, Traditional and Gluten Free Version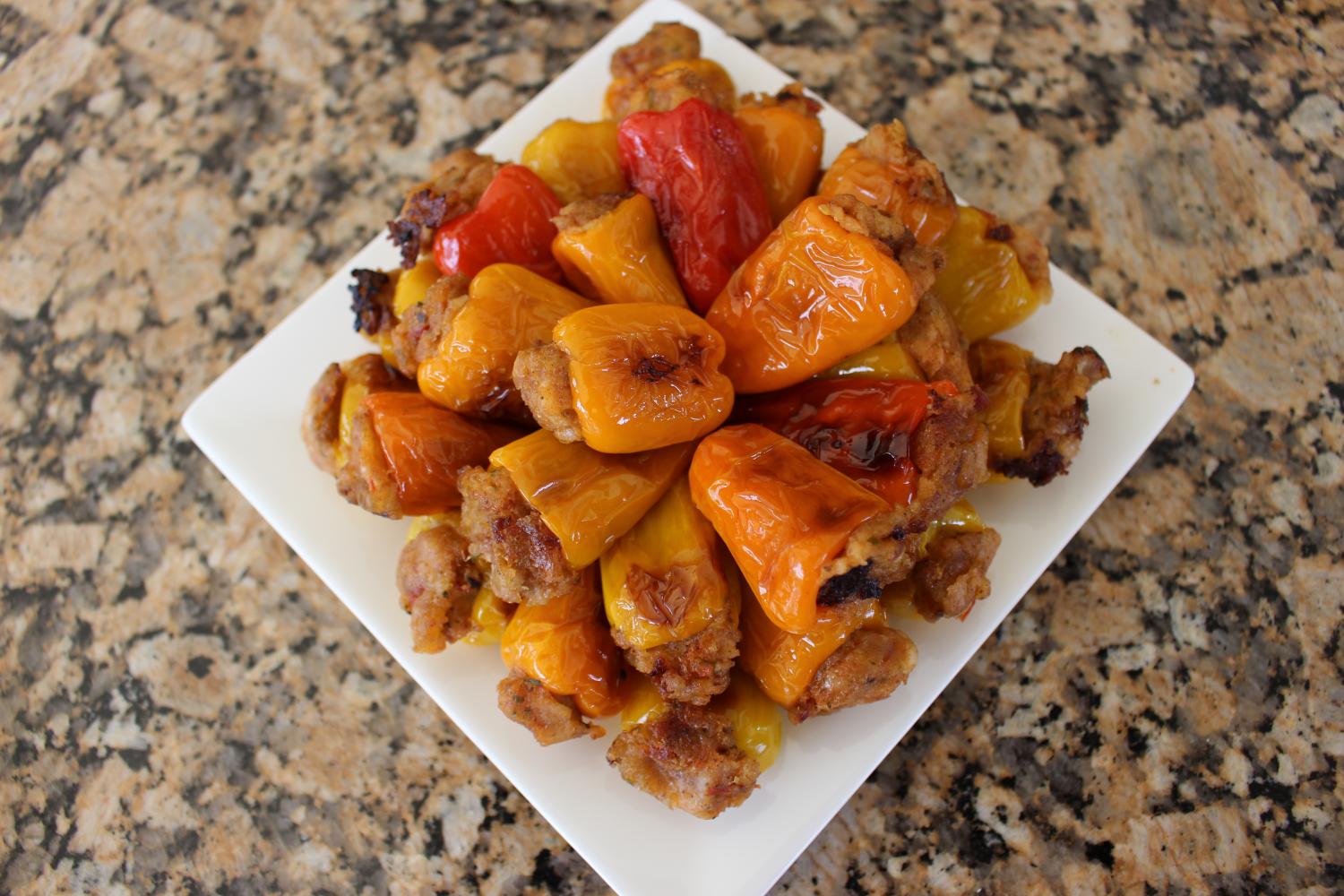 Mini sweet peppers are stuffed with seasoned breadcrumbs. They can be prepared, assembled, pan sauteed and refrigerated up to a day ahead. To serve, simply arrange them in a serving plate and warm in a microwave.
Pan searing adds flavor to peppers while retaining texture.
Recipe makes approximately 27 stuffed peppers.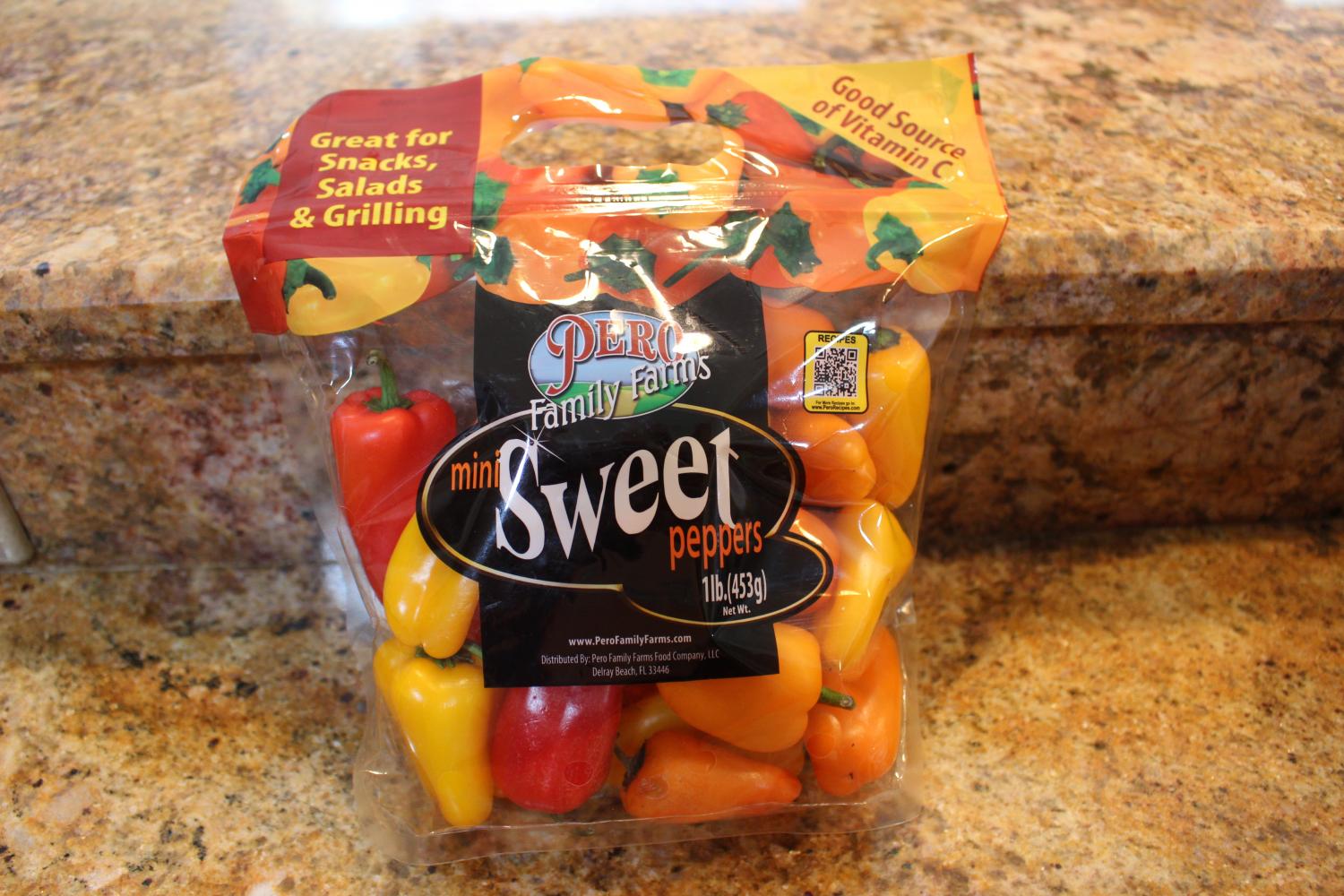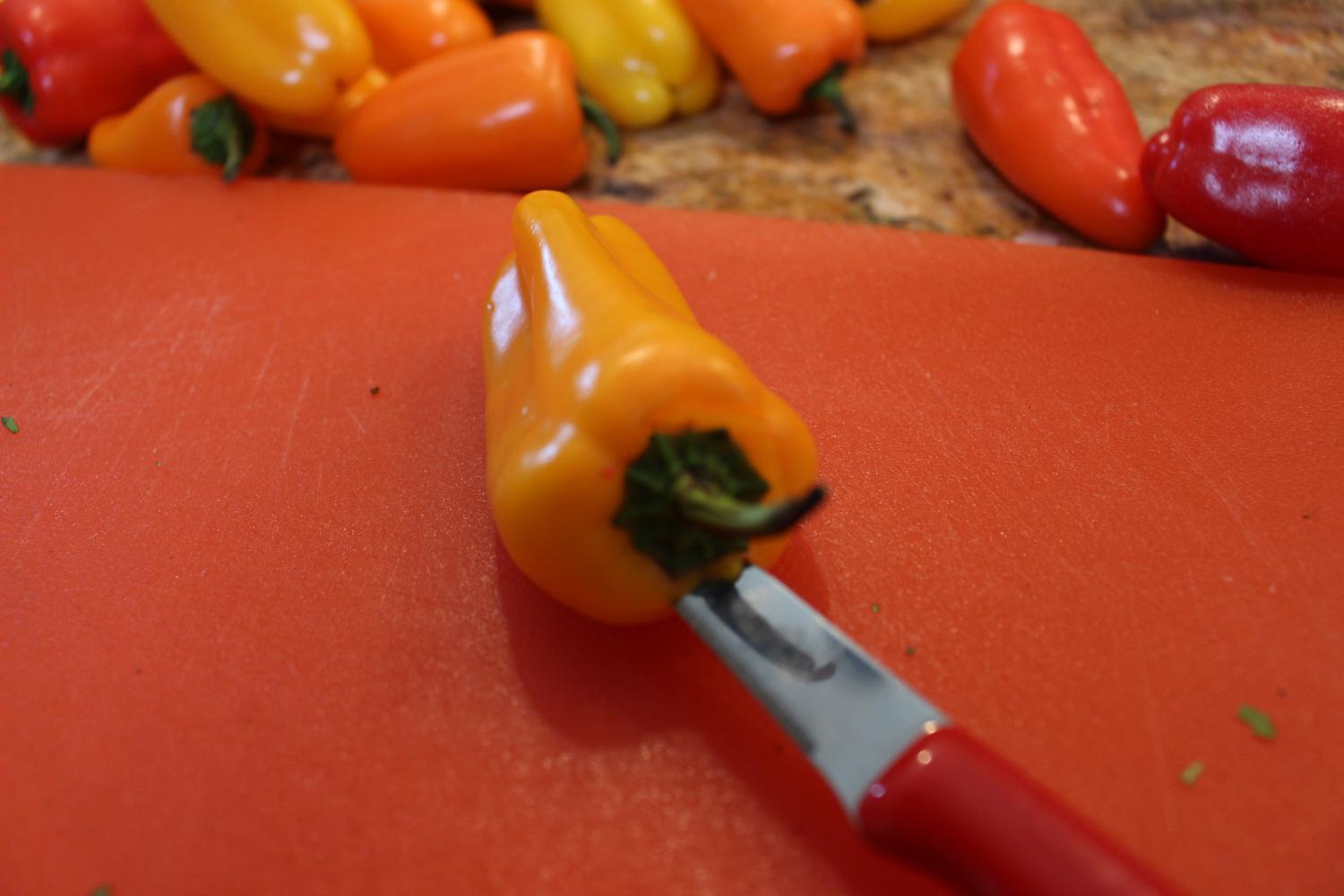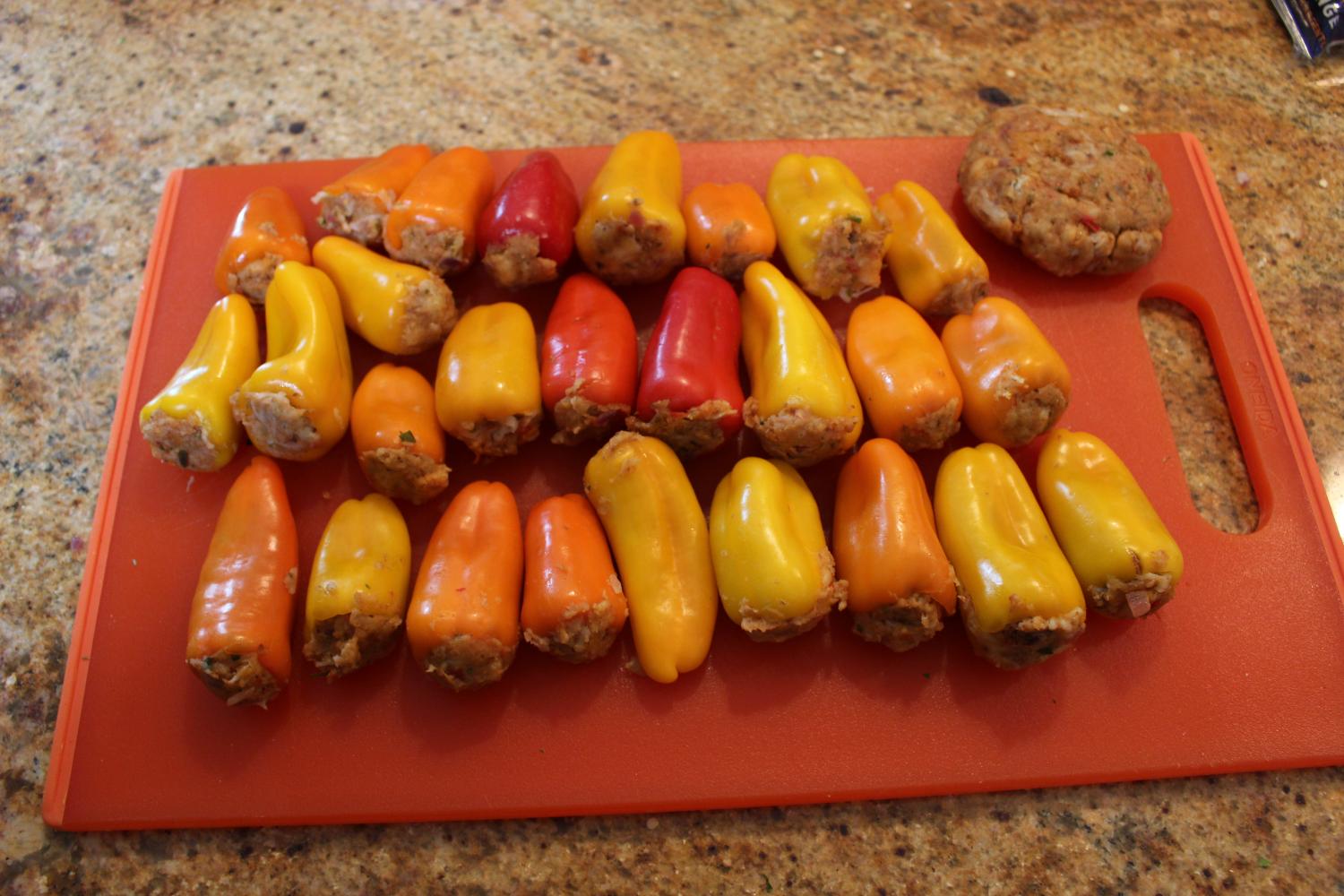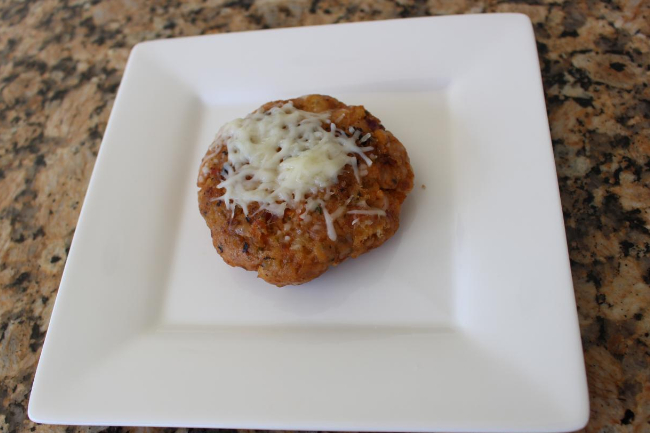 1 28 oz bag of mini sweet peppers (smaller 16 oz. shown).




1/4 cup olive oil plus additional oil for frying.

1 large garlic clove finely sliced

2 tablespoons finely chopped onions

2-tablespoons finely chopped celery

1-cup chicken broth

3 cups of favorite herb seasoned stuffing mix.




1/2 teaspoon Italian seasoning

1/4 cup chopped flat Italian parsley

1/2 cup shredded Italian cheese blend
Rinse peppers in cold water. Using a small paring knife, carefully remove stems and seeds preserving as much of the top of the peppers as possible (see illustration).

Sauté garlic in a large pan with ¼ cup olive oil until translucent. Discard garlic.

Add onion and celery. When softened add chicken stock. Increase heat to high. Turn burner off Just prior to boiling,

Add stuffing mix, Italian seasoning, parsley, and shredded Italian cheeses. Mix until well combined. Adjust moister and softness by adding more stuffing mix or chicken broth.

Using surgical gloves, stuff the peppers with a teaspoon or by hand. Once all the peppers are stuffed, pierce them all over with a paring knife. This will allow steam to escape, helping to prevent stuffing from oozing out.

Lightly singe peppers in olive oil over medium heat. If stuffing oozes out simply hold peppers in your palm while pushing stuffing back in.
Made too much stuffing? Form into a burger. Brown one side in the pan. Flip the stuffing burger topping the cooked side with more cheese. Covering pan helps cheese melt while cooking.
Roasted Pepper Salad

Not to be Confused with the more Elaborate Peperonata, "Vegetables" Tab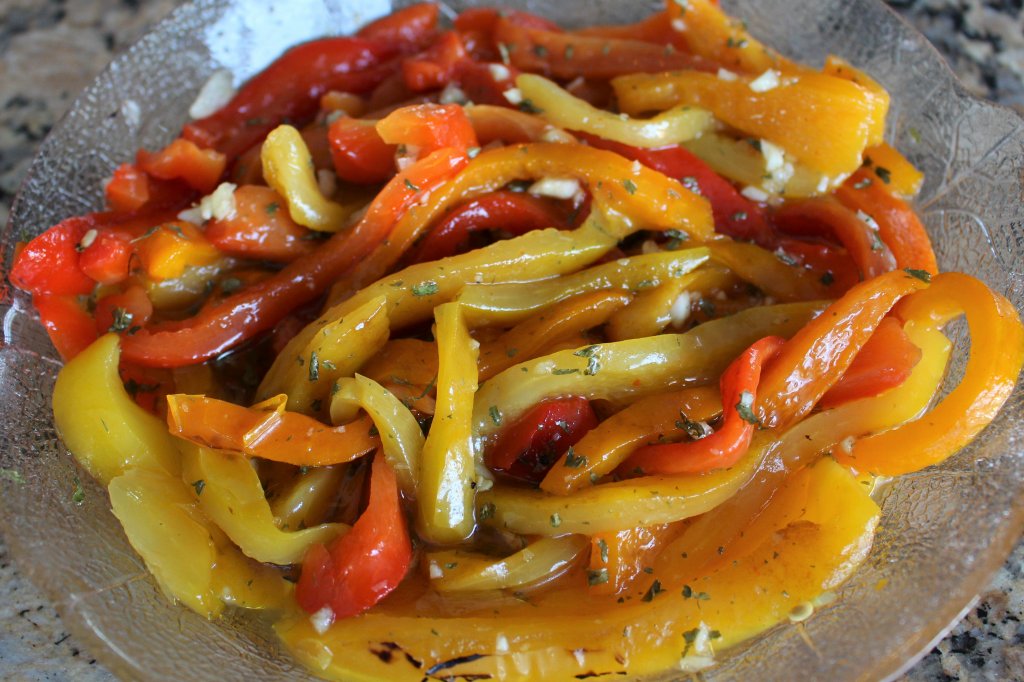 There is something very special about the sweet taste of roasted red, yellow and orange bell peppers. They are frequently found in an antipasto along with any combination of sliced Italian cured meats, cheeses, marinated mushrooms, varieties of olives, anchovies, classic bagna cauda dip with raw vegetables, eggplant caponata, etc. The direct translation of antipasto is "before the meal", a starter.
My favorite way to serve these flavorful peppers is by roasting, being careful to preserve all their juices. These colorful peppers are then peeled, sliced and tossed with olive oil, minced garlic, parsley and seasoned with salt and pepper.
Other ingredients could include cubed day old artisan bread, anchovy, and olives. Also try drizzeled with "Peter's Balsamic Glaze".

Although skins can be removed by the oven method, rinsing and placing moist peppers in a heated oven until softened and skin begins to bubble. Peppers are then removed and placed in a paper bag. Their steam loosens their skins. Once cooled, skins easily rub off.

I prefer searing them over a grill. Pepper are less likely to overcook. Start with both ends down then rotated on their sides. Once charred they also can be placed in a bag and skins removed when cooled. Remember to be careful not to pierce peppers so their delicious juices don't escape.

Ingredients:
Basic
3 bell peppers, red, yellow, orange (any combination)
¼ cup olive oil
1 medium garlic clove, chopped

¼ cup flat Italian

Salt and pepper to taste
Optional
Cubed day old artisan bread
Olives
Anchovies
Balsamic glaze
Grill or oven roast peppers. Cool them in brown paper bags.
Once cooled to room temperature, remove their cores, seeds, and skins over a bowl to capture all released juices. With a spoon, remove any residual seeds from the juices.
Juliann the peppers lengthwise and place in the same bowl along with olive oil, garlic and parsley.
Add salt and pepper. Cover and refrigerate at least 4 hours or overnight to tame the garlic and combine flavors.
Before serving, add any desired optional ingredients.

Mushrooms stuffed with Italian Sausage and Cream Cheese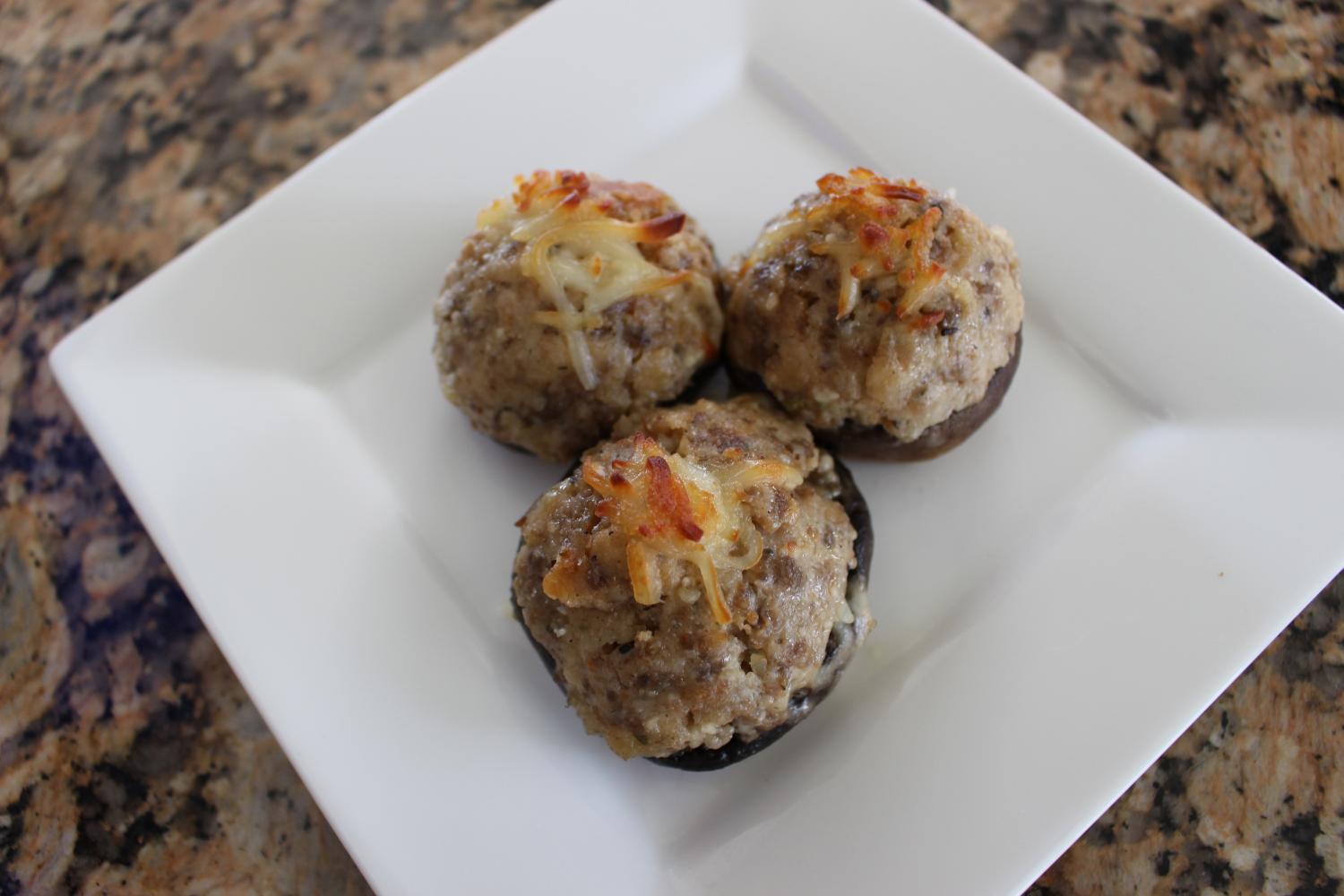 Dry sherry and butter complement mushrooms. This appetizer can be prepared ahead of time, oven heated when company arrives. The secret is in precooking the mushrooms prior to stuffing.

Ingredients:

18 large white mushroom, stems removed
1 tablespoon butter
Peter's garlic oil or plain olive oil
1/2 pound plus mild Italian sausage meat
1 tablespoon finely chopped onion
1/4 cup sherry plus some for drizzling (not cooking sherry)
1 8oz. package cream cheese
1 cup seasoned stuffing mix
3/4 cup shredded Italian cheese mix plus some for topping.
1/4 teaspoon Tuscany seasoning
About 3/4 cup chicken broth.

Pour olive oil (or garlic oil) and butter in a sauté pan over medium heat. In batches, add a single layer of mushrooms round side down. Cook until mushrooms are golden brown. Flip each over until the other side browns and the mushrooms are cooked through. Remove all the mushrooms, and place them in a holding platter round side down. Lightly brush each with sherry.
Boil down any residual liquid released from the mushrooms. Add the sausage meat and onions, chopping and mixing with the edge of a spatula as they cook. When the meat is cooked through and the onions translucent, add the remaining sherry. Boil until the sherry is reduced by half.
Lower the heat and add the cream cheese. It will soften and readily incorporate with the other ingredients when mixed. Add the stuffing mix, Tuscany seasoning, the shredded cheese and some of the chicken broth. Keep mixing while gradually adding more chicken broth until everything has the consistency of slightly moist stuffing. You can add more broth or stuffing mix if needed.
While stuffing is still warm, hold a mushroom in one hand with surgical gloves. Pile and shape stuffing on each with a teaspoon and place them on a cookie sheet. Just before cooking, drizzle tops with a little more sherry and add a little more shredded cheese.
They are done when heated through in the oven and the cheese topping is melted and tanned.

Sweet Brie Appetizer Pizza

...with Sugar Free Apricot Preserves and Raw Honey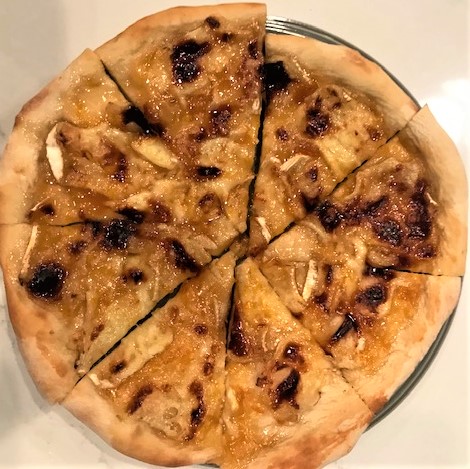 This simple sweet and delicious appetizer can be made with homemade or store bought dough.
This topping is made with brie cheese, sugar free apricot preserves, and raw honey.
Directions:
1. F
orm dough and place in a tray with nonstick spray.
2.
Layer top with thin slices of brie.
3. Dollop with apricot preserves and drizzle honey in a zigzag pattern using a squeeze bottle.
4. Bake at 500
°
direct heat until crust is lightly browned, topping partially caramelized.
​​​​​​​
To reheat, simply warm and soften in a microwave.
Call it your own using fig or other favorite preserves, slivered almonds, different melting cheeses, pinches of prosciutto, etc.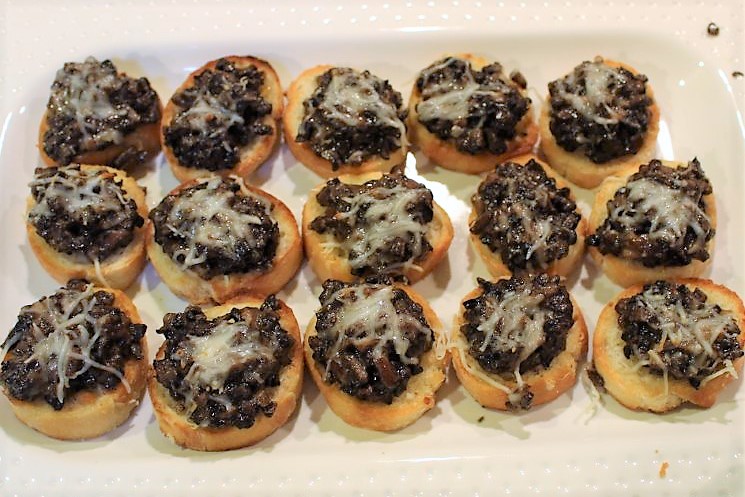 These crostini topped with mushrooms were created as a way to utilize the stems removed when making stuffed mushrooms. They were so good that we now buy mushrooms specifically for this recipe.
Crostini are nothing more than sliced artisan baguette flavored with olive oil and cheese then toasted. As appetizers, they can be made with a huge variety of toppings like Olive Tapenade, Eggplant Caponata, and Tomato Bruschetta. This delicious recipe tops them with butter, sherry, chicken broth and shredded Italian cheeses

Ingredients (makes about 20):

Pete's Garlic Oil
1/2 cup olive oil
4 or 5 garlic cloves
1/2 teaspoon Tuscany seasoning
pinch of red pepper flakes
Crostini
crusty baguette sliced 3/8 inches
shredded parmigiana cheese
Mushrooms
2 pounds white or baby bella mushrooms l
1-14.4oz. can low salt chicken broth
3/4 cup sherry
2 tablespoons melted butter
1/2 cup shredded Italian cheese mix and/or parmigiana
Note: I always have shredded parmigiana and Italian cheese blend on hand. You can substitute one for the other throughout this recipe.
Pete's Garlic Oil: Remove the rough tip of each garlic clove. Cut them in half lengthwise. Place them in a butter melting or other small pot with their skin still attached. Add Tuscany seasoning, red pepper flakes and 1/2 cup of olive oil. Heat on medium until oil reaches a simmer. Lower heat to just maintain a low simmer.
Remove skins when they are released. Eventually garlic will tan, become very soft and lose all bitterness, 2 hours or so.
Crostini: Place slices on a cookie sheet. Brush tops with Peter's garlic oil. Lightly toast under the broiler. Flip them over brush uncooked side with the oil from garlic oil and top each with a pinch of shredded cheese. Very lightly broil and put the loaded tray aside.
Mushroom mixture: Slice and dice stems and/or whole mushrooms. Sauté them in garlic oil until all liquid is released and evaporated. Add chicken broth and half of the sherry. Cook until liquid is reduced by about 3/4. Add remaining sherry and cook until all liquid is mostly evaporated. Lower heat.

Mash several very soft garlic cloves from Peter's garlic oil with a folk. Add them to the pan along with melted butter and a drizzle of the garlic oil. Next add the shredded cheese mix; turn heat off. While still warm, combine all ingredients well.
Top each crostino with a tablespoon of the mushroom mixture and a small pinch of shredded cheese. Heat the mushroom crostini through just prior to company arriving.
Parmigiana & Prosciutto Crostini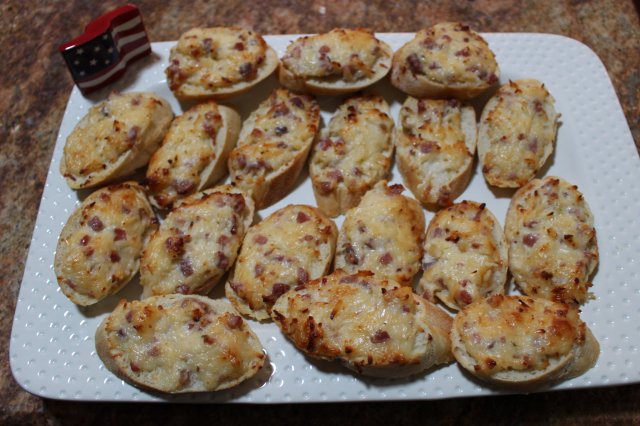 Made with only five ingredients, delicious doesn't get much easier than these.

Artisan bread slices are lightly drizzled with oil and lightly oven browned. They are then topped with a simple parmigiana cheese and prosciutto spread and returned to the oven to toast the topping.

These are incredibly tasty!

1 Loaf of artisan French bread
Olive oil
1 cup lite mayonnaise
6 oz. finely shredded parmigiana cheese
¼ pound finely cubed

Prosciutto*



*or thin slices slivered

Combine mayonnaise, shredded parmigiana cheese and cubed prosciutto. Set spread aside.
Cut bread into ½ in thick slices. Lightly drizzle with olive oil and place on a cookie sheet in a 375° direct heat oven. When crostini begin to brown, remove from heat.
When safe to handle, evenly top each with the cheese and prosciutto spread. Return to oven and remove when cheese spread melts and toasts. Serve hot.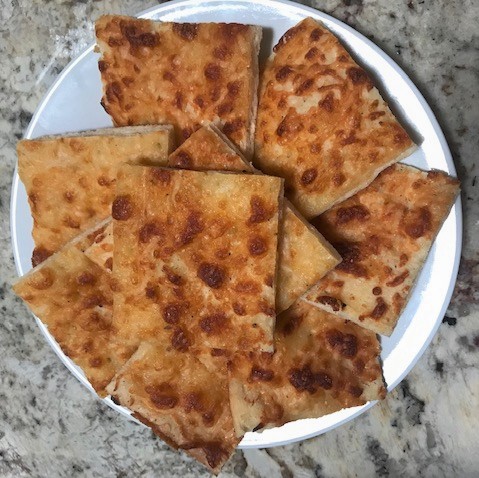 These delicious and convenient snacks are made with my quick and simple homemade pizza dough, flavored with kneaded grated Parmigiana cheese, rolled thin, topped with shredded Italian cheeses, and baked. We typically serve these with other casual appetizers and snacks along with cocktails.
Snacks are cut into squares and served. So easy, I often make a sheet, cut and freeze; reheat crisp in an air fryer or oven. They are also served soft, quick defrosted and warmed in microwave.
Dough is made using my twostep process. First, a soft and light dough is made by combining hot tap water, sugar, Kosher salt, and most of the flour, mixed in a bowl with a kitchen spoon or spatula.

When dough doubles in size, it is kneaded with a mixture of remaining flour and grated parmigiana for texture and flavor. Dough is rolled thin, placed on a greased cookie sheet, and topped with olive oil, shredded Italian cheeses, salt and pepper.

My other favorite version of this recipe includes bacon, recipe below.

Ingredients:
Step 1
2 teaspoons instant dry yeast
1 teaspoon sugar
1 cup hot tap water
1/2 tablespoon Kosher salt
1 ½ cup unbleached flour
Step 2
½ additional cup unbleached flour

¼ cup grated parmigiana cheese
Step 3
Olive oil
1 cup shredded Parmigiana cheese
½ cup shredded Italian cheeses
salt and pepper
Whisk yeast, sugar, and tap water, rest for a few minutes. Stir in salt then add flour. Mix well by hand with a spatula. Note, mixture will be soft and very easy to incorporate.
Cover bowl with a lightly moistened dish towel. Let dough rise to double in size, as little as about 20 minutes.

Combine flour and cheese. Spread on a working counter. Top with risen dough. Using a scraper, fold flour and cheese over dough and knead. Continue kneading until dough is workable, adding a little more flour if needed.
Lightly coat a 10 x 15-inch cookie sheet with olive oil or nonstick spray. Roll dough to roughly fit cookie sheet, fold to mount. New to working with dough, roll smaller and hand stretch once in sheet. If dough breaks in spots, just slide dough to close. If not, melted cheese will fill in breaks.
Brush dough with olive oil. Sprinkle with shredded Parmigiana cheeses followed by shredded cheese blend. Lightly salt and pepper.
Place in a 425° direct heat oven until tanned top and bottom, ready in about 20 minutes.
Snacking Cheese Flats with Bacon

This incredible version of already terrific "Snacking Cheese Flats" adds bacon. Follow the recipe above but eliminate salt. After shredded cheeses are distributed, add bacon and bake.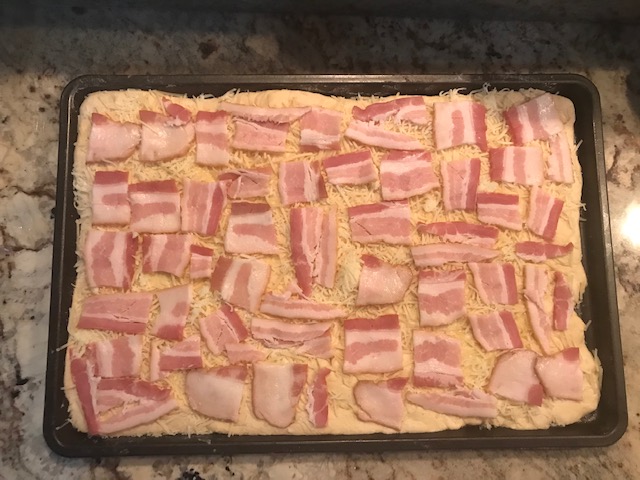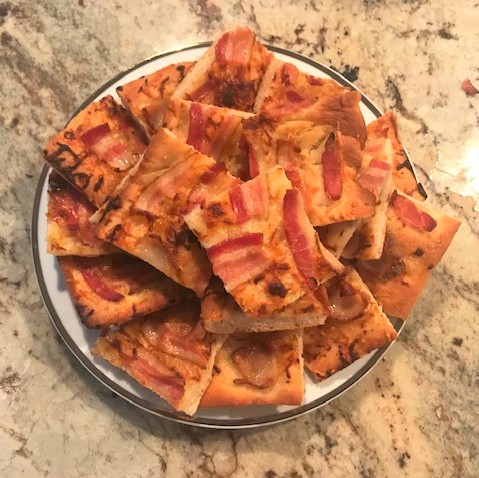 Ingredients:

Recipe for "Snacking Cheese Snacks" without salt.

10-oz. favorite bacon

Strips of raw bacon are cut into shorter lengths and added on top of Italian cheeses.
Tray is baked in center of 425° direct heat oven until bacon is done and dough nicely browned top and bottom. Cut into squares and serve.
Gorgonzola & Prosciutto Crostini
With Fig, Honey, or Balsamic Glaze
Surprisingly easy and so delicious; gorgonzola cheese pairs so well with prosciutto and their flavors seem to explode when fig, honey or balsamic glaze is added.

Ingredients:
1 Loaf of artisan French bread
Olive oil
¼ pound Prosciutto thin sliced
5-7 oz. Gorgonzola cheese crumbled
Fig preserves, honey, or balsamic glaze

Artisan bread slices are lightly drizzled with olive oil and lightly oven browned.
Cut prosciutto with kitchen shears to mostly cover crostini.
If using fig preserves, add a rounded teaspoon on each and top with gorgonzola crumples. Place in oven until cheese is softened and lightly tanned, serve.

If using honey or balsamic glaze, top prosciutto with Gorgonzola crumples. Drizzle with honey or balsamic glaze. Place in oven until cheese begins to melt. Serve immediately.

Prosciutto Breadstick Stackers with Mustard Dip

Looking for a creative and more impressive appetizer to replace cheese and crackes? Stackers and mustard dip are simple and easy to assemble.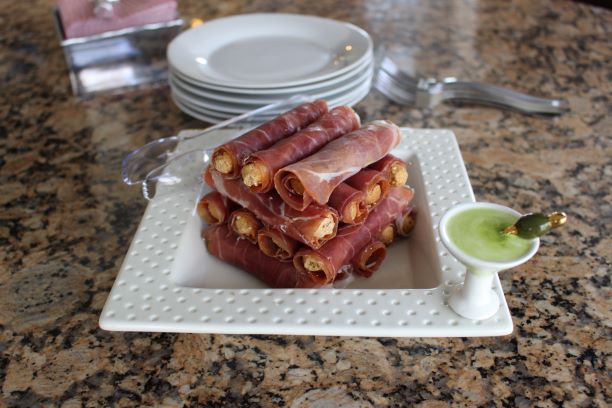 Ingredients:
12 oz. prosciutto
Thick Bread sticks (TOUFAYAN crispy wheat breadsticks are a good choice).
Shredded Parmigiano Reggiano

Mustard dip (optional)
½ cup mayonnaise
¼ cup Dijon mustard
½ cup sour cream
Salt and white pepper to taste
Place a slice of prosciutto on a clean cutting board.
Sprinkle about a tablespoon of shredded Parmigiano on about ½ inch of the end closest to you.

Starting at that end, tightly roll the prosciutto around each bread stick. Arrange on a on a plate as shown
Optional mustard dip, mix all ingredients and serve

Nancy's Parmigiana Crusted Chicken wings
Nancy's incredible wings are dipped in melted butter and rolled in a mixture of grated parmigiana and herbs, then baked.

Recipe calls for 2 to 2 ½ pounds of chicken wings. Adjust ingredients as needed.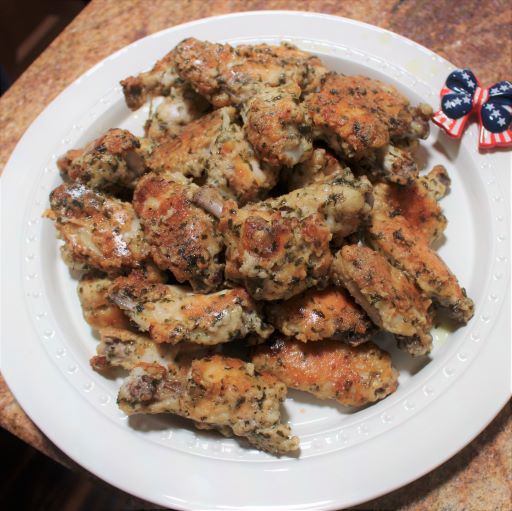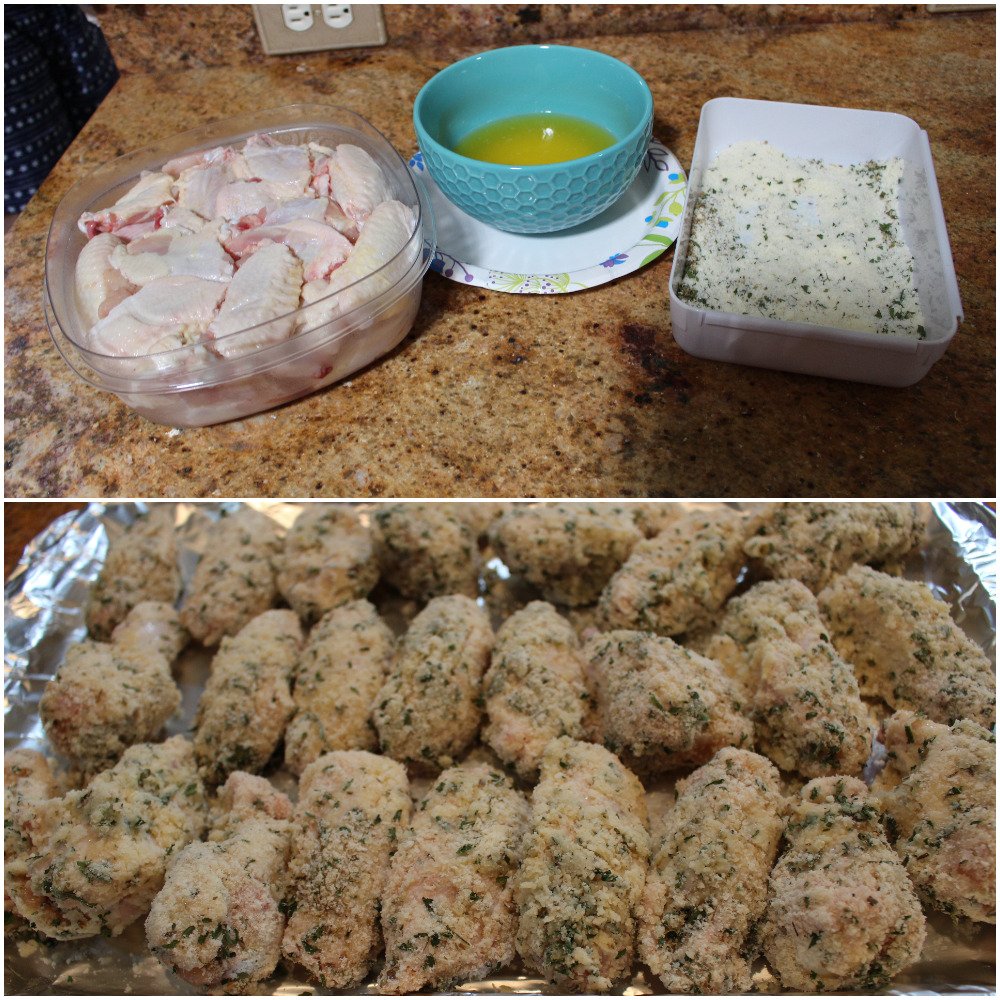 Ingredients:
2 to 2 ½ pounds chicken wings
2 cups grated parmigiana cheese.
2 tablespoons fresh chopped parsley
2 tablespoons fresh chopped oregano
Freshly ground black pepper
1 cup melted butter.

Cooking oil.

Preheat oven to 375°.
Remove wing tips save for stock). Separate center wingette from thicker drumetteRinse thoroughly and dry.
Mix grated parmigiana cheese, herbs, and a few grinds of black pepper. Place in a large shallow dish or waxed paper.
Melt butter in a pot.
Brush cookie sheet(s) with cooking oil. Dip chicken in butter and coat with parmigiana and herb mixture. Place on tray in oven and bake.
Flip wings when browned. Continued cooking until crisp and cooked through, about 45 minutes total. Serve immediately.

Patty's Cheesy Turkey Sausage Phyllo Dough Cups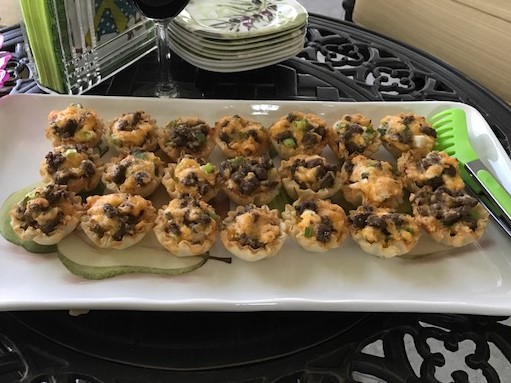 Phyllo dough cups help creative delicious yet easy appetizers. Our friend Patty makes these great stuff n' bake cups with her original mix and Athens "Mini Fillo Shells". Her recipe will conveniently fill 30 shells, 2 packages.
Jimmy Dean's Fully Cooked Turkey Crumbles are combined with cream and shredded cheddar cheeses, sliced scallions; seasoned with salt, black pepper and red pepper flakes for a little kick.
Once filled, they're baked and ready in only 10-12 minutes.
Ingredients:
4 oz. Jimmy Dean turkey sausage crumbles
4 oz. softened cream cheese
4 oz. shredded cheddar
2 scallions finely sliced
1 tsp crushed red pepper
salt and pepper to taste
2 packages mini phyllo cups, 15 cups per package.

Mix the first 6 ingredients together. Once well incorperated, fill the phyllo cups. Bake them at 350° until heated through, 10-12 minutes.

Toasted (Fried) Ravioli

At least two restaurants in the Italian section of St. Louis, Missouri, laid claim to creating this specialty appetizer, both by accident. As the stories go, one inadvertently dropped ravioli in a deep fryer. Another claimed he thought a pot of hot oil was pasta water. Regardless which restaurant "On the Hill" actually created them, thank you.
This simple appetizer evolved and is now breaded ravioli fried crispy in oil, sprinkled with parmigiana cheese while still hot, and dipped in marinara sauce prior to eating.
There are many subtle variations to this simple appetizer. Generally, ravioli are first moistened with dairy (milk, cream, or buttermilk), eggs, or combination, then coated with seasoned bread crumbs. They are toasted or fried in oll between 325 and 375 degrees. The type of ravioli also differs. Some use traditional cheese while others use meat of exotic mixtures; traditional cheese for me please!
I use the same breading technique as with eggplant and chicken or veal cutlets. Dry, dust in flour, dip in egg mixture and roll in seasoned bread crumbs. If good enough for Lucia, it's good enough for me. Note: flour helps the coating adhere.
Ingredients:

small or medium size ravioli, fresh or frozen
Flour
Eggs
chopped parsley
Seasoned bread crumbs
Grated parmigiana cheese

marinara Sauce (please see "Tomato Sauce" tab for recipe)

Thaw ravioli if frozen. Spread them on a dry towel. Do not cook them in water.
Place three separate dishes in a row. Add flour in the first. Scramble eggs and parsley in the second and fill the last with seasoned bread crumbs.
One at a time, lightly dust ravioli, shaking off any excess flour. Dip them in the egg mixture letting excess drain off. Roll and press in the seasoned bread crumbs. Place them in a dish, single layer.
In a pan of cooking oil over medium heat, cook coated ravioli in single layers. Flip them over to cook the second side. Adjust heat if needed. Place them in a dish, last side cooked facing up. Sprinkle with grated parmigiana cheese.
Serve in a platter with marinara sauce for dipping.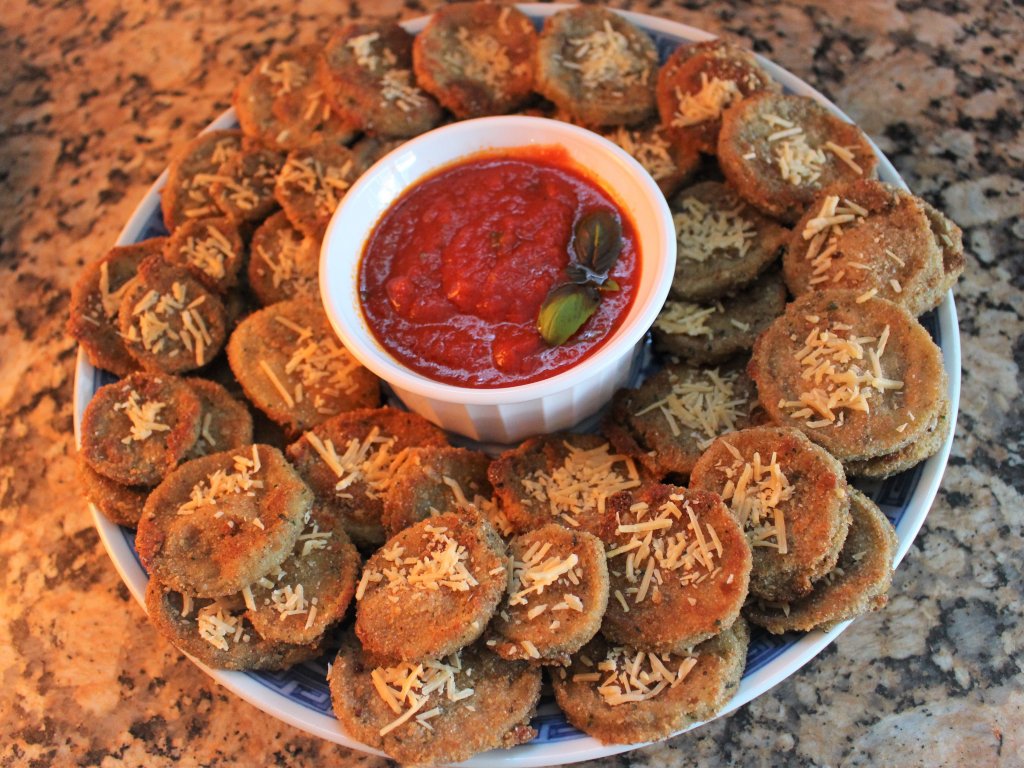 Breaded and fried eggplant is a popular Italian classic.
For appetizers I prefer using Japanese eggplant. They aren't as bitter as other verities and don't require disgorging, salting technique to release common eggplant's bitter liquid.
Their smaller narrow size also makes them a convenient option. Their narrow diameter is perfect for bite size appetizer slices.
Japanese eggplant is peeled and sliced 1/4 to 3/8 inches thick. They are lightly floured, dipped an egg mixture, coated in seasoned bread crumbs, fried crispy, and sprinkle with graded parmigiana cheese.
They are served with marinara sauce. appetizer.

Ingredients:
3 medium firm eggplants
Flour
3 Eggs
chopped parsley
Seasoned bread crumbs
Grated parmigiana cheese
Olive oil
marinara Sauce (please see "Tomato Sauce" tab for recipe)

Remove eggplant tips and peel. Cut them into 1/4-inch slices. Lightly salt both sides of all slices and place them single layer on paper towels.
Prepare 3 flat bottom dishes. Add flour in the first. Scrambled eggs, parsley, and a drizzle of olive oil in the second. Fill the last with seasoned bread mixed with additional grated cheese.
Lightly dust each slice of eggplant with flour on both sides. Shake off excess. Dip slices in the egg mixture; drain excess. Roll and press slices in seasoned breadcrumbs.
Place olive oil in a large frying pan over low-medium heat. Sauté coated eggplant until lightly tanned on both sides and cooked through. Place on paper towels.
Plate and serve them with marinara sauce.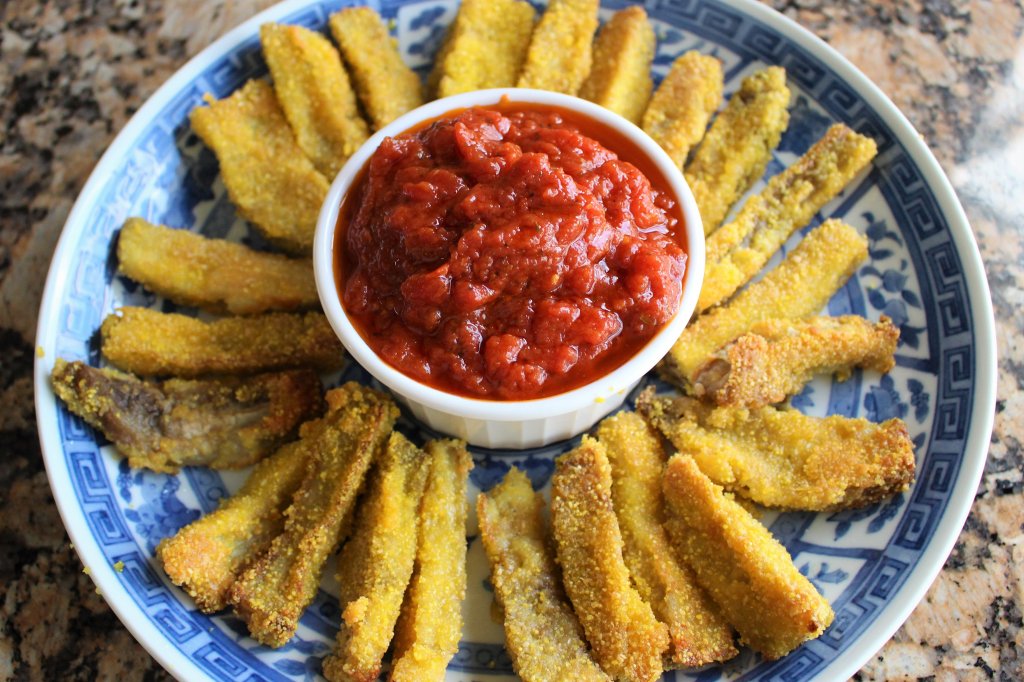 Fried Eggplant Appetizer, Gluten Free Version
Replace traditional flour with Gluten Free substitute. Rice Flour is my favorite for dredging.
Use 4C Gluten Free Italian Style Seasoned Crumbs (shown) or another preffered Gluten Free version.
Asian eggplant shown was cut in wedges. If serving with marinara sauce, make sure all sauce ingredients are also Gluten Free.