Pasta with Creamy Sauces
Tortellini alla Panna…Tortellini in the pan
Pasta with Butter and Parmigiana Cheese
Pasta with Butter, Sausage and Cream
Fettuccine with Gorgonzola Cheese
Penne Quattro Formaggi, Pasta with Four Cheeses
Fettuccine all' Alfredo
Italy's Milk and Butter Regions Verses Olive Oil and Wine

Perceptions of Italy's geographic cuisine go far beyond Northern verses Southern cooking. One general distinction may surprise you. Some broadly divide Italy into the milk and butter regions verses olive oil and wine. Corresponding choices for fat are butter verses olive oil. Some regional pasta dishes are flavored exclusively with butter, cream, and cheeses.
Pasta was homemade and Italy's aged cheeses were and are exceptional. Here are a few of those simple and delicious dishes.
Tortellini alla Panna…Tortellini in the pan

Recipe contributed by Bill Tarinelli

All ingredients are conveniently assembled and cooked in a large pan capturing all flavors.

Recipe will serve 6 to 8 people.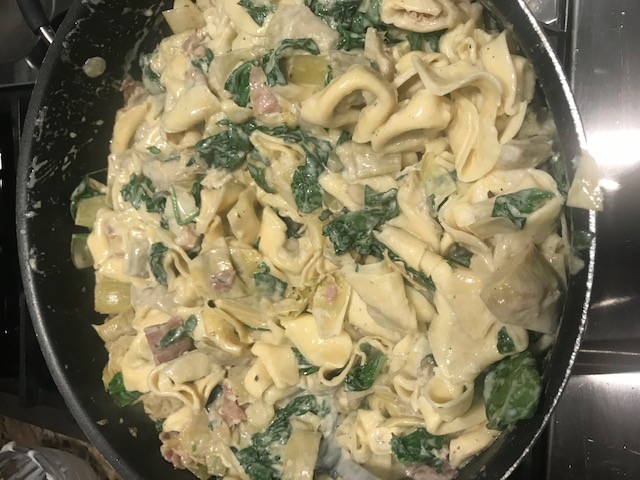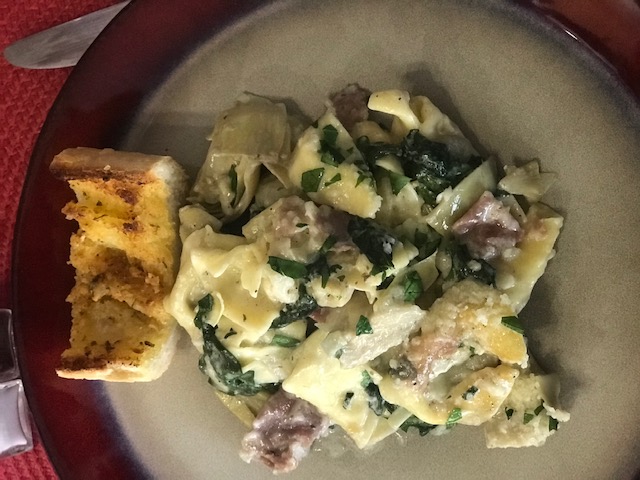 Ingredients:

30 oz. stuffed cheese or sausage tortellini

¼ cup clarified butter.

6 cloves of garlic minced.

¼ tsp coarse ground pepper

½ tsp seasoned salt

2- 6.5 oz. jars marinated artichoke hearts drained and quartered.

1 cup regular whipping cream

½ cup sour cream

1 cup of Parmesan cheese divided in two.

1-6 oz. bag fresh baby spinach stems removed.

6 slices prosciutto cut into 1/2-inch squares.

¼ cup fresh chopped parsley
Pre-cook tortellini per package directions for 8 minutes, drain and set aside but keep warm.

Heat clarified butter, garlic and pepper in a large 5-1/2-quart frying pan about 2 minutes on high
Turn heat to medium.
Add tortellini and seasoned salt. Toss until all coated. Add more salt if desired.
Add artichoke hearts, prosciutto and mix well.
Add whipping cream, sour cream and ½ cup of parmesan cheese and mix well.
Add spinach a little at a time until all has wilted and cook until mixture thickens.
Add fresh parsley and mix.
Pour into a large serving bowl and sprinkle remaining ½ cup of cheese on top and serve immediately.

Pasta with Butter and Parmigiana Cheese
Pasta Burro E Parmigiano

Mom sometimes served one of the tastiest yet easiest pasta dishes, fettuccine with butter and grated parmigiana cheese. Because of its simplicity, growing up I thought it was a peasant food. Then again, I probably didn't realize just how special crafted and aged parmigiana cheese from Italy was. I also didn't realize it was an established Roman dish.
Although best made with homemade fettuccine, it can be enjoyed with quality dried pasta. And like so many other home cooked dishes, proportions of ingredients were determined by her personal taste buds. Customize to yours.
Ingredients:
1-pound egg fettuccine or favorite dried pasta

8 Tablespoons unsalted butter sliced
½ to ¾ cup grated parmigiana cheese

Cook pasta in salted water until al dente. Reserve some of the cooking water.
While pasta is draining, melt butter in the empty pasta pot. Coat pasta with melted butter in the pot. Toss while sprinkling grated parmigiana to taste.

Optional, add some pasta water a little at a time if desired for moisture and creaminess.
Garnish with chopped Italian parsley and serve with additional grated cheese.
Pasta with Butter, Sausage and Cream

Easy Eats
Here's another great quick and easy dish.

Ingredients:
1-pound of favorite pasta
8 Tablespoons unsalted butter sliced
2 Italian sausages*

½ cup cream
½ cup grated parmigiana cheese

*Italian Sausage can be substituted with cubed pancetta, prosciutto, or crushed American Bacon.

Remove sausage casing and place them in a small pot, i.e. 3qt. Using the edge of a spatula, coarsely break the sausage meat apart. Pour enough water to just cover. Bring water to a boil while continuing to chop.
When water has almost fully evaporated, turn heat to very low and melt butter in the pot with the sausages. Make sure sausage meat is cooked through. Keep warm.
Cook pasta in salted water until al dente; strain.
Empty butter and sausage in the pan used to cook pasta. Over low heat mix with cream. Add and gently coat pasta. Sprinkle and toss with a little more than ½ grated parmigiana cheese. Top plated pasta with remaining grated cheeses.
Optional, garnish with chopped Italian parsley and serve with additional grated cheese.

Fettuccine with Gorgonzola Cheese
Easy Eats
Ingredients:

4 oz. Gorgonzola Cheese

½ cup milk
4 Tablespoons unsalted butter
¾ cup heavy cream
¾ cup parmigiana cheese

Crumble gorgonzola cheese. Place in a pot large enough to hold and toss with pasta and all ingredients. with milk and butter. Stir over low heat until butter melts and gorgonzola creams.
Cook pasta until al dente. When nearly ready, heat heavy cream in the pot.
Save a cupful of pasta water and strain pasta.
Toss pasta in the sauce while sprinkling parmigiana to taste; usually about a half cup. If needed, add some pasta water to thin sauce if needed. Serve with parmigiana cheese.

Penne Quattro Formaggi

Penny Pasta with Four Cheeses
With its blend of flavorful cheeses, this sauce tastes amazingly complex and delicious. The secrets to great "Quattro Formaggi" is the blends of cheeses selected. It's also important to only use ingredients that complement and flavors that don't distract.

Beyond using 4 different cheeses, there's little consistency or consensus which are best.

Knowing gorgonzola, fontina and parmigiana were my definite choices, I researched Italian search engines for suggestions. Among the many others used, I like mascarpone best and alternate with brie or Taleggio cheeses.

Ingredients:
1 lb. penne or favorite pasta
½ cup heavy cream
2 tablespoons butter
1 cup (4 oz.) gorgonzola cheese, broken into small pieces/chunks
1 cup (4 oz.) Fontina cheese grated or shredded
½ cup mascarpone, brie, or Taleggio cheese
½ cup grated parmigiana cheese
Pinch of ground nutmeg (optional)
Salt and white pepper to taste
¼ cup chopped flat Italian parsley

Ready pasta pot by filling with water and salt and place over high heat. Lower to a lighter boil while cheese sauce is being prepared.
In a separate pot melt butter over medium-low heat. Mix with cream.
Add gorgonzola, Fontina, about half of the parmigiana, and mascarpone (or alternatives). Stir until all are melted and creamy. Remove from heat.
Rapidly boil water. Add pasta. When cooked al dente, reserve a cup of pasta water and strain.
Reheat sauce. Add pasta and toss adding more grated parmigiana to taste. Check for seasoning (salt and peppe). Optional, add s pinch of fresh nutmeg. Thin with some of pasta water if desired.
Place in a serving platter and garnish with parsley.
Fettuccine all' Alfredo

Fettuccine all' Alfredo got its name from Alfredo Di Lelio in the early nineteenth century. Following his mother's footsteps, he opened his famous restaurant, Alfredo alla Scrofa, in Central Rome. The restaurant still stands today under different ownership. Articles suggest the dish as we know it today became popular during the World's Fair of 1939.
Base ingredients are simple, fresh fettuccine, butter, heavy cream and quality grated parmigiana cheese and is often finished with a small amount of nutmeg plus salt and pepper to taste.
What mostly differentiates recipes are the proportions of butter, cream and parmigiana. Based on a pound of fettuccine, butter may vary from as little as 3 tablespoons to a cup and a half, heavy cream from 1 to almost 2 cups and parmigiana less than a cup to 2. Some recipes also use egg. I find egg unnecessary especially with homemade pasta that absorbs sauce and sometimes thickens with residual flour.
Preparations are also very similar. Cream is reduced with or without butter initially and chefs have opinions as to cooking temperature.
The real secret to this dish is finding fresh homemade or quality frozen fettuccine. If forced to use dry, spend a little extra and buy imported from Italy made with semolina. The texture of the pasta will be noticeable but still very pleasing.
In the very late 1970s while in Rome on business, I actually dined with a small group at Alfredo alla Scrofa. I was thrilled to have dined at perhaps the most notable restaurant in all of Italy. Alfredo was finished and assembled at table side. The theatre alone was worth the visit.
I did have one small disappointment. Their process used to make pasta appeared so refined, finished fettuccini almost tasted like commercial boxed pasta. Growing up, homemade fettuccini was thick and chewy. I couldn't wait to let mom know Alfredo's famous pasta wasn't quite as good as hers.
We also had an unexpected surprise that night. Gary Collins, actor and talk show host and his wife, Mary Ann Mobley, former Miss America and actress where seated at the table next to us. They couldn't have been any friendlier.
Ingredients:
1 pound fettuccine, preferable fresh or frozen
1 ½ cups heavy cream
5 tablespoons unsalted butter

1 cup quality grated parmigiana cheese or to taste
Fresh grated nutmeg.
Bring salted pasta water to a boil. Lower heat until ready to cook the pasta.
In a large pan, bring 4 tablespoons of the butter and the cream to a slow simmer. Cook until it thickens to the consistency of a light sauce. Remove from the heat. Note: once combined with the fettuccine and parmigiana, it will thicken further.
Cook fettuccini until very al dente. Strain the pasta and place it in the pan with the cream cheese and butter mixture and add parmigiana for final cooking. When al dente, stir in the remaining tablespoon of butter.
Add a small amount of freshly ground nutmeg and test for seasoning. Serve.