Polenta
Discussionc and Helpful Techniques
Polenta with Butter and Parmigiana
Parmigiana Polenta topped with Shrimp Scampi
To say Polenta is a staple in Italy's Northeast most region understates its popularity. Veneto Friuli Venezia Giulia boarders Austria, Slovenia (former Yugoslavia), and the Adriatic Sea. Families would gather around their fireplaces nightly for warmth while they prepared polenta over the open flame in a special copper pot called "paiolo". The pot permanently resided by their fireplace.
The odd shaped pot was praised for its design and allegedly its ability to help minimize lumps. Long wooden spoons were used to stir but also helped prevent scratching. Traditional Italian including me still exclusively recommend the use of long wooden spoons.
At a time when wheat flour was only affordable for the elite, milled corn cooked with only water and salt was a substitute. Polenta was an inexpensive add-on to stretch meals. It not only served as a starter but as a side dish. Leftovers flattened, sliced, and fried, served as a bread.
Among the many applications, polenta would also be mounded, a crater formed, and filled with meals, poultry, and sauces. Mom Lucia would make her polenta and place it in the center of her large wooden board usually reserved to make her homemade pasta, ravioli, and bread. She would fill its crater with her Hunter's Stew, Chicken or Rabbit cacciatore. We slid our portions of polenta and stew over and ate directly off the board. Every time I read this I pause. I am blessed with the memories!
Basic preparation
Polenta is simply corn meal simmered in salted water (or another liquid) until water is absorbed and the cornmeal thickens.
There are a couple of important considerations. Cornmeal needs to be added to boiling salted water in slow drizzle while stirring to prevent lumping and to prevent mixture from sticking to the sides.
A heavy bottom pot is required and as discussed above; wooden spoons work best. After many batches, I developed an easy "Tap and Stir" technique (below). Once learned, I think you will find it easy foolproof.
Enjoy the versatility of Polenta and the variety of add-ins and many flavors.
Base Ingredients and Propotions
Cornmeal:
I prefer course stone ground yellow cornmeal for its heavier texture, bite, bold flavors, and reliability. I especially like Bob's Red Mill® Coarse whole grain and stone stoneground cornmeal.
If you simply prefer or have an application that would benefit from a lighter and fluffier polenta, try Bob's Red Mill® POLANTA ORGANIC CORN GRITS. It is partially de-germinated (not whole grain) and medium ground. It will also cook a little faster. I think resulting polenta has less character and flavor.

Water and Salt: 3 to 1, water to cornmeal. For 2 cups of cornmeal, simmer 6 cups and 1-tablespoons Kosher salt. Have some additional hot water ready if needed.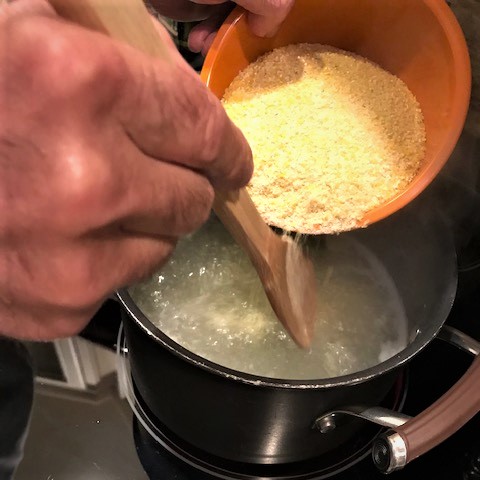 Ready to slowly add and stir cornmeal…
My favorite technique to create a smooth polenta without lumps is to place cornmeal in a small light plastic bowl over salted hot water.
Tilt and tap bowl with the wooden spoon releasing a controlled thin veil of cornmeal grains into salted water. After a couple of stirs, repeat, tapping and stirring again and again. Replenish cornmeal in bowl and continue until all cornmeal is stirred in.
Continuously stir until thick and polenta pulls away from pot. Add more water if needed.
This method is less tedious and cornmeal cooks quicker.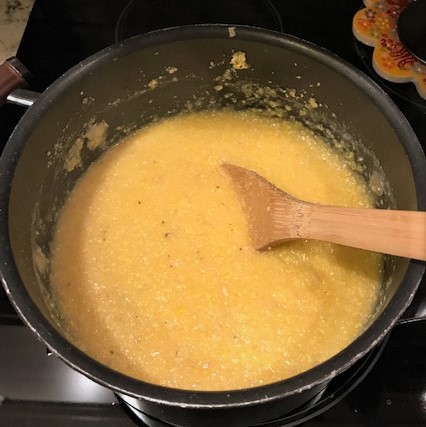 Ingredients:
6 cups water
1 tablespoon Kosher salt
2 cups course stoneground cornmeal
Mix water and salt in a pot. Bring to a boil. Reduce to a simmer. Reserve extrs cup of water to replenish if needed.
Place cornmeal in a small light bowl.
Tip bowl over water just enough to release small veils of grains when tapped with a wooden spoon (see instructions and picture above).
Stir until cornmeal thickens and pulls away from pot when stirring. If needed add reserved watter as needed.
Keep warm and use as a base with any of the recipes below or incorporate a half stick of butter and serve immediately (4-6 servings).
Polenta with Butter and Parmigiana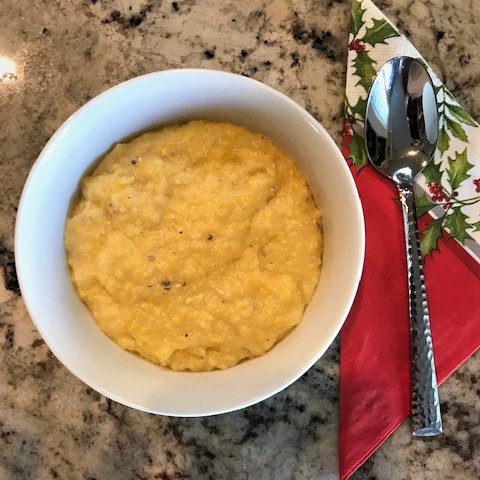 So simple and so delicious.

4-6 servings
Ingredients:
Prepared polenta made with 2 cups of cornmeal.
¼ pound unsalted butter melted
6 tablespoons quality grated parmigiana cheese
Reserved hot water if needed
While still hot, blend in melted butter and parmigiana. If needed add some additional hot water.

Serve Immediately.
Serves 4 to 6
Parmigiana Polenta topped with Shrimp Scampi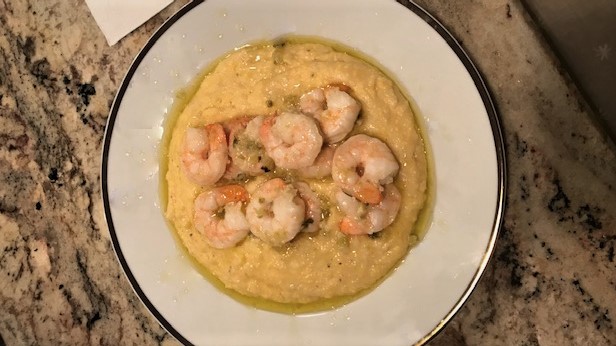 This is an Italian version of the south's famous Shrimp with Cheesy Grits.
Grits are replaced with hardy Italian polenta made with coarse stoneground yellow corn finished with butter and parmigiana.
Scampi, shrimp is simply tossed and quick broiled with minced garlic and scallions, butter and olive oil, lemon, salt, and pepper. Polenta is plated and topped with delicious scampi, shrimp and sauce.
Recipe serves 4

Ingredients:
Polenta with Butter and Parmigiana
follow recipe above, but reduce butter to 4 tablespoons
Scampi
1 1/2-pounds large or extra-large wild-caught shrimp
1 quarter pound of butter, one stick
1/2 cup olive oil

1 tablespoon lemon juice

1/4 cup finely chopped scallions

1 tablespoon finely chopped garlic Few grinds each of salt and pepper
Optional
garnish with chopped Italian flat leaf parsley, serve with Lemon quarters
Remove shrimp shells and devein. Rinse in cold water and pat dry. Set them aside.
In a pot, large enough to comfortably hold all the shrimp and sauce, melt the butter over low heat. Add olive oil lemon juice, scallions, garlic, salt, and pepper. Rest to warm or room temperature..
Pre-heat the broiler.
Toss the shrimp in the sauce. Place shrimp in a rimmed cookie sheet large enough to hold them in a single layer. Pour scampi sauce and solids over the shrimp.
When polenta is near ready, broil shrimp close to the heat until the tops are pink but not cooked through, about three minutes. Flip shrimp and broil briefly, until just cooked through. Be careful not to overcook.
Add polenta to each plate. Divide scampi, shrimp and sauce, and stage over polenta.
Optional, garnish with parsley, serve with lemon quarters.
Prepare "Polenta with Butter and Parmigiana" above. Place a generous scoup of polenta in each bowl and top with Pete's Bolognese Sauce (Pasta with Red Tomato Sauces tab). Springle with additional parmigiana to taste.