Flatbreads for Ladies' Luncheons
Margareta Flat Bread
Italian Sausage and Asiago Cheese Flat Bread
Pesto, Chicken, Sun Dried Tomato and Cheese Flat Breads
​​​​​​​

Looking to serve something different when hosting your next ladies' luncheons? These simple Flat Breads served with your favorite salad are perfect.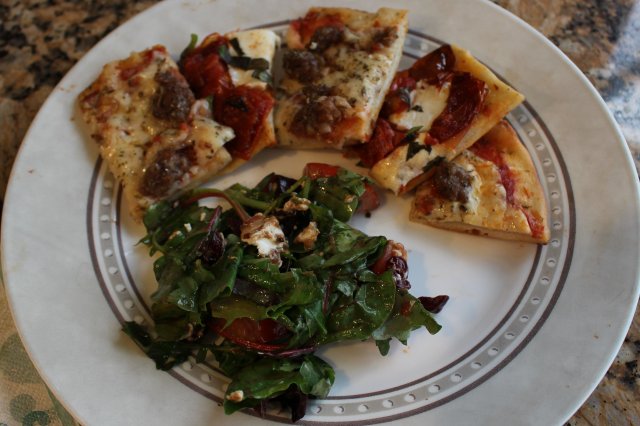 Serve with a variety of simple and delicious Flat Breads and pan pizza cut into finger size portions.
Add a complementary salad like the one shown with baby greens seeded tomatoes, olives, fresh feta cheese in brine, balsamic vinaigrette, finish with a drizzle of balsamic glaze.
Margareta Flat Bread is perhaps the most traditional. It is simply made with fresh or canned crushed plain tomatoes, fresh mozzarella, and basil leaves with a drizzle of plain or lightly garlic flavored olive oil, salt and pepper.
Below has additional options. If looking for more, prior Tab above, "Specialty Flatbreads" has even more delicious options, some bolder for hardier appetites.
Note: Review "Pizza, Flatbread, Calzone, Panzerotti, and Homestyle Sheet Basics" tab for all the basics needed to make terrific Pizza and related recipes.
​​​​​​​

Margareta Flat Bread

Easy and Delicious and truly one of my very favorites. One of the charms of this pizza/flatbread is the selection of tomato. It is often made with fresh seasonal tomatoes or imported Italian plum tomatoes. For a bolder taste or one more customary to American palates, you can substitute domestic crushed tomato with tomato puree like Hunt's.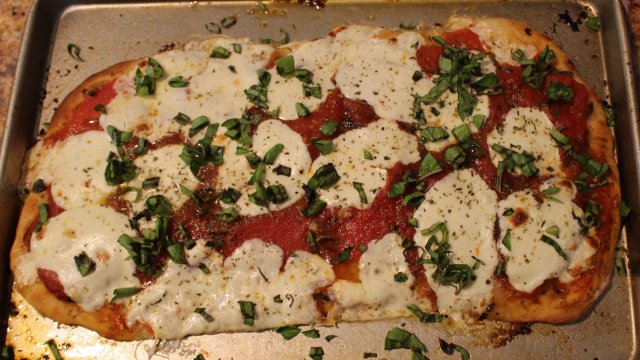 This combination of flavorful tomatoes, torn basil and fresh mozzarella on perfectly crisp flatbread is very special.

I like this flatbread thin with a generous amount of olive oil.

One options is to add some dry Italian seasoning to the tomatoes with the basil.
Sometimes I'll make several of these flatbreads and will add finely cubed pancetta over the mozzarella before cooking.
Ingredients:

1-8oz. formed flat bread
Imported whole San Marzano tomatoes
Fresh coarsely sliced basil
About 6oz. fresh mozzarella, 1/4 thick slices
Olive oil
Salt and black pepper
Prepare and shape 1-8oz. flat bread dough. Place on a cookie sheet sprayed with nonstick.

Hand crush tomatoes and spread to within about 3/4 inch of edges. Top with basil leaves.
Add the fresh Mozzarella. Drizzle with olive oil, salt and pepper.
Place in a preheated 525 º direct heat, not convection oven. Flatbread will be nicely toasted and ready in about 8 minutes. Immediately top with additional basil leaves and serve.

Easy Italian Sausage, and Asiago Cheese Flat Bread
1-8oz. formed flatbread




Ground tomato with puree (i.e. Hunts)




1/2 cup shredded asiago cheese




1/2 pound cooked thin sliced Italian sausages




Italian seasoning, salt and pepper



Prepare and shape 8oz. flat bread dough. Place in a cookie sheet sprayed with nonstick oil.
Spread tomato to within 3/4 inch of edges. Top with asiago cheese then sausage slices.
season with Italian seasoning, salt and pepper.
Drizzle with olive oil and place in a preheated 525 º direct heat, not convection oven. Flat bread will be cooked crisp in about 8 minutes.
Pesto, Chicken, Sun Dried Tomato, and Cheese Flat Breads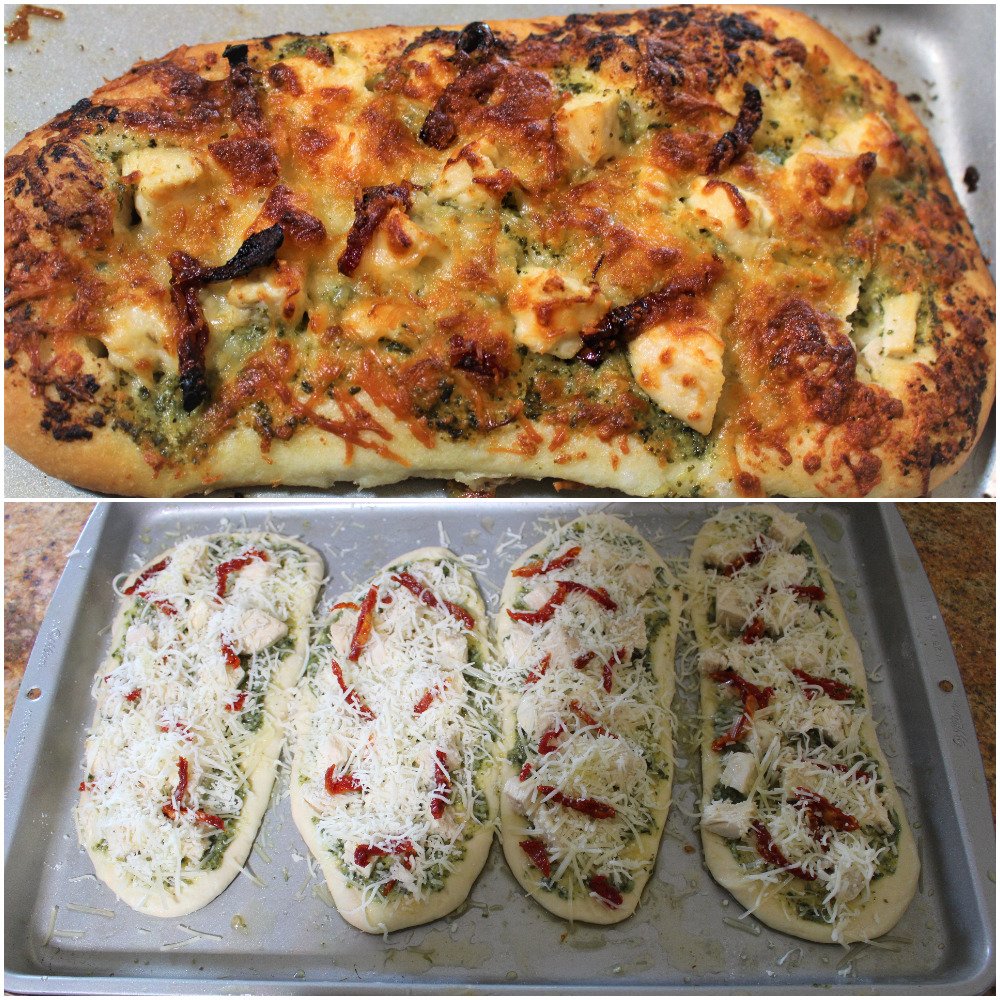 This Flat Bread has a pesto base, topped with lightly seasoned precooked chicken, sun dried tomato, and Italian cheese blend.

4 8 oz. Flat Breads, along with your favorite salad will generously serve 8 guests.
Ingredients:
4-8oz. formed flat bread dough (please see pizza dough basics)
quality store bough pesto
3 half chicken breasts
3 cups shredded Italian cheese blend
Olive oil for cooking chicken and for drizzling

Brush chicken breasts with olive oil and lightly season with salt and pepper or Tuscany seasoning. Oven bake until chicken breasts are just cooked. They can be cooked and refrigerated until ready to use.
Prepare 4-8oz. pizza dough flat breads as discussed in "Pizza Dough Basics" and position them in a baking pan brushed with olive oil or Pete's garlic oil.
Liberally brush dough with pesto 1/2 inch from edges. Spread a quarter cup of shredded cheese on each of the flat bread (1-cup total).
Coarsely dice chicken and distribute onto all 4 flat breads. Spread sliced sun dried tomatoes then the rest of the shredded cheese, Drizzle with olive oil.
Cook in a preheated 525º oven with direct heat NOT convection until crisp top and bottom. Check for doneness and oven positioning in about 10 minutes. Once cooked, slice the flat breads diagonally and serve.
Margarete Flat Bread with Fresh Roasted Tomatoes
This recipe starts with fresh oven roasted plum tomatoes. Although slightly more effort, it's well worth the extra time. This recipe will make two plump flatbreads.
Ingredients:

12 Italian plum tomatoes

Olive oil
2 cloves coarsely chopped garlic

Tuscany seasoning or plain kosher salt

12oz fresh mozzarella cubed

Fresh torn basil leaves
2 formed flat bread dough
Preheat oven to 450º non-convection.
Core and cut the tomatoes in half lengthwise. Place them in a bowl. Mix with a liberal amount of olive oil, garlic and Tuscany seasoning.
Dump them into a rimed cookie sheet. Arrange them with cut side down. Place them in the lower portion of the oven. Most of the liquid will evaporate and the edges of the tomato will begin to brown in about 20 or minutes.
Remove the tray and lower heat to 300º. Flip the tomatoes onto their round side and cook them in the middle of the oven until the liquid on the bottom has evaporated (leaving just the oil) and before their edges start to burn.
Increase heat to 525º direct heat. Mix the tomato, mozzarella and basil leaves in a bowl. Divide and pile all contents onto the flatbreads. Cook 8-10 minutes until crispy; top with additional torn fresh basil leaves.