Lamb
Leg of Lamb, General Discussion, Ways to cook, Seasonings, Marinades, Kritharaki
Roast Leg of Lamb Mediterranean Style with Kritharaki (Orzo)
Boneless Leg of Lamb Roasted in my Big Green Egg; Easter 2017
Many meat eaters have an aversion to leg of lamb. I often hear it has a strong or even "gamey" taste and its fat is unpleasant and chewy. However other elite cuts like rack of lamb are prized for their flavor and texture and in fine restaurants, readily compete against all varieties of high end steaks. Roast beef also continues to be popular even chilled and sliced at deli counters. What is it about leg of lamb that many dislikes?
there are several ways to prepare and cook leg of lamb that produce wonderful and different flavors, guarantee moisture, tenderness, and an appealing texture.
If you want leg of lamb with the bite and feel similar to cooked roast beef, moist with a variety different savory taste options, nicely seared exterior, pink or red on the inside, see my Mediterranean style recipe for grilled leg of lamb below. Preparations and simple cooking techniques are explained. Lamb is the perfect meat to alternate and experiment with different geographic flavors and ingredients.
If you like your meat well done and still want lamb moist and very tender, braising leg of lamb is a great alternative. It produces super tender meat that literally falls off the bone, needs minimal preparation, limited monitoring with forgiving cooking times.
Braising
Meats are wet or dry marinated and are usually seared crisp on all sides in the same pan or pot that will be used for final oven braising. The leg or boneless meat is then removed and a braising base is added. It could start with a simple French la Mirepoix, a trio of chopped aromatic vegetables, carrots, onions and celery. The Italian version is soffritto. It originally included lard, parsley and onion minced together; today any combination of garlic, onion, celery and carrots is common.
Once vegetables are sweated, the pot is deglazed with wine and broth and herbs are added. Lamb is then oven roasted in its flavor pot.
Please review a selection of braising examples under the "Classic Osso Buco and Creative Alternatives" tab.
Oven roasting
Leg of lamb has an irregular shape. In order to roast evenly (or grill), it's best to totally debone, reshape and tie. If purchased semi-boneless (aitchbone and hip bones already removed), you can carve out the shin bone. Next remove most skin, fat and all sinew (tough ligaments). Condense the meat as best as you can by folding or rolling then tied. The more consistent in size and as symmetrical as can be made, the more evenly the meat will cook.
Mediterranean style lamb is frequently seasoned with olive oil, garlic and herbs. The meat can be pierced all over and garlic slivers placed inside each cut. The lamb maybe coated with rosemary and other aromatic herbs like oregano, sage, and thyme; salt and pepper. Once seasoned, refrigerate it covered for several hours or preferably overnight to help flavors penetrate.
Better and easier way to marinate with Mediterranean flavors... The day before, make a simple pot of Pete's Garlic Oil; garlic, sage, rosemary, Kosher salt and red pepper flakes low simmered in olive oil. Garlic takes on the mild, sweet flavors and texture of oven roasting. The olive oil becomes infused with all those great Mediterranean flavors. If using boneless, stuff the pot roasted garlic where the meat is folded. You can also add your favorite fresh herbs. Pierce fat with a knife. Liberally rub the lamb with Pere's Garlic Oil and place in a bowl. You can also rub with additional herbs if you'd like.
Cooking, when ready, oven char lamb in oil at 450º for about a half hour, flipping over half way through. Reduce heat to 325º and add flavorful vegetables like a Mirepoix or soffritto. If you prefer medium rare, 135º or a little less after resting, remove roast to rest when it registers 130º or a little less. Internal temperature will rise about 5º more while resting. If medium, 140º, remove when just under 135º.
Trimmed and deboned leg of lamb will be approximately 3.5 to 5 pounds. I prefer smaller, assuming it's from a younger more tender lamb. Two 3.5 plus pound lamb will easily feed 10 healthy eaters with leftovers. There are many variables but total cooking times will be about an hour. Frequently check with an instant thermometer or a reqular with its sensor in the center of its thickest.
Grilling in Green Egg or similar. Use plate setter with legs up and porcelain cooking grid. Set temperature to about 375. Smaller boneless leg coked medium rare will be ready in under an hour.
Kritharaki

Once finished roasting, lamb is removed to a platter, covered to keep warm. Tomato paste, chicken broth and garlic are added to pan drippings. Once simmering, mix in orzo, rice shaped pasta. Continue simmering, stirring, and adding more broth as needed.
Although my Greek friends liked their Kritharaka cooked soft and creamy, I prefer mine cooked until liquid is absorbed and orzo is cooked slightly al dente, chewy. I use imported Italian Orzo made with drum semolina.
Roast Leg of Lamb Mediterranean Style with Kritharaki (Orzo)

Please scroll down below this recipe for Roasting Lamb in the Big Green Egg

Ingredients:
Peter's Garlic Oil
1 cup of olive oil
10 large garlic cloves with skin
1/2 teaspoon Tuscany seasoning (or several fresh sage leaves, a sprig of rosemary and 1/4 teaspoon of kosher salt)
pinch of red pepper flakes
Leg of lamb boned or semi-boned
Additional
1 tablespoon rosemary needles
Tuscany seasoning and black pepper
¾ cup each celery, carrots and onions chopped
Orzo

1-pound orzo
2 tablespoons tomato paste
1 36-oz. box chicken broth
Salt and pepper to taste

Chopped parsley
Early in the day remove rough end of garlic cloves and slice each in half lengthwise. Do not remove skin, it contributes favor. Place them in a narrow stainless steel butter melting pot. Add the rest of the ingredients.
Place on medium heat until the olive oil begins to lightly sizzle. Reduce heat to a low simmer. It will take several hours before garlic richly tans and becomes soft and sweet. You can hasten the process with slightly higher heat but be careful not to burn the garlic.
Remove the garlic skins from the pot when they are released from the cloves. Cool to room temperature.
While garlic oil is simmering or the night before, carefully remove the shin bone from the leg. Trim most of the skin and fat and all sinew (tough ligaments). Condense the meat as best as you can by folding or rolling then tie.
Pierce fat side with a knife about an inch deep. Stuff the pot roasted garlic where the meat is folded.
Place lamb in a bowl. Generously brush the lamb all over with the garlic and herb infused oil. Lightly sprinkle and rub with Tuscany or your favorite seasoning. Refrigerate covered at least several hours or preferably overnight, rotating occasionally.
Preheat the oven to 450º. Coat the bottom of the pan with garlic and herb infused oil. Add lamb and place in the oven.
After 25 minutes, spread the chopped vegetables on the bottom of the pan and flip the roast over them. Lower heat to 325º. If you like your lamb cooked to medium, remove when instant thermometer registers to a little under 135º degrees in its thickest part. Rest lamb in a platter lightly covered with aluminum foil. Internal temperature will rise to 140º.
I prefer my lamb medium rare in its thickest portions. That offers the best blend of finished temperatures, cooked with a touch of pink around the outside, medium rare in the center. Remove meat when it reaches just over 125º; will approach the mid 130ºs.
Orzo (Mock Kritharaki, see above)
Place the pan over a medium burner. Deglaze pan with some of the broth. Once released stir in the tomato paste. Add all but about a cup of the broth. When mixture begins to simmer, stir in orzo and place back into the oven. Stir occasionally. Add the reserved broth and water if needed until all liquid is
absorbed and the orzo is cooked slightly al dente. Adjust seasoning, salt and pepper. Place cooked orzo in a serving platter and top with chopped parsley.
Boneless Leg of Lamb Roasted in my Big Green Egg

Easter 2017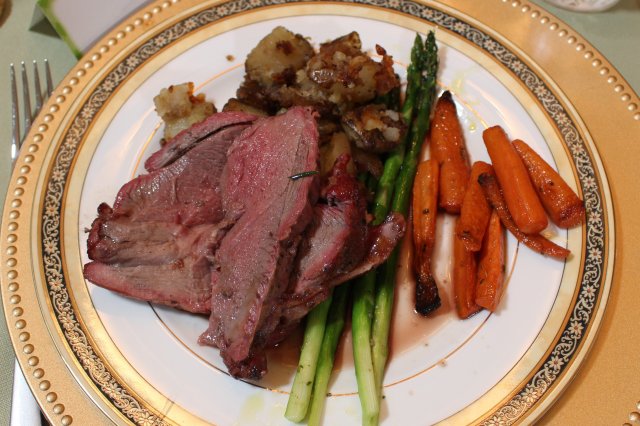 Prepare boneless leg of lamb and marinate overnight with Pete's Garlic Oil.
Ignite natural lump hardwood charcoal. Use the place setter legs up and porcelain cooking grid. Once temperature is set to about 375°, place boneless leg(s) on the center, fat side up.
For medium rare in thickest center, medium or more near edges, remove when internal temperature just exceeds reaches 125°. Let the lamb rest for 10 or so minutes covered with aluminum foil. Remove netting or string, slice and serve. Above was served with oven roasted potatoes, carrots and asparagus. It was as delicious as it looks and very tender. Guests were extremely complimentary; memorable meal.