Spanakopeta Appetizers
Spanakopita, Greek Spinach Pie with Phyllo Dough
Spanakopita Made Easy with Puff Pastry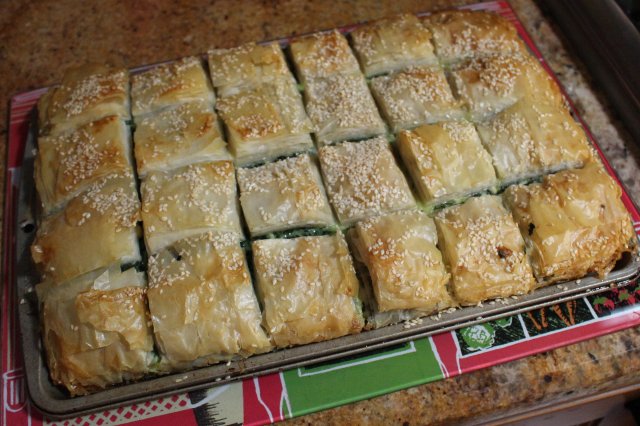 Spanakopita is among the most classic Greek specialties.

"Pita" as it is referred to by Greeks is the perfect appetizer to impress. Squares can be served with cocktails, added to a buffet, for brunch, enjoyed as a first course, accompanied with salad for lunch or a light dinner. Pita can be made well ahead. Extras freeze well, are defrosted and reheated for unexpected guest and anytime snacking.

Although this recipe may appear a bit unconventional, adding white cheddar cheese, and using frozen spinach, it was a gift from authentic first- and second-generation Greek families from Western Massachusetts. They prepared it weekly to serve and freeze.

Core ingredients are quality Feta cheese in brine, drained and crumbled, mixed with seasoned spinach, and egg binder. Top and bottom crusts are made with equal layers of thin phyllo sheets brushed with butter, creating its characteristic crisp and flaky texture when baked. Sesame seeds add extra flavor and crunch.
Filling ingredients are very simple to prepare and assemble. Negotiating phyllo dough may seem a bit intimidating at first. It quickly becomes relatively easy using some simple techniques to work quickly keeping sheets from drying while coating and layering. Imperfections are unnoticeable.

Once mastered, working with phyllo opens an expanded world of creativity, inspiring new recipes like my Shrimp Scampi Phyllo Triangles and more.

Phyllo dough is available in the freezer section of most grocery stores. I prefer a one-pound package of 9" x 14" sheets (i.e. ATHENS' brand). Each box has 2 sealed inner packs of 19 sheets each, 38 sheets total.

Night before, place both sleeves of phyllo in the refrigerator to defrost. Remove a sleeve at a time only when ready to use.
Ingredients:

6 boxes frozen chopped spinach




1-pound feta cheese (whole in brine, not crumbles)

8 oz. block sharp white cheddar cheese

6 large eggs

1/2 teaspoon salt

¼ cup olive oil
Phyllo dough crust
1/2 to 1-pound butter

1-pound phyllo dough sheets

Sesame seeds



Directions
Filling
Defrost frozen spinach in a strainer. Thoroughly remove water by squeezing handfuls. Place in a large bowl.




Crumble the feta cheese by hand or cutting board.




Shred cheddar cheese with a course cheese grater.

Whisk eggs with ½ teaspoon salt




Combine all prepared filling ingredients including olive oil with spinach a bowl.




Using surgical gloves, combine all ingredients well by hands. Set bowl aside.
Layering phyllo
Slowly melt half of the butter (replenish as needed). Have a lightly moistened towel ready along with a waxed paper.




Place cookie sheet on working counter, narrow side facing you.

Remove first roll of phyllo dough from refrigerator. Discard protective sleeve. Unroll phyllo dough and place them on a clean dry counter parallel to baking pan.

Cover lengthwise with wax paper, top with a slightly damp dish towel. This helps seal and protect sheets from moisture and drying if assembly is interrupted.

When ready, lightly butter cookie sheet with a silicon brush. Lift wax paper and towel together with both corners on the far short side.

Quickly lift a sheet of phyllo from the far short side corners, cover the cookie sheet. Quickly butter top and add the next sheet. Repeat until all sheets are applied.
Assembly
Give filling a final mix and spread over the layer of phyllo within a half inch of sides.




Prepare the top layer of phyllo sheets the same as above. Place the first sheet over filling. Butter and keep adding the next until all sheets are done.

Use the edge of a spatula or knife to press periphery of dough down around the edges and sides of pan to seal.

Butter top and generously sprinkle with sesame seeds.

Important, cut top layer only into serving size squares making it easier to cut flaky crust into serving portions later.

Bake at 325º for about 45 minutes or until top browns. Finish cutting through squares and serve.
Note: I usually place a larger cookie sheet on the shelf below to prevent the bottom phyllo from over baking.

Spanakopita Made Easy with Puff Pastry
​​​​​​​
So you've looked at the picture of Spanakopita above and read the recipe several times. Now you're having conversations with yourself, wrestling whether or not you're comfortable working with Phyllo. Or perhaps, you made "pita" using my recipe and loved it but think it takes just enough effort to reserve making it only on special occasions. Don't deny yourself. You can substitute puff pastry for phyllo resulting in an incredibly satisfying treat that can easily be made anytime, even if it's just for family and close friends. Be assured, special guests will love this simple recipe just as well!
Puff pastry sheets are a very convenient substitute. The 17.3 oz. package of puff pastry is close to the weight of the one-pound phyllo used in my recipe above. Phyllo has two sealed packages of 9" x 14" sheets. Puff pastry has two sealed inner packs of single sheets. They can easily be rolled to 9" by 14" and you can use the same size rimmed cookie sheet.
Recipe and instructions:
Prepare the filling as shown above under "Spanakopita, Greek Spinach Pie"

above

.

Spray vegetable oil on the cooking sheet (or use parchment paper).

Place one sheet of puff pastry on a lightly floured counter. Roll the dough to size and place in the cooking sheet.

Spread the filling to within 1/2 inch of the edges.
Roll second sheet to size and place on top.
Optional, butter top and sprinkle with sesame seeds

Using a spatula, roughly tuck the top crust down the edges to cover the exposed filling.
With a sharp knife, cut serving sizes through the top sheet of puff pastry only.
Bake at 325º in the middle of the oven for about 45 minutes or until browned.
Note: Place a larger cookie tray on the shelf below or line it with aluminum foil to prevent the bottom sheet of pastry from burning if using vegetable oil spray.