Spaghetti Squash
Basic Preparation
Sausage, Broccoli Rabe, and Cheese
Veggie Crumbles* with Turkey Sausage, Sun dried Tomato, Vegetables, and Cheeses.
Ground Veggie Crumbles (Ground Beef Substitute) with Spinach and Fat Free or Light Cheeses
Meatless Bolognese Sauce with Spaghetti Squash
Mention spaghetti squash as a substitute for pasta to an Italian guy and universally expect an answer like "are you nuts". The word substitute is what crushes the suggestion. Absolutely NOTHING can really substitute for traditional pasta. However, offering flavorful and delicious meat, vegetable and cheese dishes (that just happened to be blended and topped onto spaghetti squash) will encourage a try. View the first recipe as a starting point for technique and proportions then get creative.

Preparing spaghetti squash begins by halving them lengthwise. Raw spaghetti squash is hard throughout making them very difficult and dangerous to split without softening first. I'm revising this tab to only show the safer microwave technique.
Place the whole squash in the microwave on high. Its heat will penetrate and soften its skin and pulp enough significantly help cut through much easier. Begin testing with a folk after 5 minutes to judge if it can be cut through relatively easy. If more time is needed, microwave in one minute increments until ready.
Once halved, discard seeds. Generously brush the insides and skin with olive oil. Sprinkle the insides with Tuscany or your favorite seasoning. Place them on an aluminum foil covered cookie sheet, cut sides down. Bake squash at 375° non-convection until the pulp is soft enough to detach when scraped with a fork.
When cool enough to work with, scrape their pulp creating their characteristic "spaghetti" texture. Reserve the pulp in a bowl. Save their skins.
Spaghetti Squash with Sausage, Broccoli Rabe and Cheese

Broccoli Rabi is combined with sausage, cream, shredded and parmigiana cheeses and is placed on a bed of flavored spaghetti squash. They are baked and served in their original shells. These are a surprising treat especially if new to spaghetti squash.

This recipe will generously fill 2 larger squash, 4 filled halves, or 3 smaller serving 6.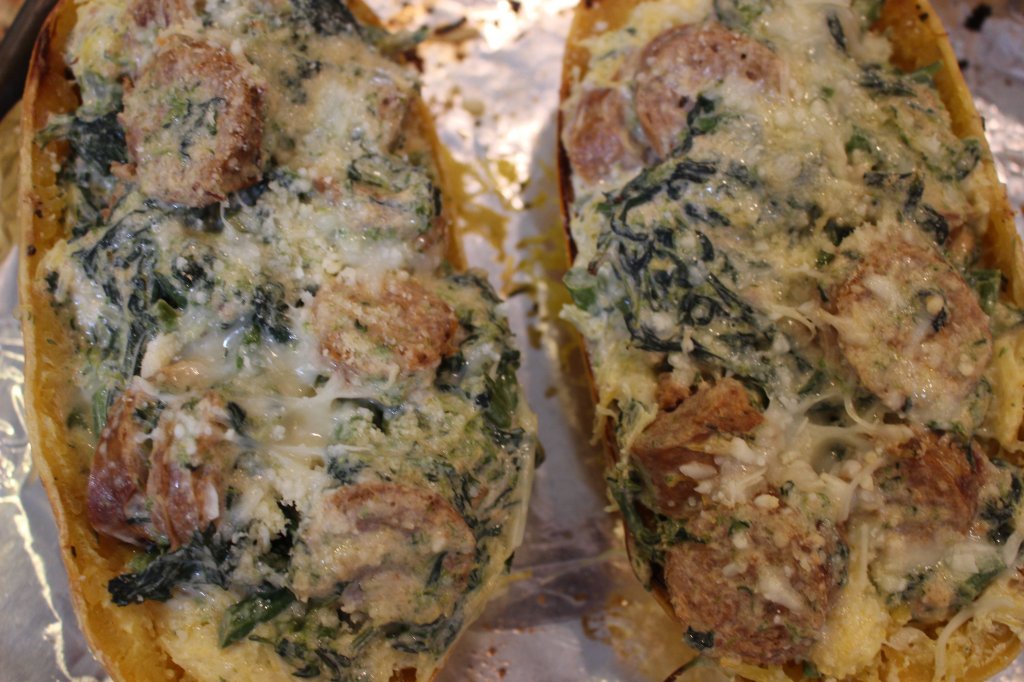 Ingredients:
3 small to medium whole spaghetti squash, cooked and pulp extracted (Preparation above)

1 head of broccoli rabe
1 small can chicken broth
5 mild Italian sausages
1-8 oz. package cream cheese
1 cup shredded Italian cheeses
1/4 cup parmigiana cheese plus more to sprinkle
2 tablespoons seasoned Italian style bread crumbs
Please refer to the preparation above. While the spaghetti squash is still hot, mix with half of the cream cheese, shredded cheese and graded parmigiana.
Discard about an inch of the rabe stems. Chop rabe into 1 inch pieces. Place the contents of the can of chicken broth in larger pot. When boiling, add the broccoli rabe. Cook until it begins to soften, about 3 minutes. Remove the rabe with a slotted spoon. Lower the heat to medium.


Add the Italian sausages to the remaining chicken broth in the pot. Rotate the sausages as sides brown. When the broth evaporates, add 2 tablespoons of olive oil. When sausages are just cooked through, remove them.


Add rabe and stir with the remaining cream cheese. Remove from heat when the cream cheese begins to melt and incorporates. Mix in the remaining shredded and parmigiana cheeses and bread crumbs. Cut the sausages into 1/2 inch slices and fold them into the rabe mixture.

Mix about a third of the rabe mixture into the spaghetti squash. Distribute the squash mixture equally in their shells. Top with the remaining rabbi mixture and sprinkle tops with extra parmigiana cheese. Bake until heated through and the top begins to brown, about 25 minutes and serve.

Note: Be careful not to over salt. Sausages, cheese and cheese should provide more than enough.

Substitutions and/or additions:
Use ground sausages meat or cubed chicken
For a lighter version, substitute turkey sausages, fat free cream cheese and fat free mozzarella for Italian cheese blend.
For additional flavor, replace plain olive oil with the oil from Peter's Garlic Oil and add pan roasted garlic to the broccoli rabbi.
Spaghetti Squash with Veggie Crumbles*, Turkey Sausage and Sun Dried Tomato
in a Creamy Cheese Sauce.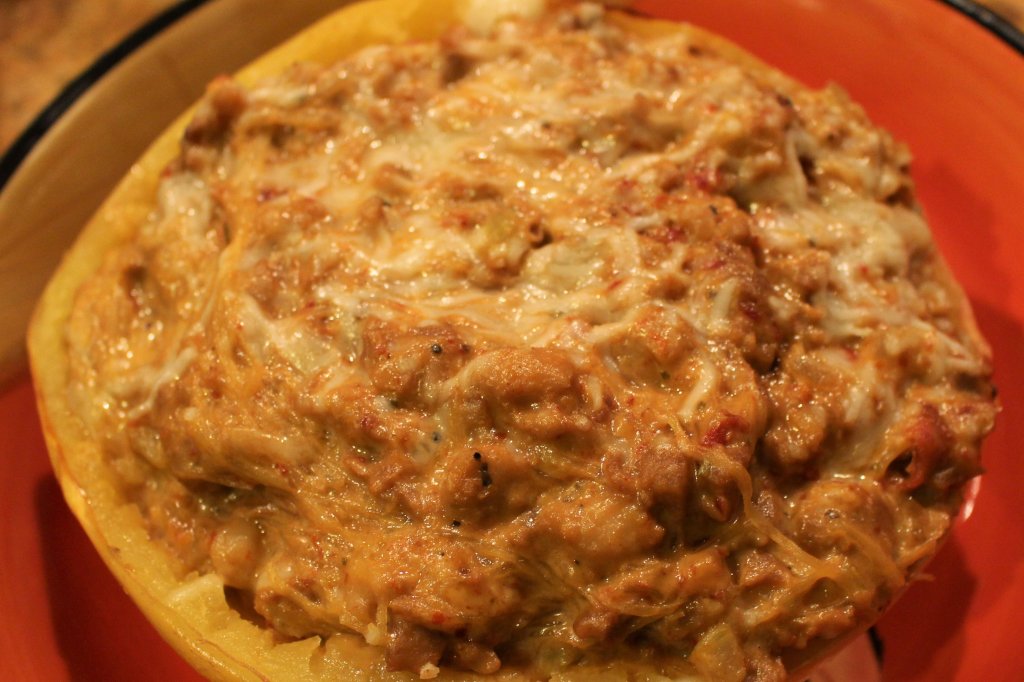 *Veggie Beef substitute, Morning Star Farms or similar

Spaghetti squash is flavored with a base of veggie beef substitute enhanced with turkey sausage and chopped sun dried tomato. The dish is rounded with diced celery, onions, garlic, spices and cheeses.
All ingredients including the reserved squash are mixed together then piled on the reserved shells. They are dusted with grated parmigiana cheese then oven reheated. The parmigiana browns and crusts slightly. The inside is wonderfully rich and creamy.
Ingredients:

1 spaghetti squash, pulp removed

1 cup chicken broth

2 turkey sausages skins removed

2 tablespoons olive oil

1 cup diced celery

1/3 cup diced onion

1 minced garlic clove

1/3 cup chopped sun dried tomato in oil

12 oz. package Veggie Crumbles*

1 cup shredded Italian cheese mix

4 oz. cream cheese

2 tablespoons parmigiana cheese



Prepare spaghetti squash as discussed at the top of this tab.

Place about ¾ of the cup of chicken broth in a pot large enough to hold all ingredients. Place on high heat. By hand with surgical gloves, break the sausage meat apart and add to the pot. Use a spatula to continue breaking apart. When the broth is almost totally evaporated, lower heat to medium low. Add the olive oil, celery, onion, garlic and tomatoes. Cook while stirring until the vegetables are translucent.
Heat the crumbles in the same pot for a minute or two then add the three cheeses. When the cheeses are melted, stir in some of the remaining chicken broth to lighten the mixture, then mix in the squash.
Fill the shells with the mixture. Place back in the oven until warmed through, about 25 minutes and serve.
Ground Veggie Crumbles* with Spinach and Fat Free or Light Cheeses

This recipe offers a lighter creamy filling with all the richness and taste expected with standard versions. Ingredients are also simple. I usually prepare the dish with fat free cream cheese and lower fat Italian cheese blend.
Ingredients:
2 medium spaghetti squash
Olive oil
2 garlic cloves halved lengthwise.
1 15-oz. can chicken broth
10-oz. package frozen chopped spinach thawed

1-12oz. package Ground Veggie Crumbles (like Boca)
8-oz. package cream cheese, light or fat free
1 cup reduces fat shredded Italian cheese blend
¼ cup grated parmigiana cheese or a light substitute
Tuscany or other Mediterranean style seasoned salt
Seasoned bread crumbs
Follow "Basic Preparation" instructions above for halving, seasoning, cooking and removing pulp from spaghetti squash.
Squeeze water out of spinach by handfuls.
Sauté garlic cloves until lightly browned. Discard. Add about ¾ of the chicken broth, spinach and veggie crumbles. Simmer until broth is reduced by about half. Add remaining broth, cream cheese, shredded Italian and parmigiana cheeses until melted and well combined.
Combine spaghetti squash pulp with mixture. Scoop filling equally into the four spaghetti squash shells and sprinkle tops with bread crumbs.
Oven cook until topping bubbles and serve. Enjoy.

Meatless Bolognese Sauce with Spaghetti Squash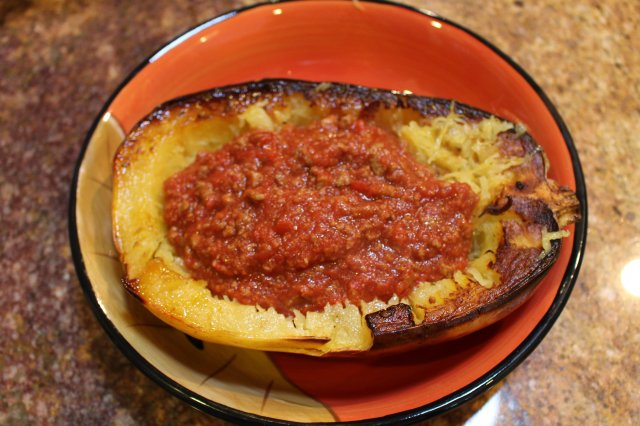 This surprisingly delicious Bolognese sauce is meatless. It is made with Veggie Ground Crumbles (i.e. Boca). I often make this dish for vegetarian friends and their families.
On occasion, I'll also test this Bolognese as a first course for casual dinner guests, serving this Bolognese over penne pasta cooked al dente, and topped with parmigiana cheese. It inevitably fools most ardent meat eaters. None of my carnivore friends have yet detected the fraud.

For those minimizing carbs, spaghetti squash is a healthy alternative. However, for those that are gluten intolerant, the veggie crumbs I purchase are labeled not gluten free.
This sauce is even easier and a little quicker to make than my traditional beef and sausage Bolognese. That recipe also is posted under "Tomato Sauces". We frequently serve it at home on pasta or spaghetti squash. Either way, it's always topped with parmigiana. Give it a try.


Ingredients:
2 small whole spaghetti squash (4 half squash servings), cooked and pulp extracted, preparation instructions above
2 or 3 sliced garlic cloves
1 small sliced onion
1/4 cup olive oil
1-12oz. package Veggie Ground Crumbles (like Boca)
1-28oz. can crushed Italian plum tomatoes with puree
pinch red pepper flakes
2 sprigs basil tied
1 tablespoon dry Italian herb seasoning
salt and pepper to taste
water as needed

Grated Parmigiana cheese, optional

Please refer to the spaghetti squash preparations above.

Sauté the garlic in olive oil in a pot. Discard when lightly brown. Cook onion until they are soft. Also discard.

Add tomatoes, crumbles, red pepper flakes, tied basil sprigs, and a few grinds of black pepper. Simmer for about 2 hours adding water if needed. Remove tied basil and check for seasoning (salt).
Just prior to serving, reheat squash in their shells. Add the Bolognese sauce and liberally top with grated parmigiana cheese if using and serve.