Pizza, Flatbread, Calzone, Panzerotti, and Homestyle Sheet Basics
Overview
Dough Basics
Quick Sourdough Pizza Crust
Best Tomatoes for Traditional Pizza
Great Pizza in Just 20 Minutes

Lactose Free Cheese Pizza
Pizza with Sausage, Peppers, and Mushrooms
Fresh Tomato Pizza with Prosciutto and Arugula
Mushrooms, Pepper and Italian Sausage Flat Bread
Calzones
Ricotta and Italian Sausage Calzone
Panzerotti, Quick Deep Fried Pizza Style
Sheet Pizza
Tradition Cheese Sheet Pizza
Pesto Sheet Pizza with Precooked Chicken
Broccoli Rabe, Roasted Garlic, and Turkey Sausage Pan Pizza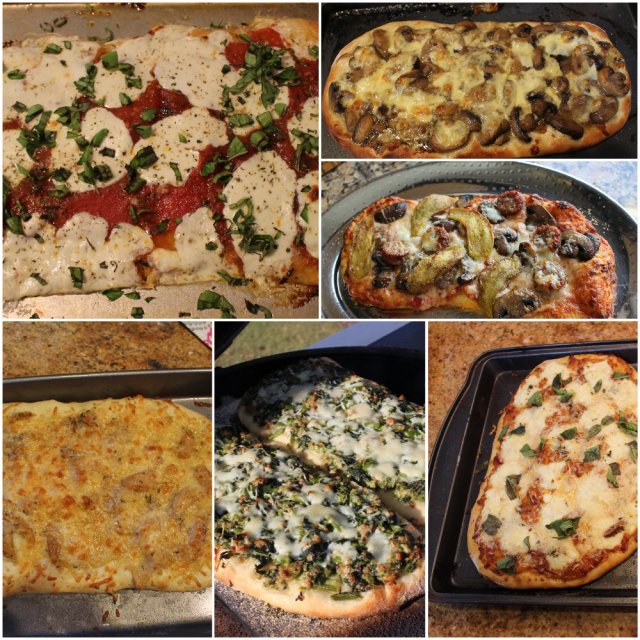 Overview
Pizza as we know them today appear to have originated in Naples, Italy around the end of the 18th century.
Pizza verses Flatbread
Is there a difference? Pizza is a flatbread but not all flatbreads are pizza! Flatbread topped with ingredients mimicking pizzas of today have existed as far back as the stone ages and ancient history suggest, virtually created everywhere.
Pizza and flatbread can be made with the same ingredients. Differences start with their sizes and shapes. Traditional pizzas are round while flatbread are usually oval or rectangular. Each of my pizza is usually made with a pound of dough, flatbread 2 per pound. Pizza are cut in wedges and are forbidden to be eaten anyway other than folded in hand. Flatbread are usually cut into squares or rectangles.
Flatbread made very thin are often served as appetizers or starters and more appropriate for unique and sophisticated ingredients not normally associated with pizza. A gourmet restaurant I often frequented in Minnesota served Duck Confit and Wild Mushrooms.

Any of my recipes can be made as pizza or flatbread. Forming and edging flatbread is easy by hand. Toppings are limited only by imagination.
Throughout the pizza and flatbread sections of my website, I usually don't distinguish between pizza and flatbreads. In fact, I mostly prefer making flatbreads even with pizza toppings. Half their size, I can make a larger selection of flatbreads with different toppings, their size makes dough easier to form by hand and a little more convenient. Some like Eggplant Parmigiana Flatbread can be piled high and served with utensils. Of course, same toppings as pizza, same great taste.

When entertaining, guests love slipping on surgical gloves assist me and assemble their own. It's acceptable for flatbreads to have irregular shapes and guests realize how easy and delicious great flatbreads are to make at home. Most important, we all have fun.

"Dough Basics" below focuses on the incredibly easy and full proof techniques to prepare and work with pizza dough. It also covers the best way to cook flatbread to ensure they are crispy on their tops and bottoms.
Perhaps a surprise...
I've always had a passion for baking artisan breads. I was inspired by two legendary chefs and their definitive bread books; Bernard Clayton's "New Complete Book of Breads" and James Beard's "Beard on Bread". This may surprise you. Although competent at making quality pizza dough, I've found store-bought traditional white pizza dough to be very reliable but only if specific techniques that alter from traditional are used. I also haven't found any significant difference in frozen 16-ounce dough balls purchased from any of my local grocery stores including Wal-Mart with lowest prices ($1.00 refrigerated or frozen balls). Some chains also offer whole wheat and multigrain pizza dough balls.
Why are changes in technique needed? I believe it's analogous to the dough used in artisan breads often sold from behind counters in mass grocery chains verses the dough used in those breads sometimes sold in baskets at half their prices. You know the ones I'm talking about. The "baguettes" you can literally fold in half and not crack their crusts. The ones that are much lighter in weight and have the density of an old dry sponge inside!
Growing up, dough bought at our Italian bakeries was the same as they used in their prized breads. The dough was dense and heavy and needed to rise and be punched down to relax it so they could be formed.
My technique developed over time simply results in crusts that have great texture and brown well with inexpensive store-bought dough. Dough is formed before rising while at its densest helping eliminate excess air that results in "spongy" pizza and flat breads. Dough is removed from refrigerator, formed and topped when oven temperature is reached and ready.
What characteristics make pizza or flatbread really great? Of course, you need the right quality ingredients for toppings. However, what immediately distinguishes great flatbread or pizza from unacceptable is their crust. I don't care how great your toppings are, if your finished pie or flatbread is spongy, under cooked, or limp, even the best toppings will not compensate!
Dough Basics

These are tips for working with pizza dough along with the best ways to cook pizzas and flatbread. If you're uncomfortable working with pizza dough, don't be. Here are the basics.
I prefer buying only frozen 16-ounce pizza balls. Their plastic bags are never removed until I'm ready to shape them. Frozen balls are best defrosted in the refrigerator overnight but can be done on a counter in about 2 hours. Once defrosted, keep them refrigerated until just before forming. Contrary to conventional wisdom, I don't prepare dough by having them rise covered in a warm bowl then punched down.
Toppings are prepared ahead of time, even the day before.
When ready, preheat the oven to 530º direct heat, NOT convection (optimal temperature may vary with yours). If using a pizza stone, place it in a middle shelf during pre-heating.
Remove dough balls and let them relax in their plastic bag for about 15 minutes. Place on a well-floured counter. Shape by hand or roller. If shaping flatbread, make them into ovals about 5 or 6 inches wide, 11 or 12 inches long.
If cooking on a sheet, brush with olive oil and place formed dough on. If using a stone, transfer formed dough on a wooden (not metal) paddle that's generously topped with course corn meal.
Note: pizza dough is sometimes prone to bubbling and cracking from steam forming while baking. Before topping, you can prick formed dough with a folk or uniformly with a "Roller Docker", a small drum with needles mounted in a holder.
Add toppings of choice being careful liquids don't drip past dough edges. Also patch any holes in the dough. Cook immediately after assembly.
If using a pan, place it in the middle level of the pre-heated oven. Flatbread will be ready in as little as 8 to 12 minutes. Just prior, check to see if their tops and bottoms are cooking equally. If the bottom is cooking quicker, raise the pan to a higher shelf. If the top is cooking quicker, lower. Also rotate pan(s). If cooking on multiple trays, swap tray positioning.
If cooking on a stone, spread with additional course corn meal before sliding flatbread onto them.
Flat breads and pizza are ready when they are toasty top and bottom. Let them rest for a few minutes before cutting. Cooking scissors works well.
If concerned about making the flat breads too close to company arriving, you can cook the flat breads a little ahead and warm when company arrives. A drizzle of olive oil helps keep the flatbread moist. Avoid assembling with toppings too fat ahead and waiting to cook them.
Making Your Own Pizza and Flatbread Dough
As discussed above, with the techniques shown, you can make a great pizza with purchased grocery store frozen dough. However, if you have access to a quality mixer with a dough hook capable of kneading without straining, making your own dough is actually quick and simple. Please see my recipe for my "Basic Everyday Bread Loaf, French Style" in the "Bread" tab.
Follow my recipe. After the dough rises, pound it down and kneed into a large ball. With a pastry or bread scraper, divide the dough roughly in quarters. Each piece is sufficient to form into a medium-large pizza. Cut each in half again for flatbread. Any unused dough, form into loafs or rounds and bake according to instructions for baking bread.
Quick Sourdough Pizza Crust... "NEW"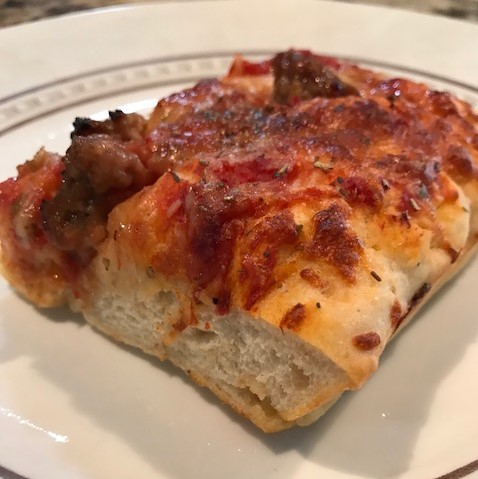 This recipe includes sourdough starter. Although it can be made without, sourdough adds additional depth of flavor.
This simple technique is so quick, easy, and delicious. Proportions will make one large thick crust Sicilian style tray pizza but can be rolled thin for multiple pizza. Dough can also be formed into loaves. Recipe makes terrific bread.
Left is a simple thick crust pizza with pinches of Italian Sausage.
What also makes this pizza dough different is an unusually quick and simple twostep assembly process. Only tools needed are a bowl, cooking spoon, dough scraper, optional roller, and cookie sheet; from proofing to forming in under an hour.
Ingredients:
2 cups hot tap water
1 teaspoon sugar
1 tablespoon instant dry yeast
1 generous tablespoon Kosher salt

3 cups unbleached all-purpose flour

½-3/4 cup sourdough starter

2 cup additional flour
Whisk water, sugar, and yeast in a bowl. When proofing bubbles appear, incorporate salt, sourdough, and flour with a kitchen spoon.
Sprinkle dough with flour and lightly cover with wax paper. Drape top of bowl with a moist towel. Let dough rise in a warm location until double in size, about ½ hour.
Preheat oven to 530° direct heat and position a rack vertically in the upper third of oven.
Place additional flour on counter. Remove wax paper and towel. Empty dough onto flour.
Using a dough scraper, fold periphery of dough over its center all. Knead until stickstickeness is gone and dough is smooth. Dough should still be a little softer than usual bread dough.
Roll dough and place in an oiled cookie sheet and add toppings. Pizza will be ready in about 12 minutes.
Best Tomatoes for Traditional Pizza

Never disguise the great natural taste of tomatoes. Tomatoes are the canvas that complements cheeses and toppings. They should never be cooked, creating a thickened sauce, especially with distracting flavors more appropriate for pasta not pizza.
For the lightest pizza like Margarita, simply use crushed canned tomato from San Marzano or similar right out of the can. Some purists only use garden ripened fresh plum tomatoes thinly sliced. For pizza with hardier toppings, especially meats, my favorites are Dei Fratelli® Fire Roasted Crushed Tomato or Hunt's ground tomato with a light puree. Both maintain tomatoes' taste but are a little bolder.
Great Pizza in Just 20 Minutes

Once oven is preheated to 530º direct heat; tomato can open, cheese, pancetta, olive oil and spices are convenient. Finished pizza is just 20 minutes away.
Ingredients:
1 Pound pizza dough, removed from refrigerator
1 Can crushed tomato with tomato puree (i.e. Hunt's)
1 cup shredded Italian cheese mix (or more to taste)
Fresh mozzarella balls
1/4 pounds cubed pancetta
Dried Italian seasoning
salt and pepper
Chopped fresh basil
Oven is preheated 530º direct heat. Start the clock (6 pm)
Dough is immediately removed from bag (no rising), rolled and placed in pizza pan. Sauce is spread on top.
Shredded cheese, mozzarella balls are distributed and topped with cubed pancetta.
Top is generously sprinkled with Italian seasoning, salt, pepper and drizzled with olive oil. Pizza is placed in the middle of oven.
8 minutes later, pizza is removed from oven and finished with fresh torn basil, just shy of 6:20 pm. Dinner's ready!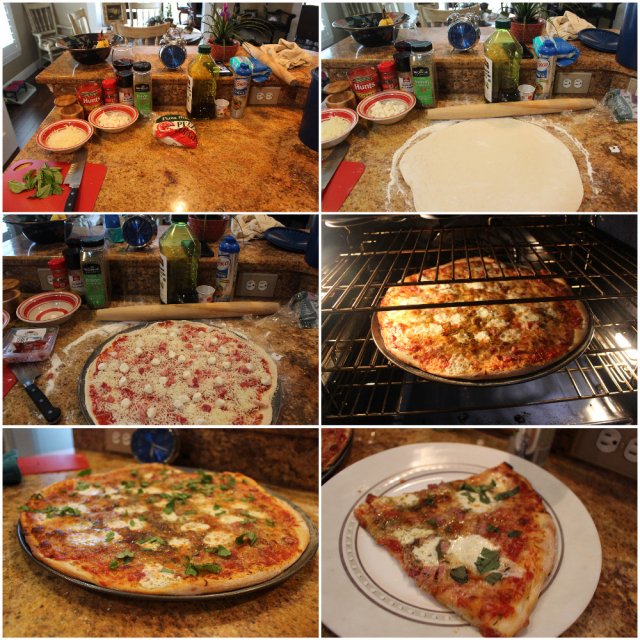 Sausage Pizza Pizza with Sausage, Peppers, and Mushrooms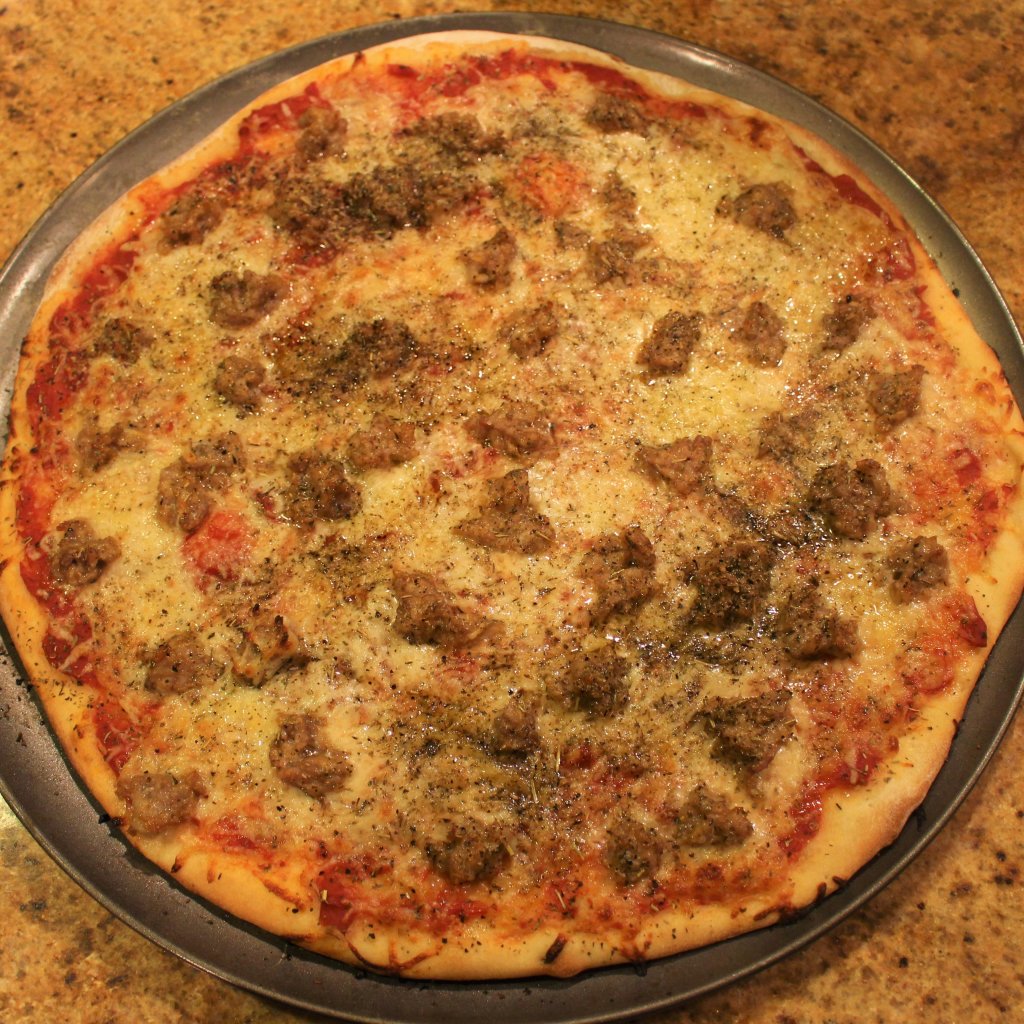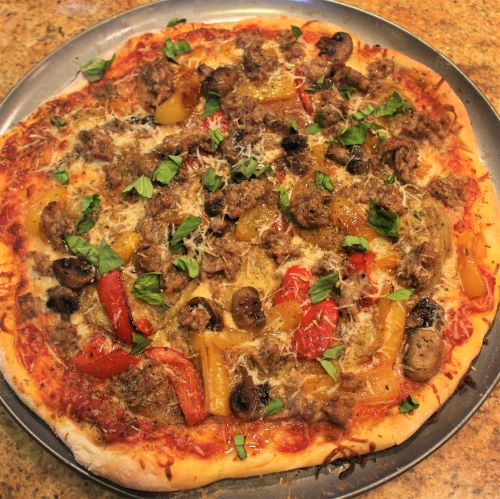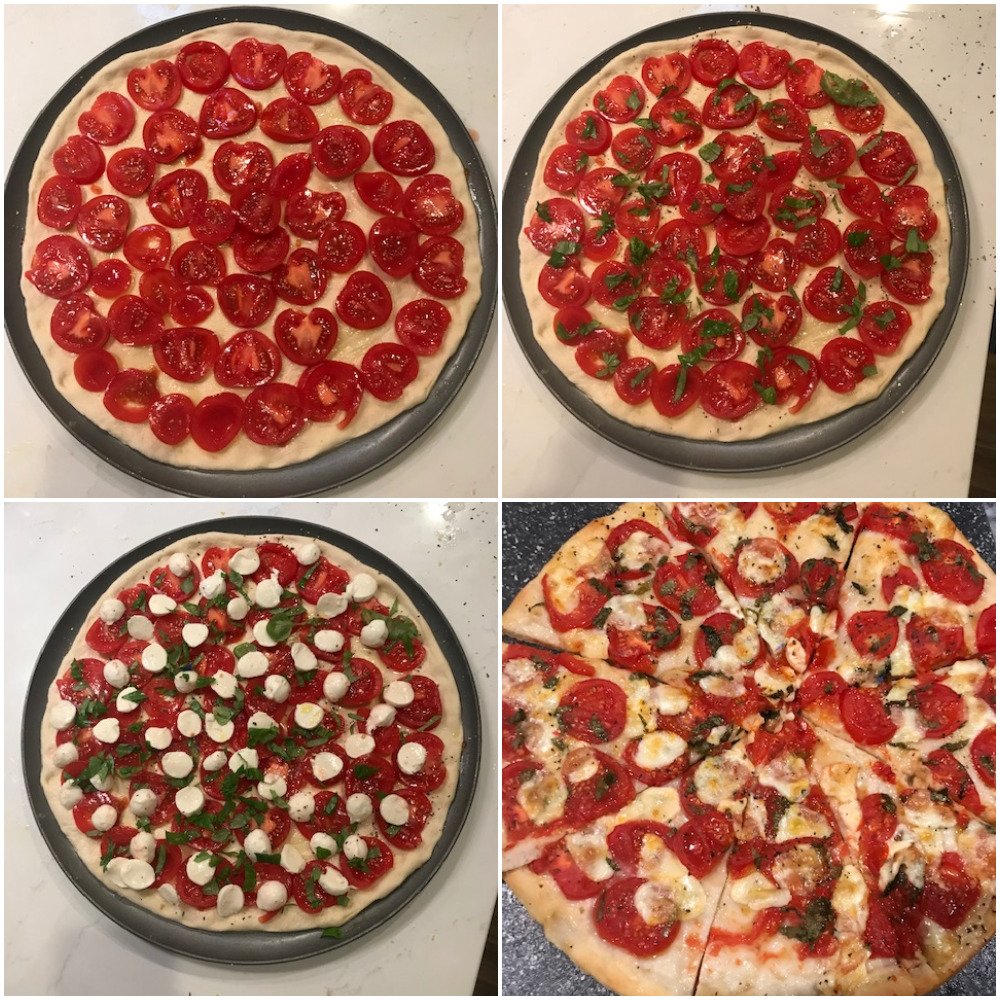 Pizza dough is formed and topped with sliced gourmet tomatoes, garden basil, fresh pearl mozzarella balls, olive oil, salt, and black pepper. Pizza is quick baked crisp ready in about 12 minutes.

Dough can be purchased in one-pound balls formed to fit a 16-inch round pizza pan. For additional convenience, 15 oz. pre-rolled and folded dough packages are also available. I like rolling them slightly thinner to also fit my 16" pizza pan.
"Sinfully Sweet Campari tomatoes" are shown below. Several other varieties like San Marzano tomatoes sold in 10 oz packs, "SUGAR BOMBS", and sweet grape tomatoes are all excellent.

Ingrediests:

Pizza Dough, 15 oz. PRE-ROLLED or 1-pound balls




Olive oil

Fresh Campari, Mini San Marzano, Grape tomatoes, etc.

Fresh Basil shredded

Fresh Pearl Mozzarella balls

Salt and black ground pepper
Heat oven to 525° direct heat.

Roll dough to fit a 16-inch pizza pan.
Lightly coat pan with olive oil. Top with dough. Brush dough with additional olive oil.
Slice tomatoes in half vertically or cut larger tomatoes in thirds.
Distribute tomatoes over dough. Generously sprinkle with shredded basil.
Top with pearl mozzarella balls. Generously drizzle with additional olive oil. Season with salt and pepper.
Place pizza in the center of the oven. Rotate pizza after about 8 minutes.
Periodically check for doneness. Pizza will be ready when crusts are toasty, cheese melted and tanned on top, ready in about 12 minutes.
Rest pizza for several minutes. Slide pizza on a cutting board, slice into 8 servings.

Heat oven to 525° direct heat.
Optional: Before baking spread pinches of uncooked bulk Italian pork or turkey sausage evenly over top. Meat will cook through during cooking.

Lactose Free Cheese Pizza…
Prepared, Cooked, and Ready to Eat in Just 20 Minute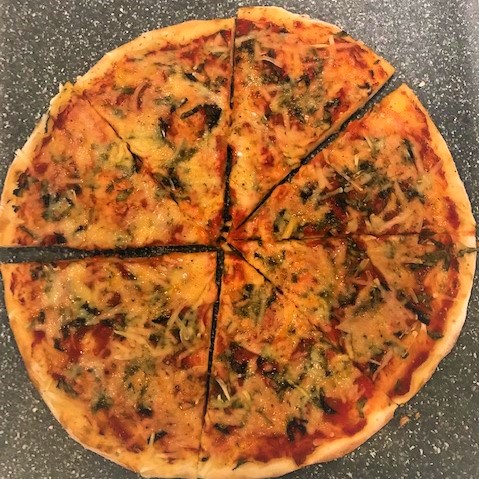 My lactose intolerant friends will be happy to know I discovered a good lactose free vegan mozzarella cheese alternative for pizza.
"Violife" a Greek company produces vegan cheese substitutes including "dairy free Just like MOZZARELLA SHREADS". According to its packaging, it is not only 100% Vegan, but also free of soy, gluten, lactose, nuts, and preservatives.
I gave it an honest test, using my most popular quick 20-minute naked plain "cheese" recipe without distractions from added toppings. If it did not meet my wishful and expectations, I would know right away.
Once oven preheated, dough ready to be formed, ingredients opened and handy, pizza would be table ready in only 20 minutes. Test results are below. ​​​​​​​

Ingredients:

14" perforated pizza pan

Olive oil

1 Pound defrosted or fresh pizza dough

1 Can crushed tomato with tomato puree (i.e. Hunt's)

Chopped fresh basil

Dried Italian seasoning

About 6 oz Viola MOZZARELLA SHREADS (from an 8 oz package)

salt and pepper



Preheated oven to 530º direct heat.

Lightly coat pan with olive oil
Place dough on counter dusted with flour. Form into a 13" or 14" round by hand or rolling pin. Place in pan.
Spread tomato with a kitchen spoon being careful to stay within ¾" inch from edge.
Distribute basil and sprinkle with Italian seasoning.
Top with shredded "Violife" Vegan cheese substitute. Drizzle with olive oil, sprinkle with salt and pepper.
Place pizza in the middle of oven until browned top and bottom. Check progress after about 8 minutes. Should be almost ready.
Cool slightly, slice and serve.
Results: Cheese substitute melted and browned when baked (pictured above). It was a little creamer and tasted close to common brands of shredded mozzarella I normally use. I cannot wait to introduce to my lactose intolerant friends
Check out their website, VIOLIFEFOODS.COM for more information including additional products and availability in your area. P.s. I do not have an affiliation with the company.

Fresh Tomato Pizza with Prosciutto and Arugula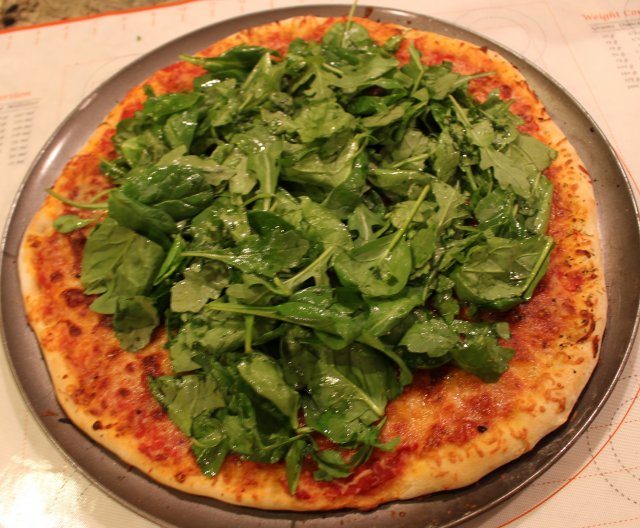 Here's another favorite light and quick pizza.
I love the pungent taste of arugula. A favorite way to feature it is on "Fresh Tomato Pizza with Prosciutto and Arugula". This pizza Fresco is topped with fresh ripened plum tomatoes or minimally processed canned tomatoes from San Marzano Italy.
Tomatoes are topped with hand shredded prosciutto slices, fresh or shredded whole milk mozzarella cheese. Once cooked crisp, pizza is topped with an ample amount of fresh arugula tossed with lightly salted olive oil.
Pizza is quickly cut and served. The nutty flavor of arugula and its contrast in texture makes this pizza very special. We frequently serve it as a light weekend meal. It's also great for brunch, and perfect for lady's luncheons.
For perfectly crusted pizza, refer to "dough basics". Follow my simple techniques for working with store bought dough, results in terrific pizza.
Ingredients:

1-pound pizza dough

Pound plum tomatoes

Olive oil

Salt & pepper

4-5 ounces thinly sliced Prosciutto

1 ½ cup shredded whole milk mozzarella or 6 ounces fresh.

4 ounces fresh arugula

Oven is preheated to 530º direct heat (not convection).
Follow Dough Basics above. Roll dough and mount on a pizza pan lightly sprayed with nonstick. Lightly brush dough with olive oil.
Evenly top with fresh sliced or hand crushed imported canned tomatoes. Drizzle with olive oil and sprinkle with pepper. Distribute torn prosciutto slices over tomatoes followed with mozzarella. Place in the middle shelf of the oven.
While cooking, remove arugula stems and lightly toss leaves in lightly salted olive oil. Pizza is ready when crust is crisp, and cheese melted and lightly toasted, about 8-10 minutes.
Remove from oven and spread arugula over top; cut and serve immediately.

Mushroom, Pepper and Italian Sausage Flat Bread
Slightly thicker, perfectly cooked...Mouthwatering!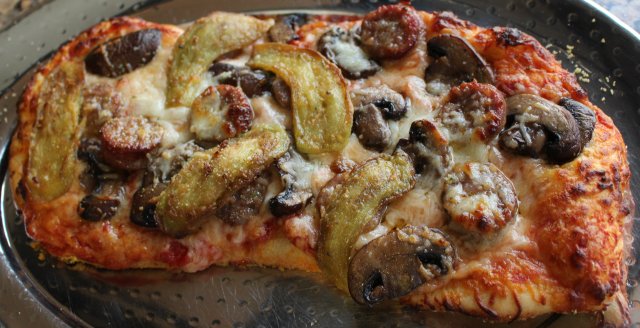 Ingredients:

1/2-pounds pizza dough prepared as above
8 oz. sliced mushrooms
1 yellow pepper sliced
2 Italian sausages
Italian style canned crushed tomatoes with tomato puree
1/2 cup shredded Italian cheese blend
Olive oil for cooking and drizzling
salt, pepper and dried Italian seasoning
Preheat oven to 530º direct heat.
Sauté mushrooms until all liquid is released then evaporated. Remove from pan.
Core pepper and remove seeds. Cut length in half and slice both halves. Sauté in the same pan until pepper is just starting to soften. Remove. Cook sausages in the same pan. When cooled, slice sausage.
Form flatbread as discussed under "Dough Basics". Place on an olive oil coated cookie sheet.
Spread tomatoes mixture over flatbread to within about 1/2 inch of edges. Spread shredded cheese and top with sliced mushroom, pepper and sausages. Lightly sprinkle salt, pepper and Italian seasoning. Drizzle with olive oil.
Place in the middle of the oven. Flatbread will be ready in about 10 minutes but check earlier.

Calzones
Although Italians have regional variations, we simply think of calzones as pizza dough rounds topped with Italian cheeses, flavored with luncheon/antipasto style cured meats like salami, capicola, cured beef, prosciutto, pancetta, peperoni, dried sausage or with traditional Italian sausages and/or any variety of pizza style toppings. Dough is folded and sealed; slits cut on top to vent and calzones are baked at high temperatures.
Ricotta cheese is a favorite but requires some special techniques. Ricotta is moist. Whole milk works best. Some place fresh ricotta in a fine net strainer or on cheesecloth to allow excess moisture to drain. Mixing ricotta with egg helps it solidify during baking. Although eggs work, before baking create a "loose" mixture. I prefer using 2 egg yokes
Mozzarella gives ricotta a creamier texture while shredded 5 Italian cheese mix adds hardy melting cheeses like parmigiana or asiago adding debt of flavors.
Calzone fillings are usually thicker than pizza toppings and their double crust can make them difficult to cook raw meats sufficiently through. Raw meat like sausage, chicken or American bacon should be precooked.
In Italy, calzones are usually smaller, closer to sandwich roll size verses our larger American versions. Theirs seem to be more appropriate for "grab and go", snacking on the fly where ours are expected to be plated, and larger ones served with knives and folk. Small calzones may even be deep fried instead of baking.
Sizes, one-pound balls of pizza dough can be divided into thirds or halves making 8+" or 11" diameter rounds for calzone, pending desired thickness. I prefer 8 inches. I sometimes make really small 3-inch versions and serve them as appetizers.
Work dough pieces into balls and rest them for about 10 minutes. Roughly shape rounds by hand followed by rolling pin on an abundantly floured counter top is easy. Make final adjustments by hand. Please see dough basics
Fillings are spread over half of rounds to within an inch of edges. Brush edges with water and fold half over filling. Crimp and seal edges with a folk. Use a sharp knife or razor blade to cut venting slits. Lightly brush with olive oil and bake on a stone or a thick cookie sheet dusted with course cornmeal at 500° direct heat. If using a cookie sheet, adjust height during cooking if needed to brown top and bottom equally.
Calzones can be served with a light marinara sauce.
Ricotta and Italian Sausage Calzone

Ingredients

1-pound pizza dough
8 oz. mild sausage meat
1 15 oz. container whole milk ricotta cheese
2 egg yokes
1 medium garlic clove minced
8 oz. (2 cups) shredded Italian cheese mix
1 cup graded parmigiana cheese
1 Tablespoon chopped flat Italian parsley
Pinch red pepper flakes
Optional, simple marinara sauce (please see "Pasta with Tomato Sauce" tab)
Brown sausage meat while breaking the meat apart with the edge of a spatula. Cool.
Preheat oven to 500 degrees direct heat.
Divide dough into three equal pieces. Keep refrigerated until ready to form.
Mix remaining ingredients in a bowl. Incorporate cooled sausage meat.
Roll the first ball into an approximate 8" circle. Place about 1 third of the mixture in the center. Moisten the edges of the dough with water and fold like a turnover. Gentle push down calzone to evenly spread the mixture to ½ inch of edges. Seal edges well with a folk.
Repeat with the remaining two balls and stuffing mixture.
Place all three on a cookie sheet dusted with course cornmeal or oil. Using a very sharp knife, cut parallel slits perpendicular to their length. Place tray in the center of the oven.
Calzones will be browned and filing bubbly in about 12 minutes. Serve hot optionally with simple marinara sauce.
Panzerotti
Originated in central and southern Italy is fried pizza dough turnovers. Dough is rolled, cut into rounds, filled, folded, sealed, and deep-fried crispy.
Panzerotti is smaller and thinner than calzones and usually eaten by hand.
They can be made larger, 9" in diameter before folding and served as an alternative to sandwiches. I prefer making smaller rounds, 6" circles for snacking, 4" or less pilled in basket with cocktails.
Panzerotti has become popular and can be found in trendy restaurants, even in specialty food trucks.
Classic version, "Pizze Fritte" (fried pizza) is stuffed with vine ripened tomatoes, fresh mozzarella, basil, with a drizzle of olive oil, salt and pepper.
Another popular Italian version is made with a combination of sautéed onions, garlic, prepared anchovies, olives, and/or capers. Varieties of fillings are nearly endless. Italian cheeses with ricotta and Spinach, cured Italian meats, with roasted vegetables, olive muffuletta, and so many more.
Panzerotti has very special meaning for me. Mom often greeted me home from grammar school with hot Panzerotti. They were usually filled with Italian cheeses and cold cuts. My favorites included provolone with her chard and peeled roasted peppers, some with genoa salami and all other cured Italian meats. She also simply made some plain sprinkled with sugar or with just American cheese.
As I snacked Mom unpack my school bag and lunch box while we talked about our day.
Whether making dough for bread or homemade pizza, I usually reserve some dough to make Panzerotti weekly. Some are almost always in our refrigerator ready to be revived, heated and re-crisped again in my toaster.
Panzerotti, Quick Deep Fried Pizza Style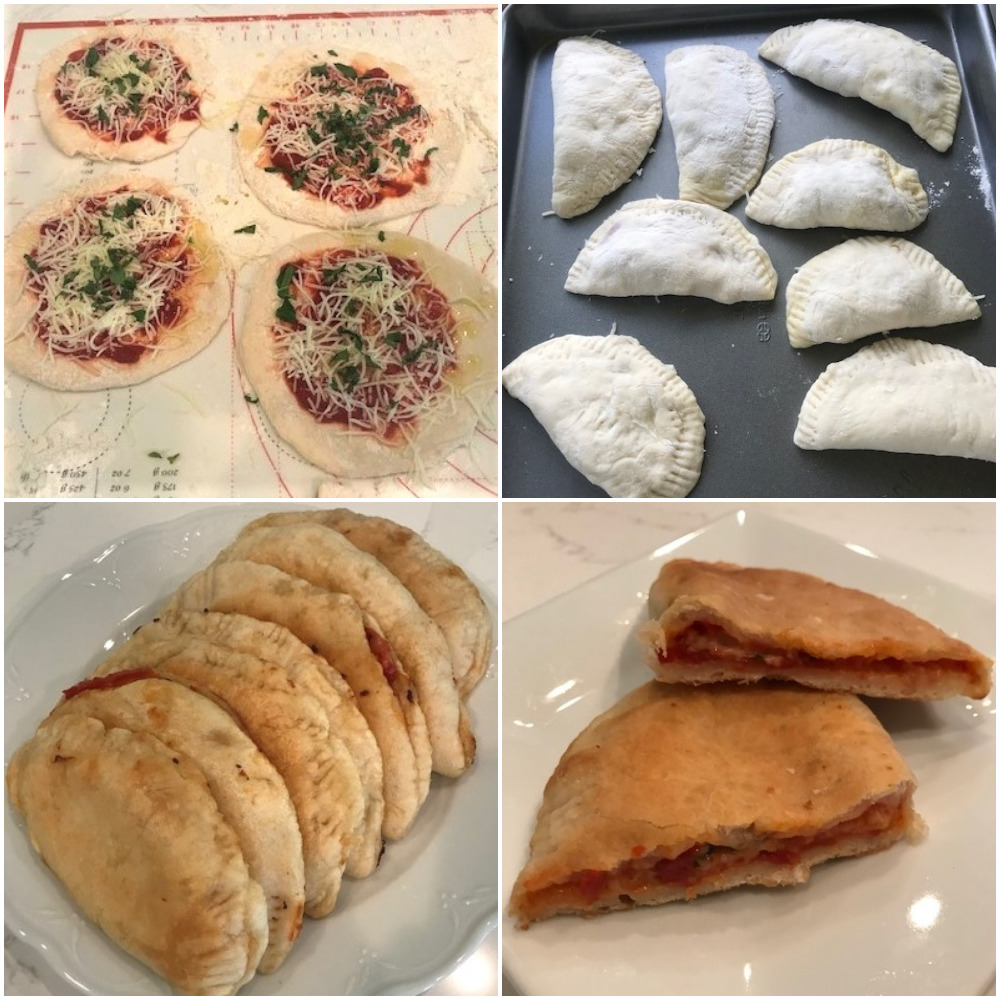 Roll dough thin. Using a bowl or glass as a template, cut dough into circles with a sharp knife.
Staying away from dough's edges, very lightly brush center with olive oil. Spread with a thin layer of ground pealed tomato; add shredded Italian cheese blend, torn fresh basil, salt and pepper.
Remember dough circles will be folded over doubling the thickness of fillings.
Brushed edge with water, fold and crimp.
Deep fry in cooking oil and serve
Sheet Pizza, Home Style

In Boston's Italian North end, popular bread bakeries and some street vendors sold square sliced pizza. Homemade sheet pizzas were common among residents. Few if any owned circular pizza nor pizza stones.
Virtually every Sunday, mom and I made pan pizza with Italian bread dough purchased from Boschetto's Bakery on Salem Street, a short walk from our apartment. Without thinking about it, or consciously discussing it, Sunday is homemade pizza night.
Tradition Cheese Sheet Pizza

Dough is topped with ground tomatoes, shredded basil, 5-Italian shredded cheeses, salt and pepper and a drizzle of olive oil; then cooked in a 530° oven direct heat for about 8 minutes until crisp top and bottom.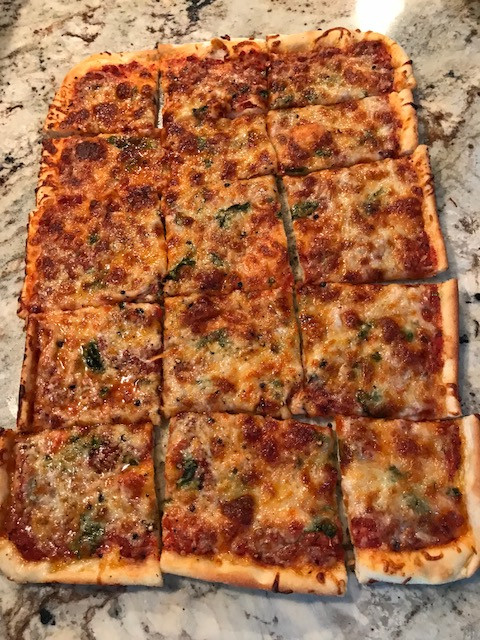 Pesto Sheet Pizza with Precooked Chicken

Slice chicken 1/4-inch-thick. Toss with pesto. spread dough with pesto. Sprinkle with shredded parmigiana cheese. Layer with sliced chicken breasts and generously top with shredded 5 Italian cheese mix. Bake sheet pizza in 530° oven direct heat until pizza is crisp top and bottom, about 8 minutes.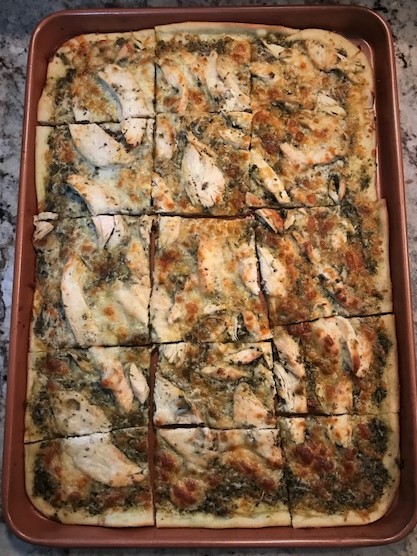 Broccoli Rabe, Roasted Garlic, and Turkey Sausage Pan Pizza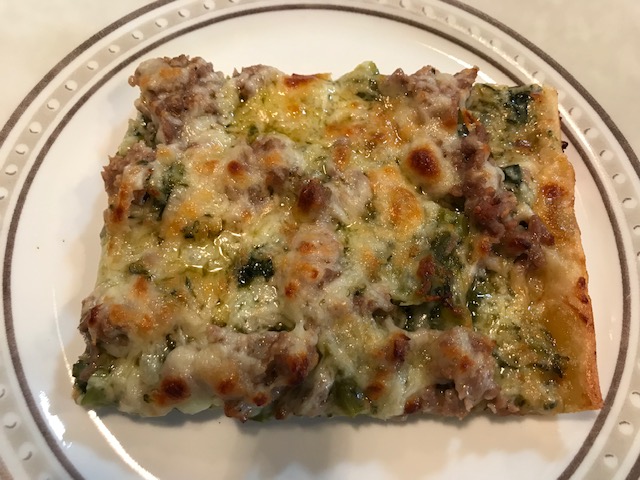 Broccoli rabe, pork sausage pot roasted garlivand infused olive oil combined makes great stuffing for rolled meats, poultry and great pizza and flatbread toppings. This pan pizza substitutes turkey sausage for pork. Turkey sausage has less fat than pork and needs some help to retain moisture while safely cooking through.
Pinches of raw turkey sausage meat are added to prepared topping of rabe, pot roasted garlic, herbs, spices and cheeses spread on dough. For added moisture, top is liberally coated with extra seasoned garlic infused olive oil. Top is finished with additional cheese to help seal and protect top of sausage from burning.
Pizza is cooked in 530° direct heat until Top and bottom of pizza are crisp and turkey sausage is safely cooked through.
Although unlikely, if any leftovers, reheat in an air fryer or oven. Pan pizza will revive its original flavors and texture.
Recipe will make one pan pizza in an approximate 12" x 17" sided cookie sheet. I recommend using surgical gloves when handling raw meat.
Please read "Dough Basics" above first.
Enjoy.
Ingredients:
Pete's Garlic Oil




1/2 cup olive oil

5 garlic cloves with skin

1/2 teaspoon dry rosemary or a fresh sprig

1/2 teaspoon sage or 4 fresh leaves.

1/4 teaspoon Kosher salt




Pinch red pepper flakes
Remaining ingredients
1 bunch broccoli rabe




1 13.5 oz. can chicken broth

1-pound pizza dough

2 1/2 cups shredded Italian cheese mix separated; 1 ½ and 1 cup.

1/2-pound turkey sausage without casing

1-pound pizza dough



Core garlic cloves and half each lengthwise. Place in a narrow butter melting pot with rosemary, sage, salt, and red pepper flakes; cover with olive oil. Place over medium heat until oil barely starts to simmer. Lower heat and retain a very slow simmer. In about 2 hours, garlic will soften and tan. Cloves will have the sweetness and consistency of tender oven roasted garlic after about 2 hours. Remove released skins and keep warm.
Rabe, remove about an inch off their stems and any wilted leaves. Cut rabe into 1 1/2-inch lengths.
Place rabe and chicken broth in a pot. Boil broth until rabe is tender. Remove rabe and continue boiling until broth is mostly evaporated.
Mash pot roasted garlic with some infused olive oil; add to pot along with rabe. Fold until garlic is somewhat evenly distributed.
Preheat oven to 530° direct heat.
Lightly brush pan with olive oil or cooking spray. Remove dough from refrigerator. Form to fit into bottom and sides of tray.
Mix enough seasoned olive oil to rabe mixture to help evenly spread over dough. Cover with 1 ½ cups of shredded Italian cheeses. Distributed pinches of turkey sausage over cheese. Stir infused olive oil and liberally drizzle over entire surface (not necessarily all). Cover with remaining cheese.